Pre-Order Improve Your Food Photography Almost Instantly

Posted: 10/05/17 Updated: 08/01/23
Buy the Book
I have a major announcement! This has been
years
in the making, but I'm finally,
finally
ready to release my food photography ebook,
Improve Your Food Photography Almost Instantly.
I began writing it shortly after teaching myself food photography, after dozens and dozens of hours reading, taking courses, studying, and practicing. I'd nailed down exactly the information that took my food photography from mediocre at best (like, that's a major compliment to my early food photography) to professional-level.
After that point, my traffic exploded, and I've been able to positively correlate growth in traffic with growth in my food photography. But what does that mean?
It means that I make full-time income as a food blogger, which is basically the best job ever, right? Cook delicious food, take photos of it, and share it with the internet. I'm 1000% sold. And I attribute almost all of this to better and better food photography (and a big ol' pinch of grit).
So I had to share my secrets and help others improve their food photography almost instantly. With over 100 pages of practical information and tips, Improve Your Food Photography Almost Instantly is a food photography course in a book, offering everything you need to take your food photos from eh to OMG.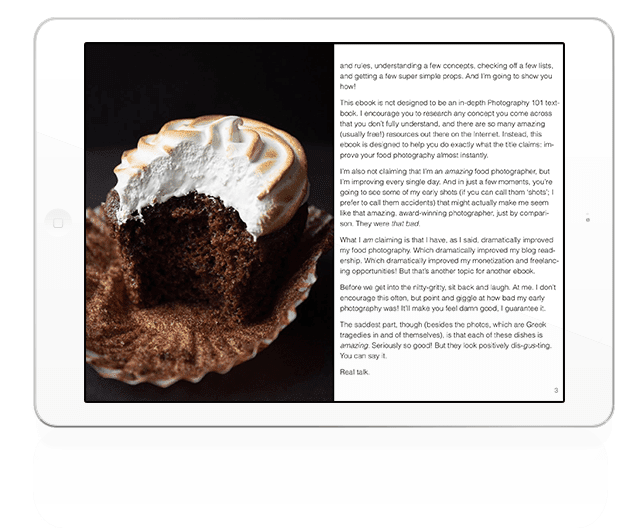 Yep, almost instantly.
With videos to walk you through post-processing, the book is a quick read and a fantastic reference guide. And I guarantee you it will pay for itself in increased ad revenue!
The book will officially be available on October 16th, but I'm offering a special pre-order price for my readers: if you order the book anytime between now and October 16th at noon CST, you'll pay only $18. After that, the price will increase to $22. Still a great deal, if you ask me, but $18 is a steal!
Want to know what's inside Improve Your Food Photography Almost Instantly? Got you covered. It's a full-blown food photography course in an easy-reading book; no need to plug in those headphones and watch hundreds of videos. Nope! Just dive in when you can from your phone, tablet, or computer. These are all the chapters in the 105-page food photography guide.
Food Photography Resources
Natural Lighting
Diffusing Your Light
Backdrops
Props
Preparing Your Set
Shooting in RAW
Shooting in Manual Mode
Avoiding On-Camera Flash
Composition
Image Orientation
Using a Tripod
Camera Angles
Manipulating Light
Finding Your Personality
Live Monitoring
Food Styling Tips
Artificial Light
Post Processing
In other words, that's everything you need to know to take your food photos from eh to OMG. Your recipes are delicious: now show the world.
Click here to pre-order and never hesitate to get in touch! cheryl (at) 40aprons (dot) com
Buy the Book