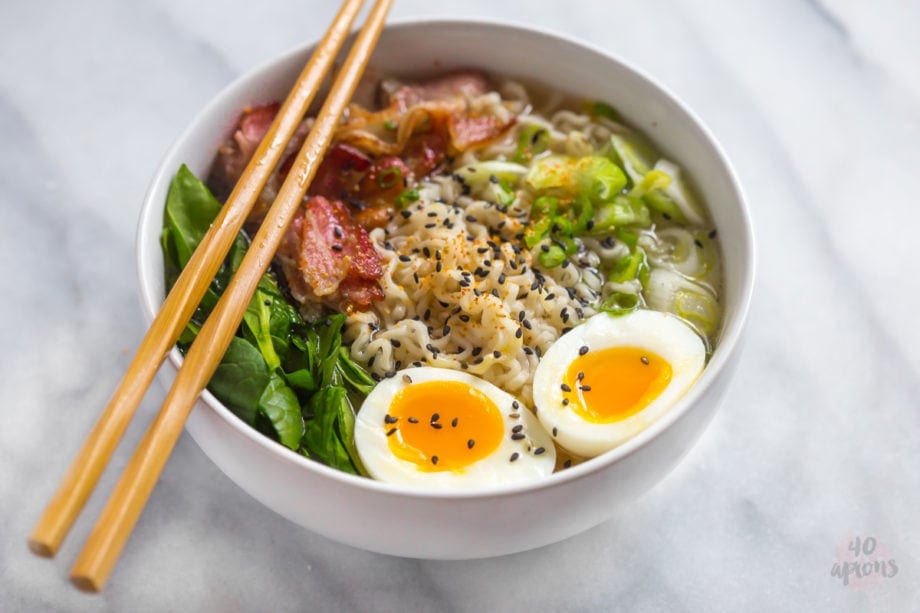 Are you trying to eat healthier for 2016? Well.. then, sorry. This recipe ain't for you.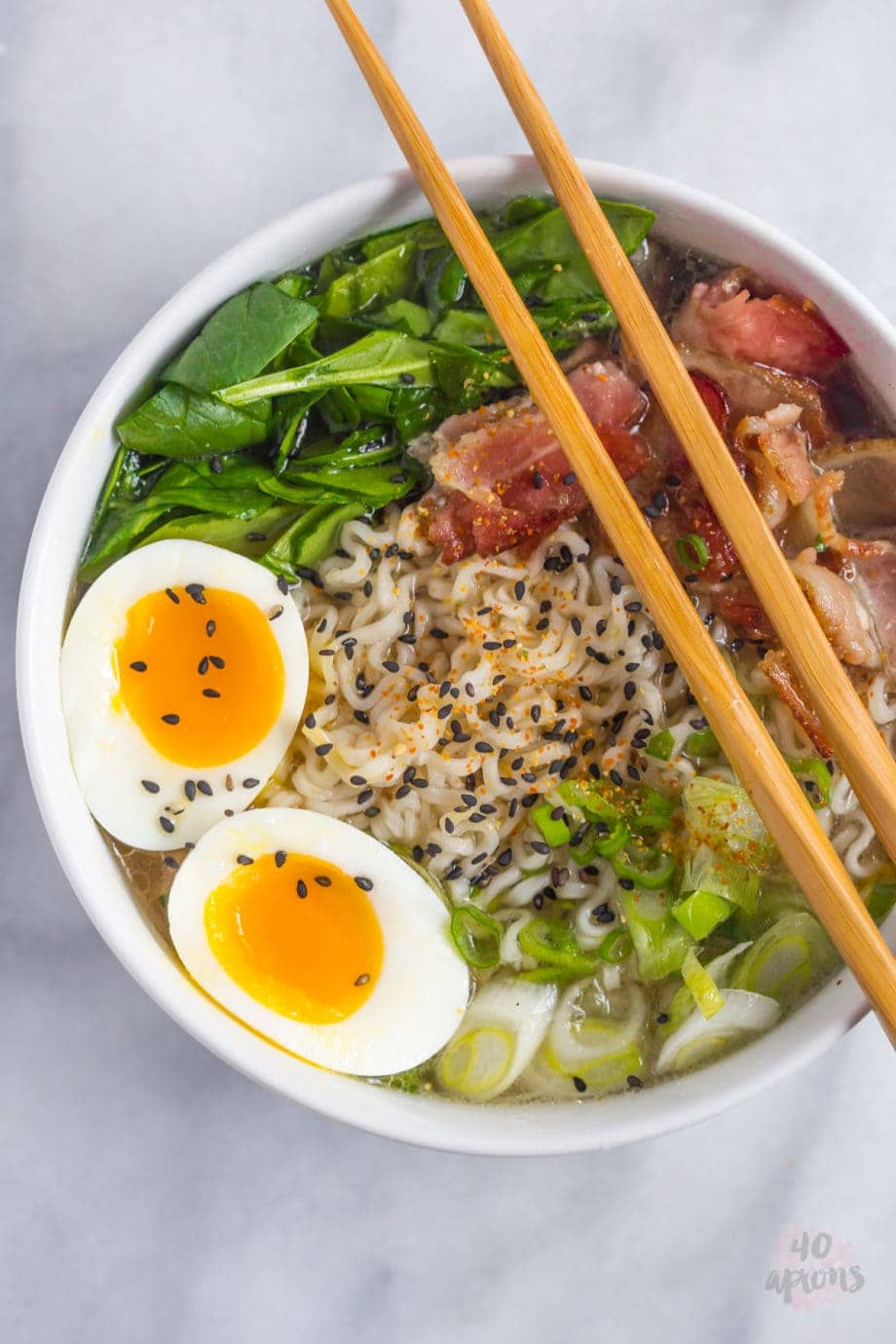 My love for ramen started precociously, sitting at my third-grade desk in Phoenix, breaking up the deep-fried-and-freeze-dried once-were-noodles in their little cellophane bags, sprinkling the MSG-laden powdered flavor packet (this was, of course, before they were used as currency in Litchfield prison) on top of the little crunchy bits, shoving them in my face and shivering maniacally from a sodium high. I'm pretty sure I wrote a poem about it.. almost positive.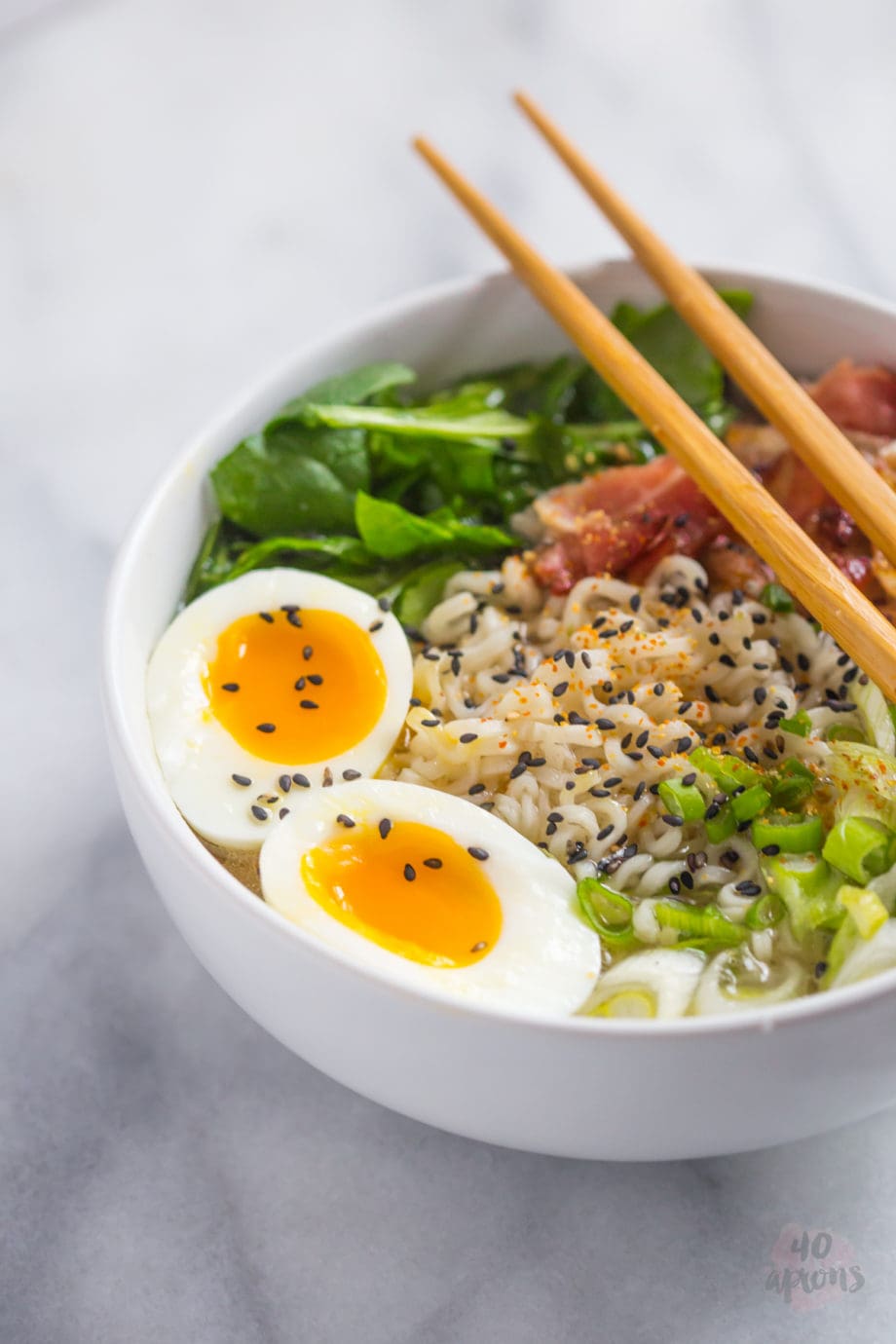 I pressed paused on my obsession with the noodles for another 18 years or so, until I found myself with a major celebrity crush.. on, yep.. you guessed it! Liam Hemsworth David Chang.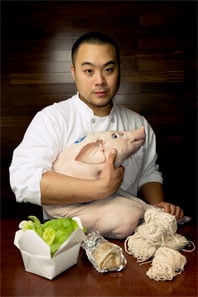 This David Chang. That's right, people. On my "list", sandwiched in between Clay Matthews and Benedict Cumberbatch (I had to super white-girl in there somewhere, you knew that.). Comfortingly–or not so comfortingly–I don't thing I'm alone, though, seeing as how "david chang wife" is what Google suggests I search next.
Anyway, as I blew through episode of episode of The Mind of a Chef a few years back, I fell madly in love–with my eyes and ears–with steaming bowls of rich tonkatsu, chewy noodles, perfectly creamy soft-boiled eggs, meltingly tender chashu pork. We live in Memphis, so we were without any real ramen joints at the time, and I waited with little patience as one of our favorite restauranteurs here built and opened a izakaya. So I decided to make tonkatsu from scratch, having never actually tasted it before, and $30 in pork bones and 12 hours later, I had my first bowl of the perfect broth–ah! So rich, a little salty, full-bodied, it was love at first slurp. A loaded bowl of tonkatsu sounds good to me for just about any meal and was actually what I requested for dinner the day Leo was born! But making it at home is such a process.. one for which I have little patience anymore. And besides, if it doesn't turn out amazingly well, you're already so invested, you might just shed a couple tears (in theory……).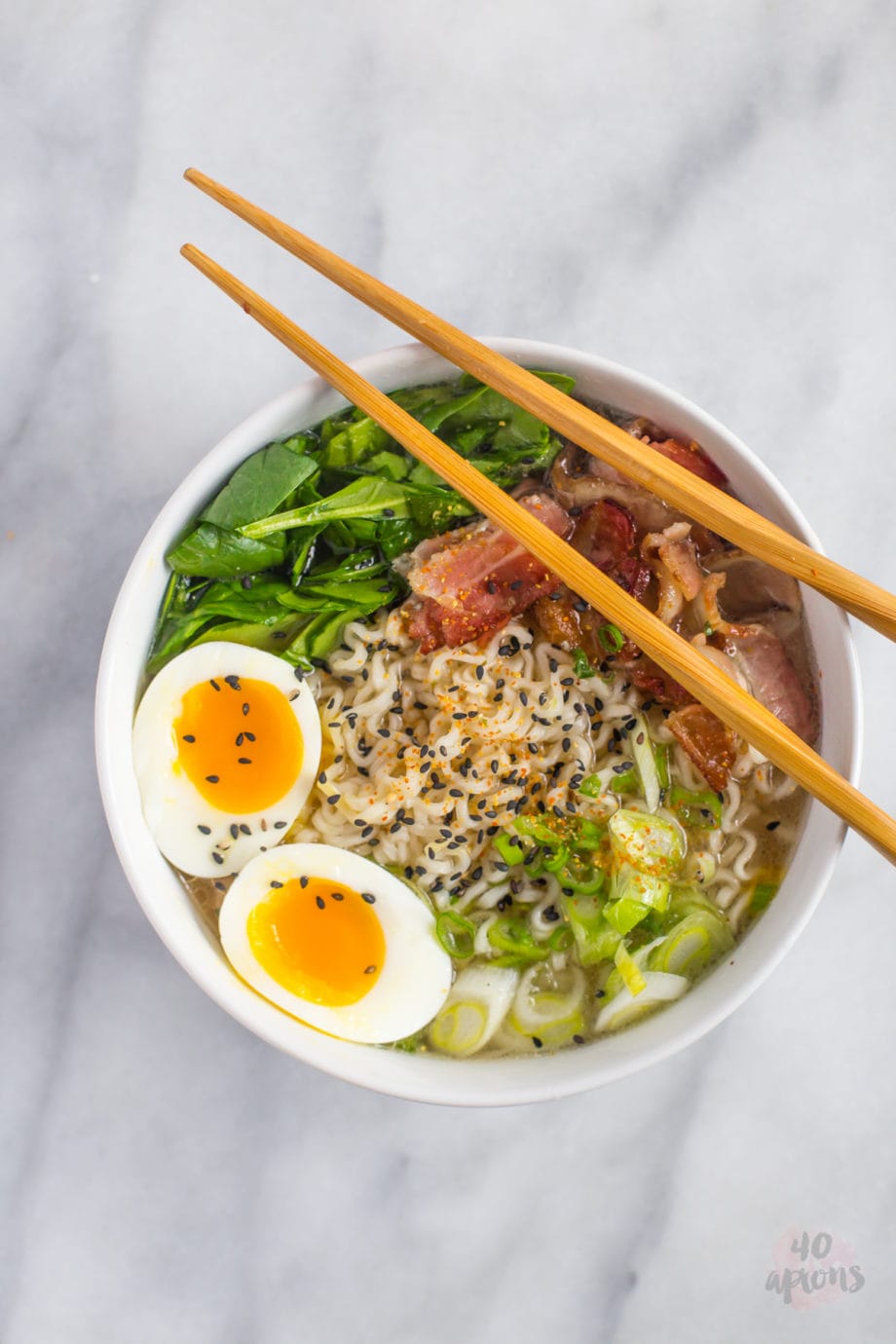 So I decided to combine two concepts gleaned from Chef Chang–the emulsification of fat in water that essentially makes a tonkatsu broth (and why it's milky and not clear) and the use of bacon in infusing flavor to broths. Chang makes a rowdy bacon dashi, but I decided to take it one step further and essentially emulsify the bacon fat in water to mimic the richness of a tonkatsu in a fraction of the time.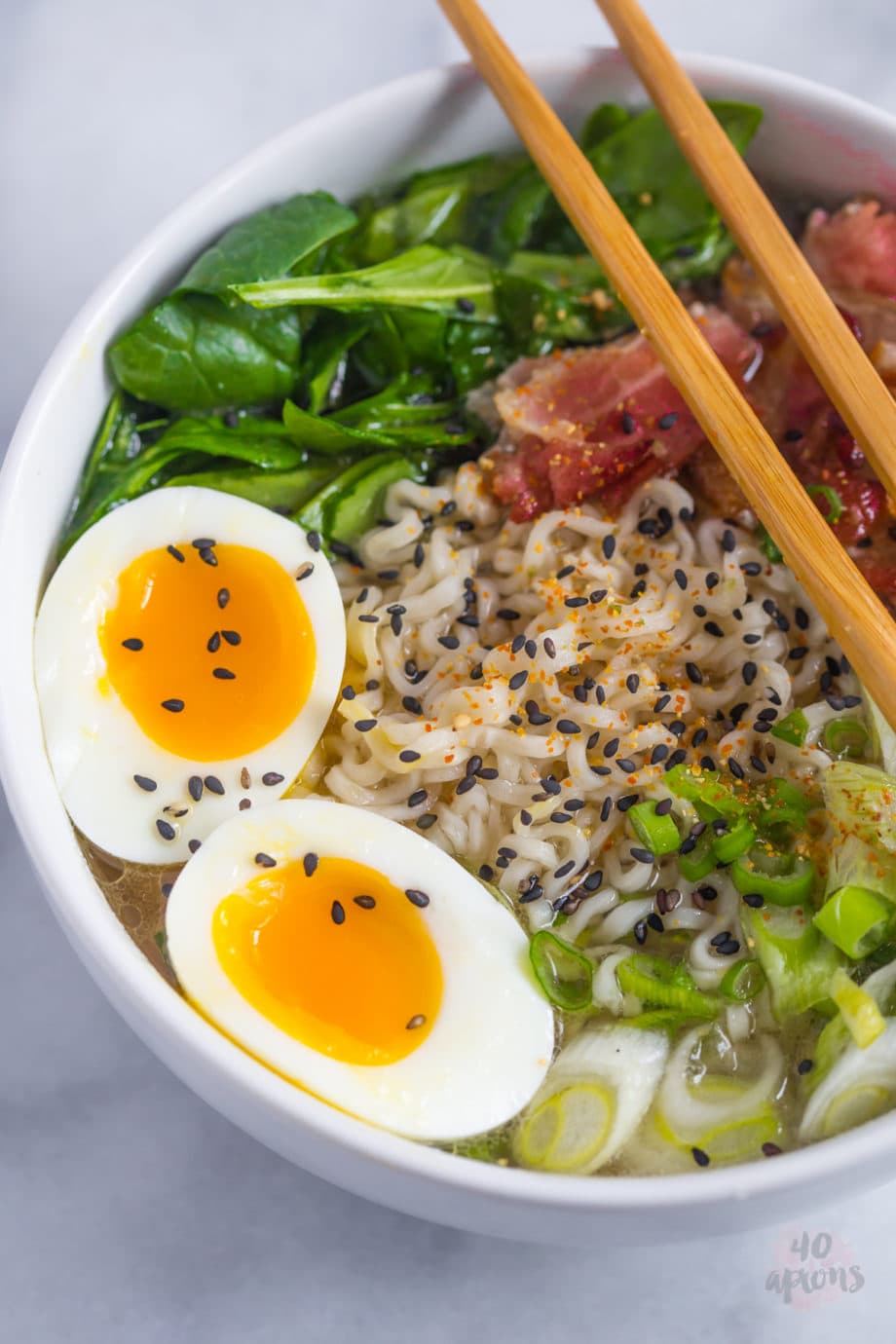 The resulting broth is rich and smoky and salty, but not overly so on any of those profiles. The noodles absorb the flavor, the soft-boiled egg yolk offers a creaminess that I simply can't (and won't!) get over, the sautéed used bacon is surprisingly tender. It comes together quickly and is so, so satisfying. Don't think that it's too "bacony" either–it really isn't! You can really dooty (yep) it up here, too, adding whatever sounds good and that you have on hand. At our ramen joint, I often load my bowl up with kimchi, spinach, bamboo shoots, pickled ginger, shiitake mushrooms, corn.. and at home with tofu, fresh mushrooms, and any veggies we have on hand.
Bacon Ramen
Rich, slightly smoky ramen broth with tender noodles that comes together so quickly.
GO PREMIUM – AD FREE + MEAL PLANS
Ingredients
4

cups

water

2

cloves

garlic

peeled and smashed

3 ¼

slices

ginger

peeled

6

slices

bacon

2-3

tablespoons

oil

for frying

2

tablespoons

soy sauce

1

tablespoon

mirin

salt

to taste

2

packages ramen noodles

from dry, fresh, or frozen, cooked according to package

chopped fresh spinach

to serve

togarashi

Japanese spice blend, to serve

green onions

sliced, to serve

soft-boiled eggs

black sesame seeds

to serve
Instructions
Combine water, garlic, ginger, and bacon in a medium saucepan over high heat. Bring to a boil and reduce heat to a strong simmer/low boil. Let cook together for 30 minutes.

Strain out aromatics and bacon and separate boiled bacon. Discard ginger and garlic. In a skillet over medium heat, add a glug of oil (vegetable, if you're into that; olive; coconut–whatever, really, as long as it doesn't have a very strong taste) and fry bacon until browned. Add salt to re-flavor your bacon. Remove from heat and slice into bite-size pieces.

Add soy sauce and mirin to broth then salt to taste. Place noodles in serving bowl and ladle broth over. Garnish with desired toppings and serve.
Notes
Soft boiled-egg, to serve. I follow this method but cook about 6 minutes instead of 9. Click here.
Recipe yields approximately 2 servings. Actual number of servings will depend on your preferred portion sizes.
Nutritional values shown are general guidelines and reflect information for 1 serving out of 2 using the ingredients listed. Actual macros may vary slightly depending on specific brands and types of ingredients used.
To determine the weight of one serving, prepare the recipe as instructed. Weigh the finished recipe, then divide the weight of the finished recipe (not including the weight of the container the food is in) by 2. Result will be the weight of one serving.
Nutrition
Serving:
1
serving
Calories:
782
kcal
Carbohydrates:
61
g
Protein:
26
g
Fat:
48
g
Saturated Fat:
15
g
Polyunsaturated Fat:
6
g
Monounsaturated Fat:
16
g
Trans Fat:
1
g
Cholesterol:
232
mg
Sodium:
3548
mg
Potassium:
279
mg
Fiber:
2
g
Sugar:
4
g
Vitamin A:
271
IU
Vitamin C:
1
mg
Calcium:
73
mg
Iron:
6
mg
Net Carbs:
59
g
If you enjoyed this recipe, be sure to check out 40 Aprons Premium! 40 Aprons Premium offers exclusive recipes, monthly meal plans, grocery lists, and more – all completely ad free!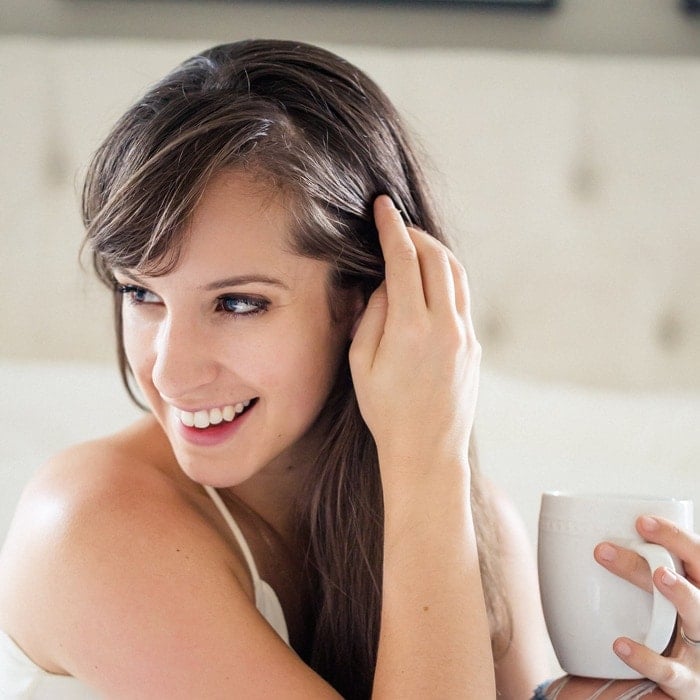 Cheryl Malik is the recipe developer, writer, and photographer behind the healthy, flavorful, family friendly recipes at 40 Aprons. She's been a blogger for 10+ years and is known for her delicious recipes and detailed recipe instructions. Cheryl is a mom of three who lives in Memphis, TN.