Peppermint Layer Brownies

Posted: 12/09/15 Updated: 12/04/20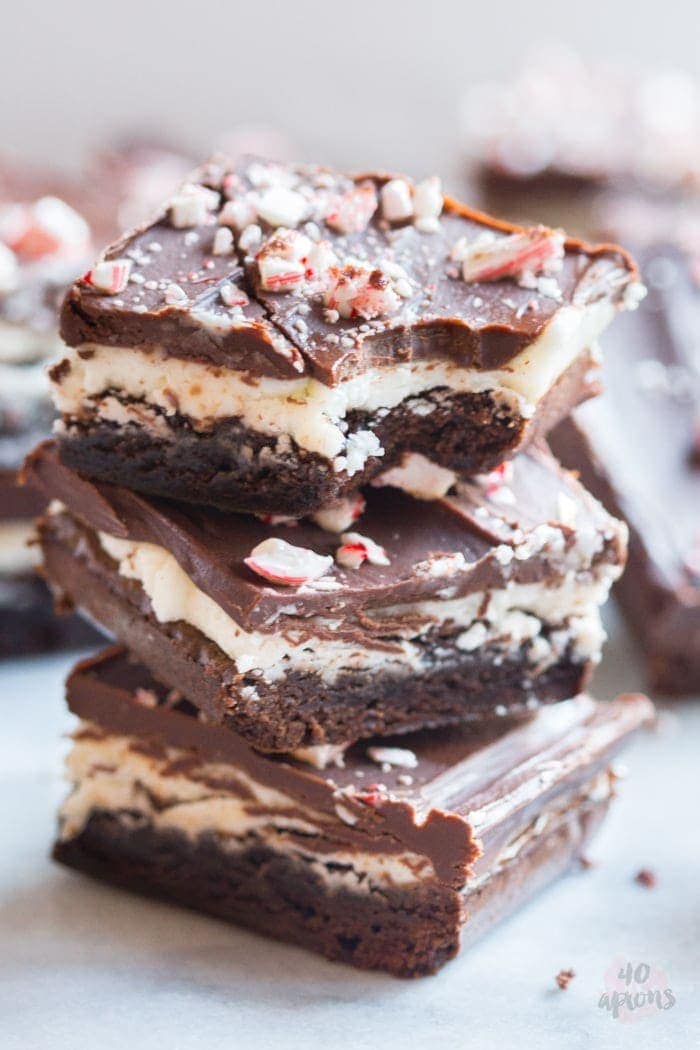 I'm really lucky. As soon as Leo flew out of the womb, he pretty much latched on right away, and it's been (relatively) easy ever since. Aside from some sore early days and worries about an actual oversupply (which is really not fun, as fun as it sounds), I haven't had to worry about low milk supply or poor latch or anything like that. And that's why I made these ohmygod-amazing-slap-your-baby*-good peppermint layer brownies.
Ya with me?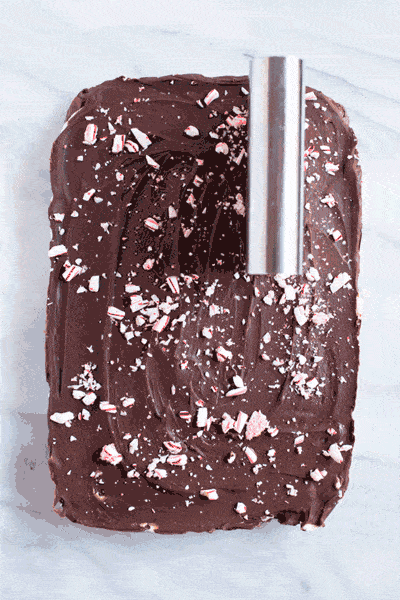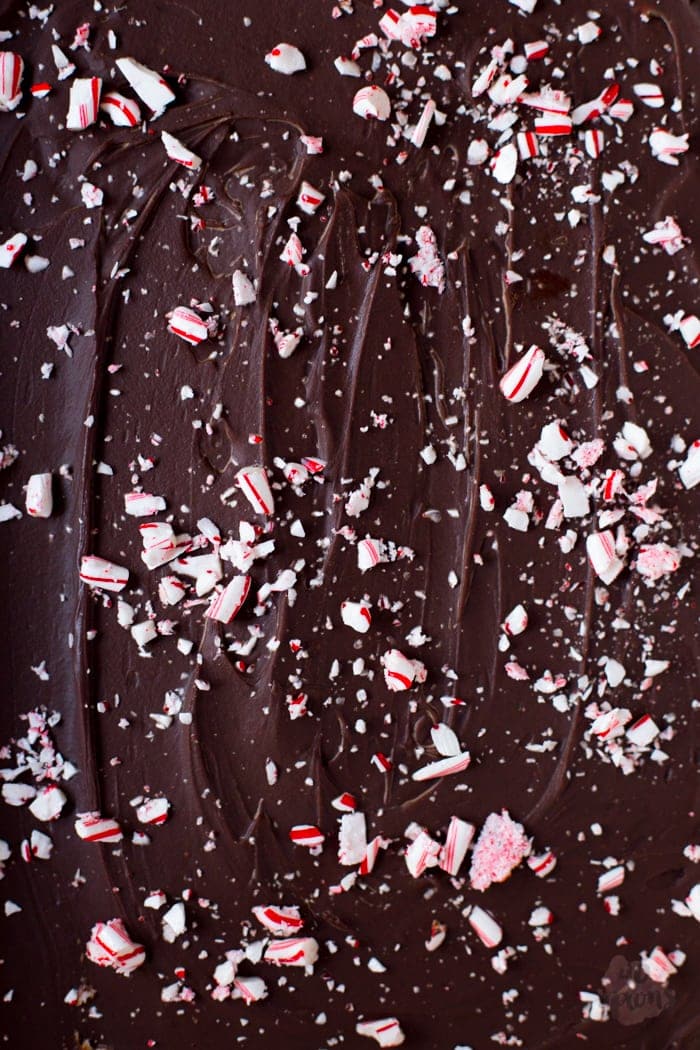 OK, probably not, unless you've been a nursing mother in the Facebook-groups- and Pinterest-age of the interwebs. See.. peppermint oil can negatively affect your milk supply! So if you have any worries about having enough for bubs, you typically have to avoid it all.. making for a pretty damn dreary holiday season, if you ask me. But I'm really lucky! I didn't have to give up dairy, I don't have to drink lactation smoothies and mother's milk tea everyday in hopes of boosting what I've got, and I don't have to pass over the peppermint bark on that Target run for paper towels that turned into a Christmas miscellany shopping spree (JUST AS AN EXAMPLE OK?!). I did weirdly have to give up broccoli, because that stuff makes Leo mad, y'all, like horribly pissed, and I in turn had to actually throw away way too many of my freezer meals, because, uh, broccoli is basically my favorite, and I included it in almost everything! Is that a sad story or what? Anyway, my freezer stash took over, and the broccoli lost out, and into the trash it went. So I'm really pretty lucky.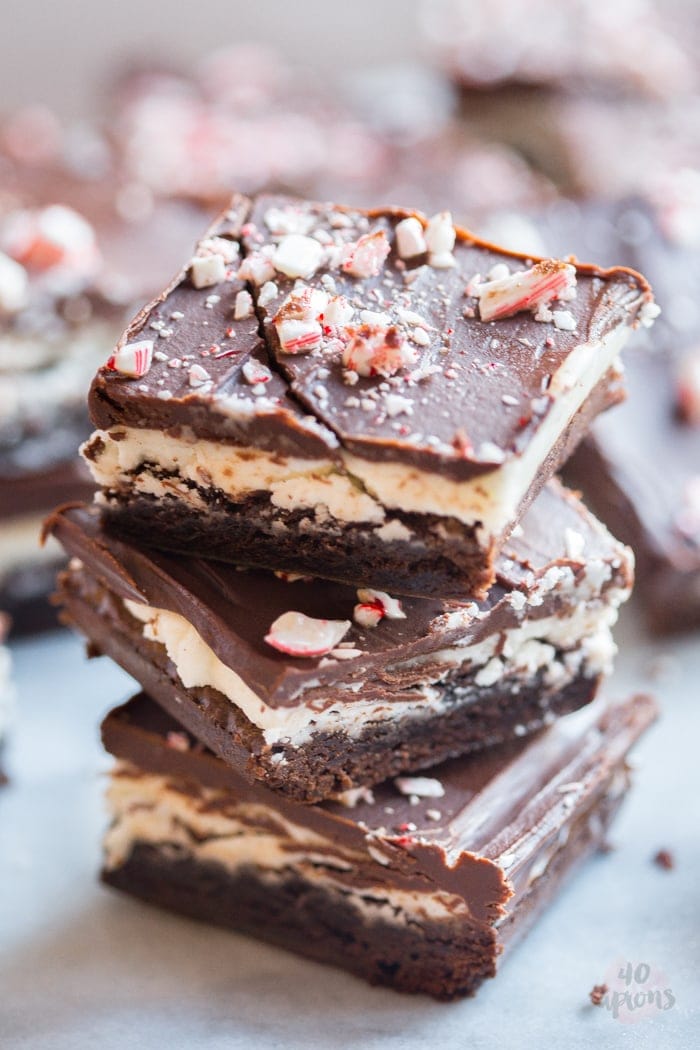 So I made these peppermint layer brownies, because peppermint + chocolate + creamy stuff in general? I don't care how white girl it is, I don't care if it's the winter iteration of the pumpkin spice obsession, I don't care, because it's the best and if you disagree, then you can just click "unsubscribe" right now and I don't ever want to smell your face around my little corner of the internet ever again. Capische? I apparently feel very strongly about this (At this specific moment.. ask again in a little while for a bit less fervor.).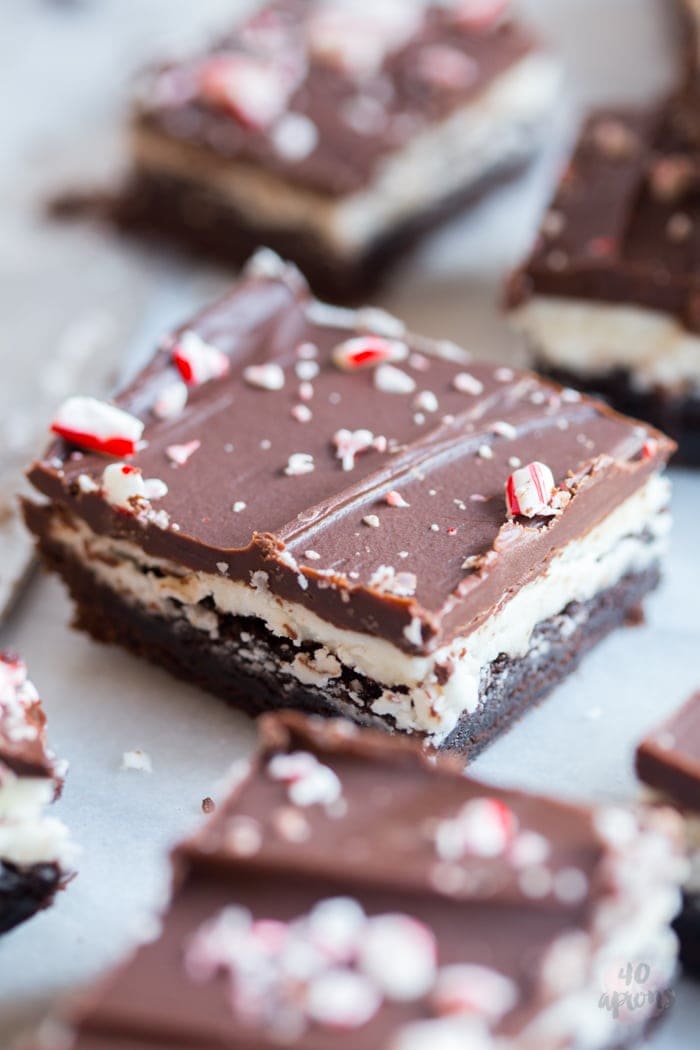 Have I gotten to the point yet? Ah, yes. The point is.. I'm really lucky that I don't have to go throughout the day worried about what will and will not affect my milk supply, how to make enough, how to suffer through the pain of a lip tie. It's truly incredible what these mamas will go through to nurse their babies, how dedicated they are, and how much they give up themselves so that they can give to their babies. But I'm unfairly lucky, and so I didn't even think about the peppermint oil in these puppies when I decided to whip them up to send to some of my favorite cousins for Christmas. I knew that I had to keep at least a couple for myself, of course–you know, quality control and all that, and it dawned on me that these would be perfect for my bloggie friend Erin's The Sweetest Season Cookie Exchange, too! Do you remember Erin? She posted these killer no-bake pumpkin cookies back when I was in the throes of newborn days, and interestingly, they doubled as lactation bites! She asked me to be a part of her annual blog cookie exchange, where a bunch of us get together and share our favorite recipes for the holiday season, and I couldn't think of a better treat than these. Anyway.. have I talked enough about boobs yet, or should I keep going? No? OK, you win..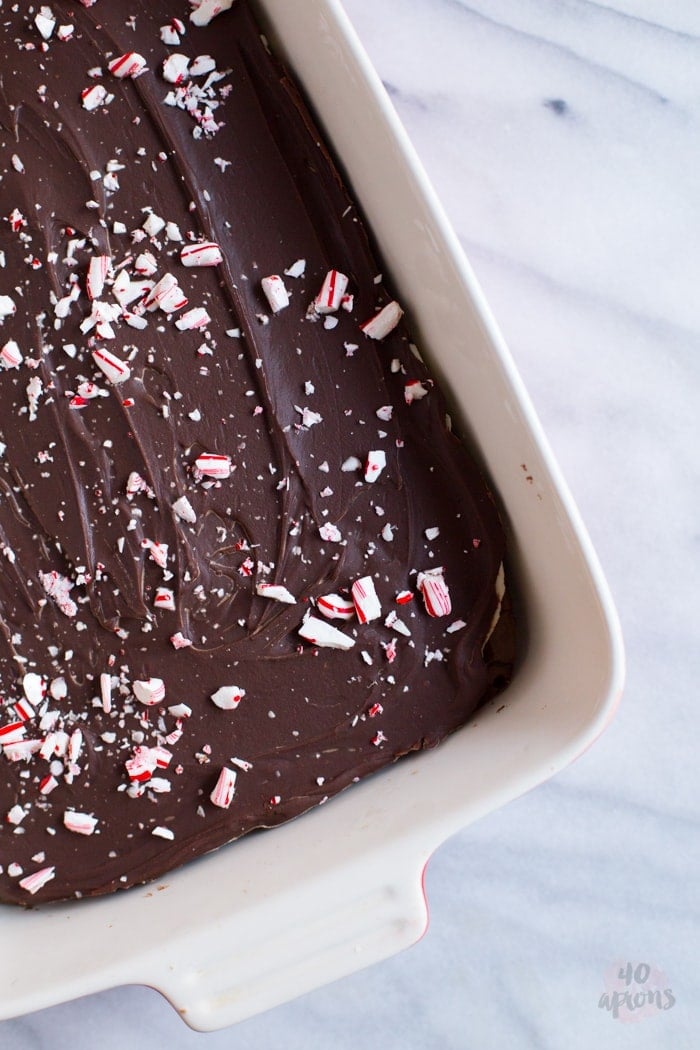 These. are. amazing. Like, they-hurt amazing. Like, ouch-stop-no-please-don't amazing. The brownie layer is tender and chocolatey, of course, and so easy–it's made from a box mix, because that's life these days, you guys. I'm not going to pretend like I'm keeping a child alive, working for clients, making dinner on the reg, and making brownies from scratch. Nope, not happening.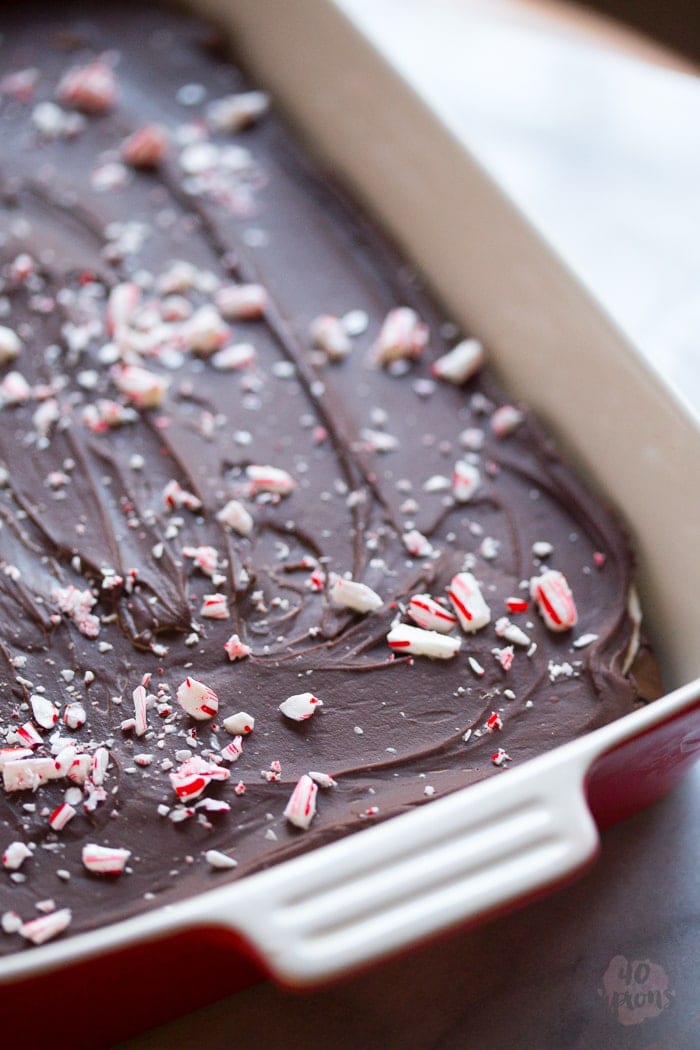 And then the middle layer is so creamy and cool and sweet and perfect, tastes just like a York peppermint patty, and all topped off with the creamiest chocolate ganache, infused with an extra dose of peppermint, and everything together is just so rich and decadent but cool and perfect. Add that bit of crunch from the peppermint candies, sprinkled over the fresh ganache, and it just simply can't be beat. Oh, and did I mention it's insanely easy? You whip up a simple layer of brownies, whip together a frosting while those are baking, and then you shmear everything together and pour a microwaved "ganache" over the top. The worst part is waiting until they're a bit cooled to cut into.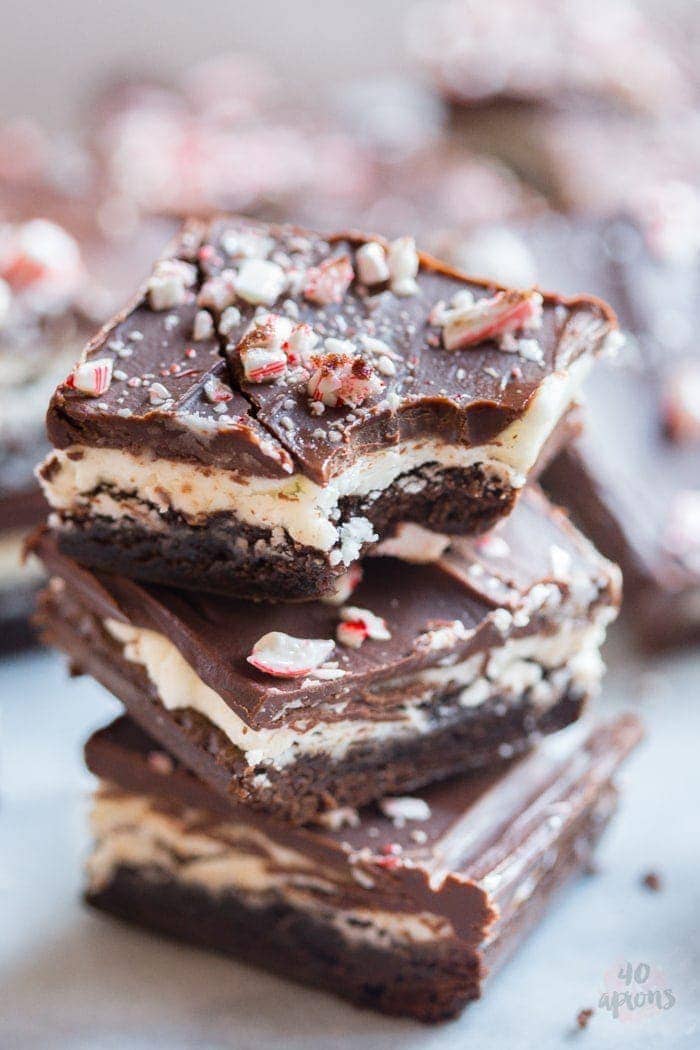 I based this recipe off one from Love from the Oven, but I baked my brownies in a 13×9″ pan, instead of the jelly roll pan she uses. You can absolutely bake these up in a jelly roll pan for a thinner brownie layer, but I would keep a close eye on the brownies, checking for doneness after about 15 minutes. You want to make sure a toothpick inserted into the middle comes out almost clean–don't overbake! I'd also increase the frosting layer by about 50%–that's enough to make sure your larger layer is covered, and it wouldn't be the worst thing in the world to end up with a little bit leftover. Plus, it's so wonderfully creamy and cool, and looks so gorgeous sandwiched in between the rich chocolate layers! I had only just barely enough to cover my brownie layer, and I had 33 fewer inches to cover at that! You could do the same with the ganache layer as well, but you would probably have enough to cover everything with the original proportions.
Peppermint Layer Brownies
A tender brownie, covered with a creamy, cool peppermint layer, topped with the creamiest simple chocolate-peppermint ganache. Crunchy peppermint candy pieces for a bit of added crunch.. the perfect Christmas treat!
Ingredients
1

package family-size fudge or dark-chocolate brownie mix

(plus required ingredients per mix)

2 ½

cups

confectioners' sugar

½

cup

(1 stick) plus 7 tablespoons butter, divided

3

tablespoons

heavy cream

2

teaspoons

peppermint extract

, divided

12

ounces

semi-sweet chocolate chips or baking chocolate

, coarsely chopped

1

tbsp

Crushed candy canes or peppermint candies

, optional
Instructions
Preheat oven to 350º F. Prepare brownie mix per box instructions. Line a 13x9" pan with foil (you may also use a 15x10" jelly roll pan--see note for directions) and lightly grease. Spread brownie mix in pan evenly and place in oven. Bake 25 minutes and begin checking for doneness--remove brownie layer from the oven when a toothpick inserted into the center of the brownies comes out almost clean. Cool on a baking rack.

Meanwhile, make the frosting layer. In the bowl of a stand mixer or in a medium mixing bowl with tall sides, combine 7 tablespoons butter, melted, with confectioners' sugar, heavy cream, and 1 teaspoon peppermint extract. Beat on medium speed until smooth. When brownies have cooled spread this layer evenly over the brownies. I used a piece of wax paper to help smooth out this layer evenly. Refrigerate for 30 minutes.

In a microwave-safe bowl, combine semi-sweet chocolate and 1/2 cup butter. Microwave in 30-second bursts, stirring well in between, until chocolate is totally melted and smooth. Stir in 1 teaspoon peppermint extract and spoon onto chilled frosting layer. Use a spatula to smooth the ganache layer evenly over and sprinkle with crushed candy canes or peppermint candies. Chill until ganache layer is hardened. Use the sides of the foil to lift entire batch out of pan and cut into individual squares. A sharp knife, warmed under hot running water, will slice through the hardened ganache layer beautifully.
Notes
If making in a jelly roll pan:
When baking brownie layer, begin checking for doneness at 15 minutes.
For frosting layer, increase butter to 11 tablespoons (1 stick + 3 tablespoons), melted, 3 3/4 cups powdered sugar, and at least 1/4 cup (4 tablespoons) of heavy cream. Add more cream to thin, if necessary.
Nutrition Information
Serving Size:
20
g
,
Calories:
247
kcal
,
Protein:
1
g
,
Fat:
16
g
,
Saturated Fat:
10
g
,
Cholesterol:
27
mg
,
Sodium:
80
mg
,
Potassium:
99
mg
,
Total Carbs:
25
g
,
Fiber:
1
g
,
Sugar:
22
g
,
Net Carbs:
24
g
,
Vitamin A:
304
IU
,
Calcium:
15
mg
,
Iron:
1
mg
Number of total servings shown is approximate. Actual number of servings will depend on your preferred portion sizes.
Nutritional values shown are general guidelines and reflect information for 1 serving using the ingredients listed, not including any optional ingredients. Actual macros may vary slightly depending on specific brands and types of ingredients used.
To determine the weight of one serving, prepare the recipe as instructed. Weigh the finished recipe, then divide the weight of the finished recipe (not including the weight of the container the food is in) by the desired number of servings. Result will be the weight of one serving.
*Please don't slap your baby.