These paleo peppermint Oreos are chocolately and minty and crunchy and oh so much like the "real thing", but with no processed sugar, no grains, and no dairy. It's a Christmas miracle!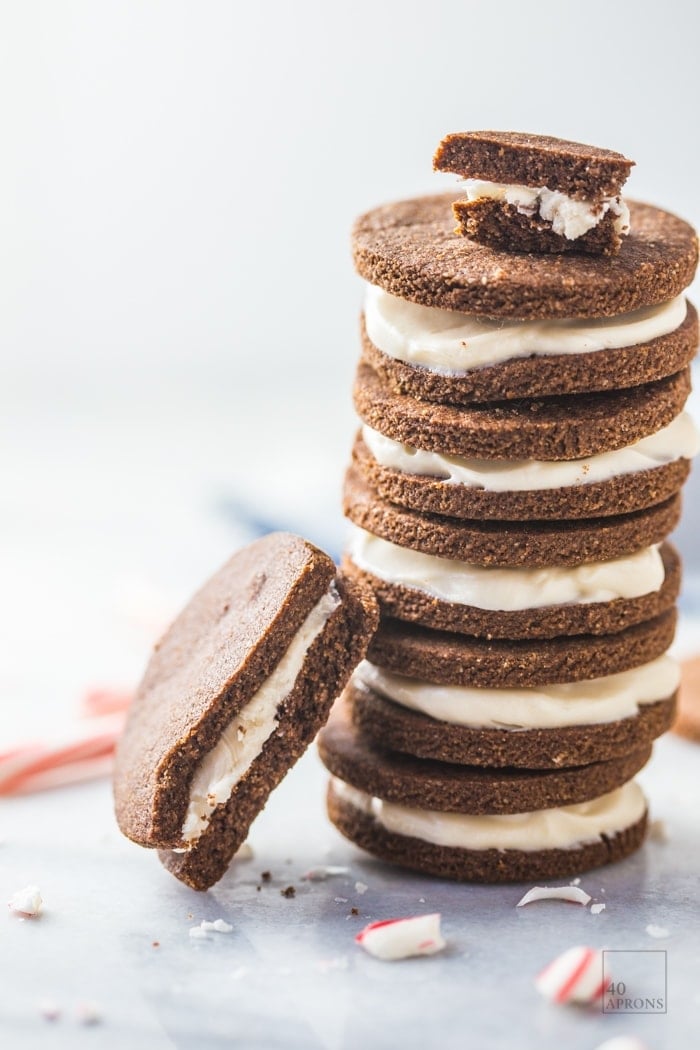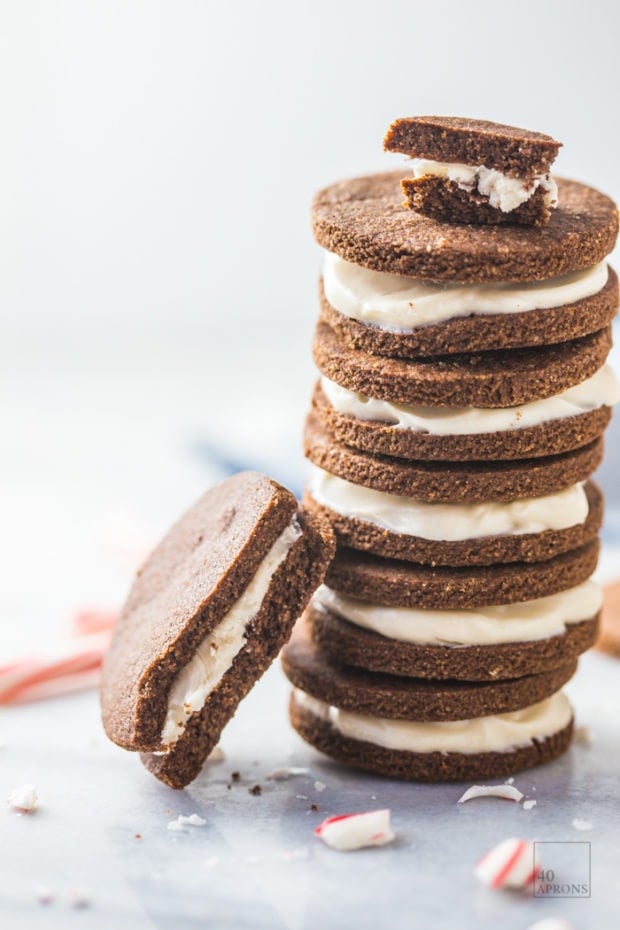 These are the paleo peppermint Oreos that almost weren't. I had this brilliant idea for my friend Erin @ The Speckled Palate's annual Sweetest Season Cookie Exchange, where a group of awesome food bloggers share their best Christmas cookie recipes.
"Paleo peppermint Oreos!" I exclaimed, as though struck by a bolt from Zeus himself. "What else do I gorge on each year and wish, really wish, I could have? Peppermint Oreos, of course!" (<<< Pretty sure that's how it happened.)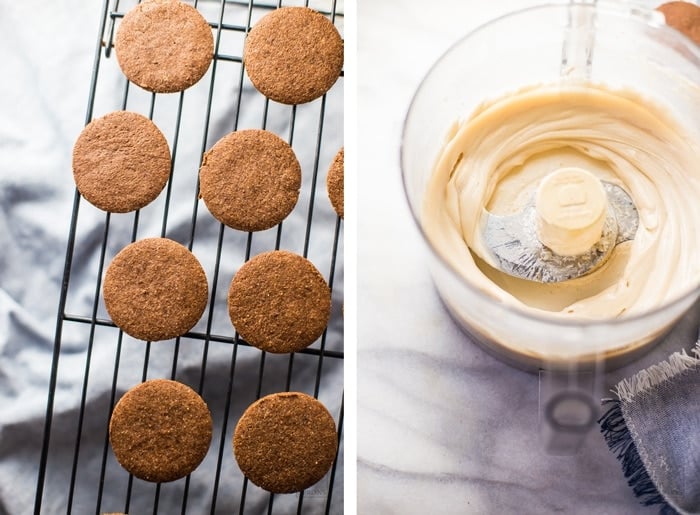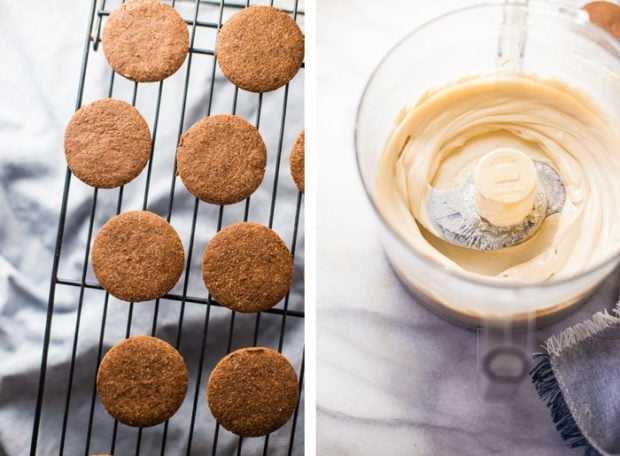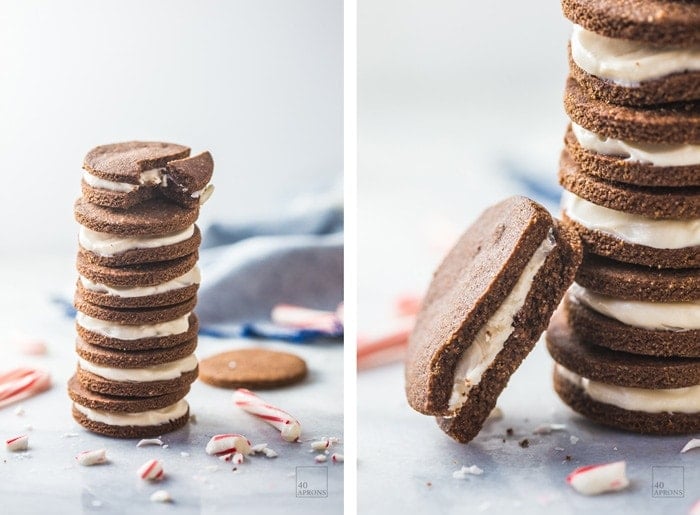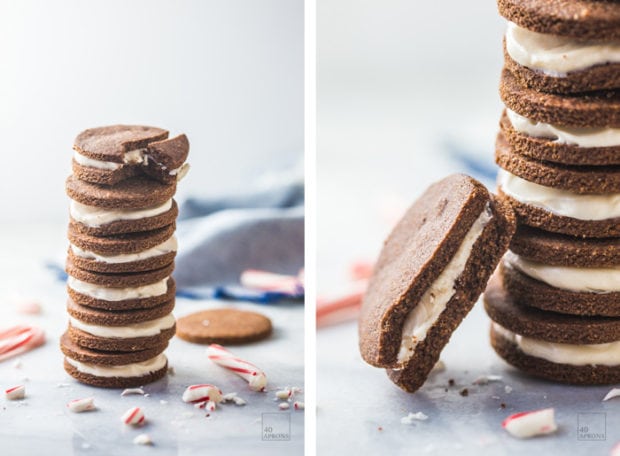 But the thing is… paleo baking is hard. It's not like vegan baking, or even "no refined flour or sugar" baking, where you still get to use erm, wheat. Nope – it's a whole different ballgame. I very rarely absolutely destroy a recipe I'm testing, but it happens fairly frequently with paleo recipe development. But when I nail it, oh… oh, it's so satisfying. So when I wasn't satisfied with any of the paleo frosting base recipes I was finding, I decided to wing it. And what resulted was a speckled half-red-half-brown, gloppy, oil mess that slid off my crunchy chocolate cookies. I dumped it promptly into the trash and texted Erin that I'd failed her and wouldn't have a cookie recipe this year. I saved the cookies, hoping I could salvage them somehow… but the next morning decided to try just one more recipe.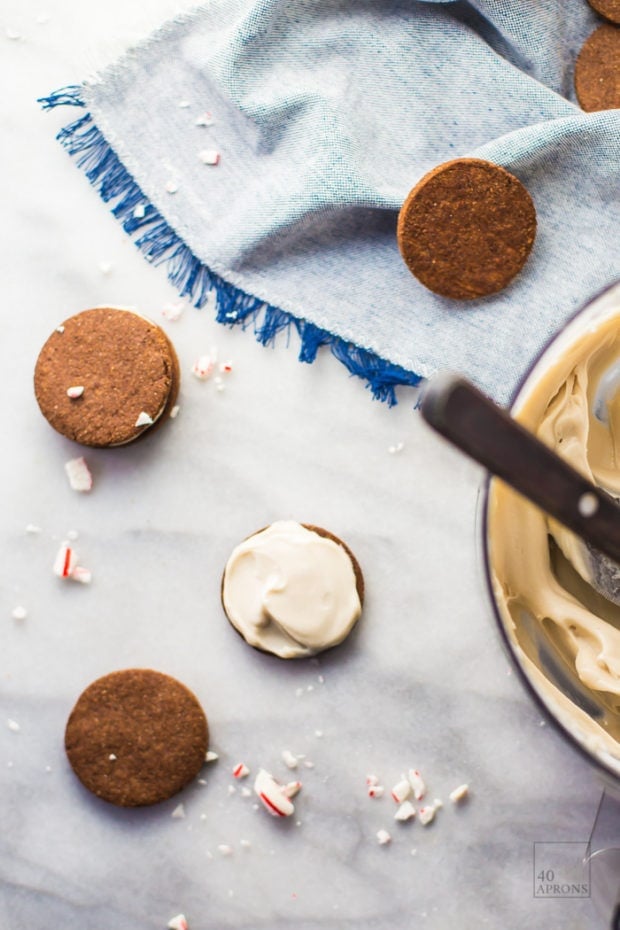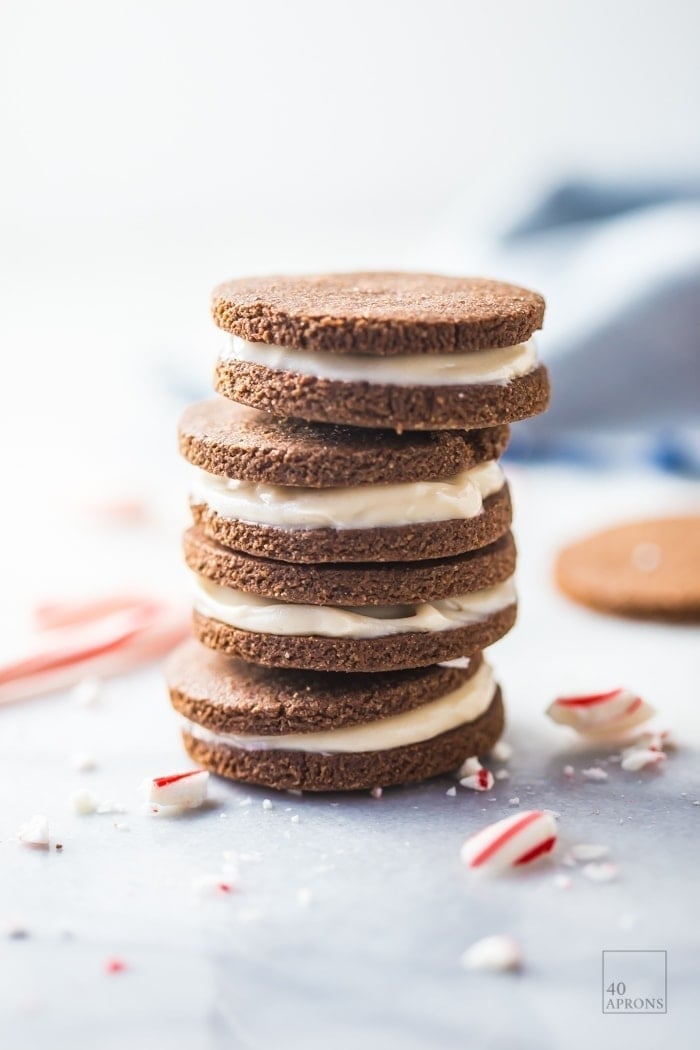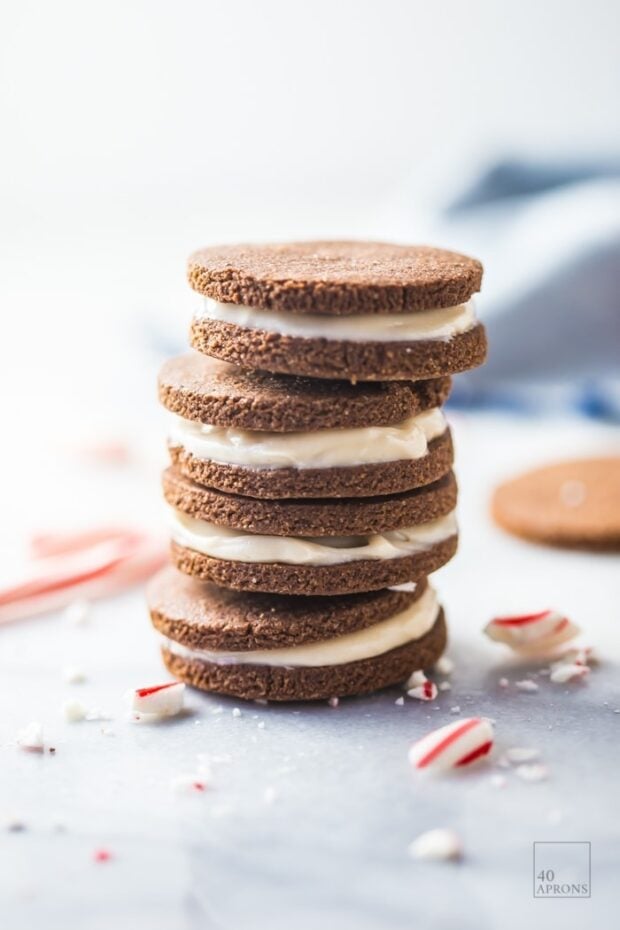 A quick trip to Whole Foods with Leo, which turned into a long trip to Whole Foods after discovering little man actually likes clementines (which might surprise you, considering I thought the only think he likes is peanut butter, so.), and a few ingredients in the food processor for a little bit… and it worked. Not only did the recipe work, but it was great. Crunchy chocolatey cookies filled with minty, creamy frosting, oh! Oh, oh mommy. Worth the fail.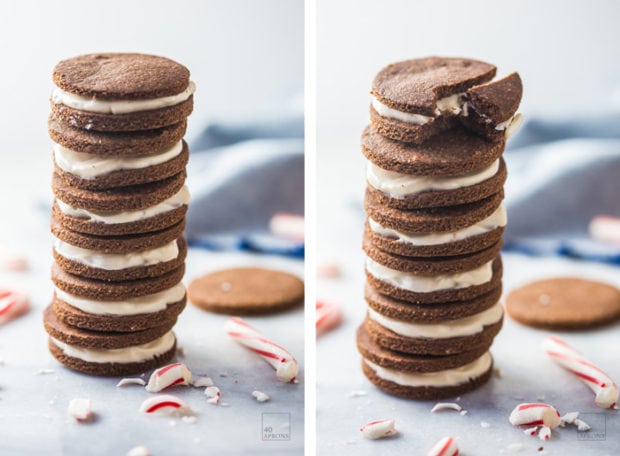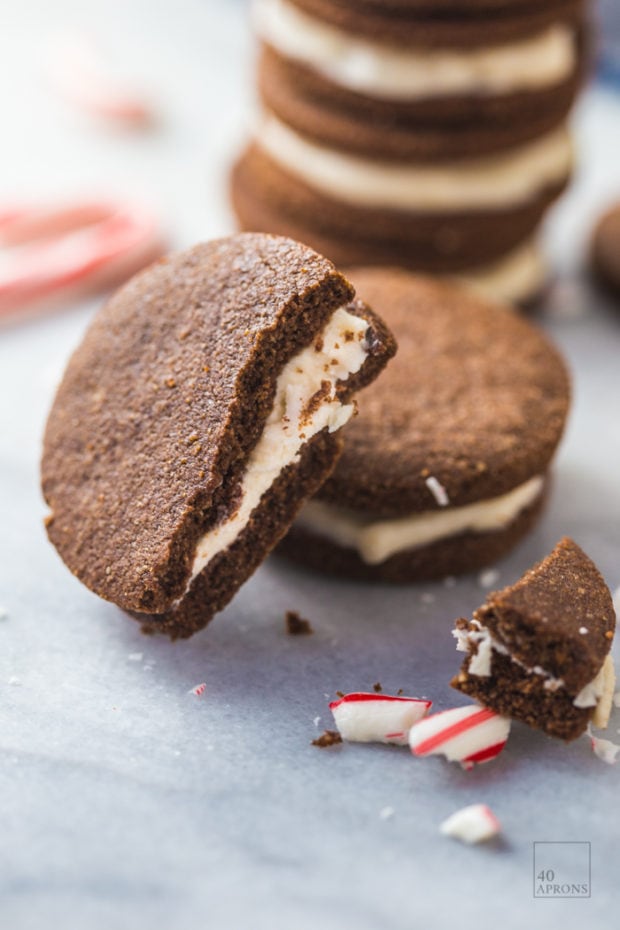 So if you're missing peppermint Oreos this season or are just trying to indulge in a healthier way, you must try these paleo peppermint Oreos. Both the cookies and the frosting come together in the food processor, making them really quite simple and quick for a homemade, healthier sandwich cookie. The crisp of the cookie against the soft, smooth frosting – it's so worth it.
Paleo Peppermint Oreos
These paleo peppermint Oreos are so much like the "real thing", but with no processed sugar, no grains, and no dairy. It's a Christmas miracle!
GO PREMIUM - AD FREE + MEAL PLANS
Ingredients
Chocolate Cookies:

2

cups

fine-sifted almond flour

(I use Blue Diamond from Costco)

1/4

cup

+ 2 tablespoons unsweetened cocoa powder

1/4

cup

tapioca flour

1

tablespoon

coconut flour

1/2

teaspoon

baking soda

1/4

teaspoon

salt

1/2

cup

coconut sugar

, ground fine in a blender

1/4

cup

organic shortening

1

tablespoon

coconut oil

, melted

1

egg

, beaten, preferably at room temperature

Peppermint Filling:

1/2

cup

coconut cream

(the solid white part from a can of refrigerated full-fat coconut milk)*

1/2

cup

non-hydrogenated palm shortening

1

teaspoon

peppermint extract

1/4

cup

+ 2 tablespoons maple sugar

1/4

cup

+ 1 tablespoon tapioca flour

(5 total tablespoons)
Instructions
Make the cookies:

Preheat the oven to 300ºF. Line cookie sheets with parchment paper.

Make the cookie dough. Add all ingredients, in order they are listed, to food processor bowl. Pulse until a dough forms. The dough will be pretty crumbly, but this is fine. Turn out the mixture onto a piece of plastic wrap. Divide into two equal portions, form a ball, and smush down slightly into a disc. Wrap each tightly in plastic wrap and chill for about 10 minutes.

Remove dough from the fridge, unwrap, and roll out to 1/8" thickness in between two sheets of parchment paper. Cut out cookies with round cookie cutter, about 2 1/2" wide or so. Place the cookies about 1" apart on the parchment-paper-lined cookie sheet. Return to fridge or freezer for about 5-10 minutes, or while you continue to cut out the rest of the cookies.

After chilling, remove cookie sheet and place in oven. Bake about 15 minutes, or until firm to the touch. (If the cookies ever begin to smell nutty, they're going to burn! Remove them from the oven.) Carefully transfer to wire cooling rack and cool completely.

Make the peppermint filling:

Add coconut cream, maple sugar, peppermint extract, and shortening to the bowl of a food processor. Process until very smooth.

Add in tapioca flour 1 tablespoon at a time, blending until smooth in between each addition. Then allow the mixture to puree for another 5 minutes until very smooth.

Make the "Oreos":

Spread a scant tablespoon or so of filling on top of one cooled cookie then sandwich another on top. Repeat until all cookies are made. Freeze for about 5-10 minutes before serving to allow the frosting to harden a bit.*
Notes
To get coconut cream, refrigerate a can of coconut milk for at least an hour or so. Remove from fridge, turn upside down, and open with a can opener. Pour off the clear coconut water which will be on top, and the rest is your coconut cream!
I keep ours in the fridge, which allows the frosting to be nice and stiff without the cookies seeming very cold.
Nutrition
Calories:
144
kcal
Carbohydrates:
10
g
Protein:
3
g
Fat:
11
g
Saturated Fat:
4
g
Cholesterol:
8
mg
Sodium:
69
mg
Potassium:
39
mg
Fiber:
2
g
Sugar:
3
g
Vitamin A:
10
IU
Vitamin C:
0.2
mg
Calcium:
27
mg
Iron:
0.8
mg
Net Carbs:
8
g
Recipe adapted from Gluten-Free on a Shoestring and Beyond the Bite.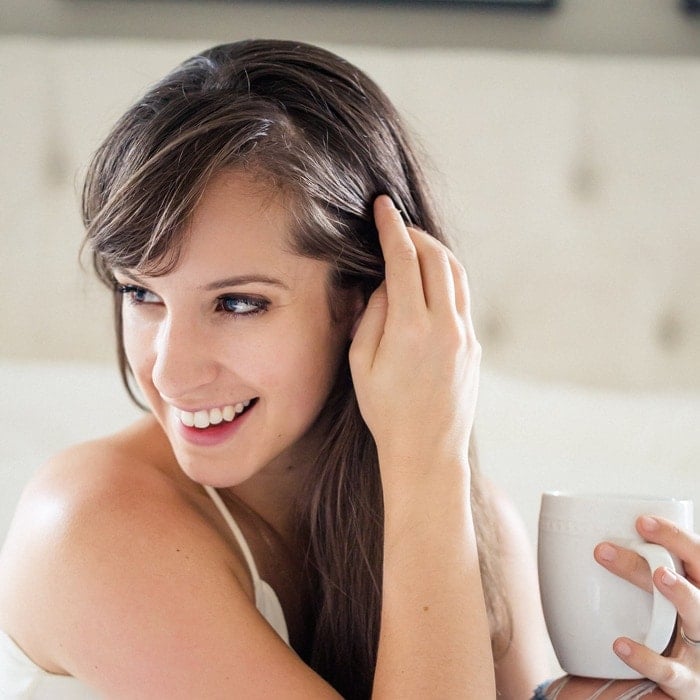 Cheryl Malik is the recipe developer, writer, and photographer behind the healthy, flavorful, family friendly recipes at 40 Aprons. She's been a blogger for 10+ years and is known for her delicious recipes and detailed recipe instructions. Cheryl is a mom of three who lives in Memphis, TN.