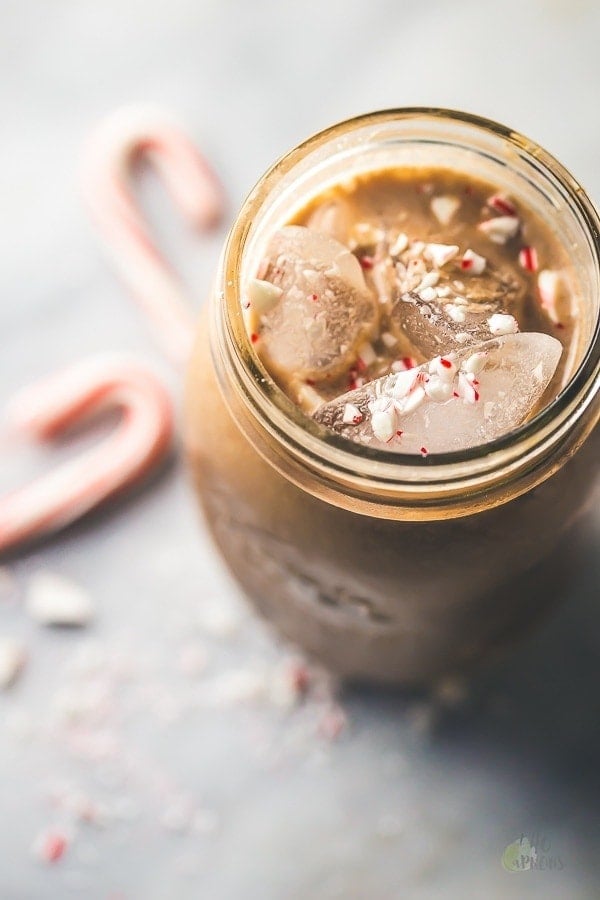 Four words that could change your life: Will you marry me? I think I'm pregnant. PALEO ICED PEPPERMINT MOCHA.
I'm not even playing around with this recipe, you guys, which might just be the best thing I've ever tasted. Is that hyperbole? NO. It's the truth I was put on this earth to serve. The paleo iced peppermint mocha truth. Because… omg.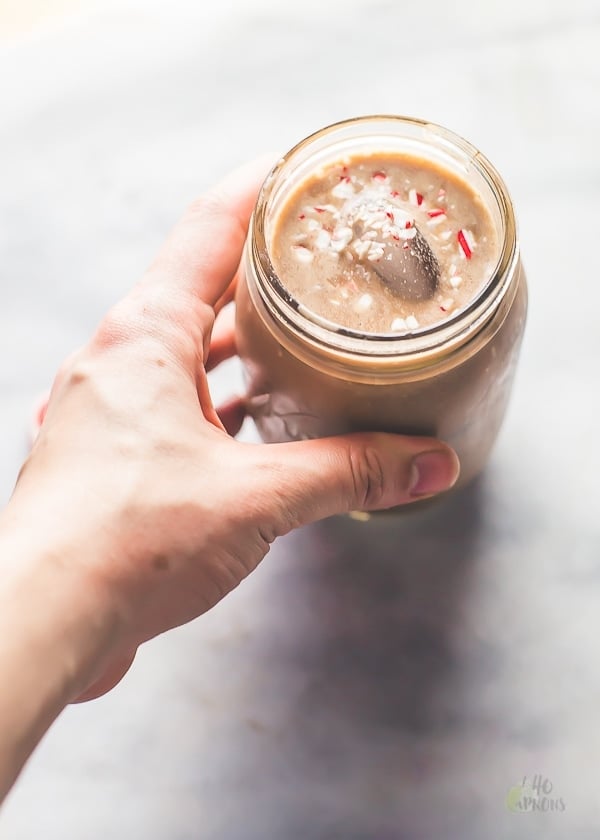 I live my life 11 months of the year totally happy with unsweetened coffee. Sure, I anxiously count down until the #PSL like the rest of us [white girls], but then I remember how they're kind of, erm, gross now? And I move on with my caffeinated life. But when December hits? Oh no. Game on. Peppermint mocha season.
But, since we went kind of paleoish lately (and I'm down eight pounds from my prepregnancy weight), the average storebought sugary stuff won't do the trick for me this year. And that's why this paleo iced peppermint mocha (which is also a vegan iced peppermint mocha… or clean-eating iced peppermint mocha just depending on which team you play for ?) is so amazing. It uses cold brew concentrate, which you can get at any nice grocery or health food store (like Sprouts or Whole Foods) and can live in your fridge for pretty much forever. In the middle of the afternoon, when I definitely need a mental and physical boost, the last thing I want to do is break out the espresso maker, grind up some beans, wait for the percolation… just no. (You could, however, use two double shots of espresso for this recipe with similar results.) Cold brew concentrate means this paleo iced peppermint mocha comes together in just a few minutes, too, so you don't have to live another day of your life without one just minutes away. #yourewelcome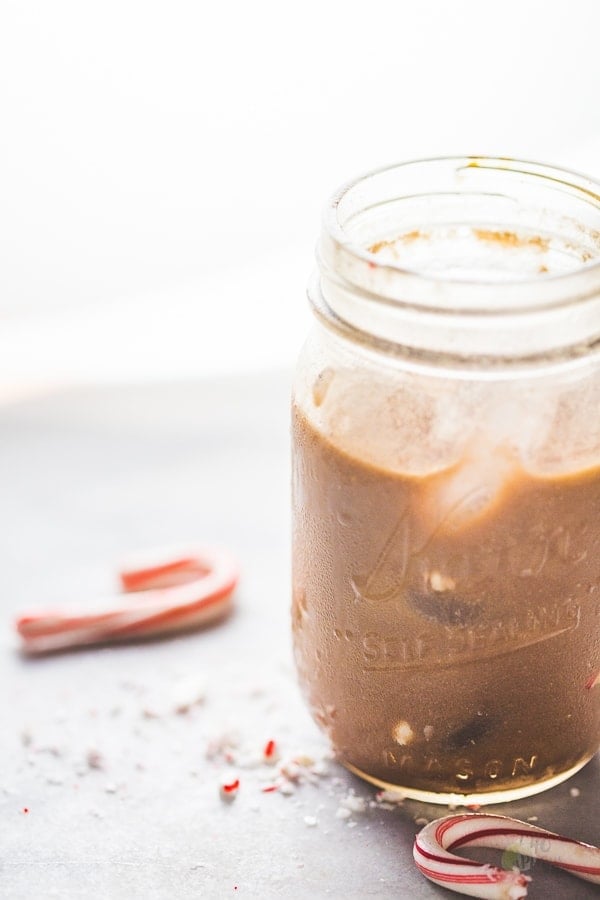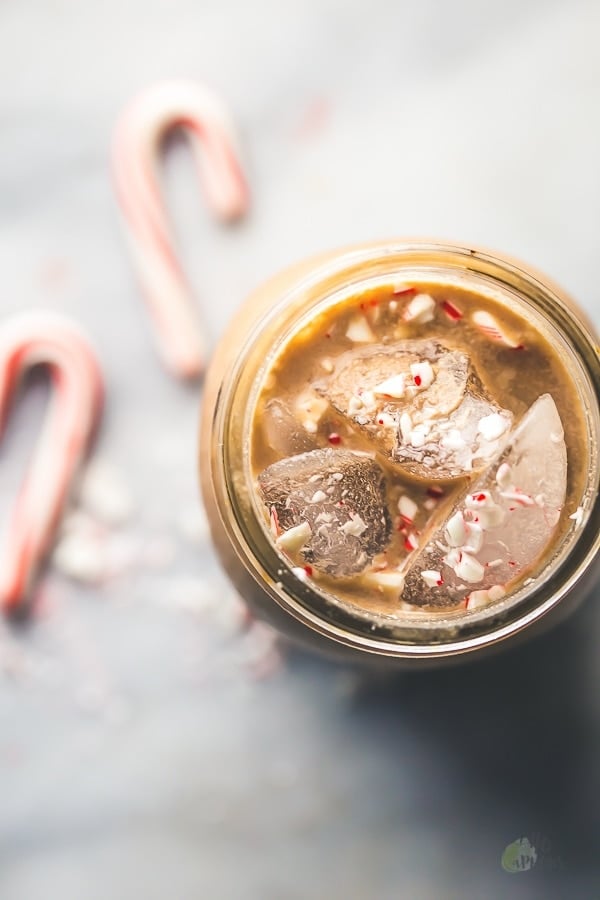 With rich coconut milk, a maple syrup-spiked chocolate syrup, and peppermint extract, you're going to love this holiday bevvy. Promise.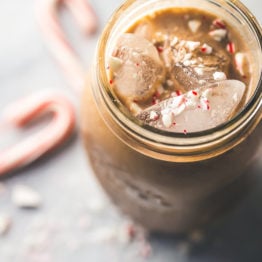 Paleo Iced Peppermint Mocha (Vegan, Clean Eating)
This paleo iced peppermint mocha is perfectly sweet, chocolatey, and minty, all without dairy or refined sugar. Comes together in 5 minutes and bound to become a holiday (or anytime!) favorite.
GO PREMIUM - AD FREE + MEAL PLANS
Ingredients
2

tablespoons

cocoa powder

3

tablespoons

pure maple syrup

1

can

can light coconut milk

8

ounces

cold brew concentrate

(or 4 shots espresso would likely be OK)

7

drops

drops peppermint extract

2-3

cubes

ice

1

tbsp

crushed candy canes to garnish

, if desired
Instructions
Whisk together cocoa powder and maple syrup until smooth. Pour into a shaker or mason jar and add coconut milk, cold brew concentrate, peppermint extract, and ice, and shake very well.
Notes
Pour over ice and enjoy! Garnish with crushed candy canes, if desired.
Nutrition
Serving:
1
g
Calories:
1014
kcal
Carbohydrates:
75
g
Protein:
10
g
Fat:
83
g
Saturated Fat:
73
g
Sodium:
90
mg
Potassium:
1389
mg
Fiber:
3
g
Sugar:
47
g
Vitamin C:
4
mg
Calcium:
147
mg
Iron:
14
mg
Net Carbs:
72
g