These paleo gingerbread pancakes taste just like a slice of gingerbread cake! Fluffy and rich, these paleo gingerbread pancakes are the ultimate healthy Christmas breakfast. Gluten free and grain free.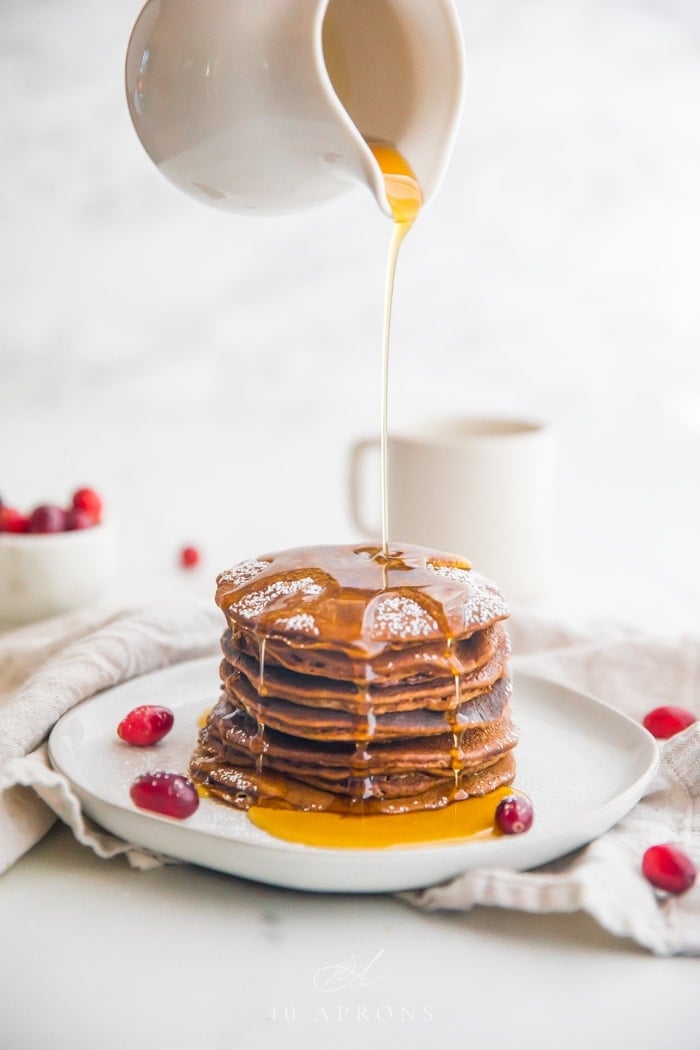 I've always loved gingerbread, and no, not the crunchy little cutouts, the ones that fight rat kings in your sleep. Those, to me, are an assault on the spiced and tender cake that gingerbread represents. Spiked with molasses and served entirely too infrequently in December.
But it wasn't until I visited Passau, Germany with my mother on a Viking River Cruise last year that I realized the full depth of my predilection.
Having passed through an intense two-week obsession with Ancestry.com, coincidentally just long enough for my free trial to expire, I lobbied for us to stay in Passau when we docked, rather than driving to another German excursion. I recognized the town from my protracted family tree, insisting upon walking around imagining what great-great-great-great-grandfather Peter or Johann did during the floods and where they drank their beer and how they looked at the Danube from the top of the town.
And naturally, I Googled. The highest rated place to eat was easily a little sweets shop, Café Simon, which wouldn't do for lunch but would certainly suffice when we needed a quick little stop for sweets and bubbly after a bit of shopping for the men we left back in the States.
On the trip, we'd heard often of the real German gingerbread, and, loving the heady sweet to start with, I absolutely had to hunt some down.
Café Simon was impressive to put it mildly. In the middle of Passau, an otherwise low-key town whose tour included a couple churches and markers on a building where it flooded a few times, Café Simon reminded me of a chic sweet shop out of Paris. With what seemed like hundreds of eclectic varieties of truffles and gorgeous branding, I spent way too many euros making sure I could try everything, bring back everything, remember everything. But for my sweets and bubbly?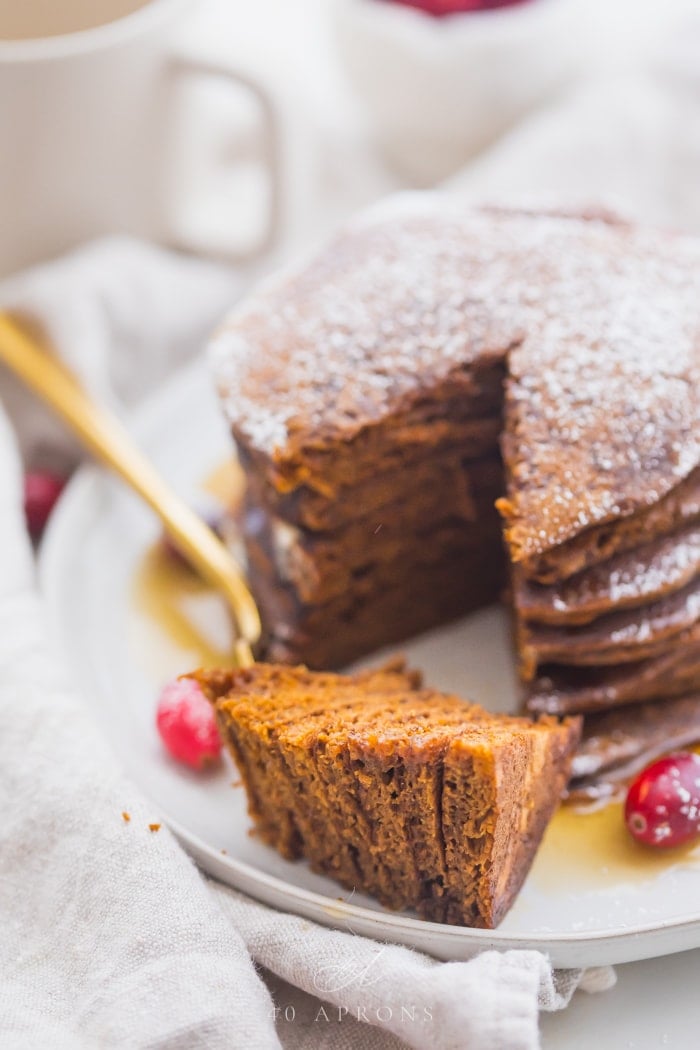 It had to be the Passau gingerbread cake and the sparkling wine with literal gold flake in it. Literal gold flake!
More spiced, denser, and more complex than I remember gingerbread back home being, I feel instantly in love with the flavors and vowed to honor them whenever I could upon my return. AKA…. paleo gingerbread pancakes, y'all. My German ancestors would be, like, so proud……?
Why these paleo gingerbread pancakes are so good:
These paleo gingerbread pancakes are obscenely delicious.
They taste just like a slice of gingerbread cake, but with no grains, no gluten, no refined sugar, nada.
On top of that, they're fluffy and filling, and no one would know they're paleo.
In other words? They're perfect for the holidays, especially Christmas morning, when you need to start the day off with a bit of Christmas magic… But you want to save the gluten belly for later, right?
You'll absolutely love these paleo gingerbread pancakes, because they taste like a Christmas indulgence but are a way healthier option. Spiced with gingerbread classics and sweetened with molasses, they're fluffy and rich and I'd eat them every day if I could.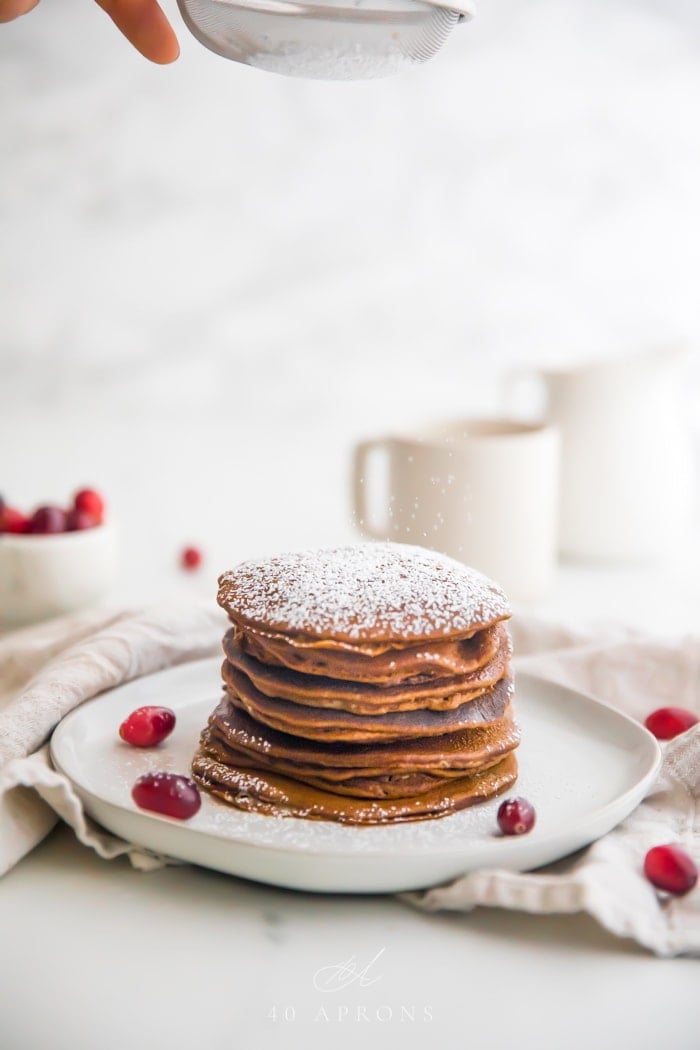 How do you make gingerbread pancakes?
Oh, they're so easy! You whisk them together in just a couple minutes, then it's pour and flip from there.
Start by whisking together the dry ingredients in a medium mixing bowl. Next, whisk together the wet ingredients in a large mixing bowl.
Then, fold the dry ingredients into the wet ingredients and stir until well incorporated and no lumps remain.
Preheat a skillet or griddle over medium to medium-low heat until well, evenly heated. Pour about 1/4 cup batter slowly onto the griddle, letting the pancake form as you pour, since the batter will be relatively thin.
When bubbles form and sides of pancake are firm, very carefully flip and cook through on the opposite side, about 1 minute. Remove with a spatula and cook remaining batter.
Serve with pure maple syrup, ghee or butter, and a sprinkling or organic powdered sugar or tapioca starch (It looks just like powdered sugar!). Fresh cranberries are perf for garnish, too.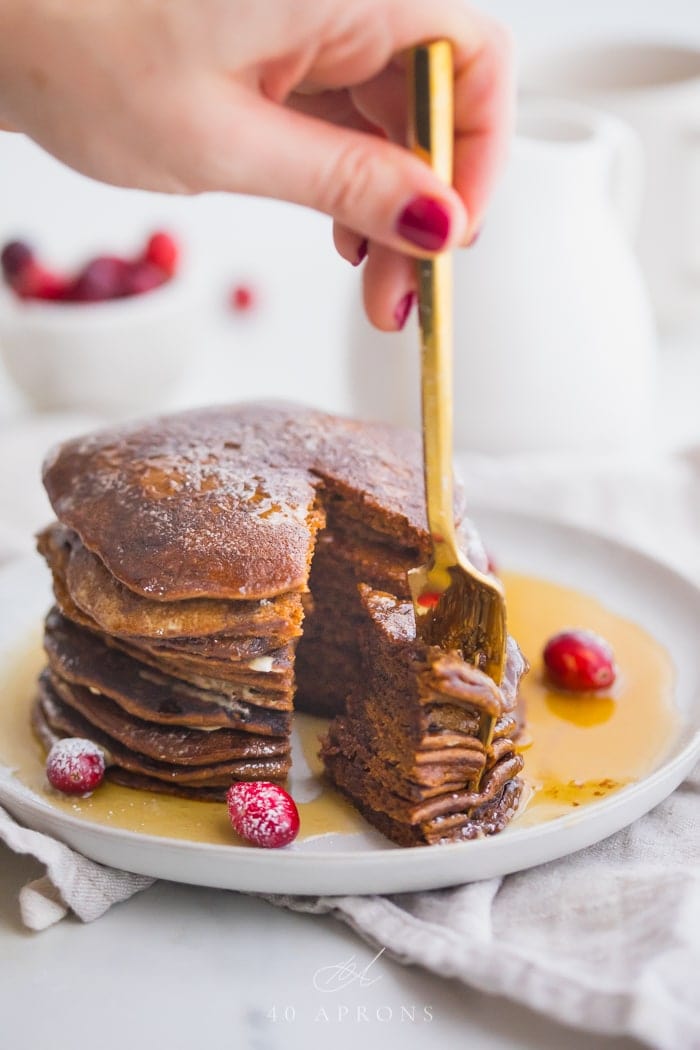 Other recipes you'll love: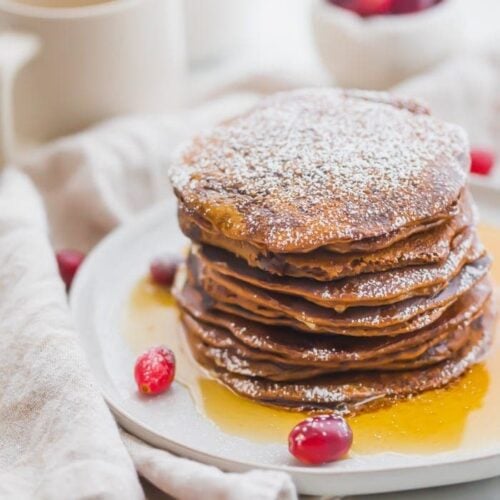 Paleo Gingerbread Pancakes (Grain-Free, Gluten-Free)
Tender paleo pancakes spiced with classic gingerbread flavors, like molasses, ginger, nutmeg, and cloves. Easy to make, they're the perfect healthy Christmas breakfast.
Ingredients
1

teaspoon

ground ginger

1/4

teaspoon

cloves

1/4

teaspoon

nutmeg

1/4

cup

coconut sugar

1/4

teaspoon

salt

1/4

cup

coconut flour

1/3

cup

tapioca starch

1/2

cup

almond flour

3/4

teaspoon

baking soda

3

tablespoons

molasses

1/4

cup

almond milk

1

teaspoon

apple cider vinegar

4

large eggs

1

teaspoon

vanilla extract
coconut oil

for frying

pure maple syrup

for serving

tapioca starch or organic powdered sugar

for serving
Instructions
In a medium mixing bowl, whisk together dry ingredients (ginger through baking soda). In a large bowl, whisk together wet ingredients (molasses through vanilla extract). Fold dry ingredients into wet and stir until well incorporated.

Heat a bit of coconut oil in a skillet or griddle over medium or medium-low heat. Spoon pancake batter on, about 1/4 cup per pancake. Batter will be thin but will set upon hitting heat, so pour relatively slowly. Cook until bubbles form and burst on the surface. Flip carefully with a spatula and cook through, about another minute. Serve with pure maple syrup and a sprinkling of tapioca starch to mimic powdered sugar or use organic powdered sugar.
Notes
The batter will be thin so make sure your skillet or griddle is well preheated before pouring batter on. Pancakes will form upon hitting the heat but burn easily, so err on the side of a well-preheated medium-low heat. A healthy (PFOA-free) nonstick pan is ideal; I use ceramic frying pans like this.
Nutrition
Calories:
96
kcal
Carbohydrates:
12
g
Protein:
3
g
Fat:
4
g
Cholesterol:
54
mg
Sodium:
158
mg
Potassium:
93
mg
Fiber:
1
g
Sugar:
6
g
Vitamin A:
80
IU
Calcium:
35
mg
Iron:
0.8
mg
Net Carbs:
11
g