Leo's DIY Winnie the Pooh Birthday Party

Posted: 10/27/17 Updated: 06/25/18
It seems like just yesterday I was making a pickle sundae to share the news with you all; I was pregnant! Well, I say that, but it doesn't feel like just yesterday. It feels like hundreds of days, 764 to be exact, full of almost overwhelming joy, speckled with nights where I literally counted down the seconds until 5 p.m. to pour a glass of wine, punctuated with intense bouts of fear (Because boys fall off of things. A lot.) and heart-bursting love and sadness at the thought of a world where any of us didn't have the other.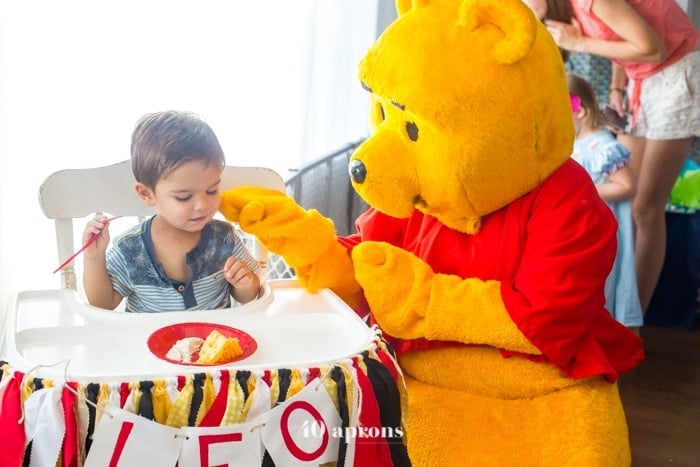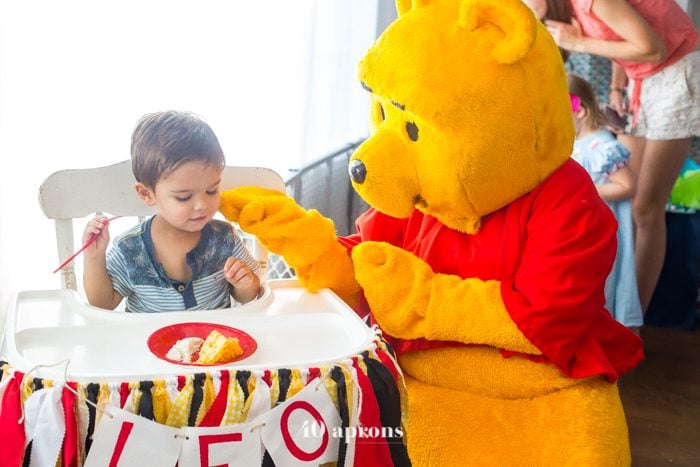 In other words, it's been two years of basic parenting for us, and two years since we've known my little man, Leo.
I've written before about how complex being a mother is for me, especially as my experience paralleled my dip into a formal career, followed by a quick exodus from the agency world, and a recommitment to my blog and to a flexible life that allows for trips to the zoo and days off just because and for shooting video with a toddler pulling muffins off the set.
But every day, I come more into my own as a mother, and we grow more and more inextricable, more than we even were before. To celebrate our second year loving Leo, we threw him a DIY Winnie the Pooh birthday party! Winnie the Pooh is one of his all-time favorites, one that doesn't waiver in and out of obsession (Masha and the Bear anyone?), consuming him one day and entirely forgotten the next.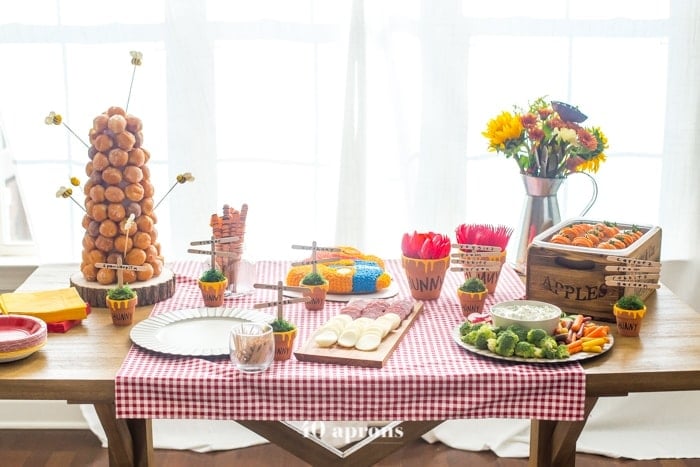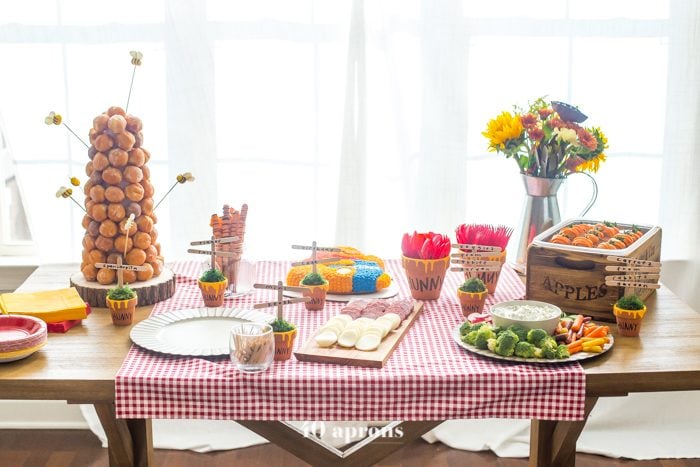 Plus, so classic. Right?
My inspiration for the DIY Winnie the Pooh birthday party was the feeling of the Hundred Acre Wood, rather than the image of Winnie the Pooh alone. I loved the idea of classic birthday party decor – streamers and balloons – in classic Pooh colors, but I wanted to make our home feel like Christopher Robin's home, complete with a lovely fantasy world.
Oh, and the best part? Pooh actually came to visit! My assistant and one of my very best friends agreed to dress up as Pooh, and it was kind of the best thing ever. All the kids swarmed him (/her?) and led him around to read books and play games and snuggle and eat cake, just like they hung out with Pooh every day. The best.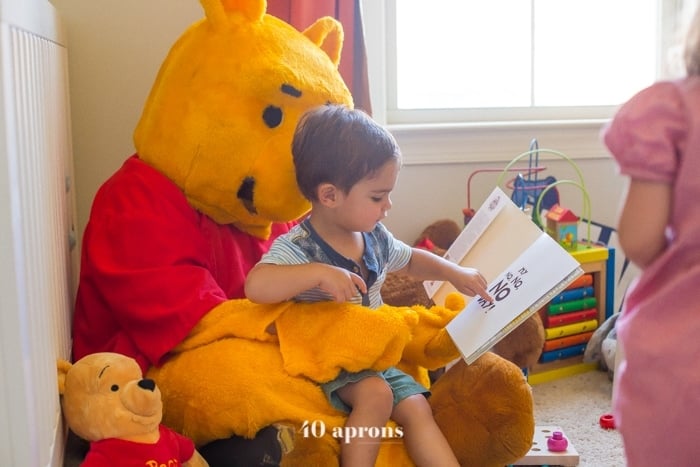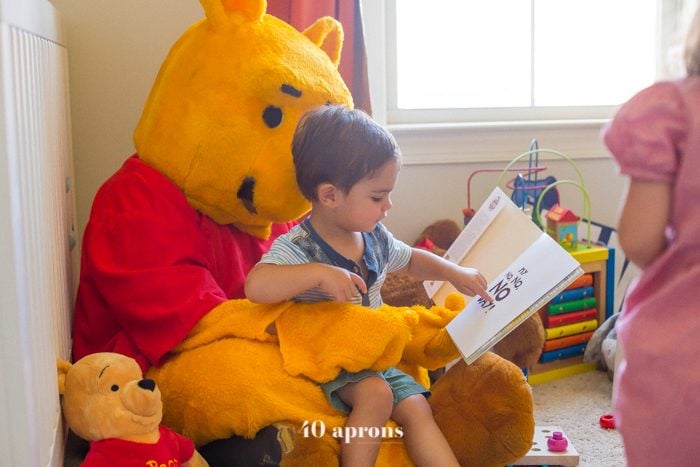 (And yeah, if you're wondering, she is a food blog virtual assistant (though I'm lucky enough to get her to work for me in person!) and she's taking on new clients. She obviously goes the extra mile ? Check her out here!)
Obviously, we didn't make much, or any, paleo food. We're lucky to have no major allergies, only sensitivities, and I find that those loosen when we're relaxed and hanging out with our friends, too. Since the party started at 10 a.m., I made only pretty light finger food, a mix of homemade make-ahead dishes and storebought treats.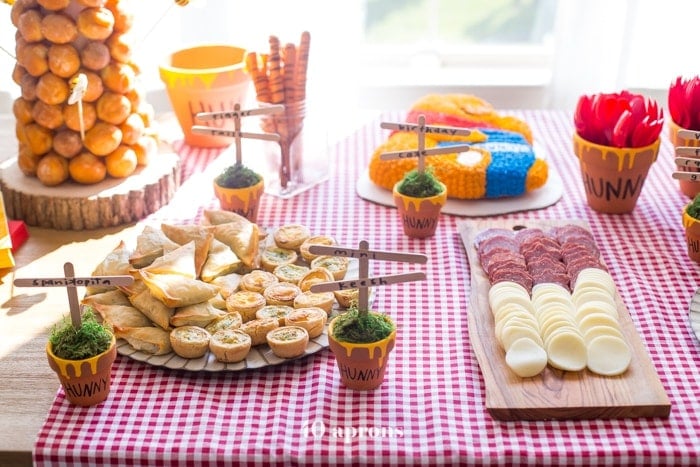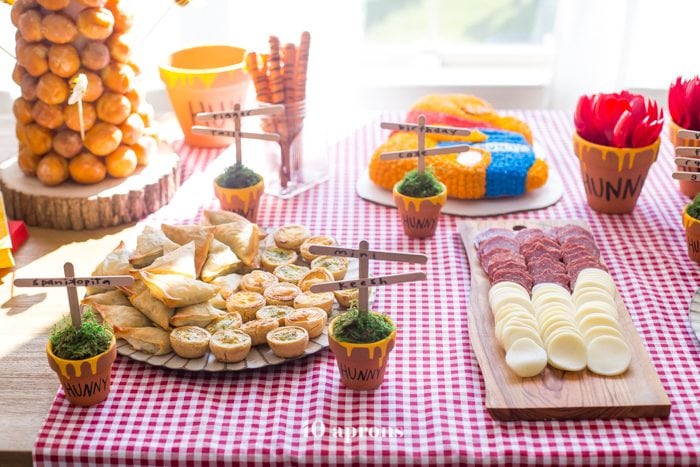 And that beehive croquembouche? Yeah, I'm a little #extra; it's a curse. On the way to Michael's the day before the party to get even more orange candy melts, we decided we needed a bit more food. And why not a croquembouche? Why not! I planned on a cream puff tree, using Costco's frozen cream puffs, but they were out so I drove to Dunkin Donuts and asked the 17-year-old guy in charge of the drive-thru lane just how many donut holes one would need for a croquembouche.
And then I drove back in the morning, because we had like 20 too few. And then we thought we had too many, so we ate 8. And then we were 8 short. So we drove back again. So… err on the side of way too dang many donut holes here, people. Learn from my mistakes.
Winnie the Pooh Birthday Party Food
Carrots from Rabbit's Garden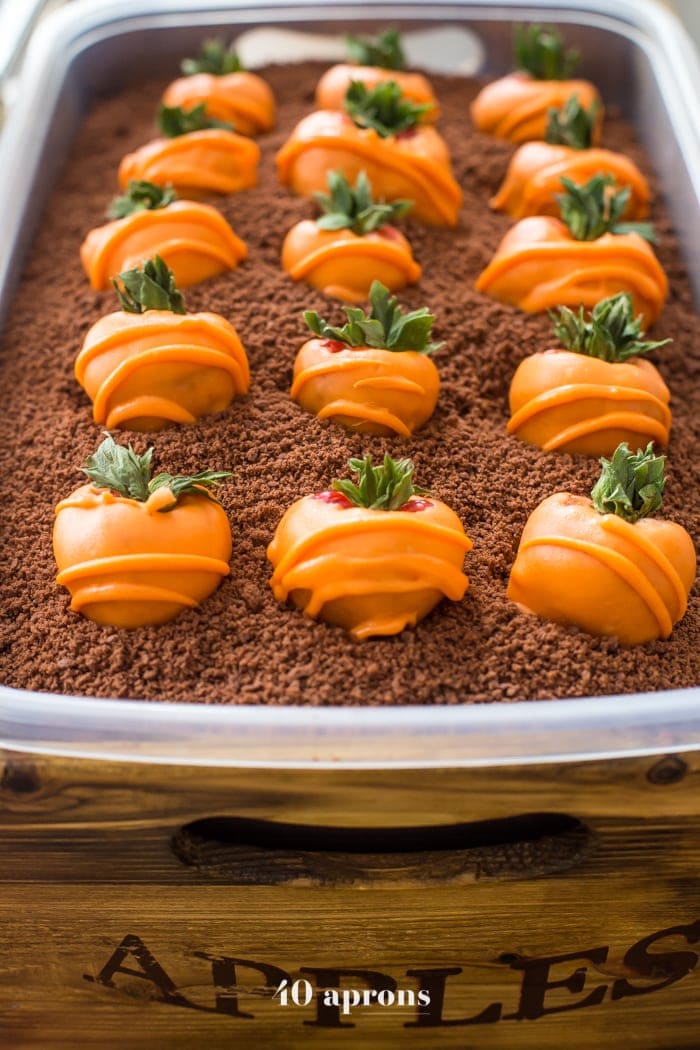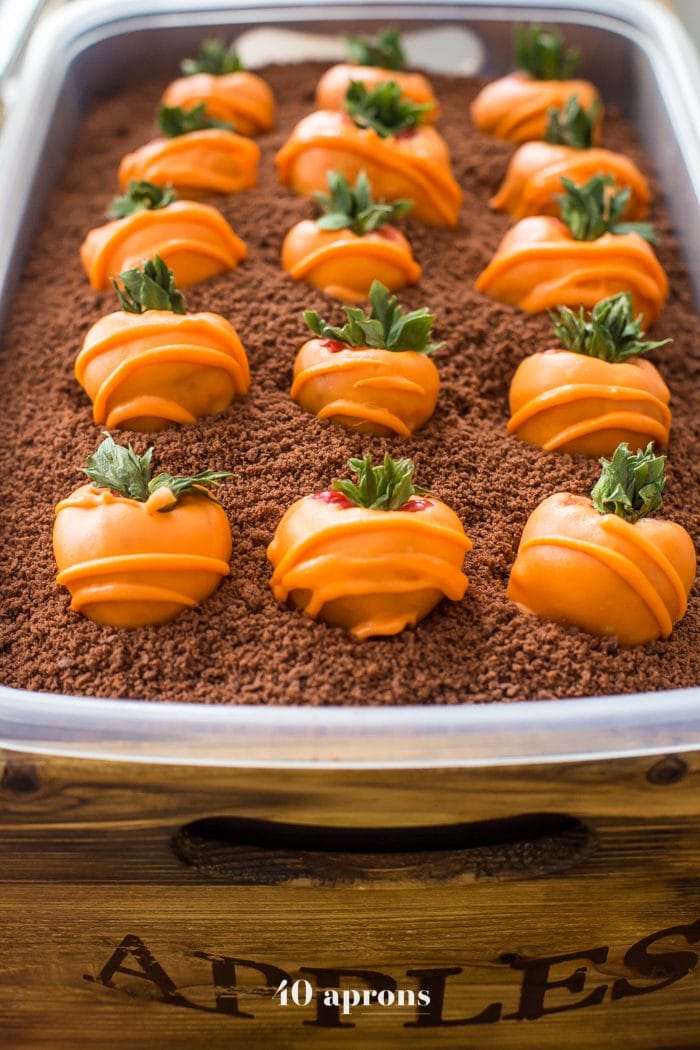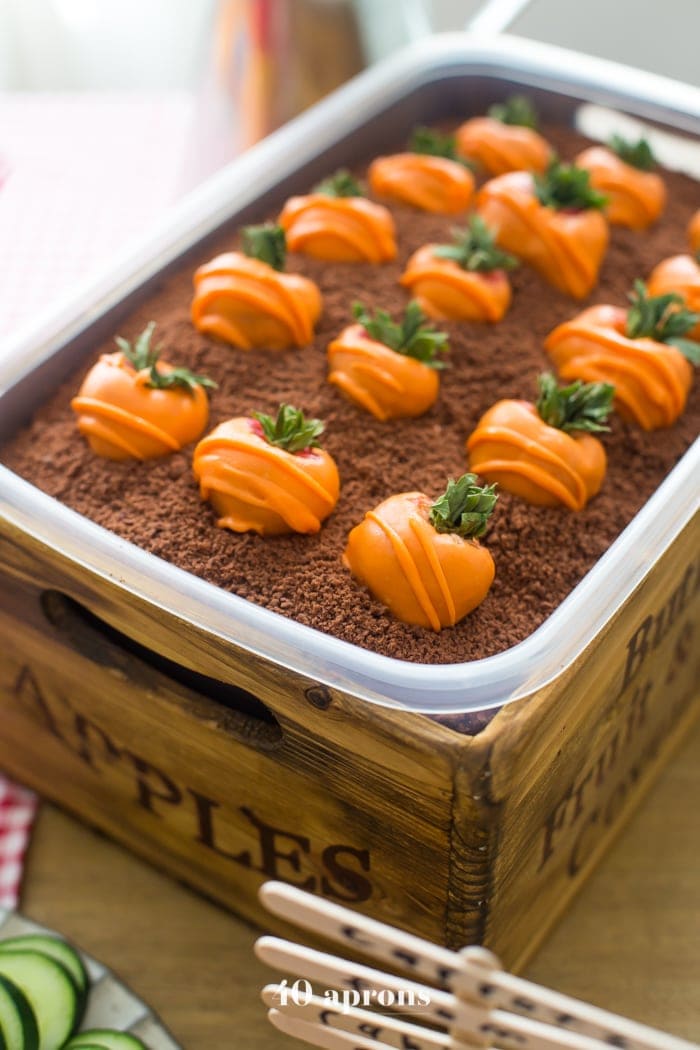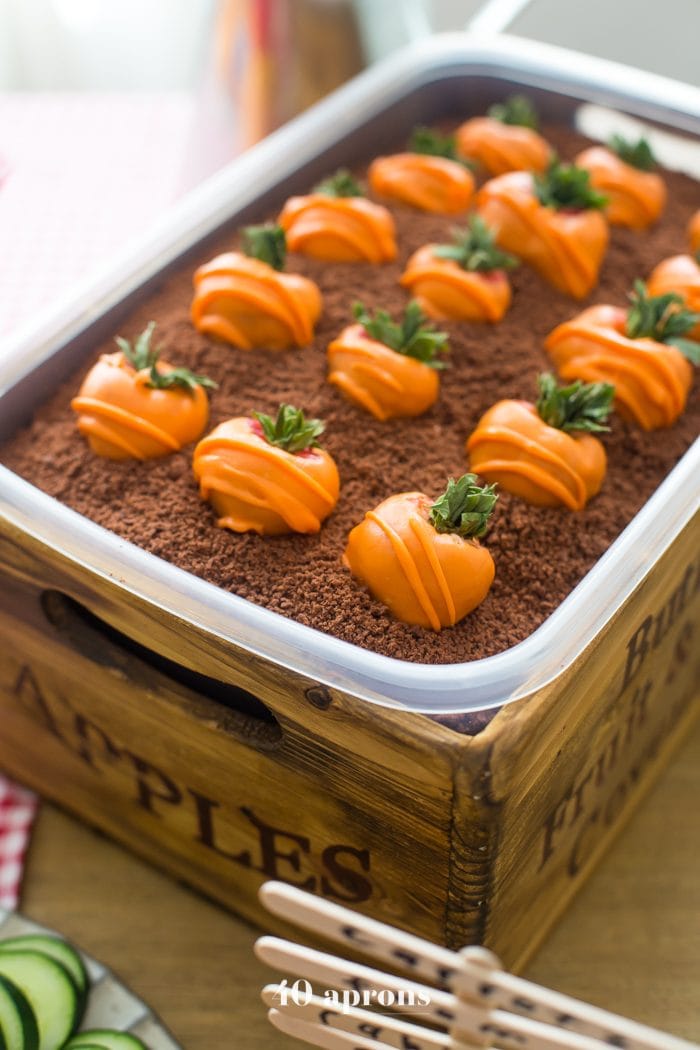 I melted orange Wilton Candy Melts and stirred in a couple spoonfuls of coconut oil to make the dip smoother and thinner, then dipped strawberries in the mixture up to their hulls. I let them dry, then drizzled the remaining candy melt mixture over them by spooning it into a plastic bag and snipping off the tip.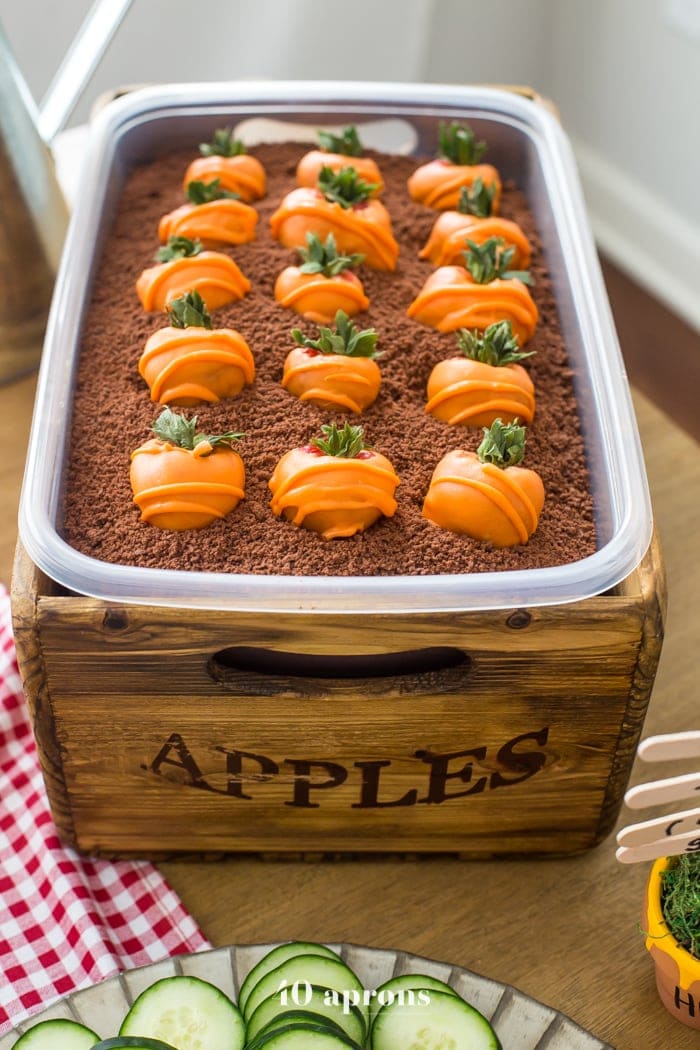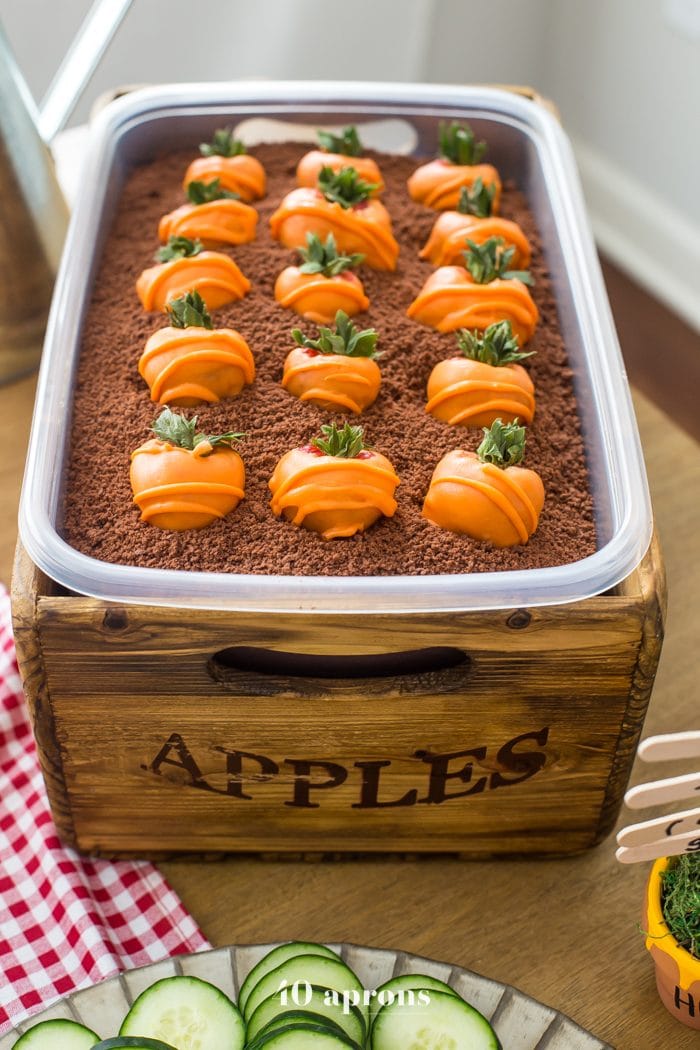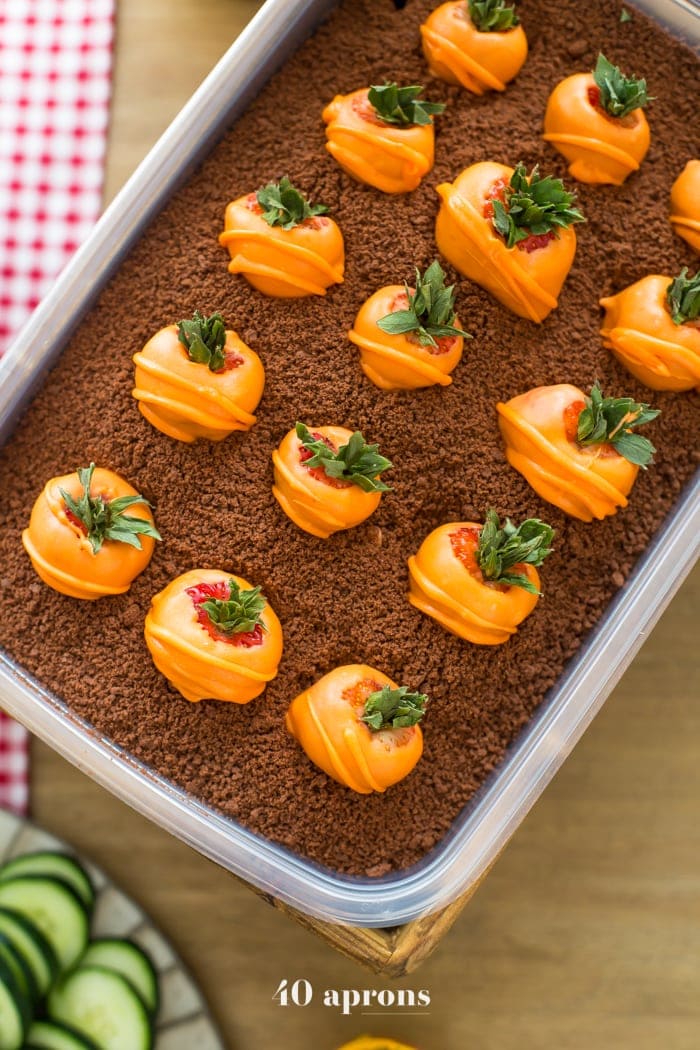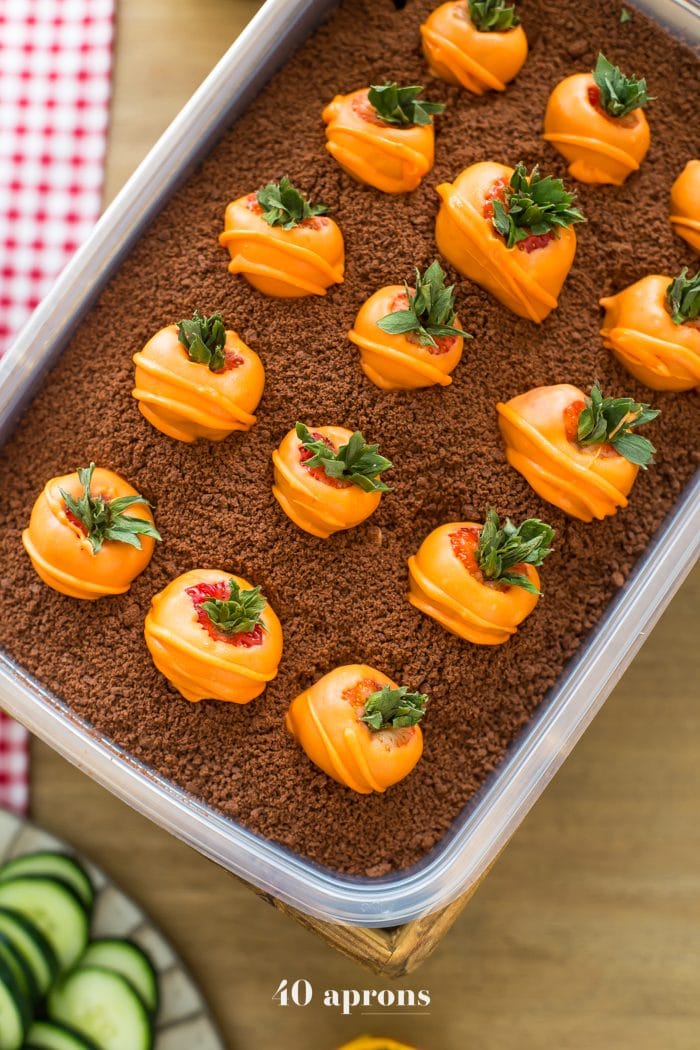 I blitzed 2 trays of chocolate sandwich cookies from Kroger in the food processor to make "dirt" and laid it all out in a rectangular food container. I then snuggled the dipped strawberries in the "dirt" in rows to mimic a garden. Big hit! I made both the dirt and the strawberries the night before.
Tigger Tails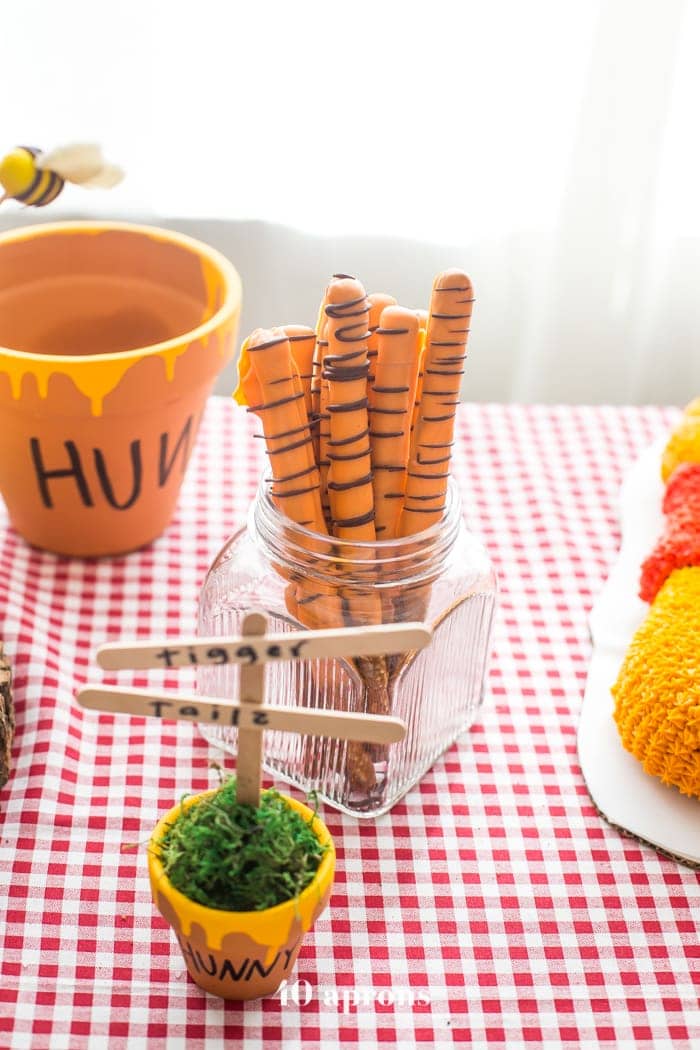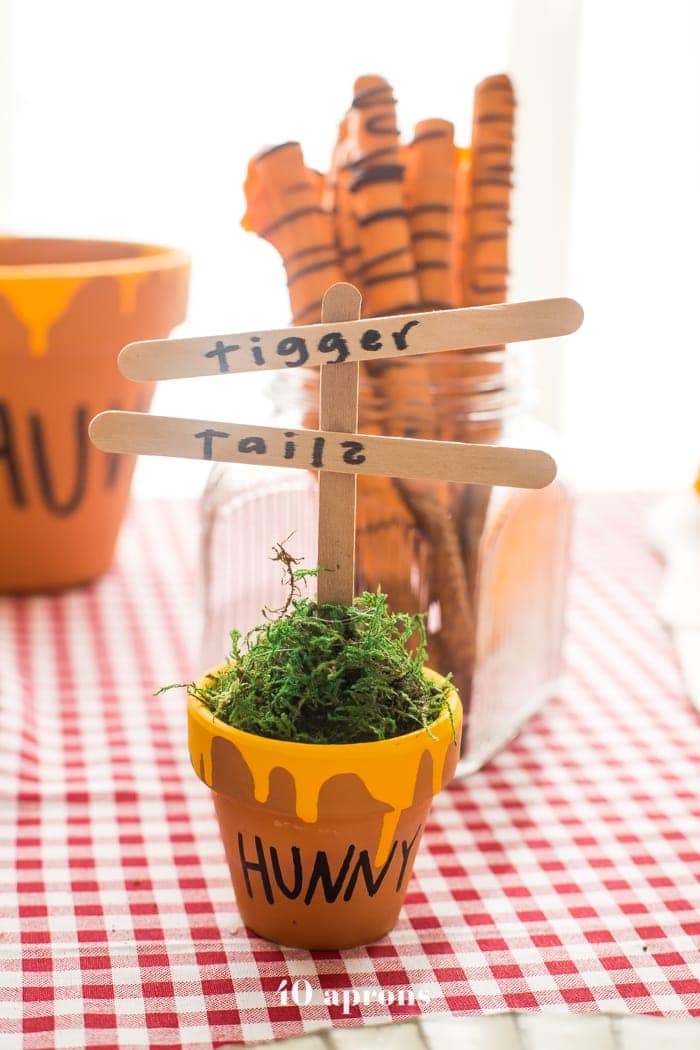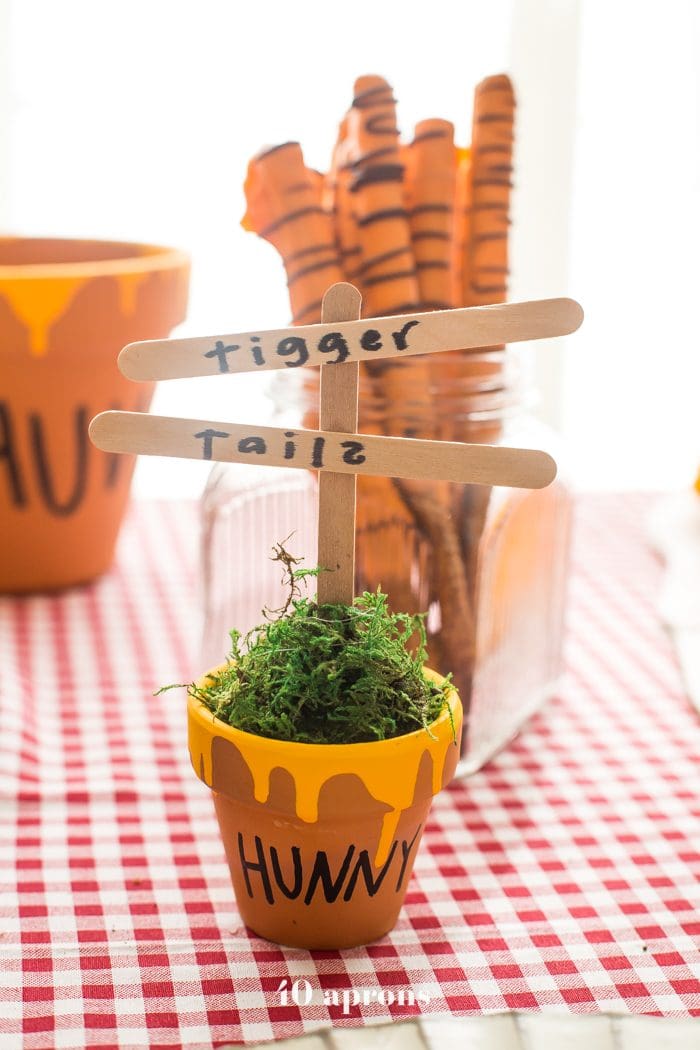 I made the Tigger Tails two nights before the party by melting orange Wilton Candy Melts and some coconut oil and pouring it into a tall zombie-style glass with straight sides. This helped the process go quickly and reduce waste by having to fill up a big ol' bowl of melts that I won't end up using. I dipped big pretzel sticks into the mixture and laid them on parchment paper to dry. Then I melted some chocolate chips in the microwave, poured the mixture into a plastic bag, snipped off corner, and drizzled the chocolate over the dried orange-dipped pretzel sticks. I found that shorter back-and-forth motions, rather than long side-to-side motions helped give the "tails" more of a tiger look, rather than a plain stripe.
Veggies from Rabbit's Garden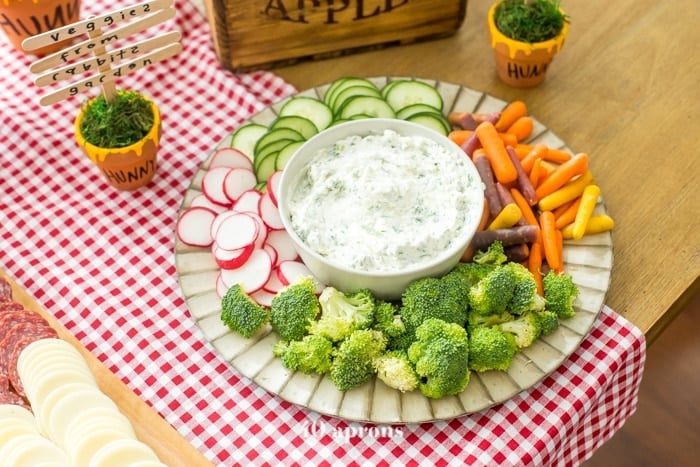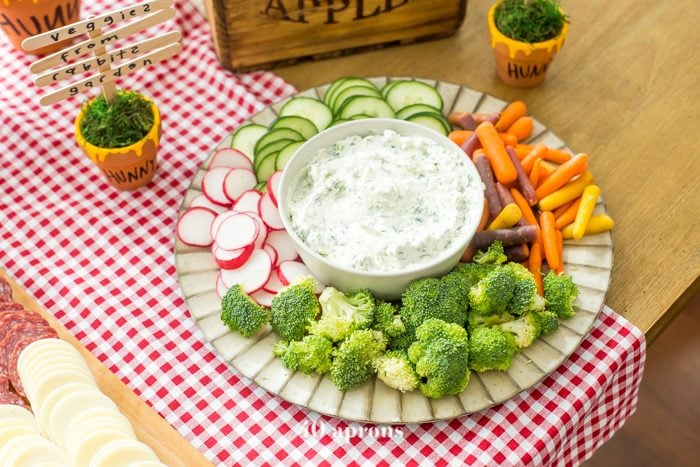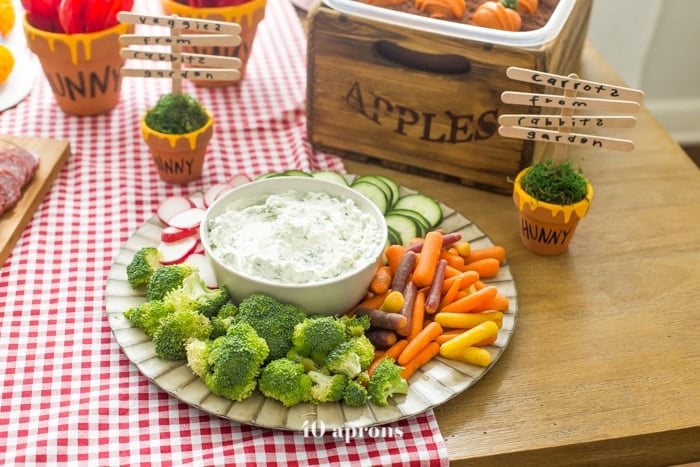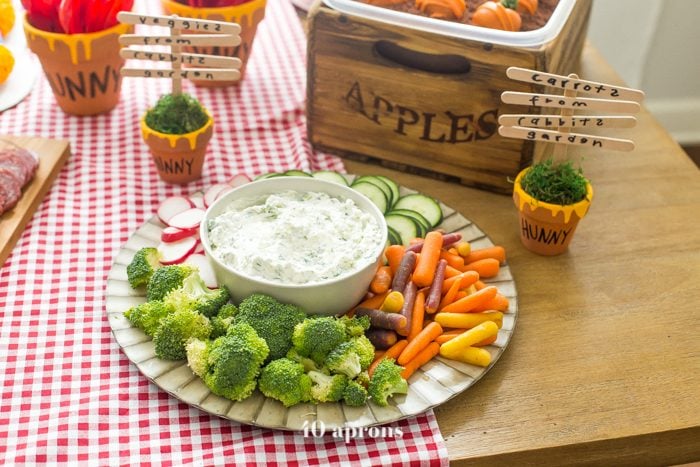 I make this creamy herb dip every chance I get, and Leo's Winnie the Pooh birthday party was no exception! I paired this unbelievable dip with fresh crudité, opting for a range of colors and textures for visual impact and versatility in taste. I made this two nights ahead; it always gets even better after the flavors can meld a couple days!
Beehive Croquembouche / Donut Tower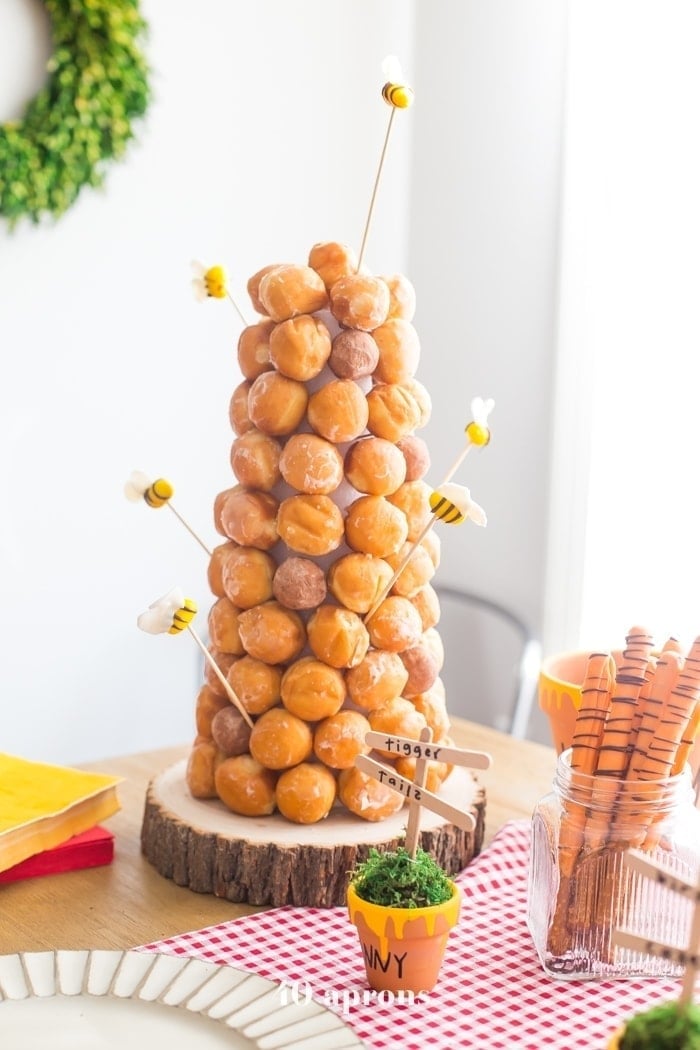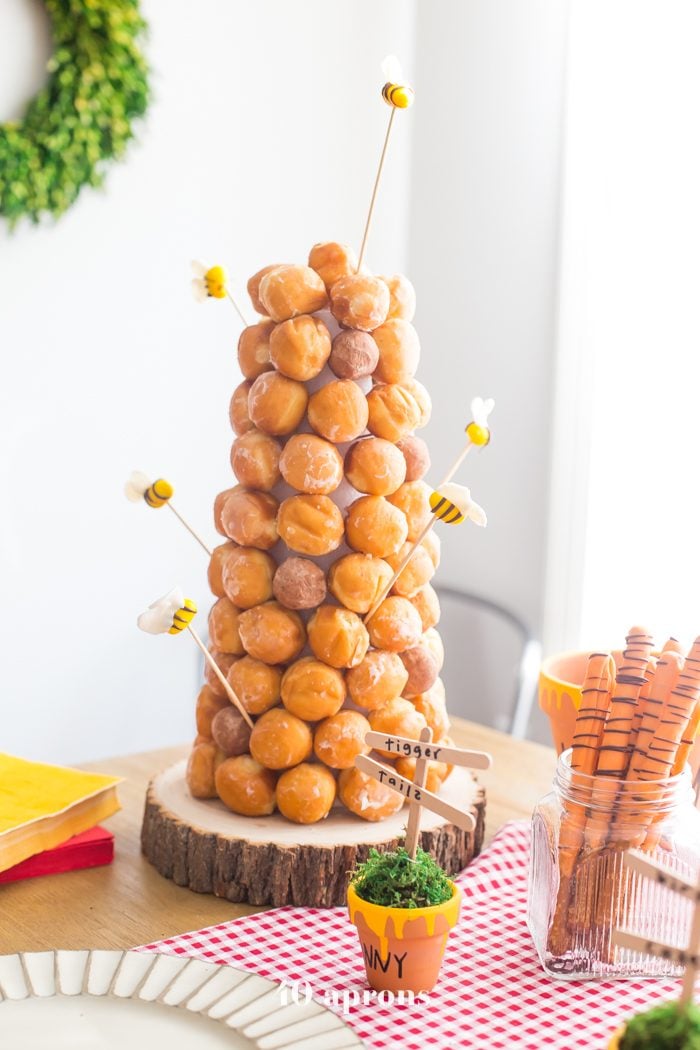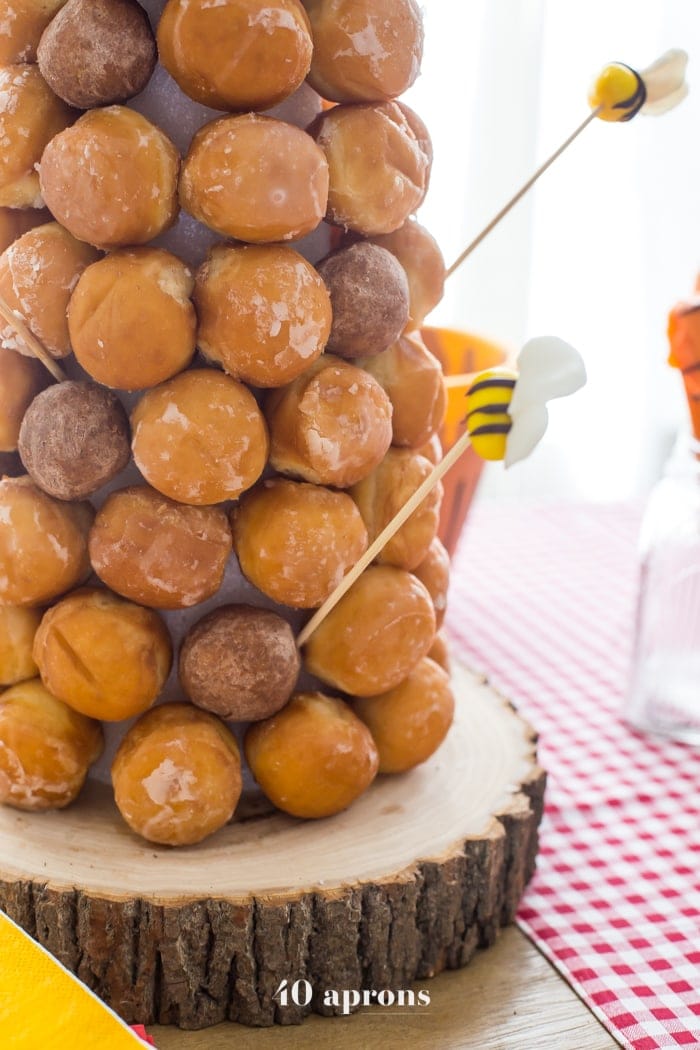 I picked up a styrofoam cone from the floral section at Michaels and covered it with toothpicks the night before. I read on Pinterest that they used hundreds of toothpicks on theirs, so I way overdid it on the toothpicks and ended up taking out tons as I went. You only need 1-2 toothpicks per donut hole, so I recommend covering the cone in toothpicks about every 1.5-2″ apart ahead of time. Then you simply stick on the donut holes close to one another and voilà!
I also made little fondant bees because #extra. I picked up two containers of pre-made fondant at Michael's, one yellow and one white, and rolled little yellow balls of the stuff into pill shapes, then made smaller white balls and flattened them into wings. I wish I'd picked up some black candy melts or fondant, in which case I'd have drizzled the melts over the bee bodies to make stripes or made long skinny snakes of the black fondant to press onto the pill shapes. Instead, I bought a black candy marker that just didn't work, so I ended up melting chocolate chips and drizzling that over the bodies to make stripes. Lame.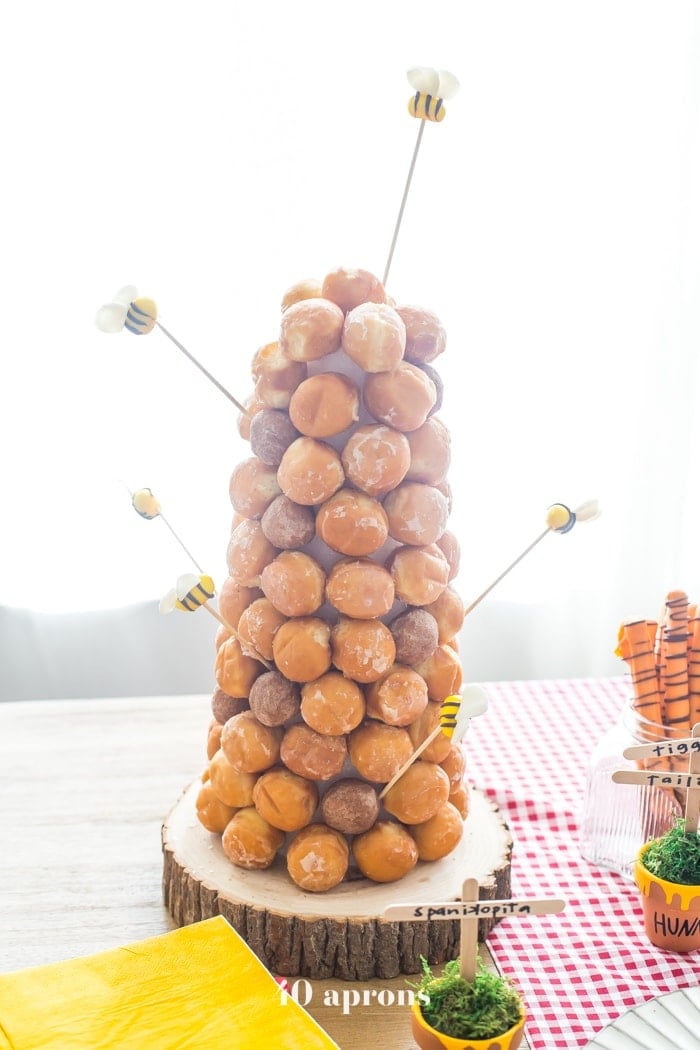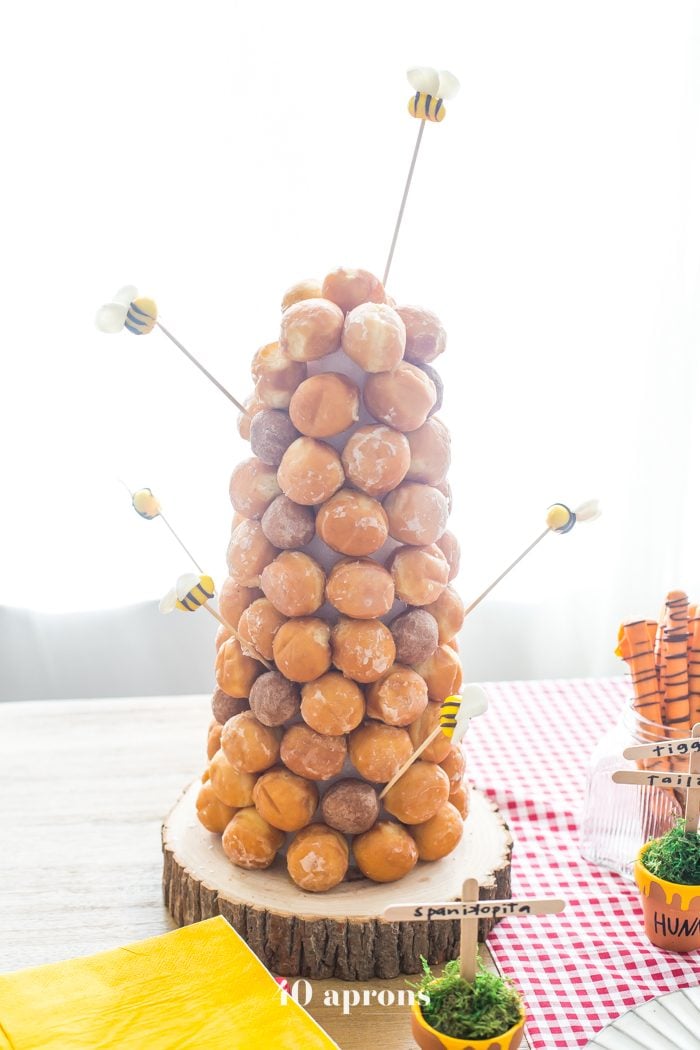 I made these the night ahead and stuck them with bamboo skewers that we keep for the grill (like my Whole30 grilled potato skewers with ranch dressing!) and filled a soup bowl with grains (Rice, beans, or other grains will work). I stuck the skewers into the grains to hold them and kept the bees in the fridge overnight. If I hadn't used chocolate or melts, I would have left them out at room temperature, though.
I waited until the entire donut tower was done then stuck the bees in random spots.
Cinnamon Apple Cider Mimosas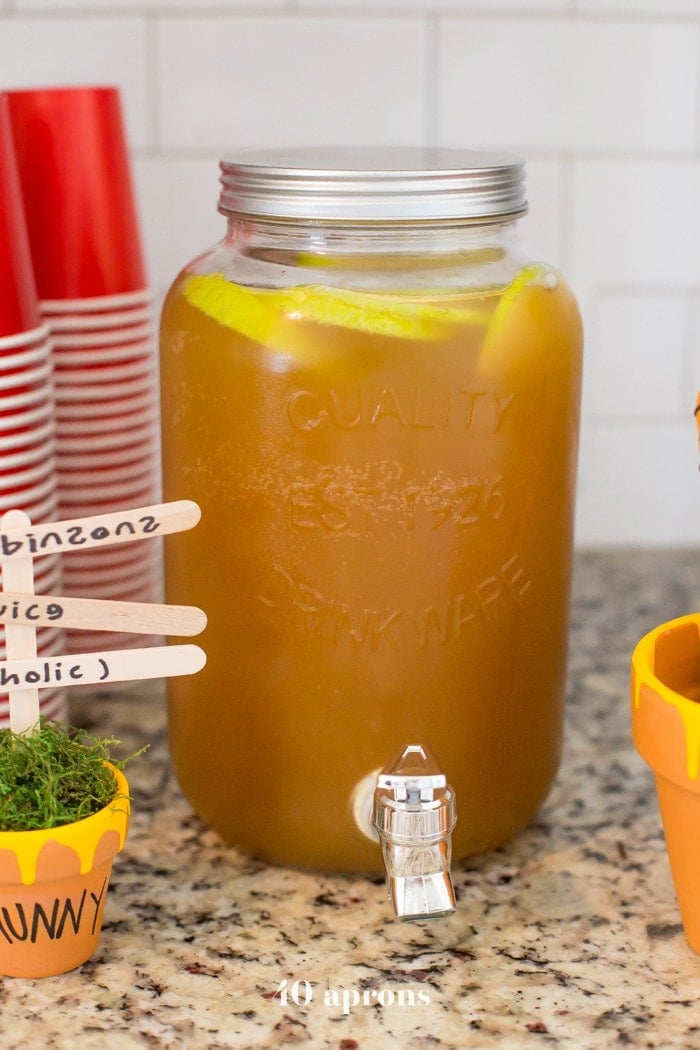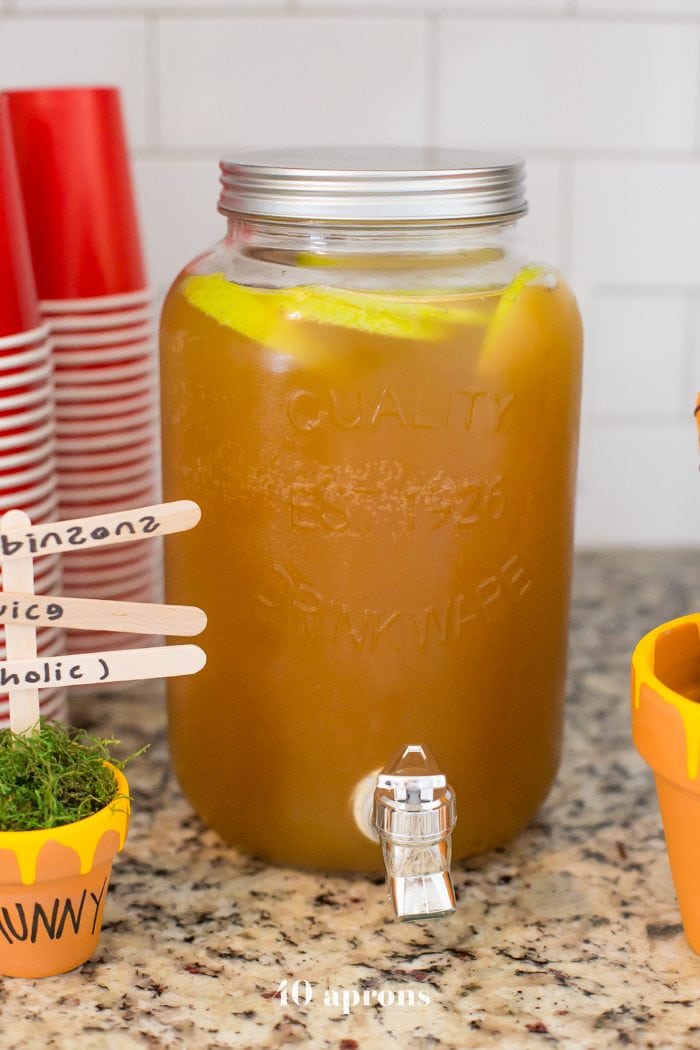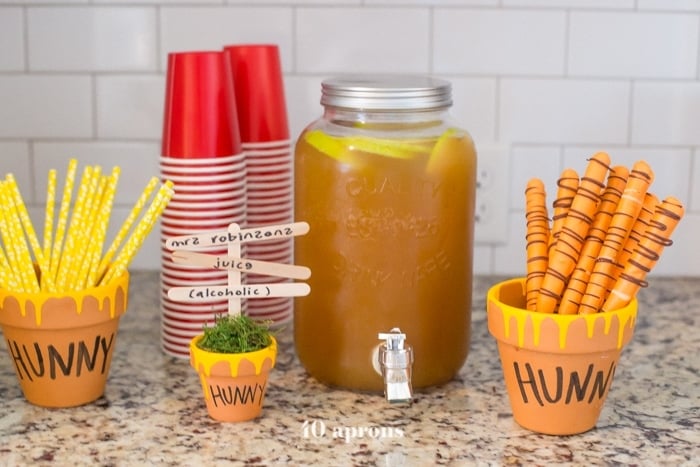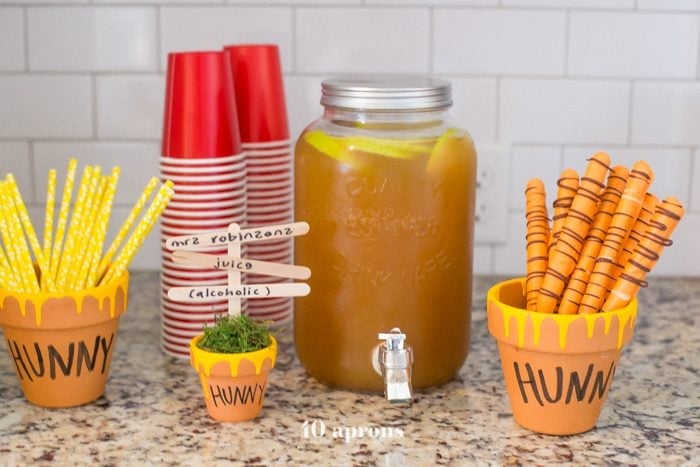 Ohhhh, mama. Every 2-year-old birthday party needs mimosas, right? I wanted to include a simple but flavorful alcoholic option, so I mixed together equal parts champagne and apple cider, then floated apple slices and cinnamon sticks in there for garnish. I stirred in a few glugs of Fireball for a warming kick. They were extremely popular!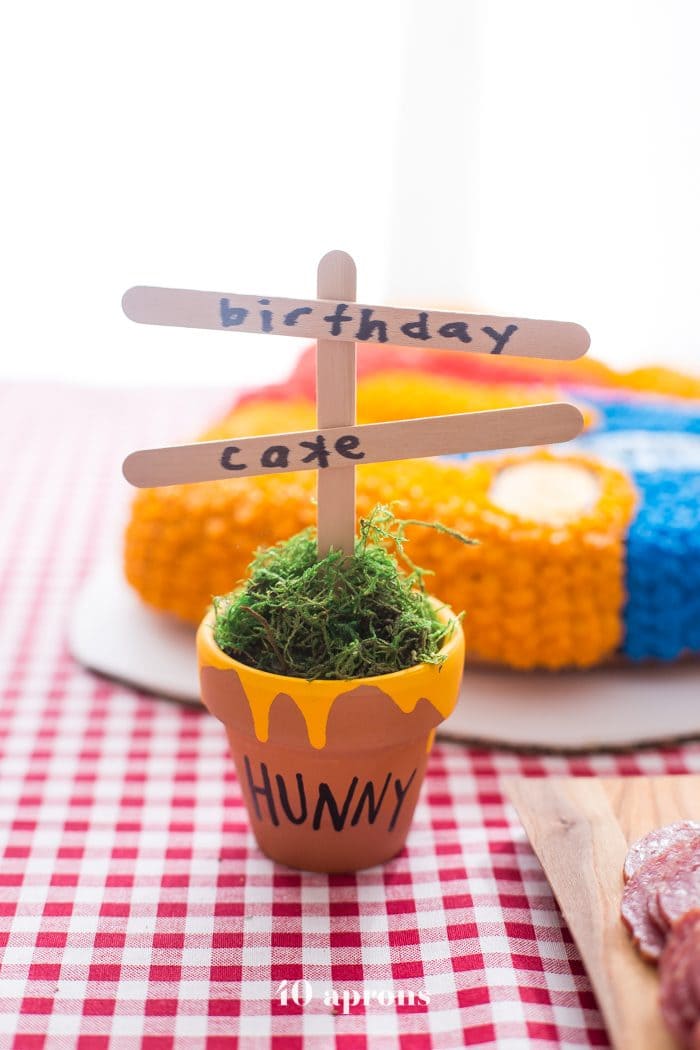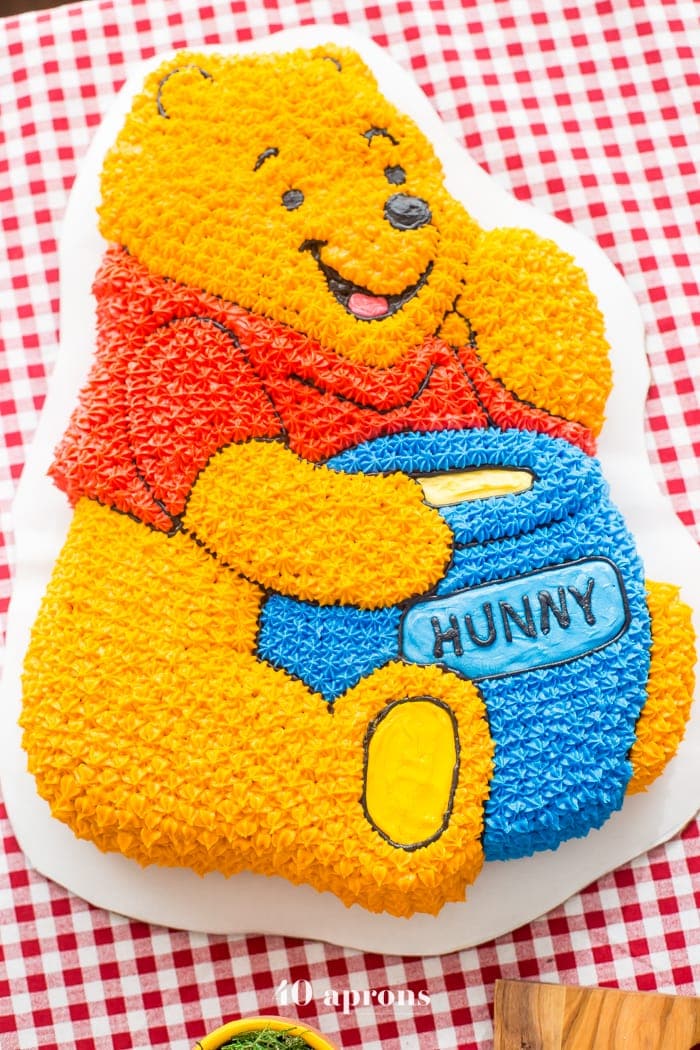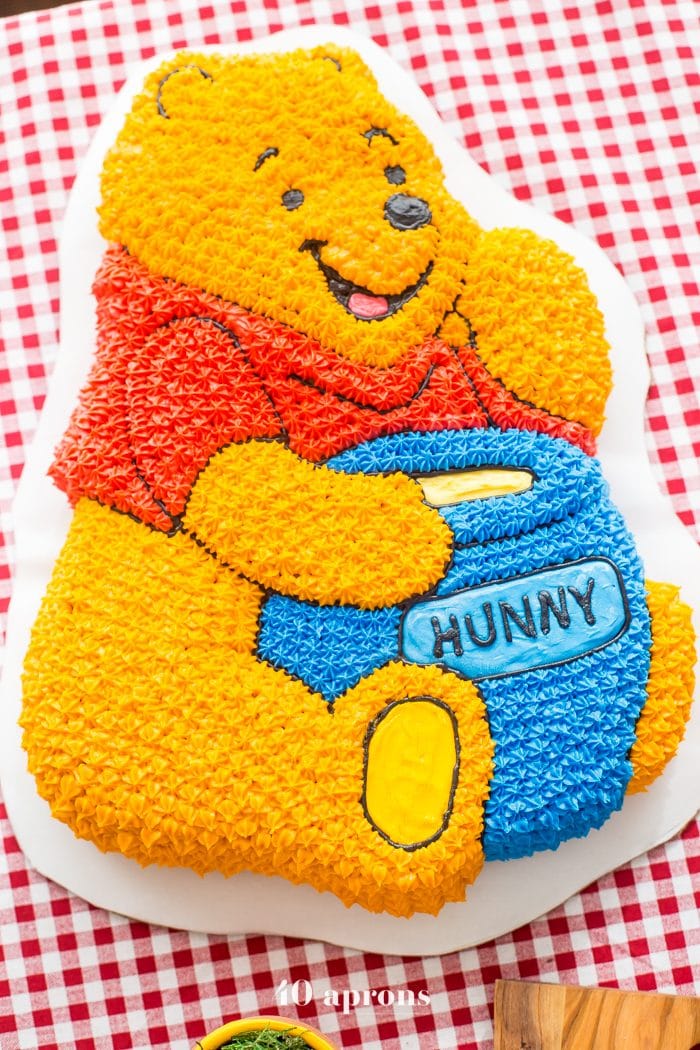 And my mom made the cake, so I'm no help there!
Winnie the Pooh Birthday Party Decor
Honey Pots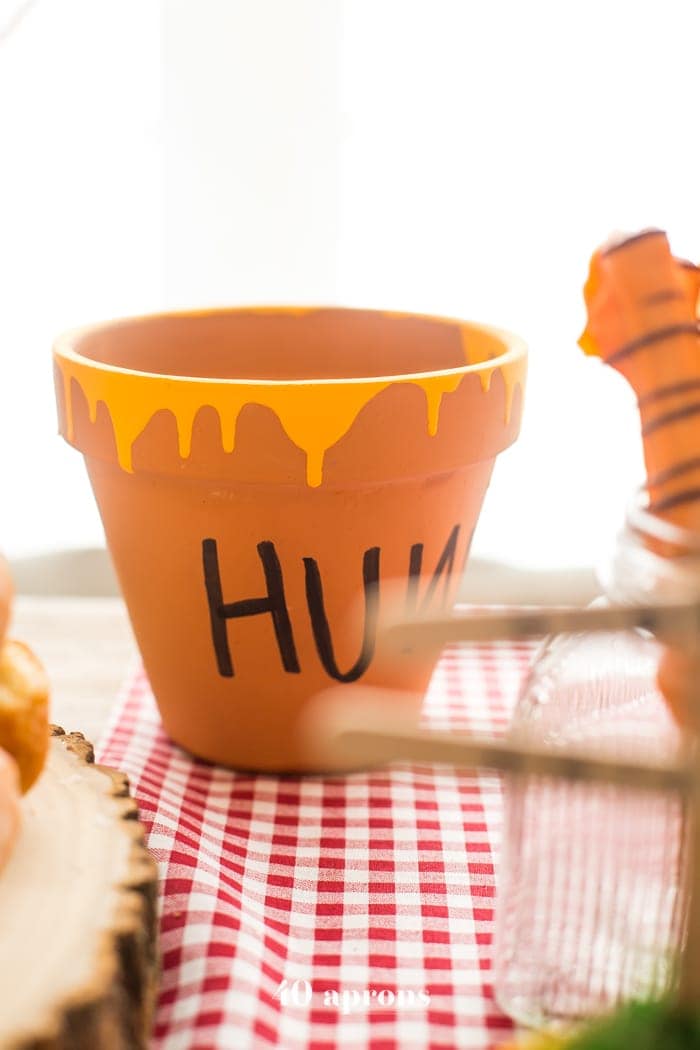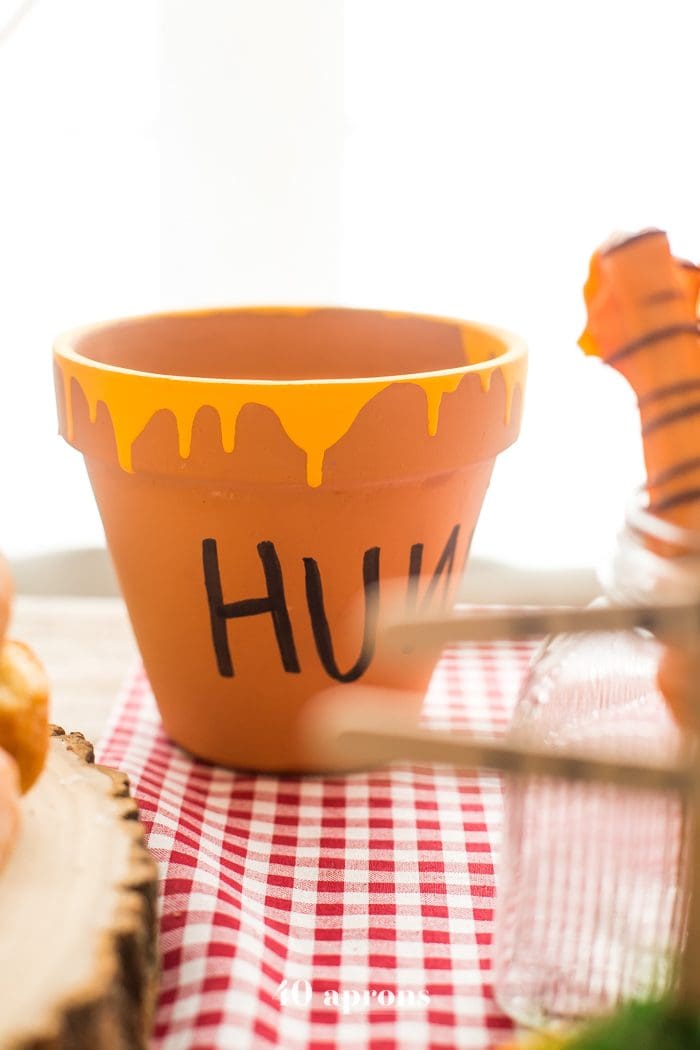 The honey pots were too easy! I picked up several terra cotta pots from Home Depot / Lowe's and squirted yellow acrylic paint on the rim, letting it drip down. Tada! I used a paint pen to write "hunny" on the front once it had dried.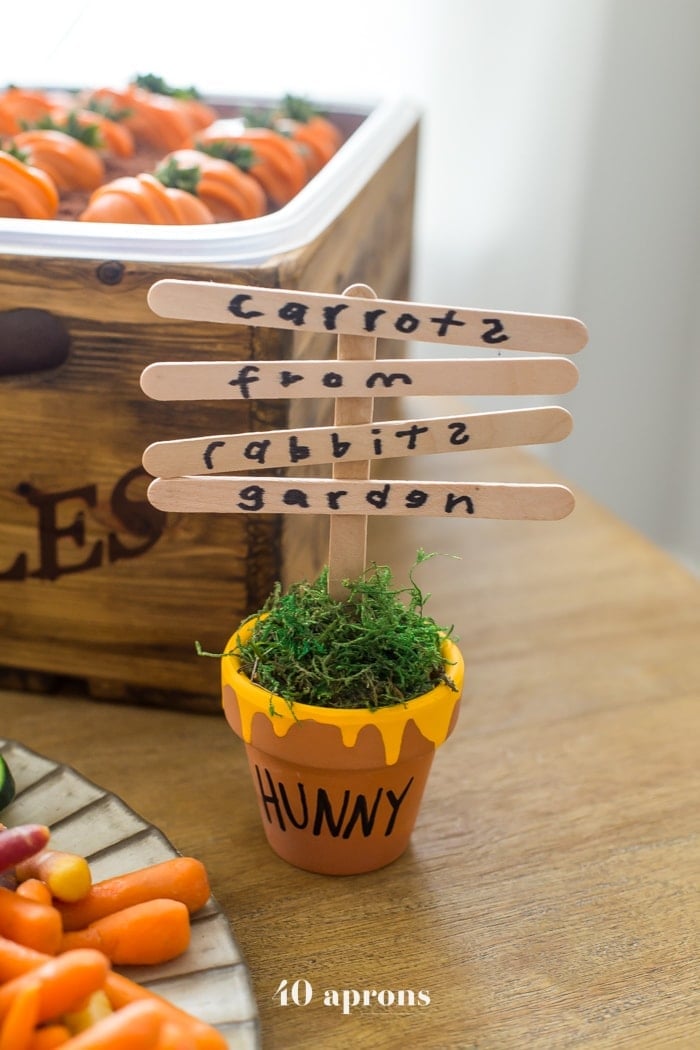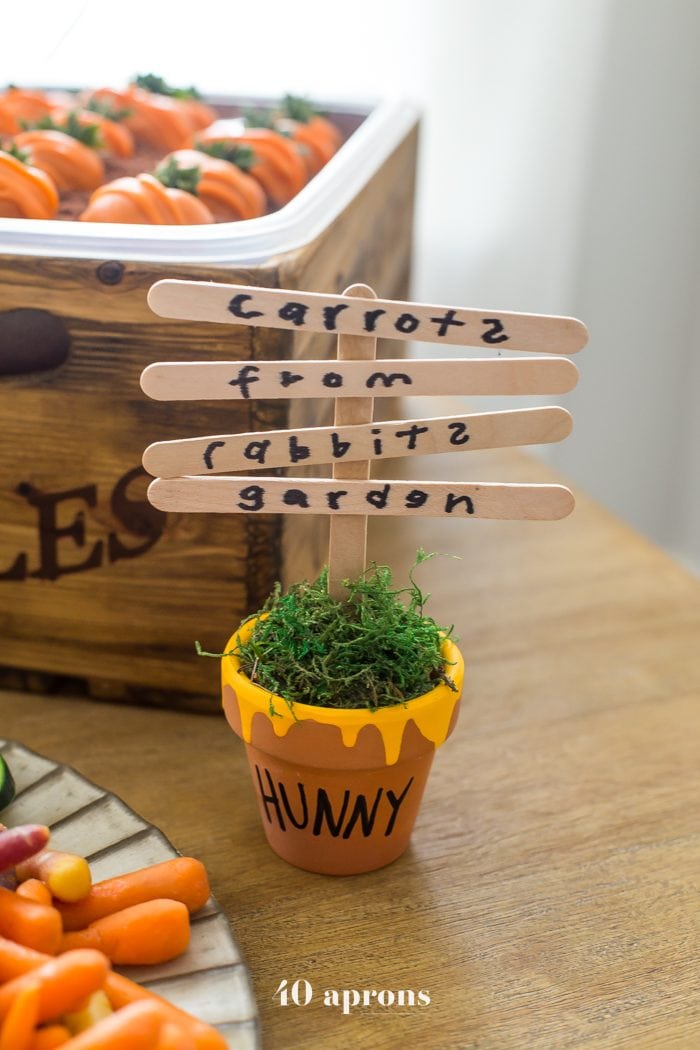 For the little food labels, I stick a small floral foam ball in the bottom of the small pot then covered it with a bit of floral moss from Michael's. I wrote the food name on the popsicle sticks then glued them how you see. Really easy and really cute!
Pin the Tail on Eeyore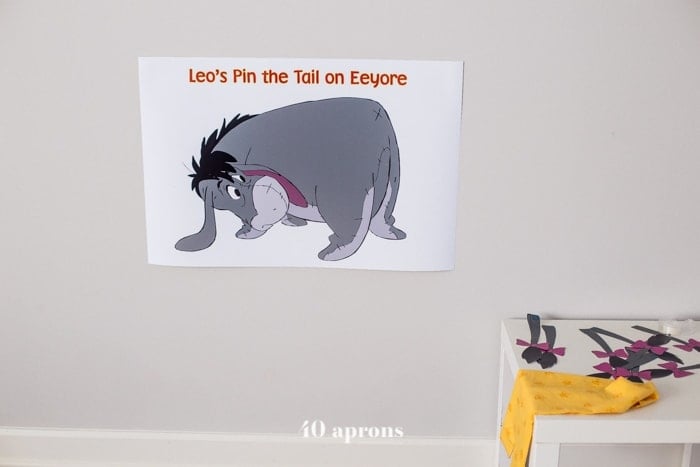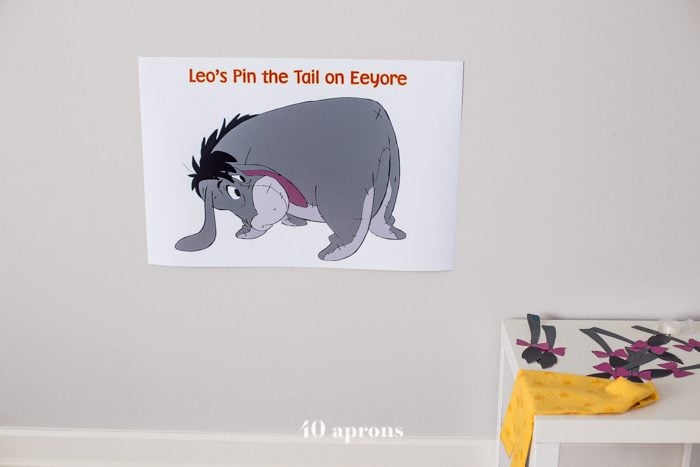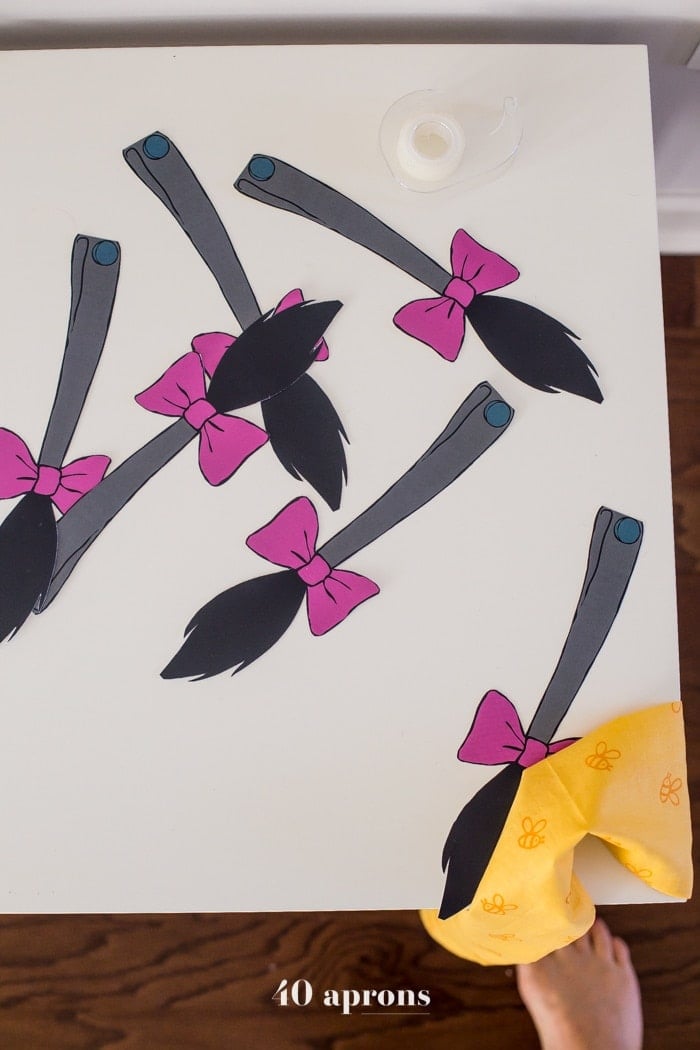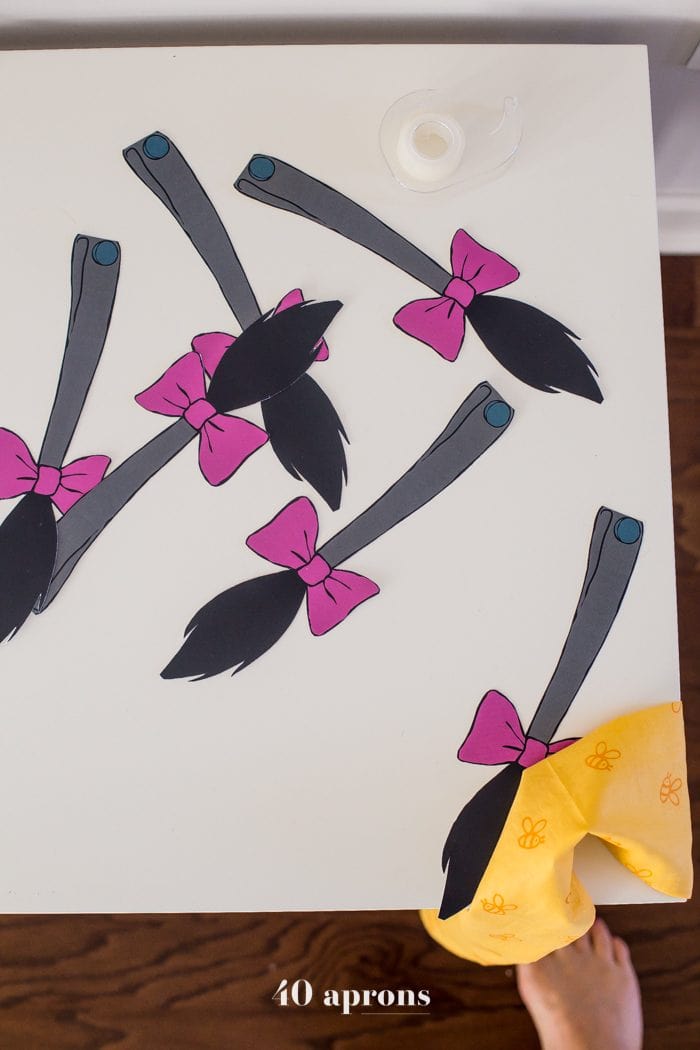 I blew up this Pin the Tail on Eeyore download, added some text for Leo, and had it printed at Costco. I then cut out a billion Eeyore tails and attached them with plain tape. I had some extra Pooh bee fabric from the craft store and got my mom to make an easy blindfold out of it. The kids had so much fun with this simple game!
DIY Winnie the Pooh, Piglet, and Tigger Ears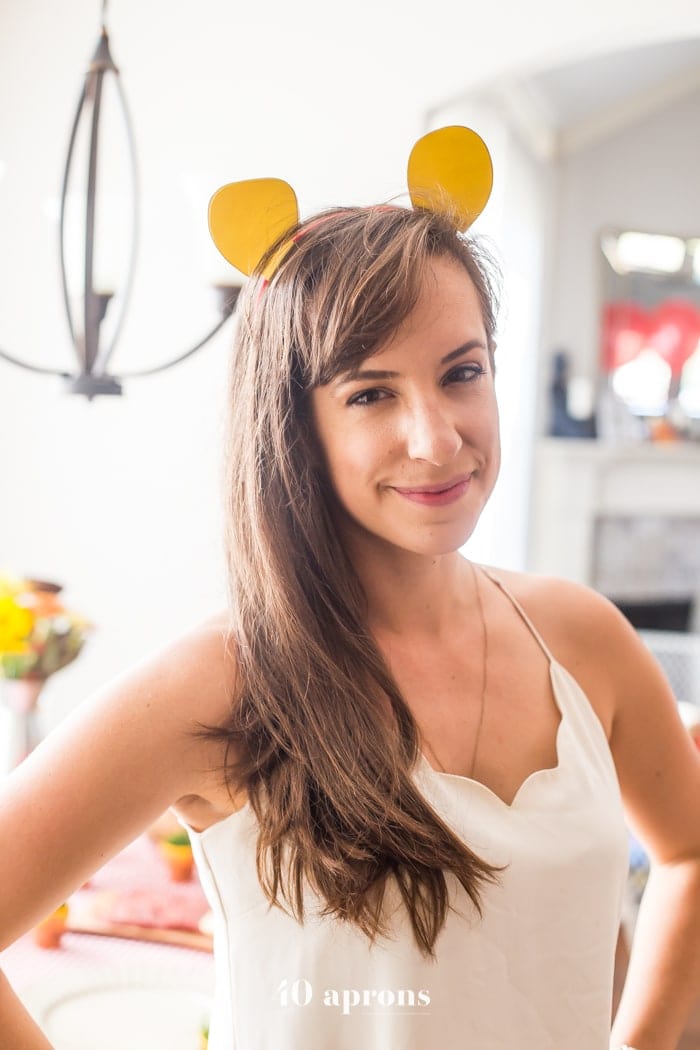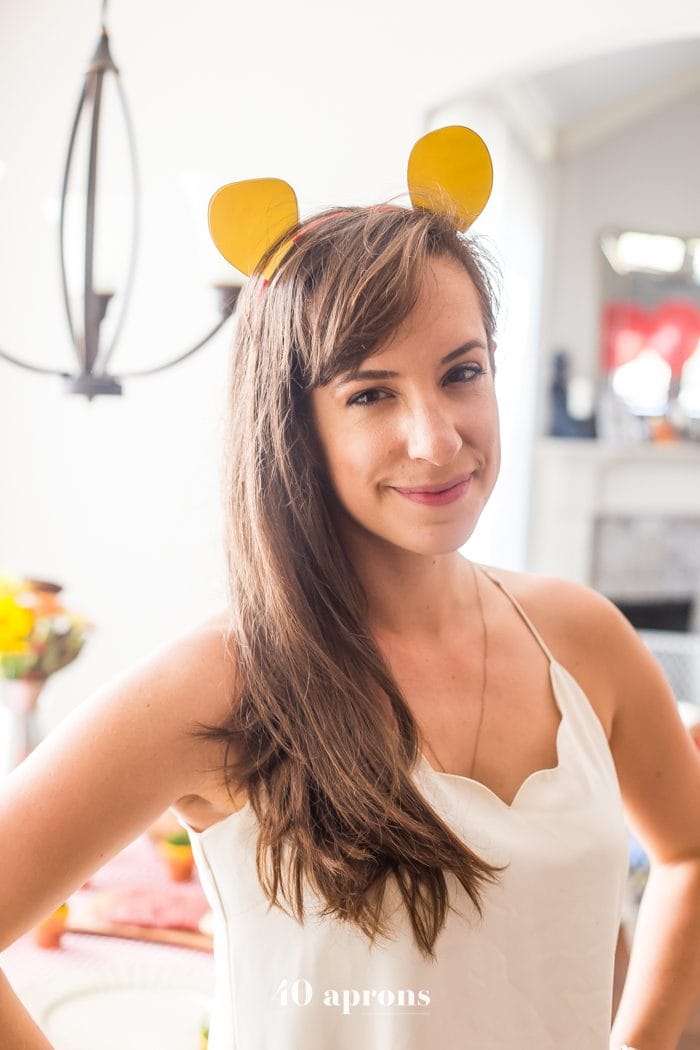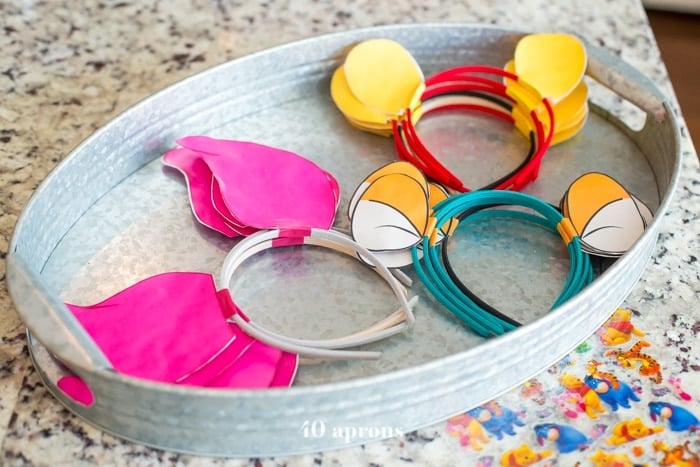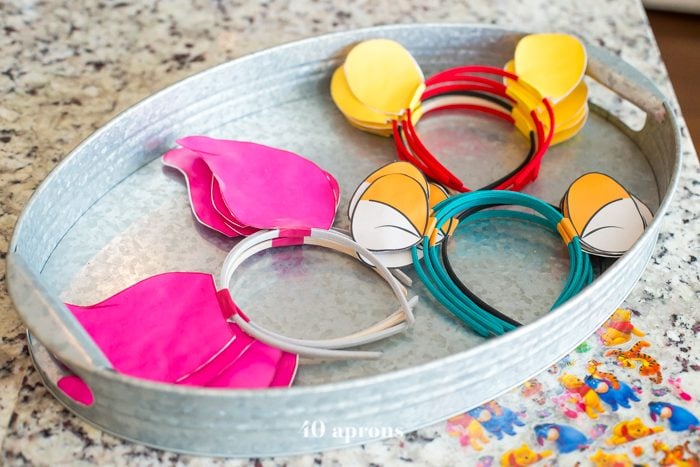 When I saw these DIY Winnie the Pooh, Piglet, and Tigger ears, I couldn't not. It took FOREVER to cut them all out, but everyone loved them. I simply glued them onto bulk headband packs I found at the craft store and laid them out to encourage all the guests to don a pair. So fun!
Winnie the Pooh Water Bottle Labels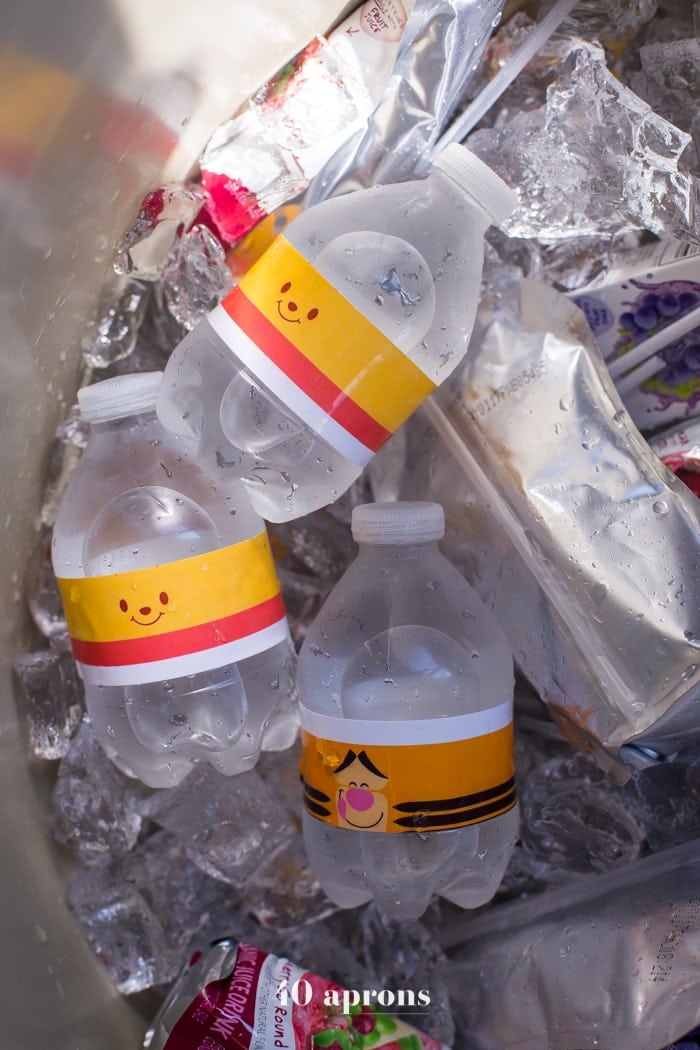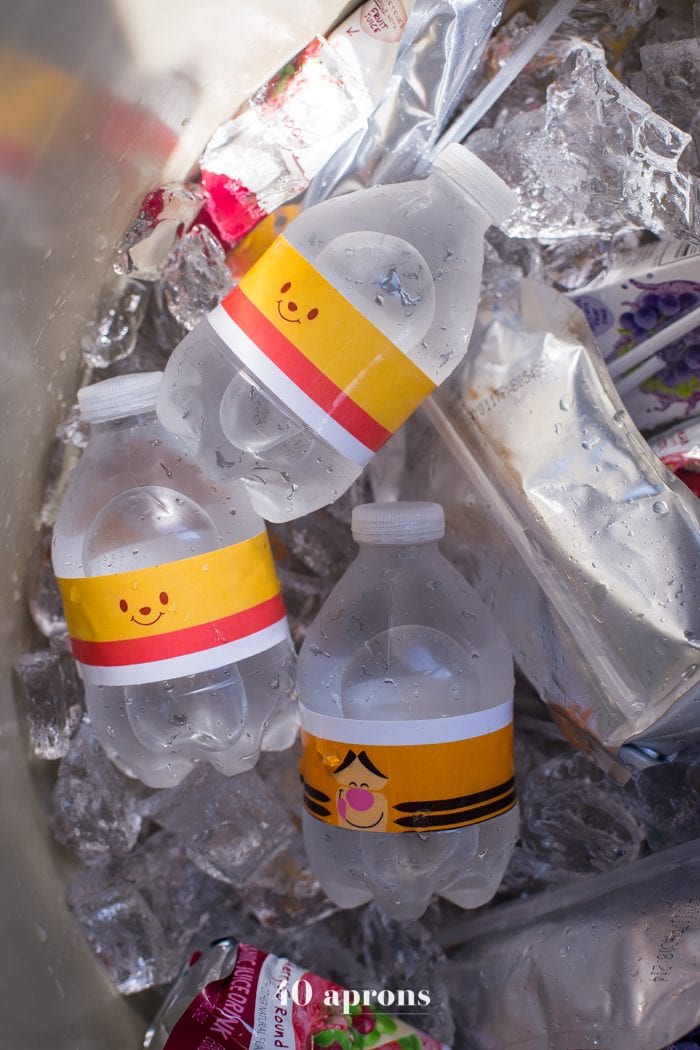 I bought a Winnie the Pooh water bottle label from Etsy but didn't love it, so I designed my own! These were so cute, and we just printed them at home using these water bottle labels.
High Chair Banner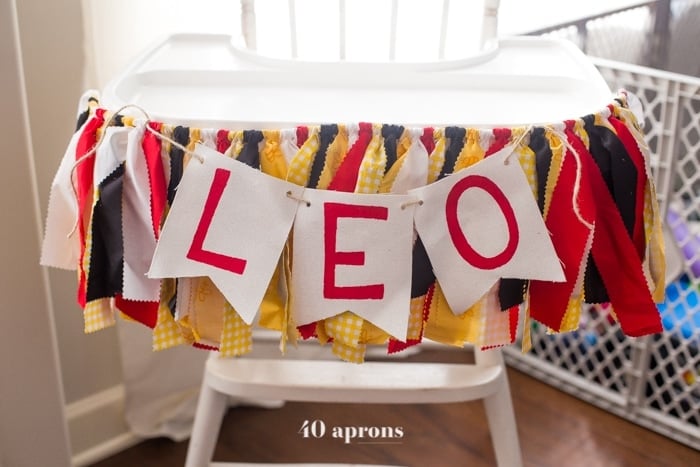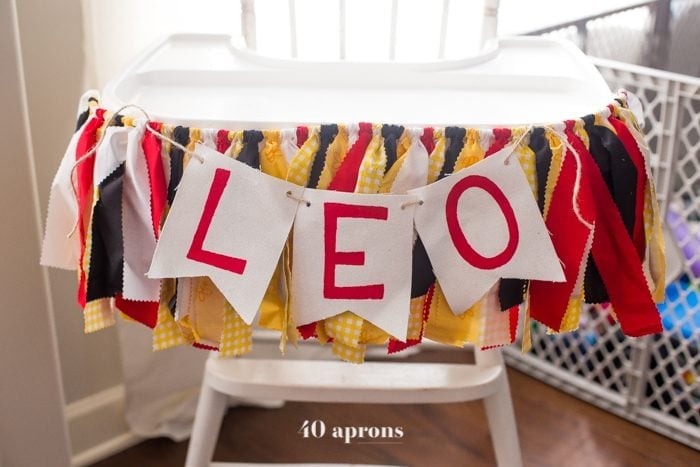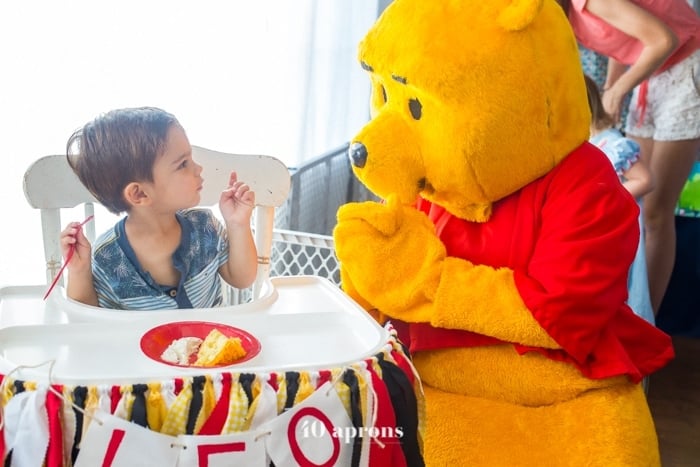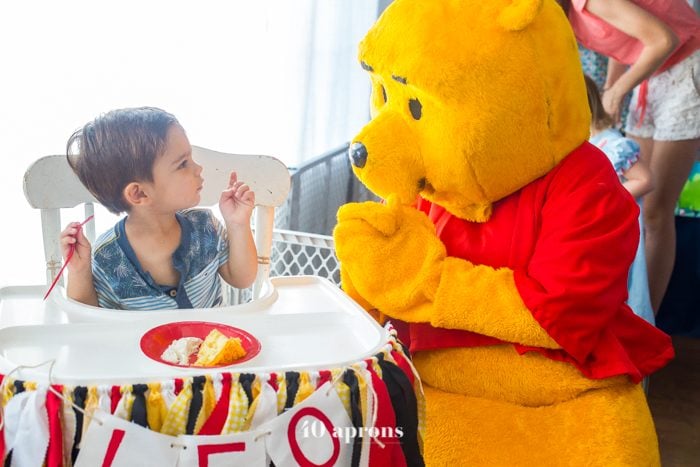 A local woman makes these adorable custom high chair banners to help fund her fertility treatment, so I had to get one! She made the cutest Pooh-themed banner on such short notice, and included a banner spelling out L-E-O. Check them out at her Etsy shop here!
Winnie the Pooh Birthday Party Invitations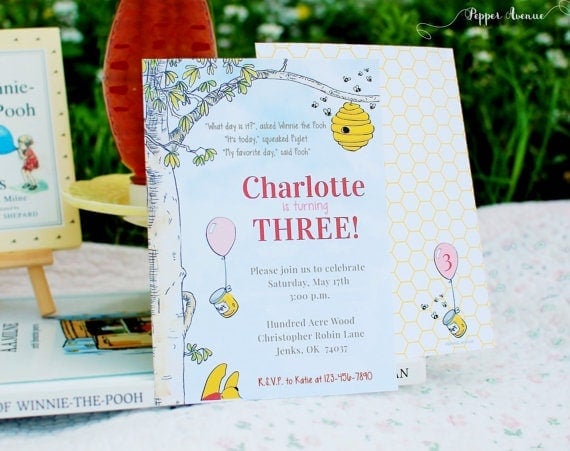 We bought both our invitations and thank you notes from this shop. I loved that they were clearly Winnie the Pooh without being overly so. And Leo loved them, too. I highly recommend this shop for any DIY Winnie the Pooh birthday party – she changed the balloon color for me just to be nice, and the quality is fab.
Hundred Acre Wood Sign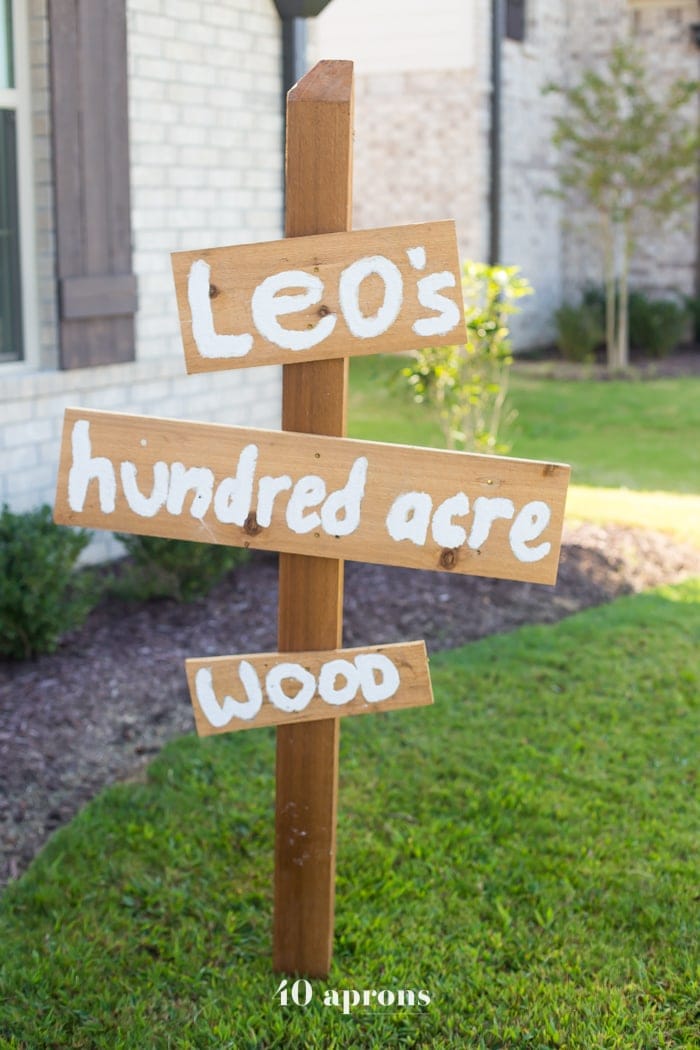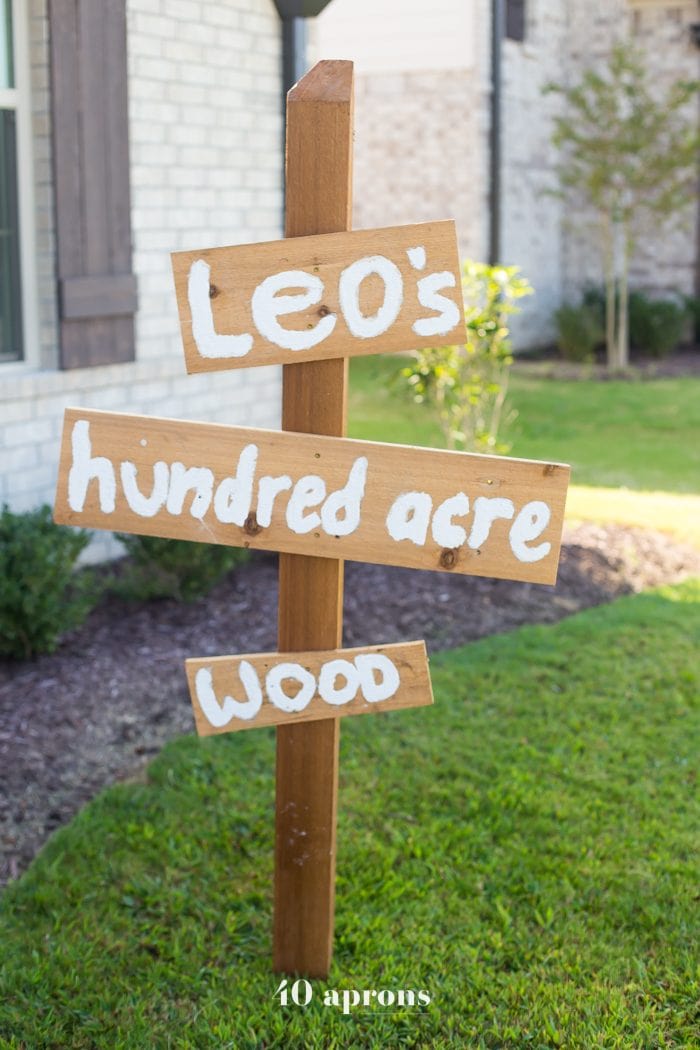 A must for any DIY Winnie the Pooh birthday party, right? I enlisted my dad o make a big Hundred Acre Wood sign to welcome the guests to the party. Of course, I wanted something smaller and less intense, but if you ask my dad… that's why it was made of a fence post. Ha!
"How Many Are You?" Sign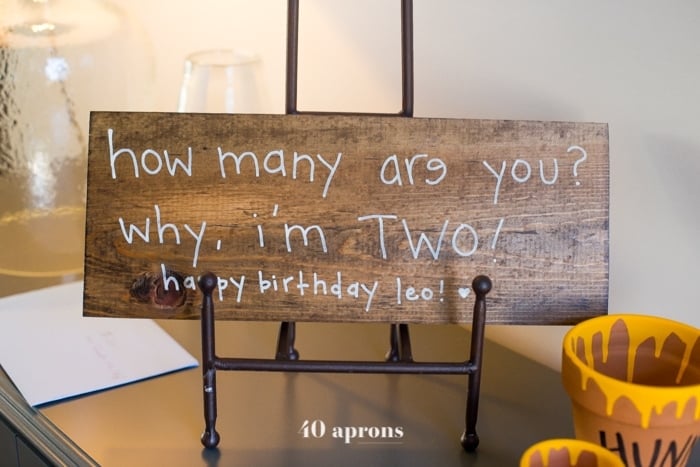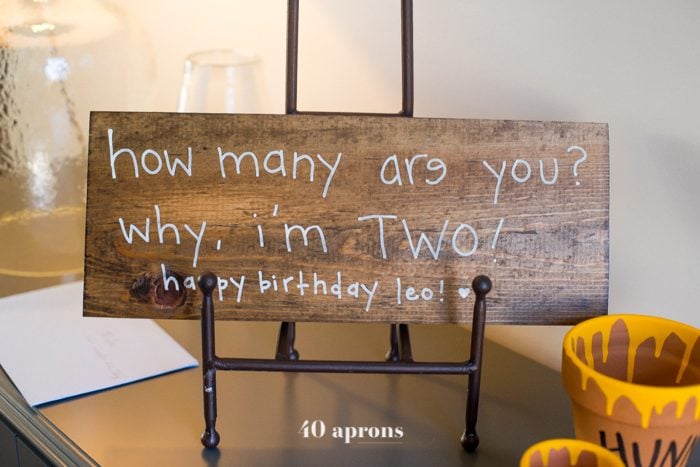 I painted an extra piece of wood with some leftover stain and wrote in paint pen "How many are you? Why, I'm two! Happy birthday, Leo!" and placed it on an easel at the entrance to set the stage for the event. We'll keep it forever!
Extras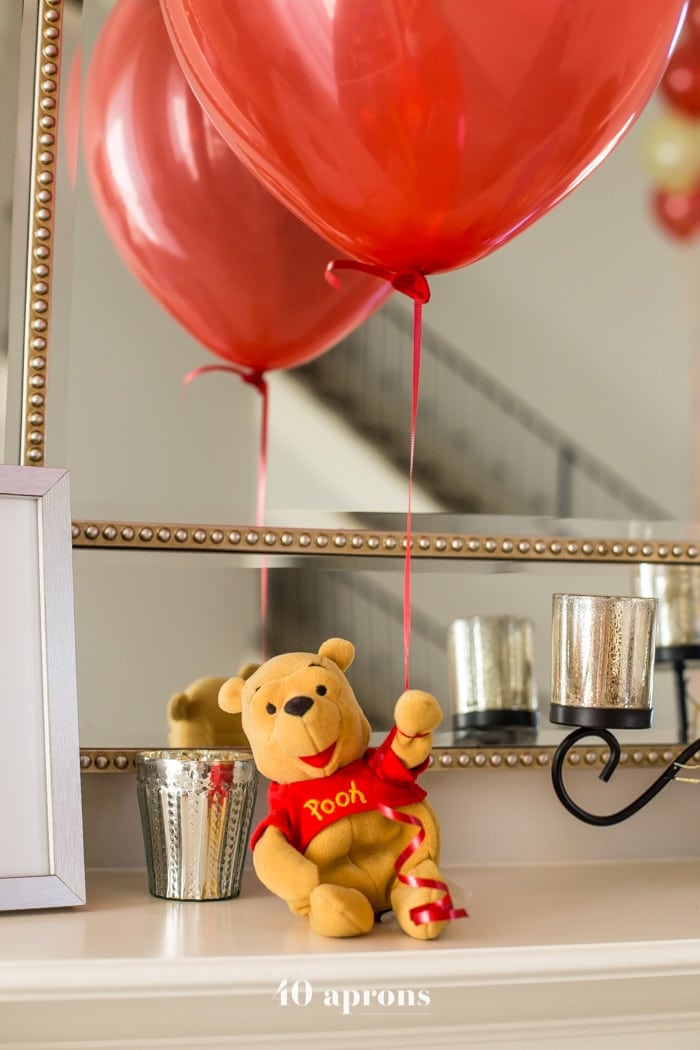 We used a piece of gingham I had left from a photo shoot as a mini tablecloth, which I loved!
We also tried "planting" beets, carrots, and radishes in the larger honey pots, but the greens wilted so fast, I just opted out of that.
We did classic red and yellow streamers and balloons. I attached one to the hand of a little stuffed Pooh we had – super cute.
If you're throwing a DIY Winnie the Pooh birthday party, I hope this DIY Winnie the Pooh birthday party guide helped you! We certainly had SO much fun.