Vegetarian Enchiladas with Goat Cheese

Posted: 06/30/14 Updated: 02/02/23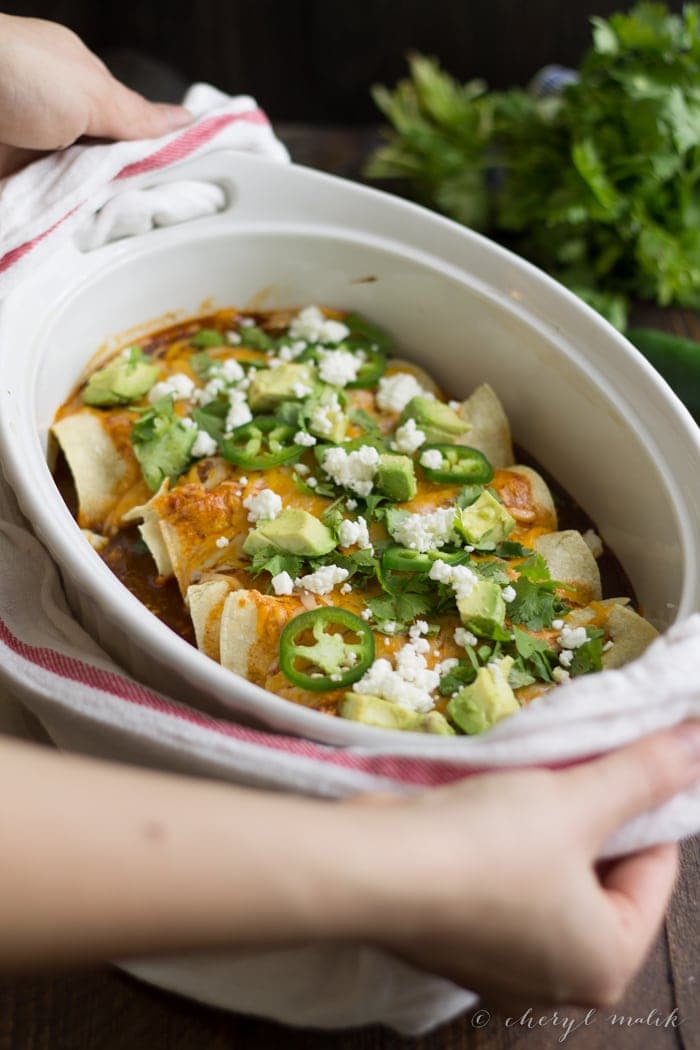 I'm not afraid to say it: I am so sick of any and everything vegetarian being laden with bell peppers.
There! It's been done! I've given it out to the universe and let it go.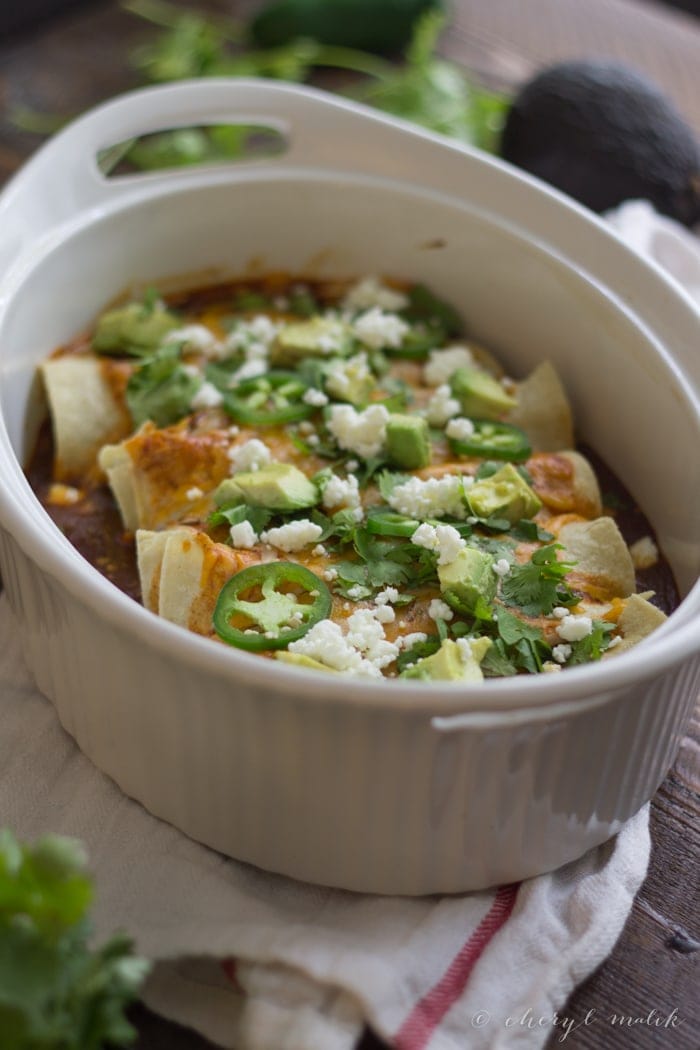 But seriously, if you tend towards vegetarianism or veganism, you know what I'm saying. Especially in Latin American cuisine, you're expected to eat approximately two entire bell peppers per meal, an easy already-chopped-for-those-"real"-fajitas solution that leaves me feeling a little unsatisfied. Or a lot unsatisfied.
So what's a girl to do when she's craving vegetarian enchiladas at home?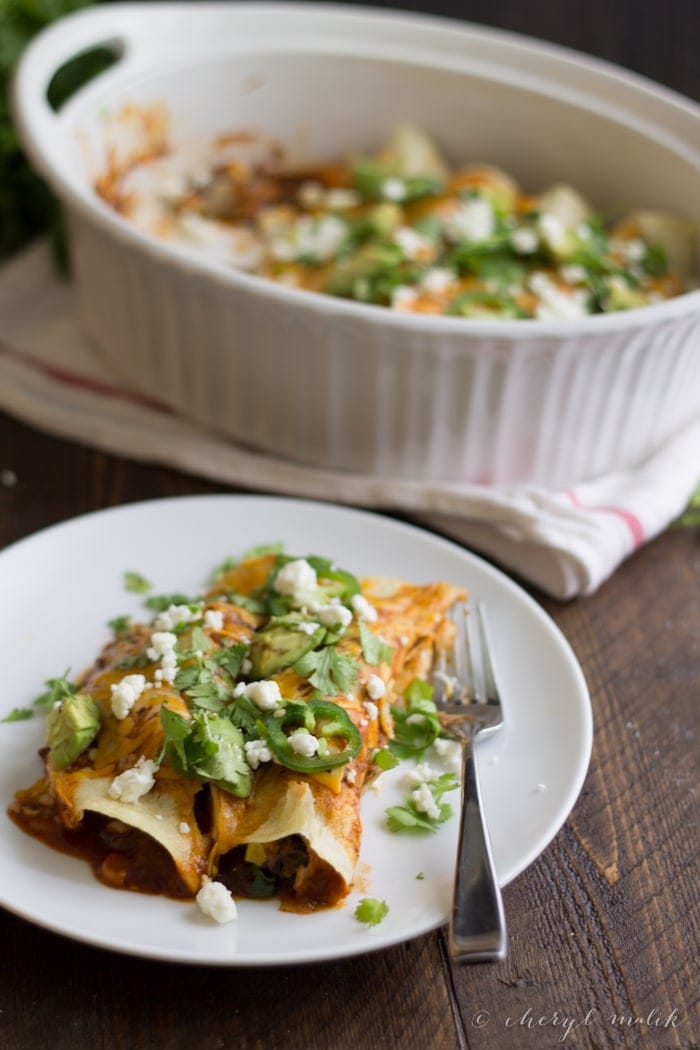 Add awesome stuff! Refried black beans? Check. Fresh spinach? Super check. Corn? Oh ja, people. Goat cheese? DOUBLE EXTRA TERRIFICHECK! Regular melty cheese?! Ay dios mio! We're gettin' crazy with all the goodness, people.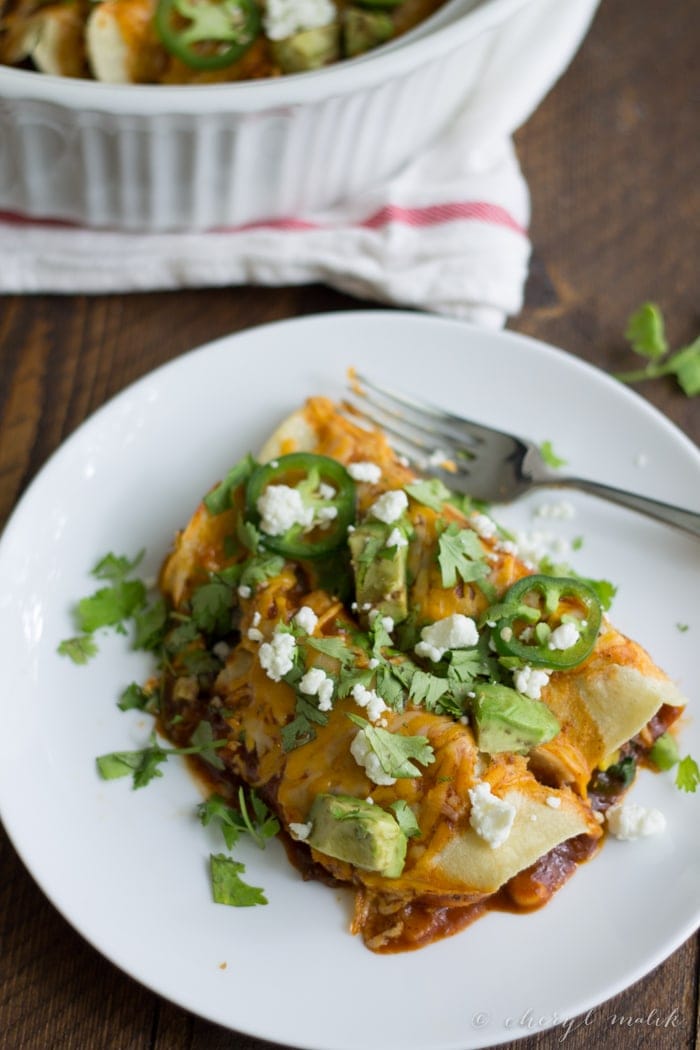 I'd attempted a refried black bean enchilada before, but it was a bit lackluster.. so imagine my surprise when I took a bite of these puppies and entered a world of perfectly balanced flavor and texture, gooey melty cheese, and tart goat cheese crumbles! The enchiladas are powerfully flavorful but tame enough that you could eat… a lot. I served up three to a family friend who was painting our house and he scarfed them down in mere minutes. O ate three, and then asked if I'd judge him if he got the remaining two.
I… would totally have eaten more, but, well, O got to them first. And you know what they say about marriage?
I'm trying to come up with some clever saying about "the whole enchilada" but failing miserably. My mindspace is 100% taken with enchilada daydreaming.
What's even better about these bad boys is that they come together so, so quickly! Fry up a little garlic and onion, add the other ingredients, roll, and bake. Tada! Your new weeknight favorite.
Make these. Please, oh, please. You'll adore them.
Vegetarian Enchiladas with Goat Cheese
Serves 4
Ingredients
1 teaspoon olive oil
2 cloves garlic, minced
4 green onions, sliced
1 15-ounce can sweet corn, drained
4 cups baby spinach
2 cups refried black beans (try my recipe for homemade!)
salt, to taste
10 – 12 corn tortillas
1 1/2 – 2 cups red enchilada sauce
1 cup shredded cheese (omit for vegan)
goat cheese, crumbled, to top, about 3/4 cup (omit for vegan)
2 avocados, cubed and tossed in lime juice, optional
cilantro, roughly chopped, optional
Directions
1. Preheat oven to 375ºF. Heat oil in a skillet over medium heat, add garlic and green onions and sauté, stirring frequently, about 2 minutes.
2. Add corn and baby spinach and cook until spinach is mostly wilted. Add refried black beans, heat through, and combine well with other ingredients. Add salt to taste.
3. Spread 1/2 cup enchilada sauce on the bottom of a casserole dish. Wrap your corn tortillas in a damp paper towel and microwave until very pliable. One at a time, spoon 1/4 cup filling to the middle of the tortilla and roll. Place, seam-side down, in the casserole dish on top of the enchilada sauce. Repeat until you've run out of filling.
4. Cover enchiladas with remaining sauce, then sprinkle with shredded cheese. Bake for 15 minutes. Remove from oven, let cool for about 5 minutes, then sprinkle with goat cheese. Garnish with cubed avocado and cilantro and serve.