This healthy pink drink strawberry refresher is an unsweetened, Whole30 mocktail made with only three ingredients. With its subtle strawberry flavor and creaminess, it's super refreshing and hydrating, since it's caffeine free! This healthy pink drink strawberry refresher is vegan and paleo, too, as well as a great Whole30 mocktail type drink, and totally guilt-free since it's unsweetened! Perfect with freeze-dried strawberries and coconut milk (<<< click to buy both!).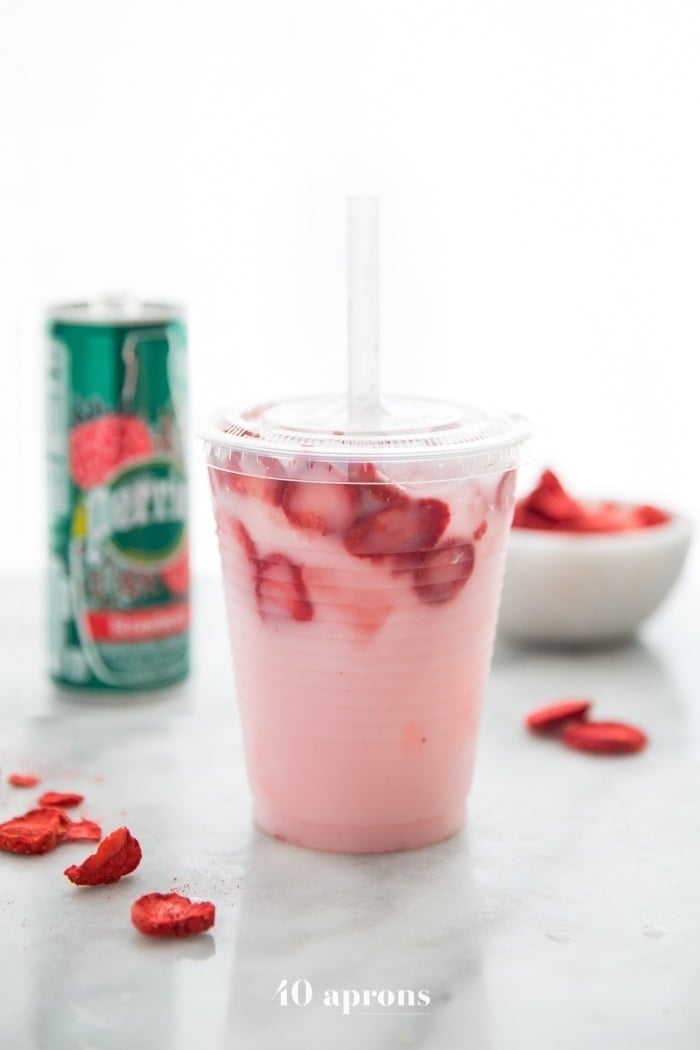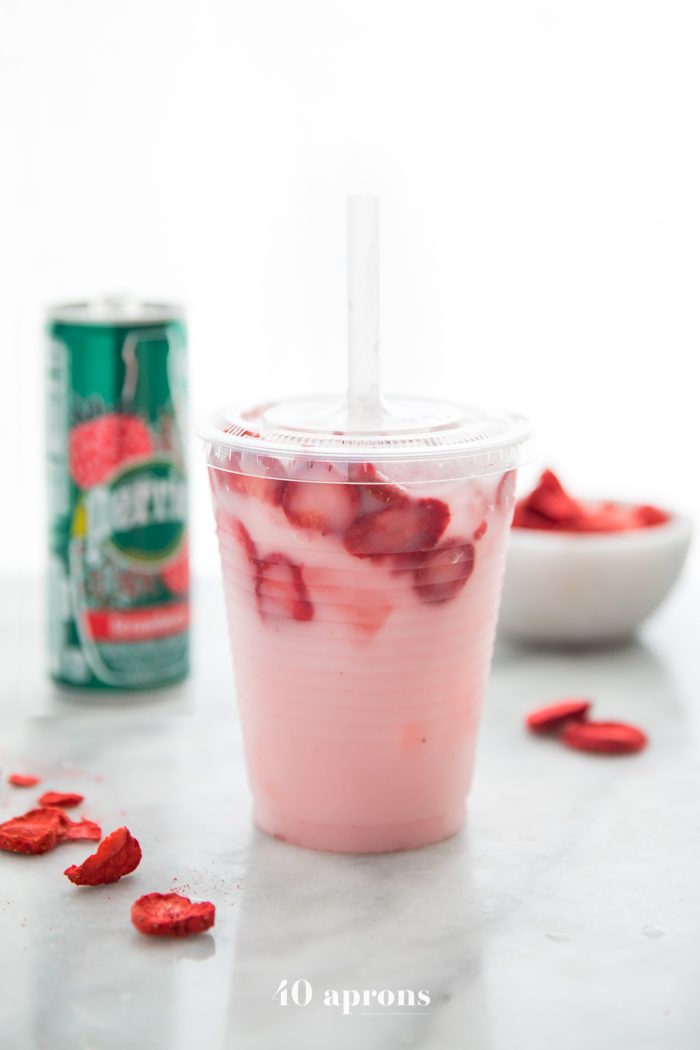 Sometimes magic just happens.
Like the moment I met my husband, and I just knew. I knew instantly! Right away, sitting across from him at South of Beale in downtown Memphis, I just knew we'd get married and have babies and want to kill each other daily for the rest of our lives. Instant magic.
And that first moment I saw my son, and my heart was positively captured. He was so ugly! Wrinkly and stark white and somehow red all at once, with a shock of black hair on top of his head, and a general he-doesn't-look-like-what-I-thought-he'd-look-like to it, it was this moment of unbearable expansion of that feeling in my chest. Like the feeling you get behind your eyelids when you close your eyes and look up to the sun. Instant magic.
And then there was that time when I haphazardly poured together three simple ingredients, on a pregnant, mini Whole30, inspired by the super strawberry-ness of the sparkling water we'd been drinking and simultaneously by the refreshing fruitiness of the infamous Starbucks "pink drink," on which I'd gorged myself (OK… I had two in a fortnight) before starting our tiny round.
Instant magic.
A subtle strawberry flavor from the Perrier strawberry sparkling water is infused with a classical fruitiness from the freeze-dried strawberries, all capped with a bit of creamy coconut milk, creating a milky, pale pink refresher that's hydrating, caffeine-free, Whole30, vegan, and totally unsweetened.
While I was inspired by the Starbucks pink drink and its freeze-dried strawberries spiking the rest of the drink with a bit of extra fruitiness, this healthy pink drink is a beverage of its own! With only three ingredients–sparkling water, coconut milk, and freeze-dried strawberries–I feel great about drinking this regularly.
And while you can think of this healthy pink drink as a Whole30 mocktail, it's really more of an afternoon refresher in my opinion. Thirst quenching and so fresh, it's my favorite for warmer weather and since it's unsweetened (and caffeine-free!), there's no confusion (or "recreation" factor) with the Starbucks pink drink.
I can't drink coconut milk! Can I have _____ milk instead in this Whole30 mocktail?
Sure! If you can't drink coconut milk, then an alt milk is OK. However, if you can drink coconut milk, I highly, highly recommend you use that in this recipe. It's a bit richer than other alt milks and the subtle coconut flavor works so beautifully with the strawberry.
Can I use coconut milk from a can for this healthy pink drink?
You can, but I prefer it from a carton. I blend with the sparkling water better and has a generally better flavor for this specific beverage. I almost always use coconut milk from a can for my recipes, but this one just works better with coconut milk from a carton!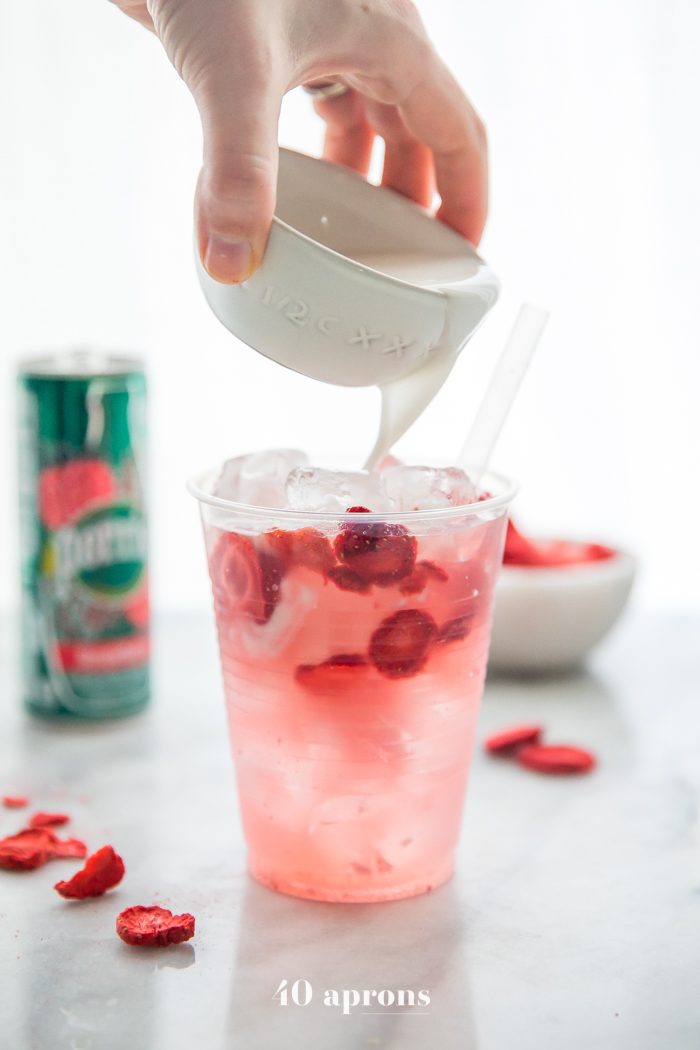 Can I use a different kind of sparkling water?
You can try… but I don't think you'll like it as much. I was especially struck by these Perrier strawberry sparkling waters that we got by accident during a grocery order. They're so powerful with the flavor and they work beautifully here. You might be able to find another type of strawberry sparkling, in which case, you can try it! But I always recommend Perrier.
To make this healthy pink drink strawberry refresher (unsweetened, Whole30, vegan, caffeine-free), I used…
More Delicious Recipes
Hey – you've made it this far, and now we're best friends! If you make this recipe, I'd love for you to give it a star rating ★ below. Make sure you follow me on Instagram, Pinterest, and Facebook, too!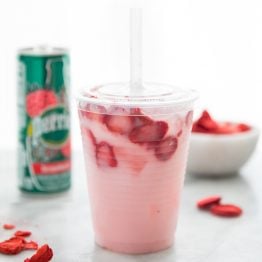 Healthy Pink Drink Strawberry Refresher (Whole30, Unsweetened, Caffeine-Free, Vegan)
A refreshing, creamy strawberry drink made with only three ingredients. Caffeine free and vegan, paleo, healthy, and Whole30.
GO PREMIUM – AD FREE + MEAL PLANS
Instructions
Pour freeze-dried strawberries in a serving cup then pour Perrier strawberry sparkling water over. Stir well and let sit for a couple of minutes to steep. Add ice to glass then pour coconut milk over. Stir and serve.
Notes
You can use about 1 cup of any other strawberry flavored sparkling water, including Spindrift!
You can use fresh strawberries in place of freeze-dried, but the pink drink won't have as much of a strawberry flavor.
Nutrition
Calories:
196
kcal
Carbohydrates:
29
g
Protein:
1
g
Fat:
7
g
Saturated Fat:
7
g
Sodium:
133
mg
Fiber:
2
g
Sugar:
22
g
Calcium:
27
mg
Iron:
1
mg
Net Carbs:
27
g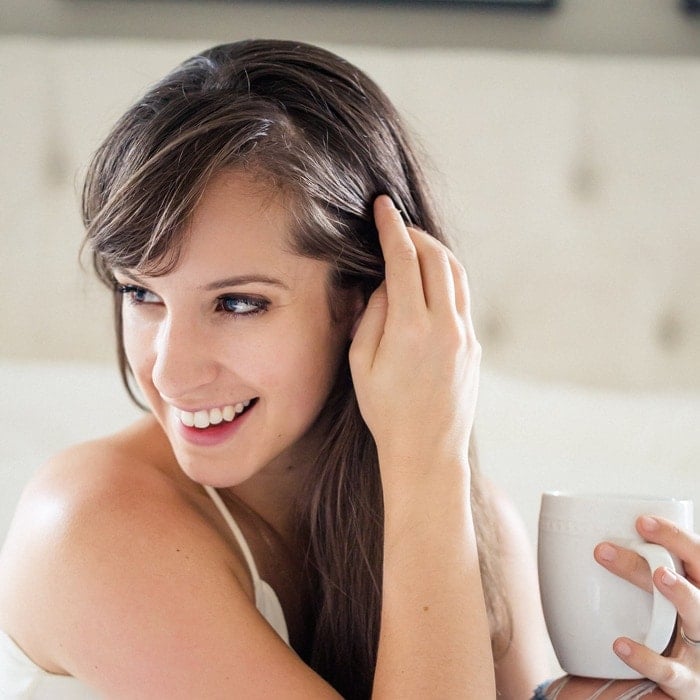 Cheryl Malik is the recipe developer, writer, and photographer behind the healthy, flavorful, family friendly recipes at 40 Aprons. She's been a blogger for 10+ years and is known for her delicious recipes and detailed recipe instructions. Cheryl is a mom of three who lives in Memphis, TN.