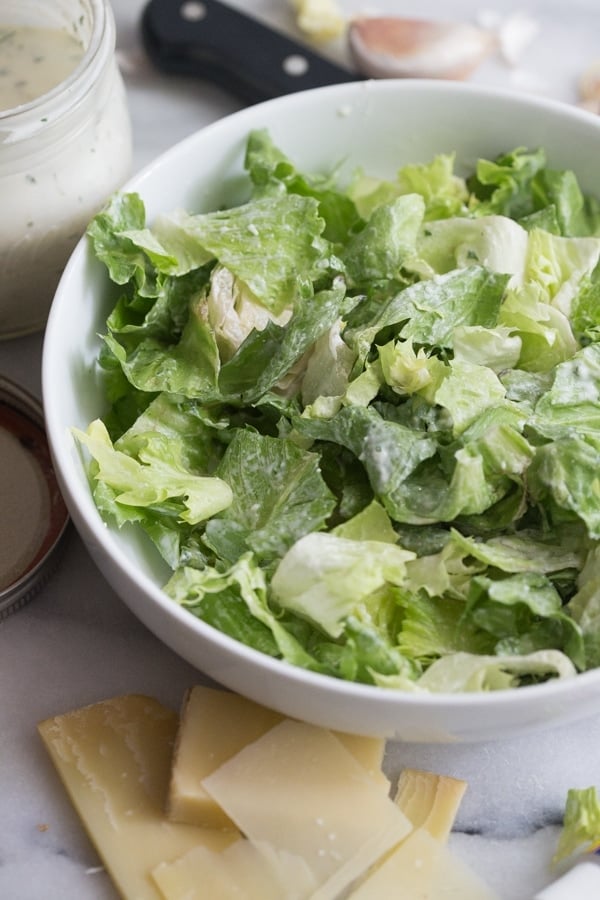 Oh, pregnancy, you strange bird, you fickle animal. You horse-kick-to-the-crotch, you. I'm now 300 weeks (read: 33) preggo and my symptoms have moved beyond cute cravings and into full-blown "I literally cannot get up as my pelvis is breaking in two honey MAYDAY MAYDAY", which is less sexy than giggling about the time I ate dark chocolate sauce on seasoned fries (and it was amazing and the end, thank you). That being said, this garlicky parmesan dressing is the lovechild of one of the simpler times when the worst part of pregnancy was desperately needing a salad from Carrabba's NOW and if I don't get it I might just hold my breath until I turn purple and you feel really bad about not taking me.
Except that craving hit me at like 11:30 on a Sunday night, so.
O and I had never really been to Carrabba's, except they put one down the street from our house and one Friday night, chain-restaurant Italian just sounded so damn good, and we discovered that their food is actually.. not bad? We're kitschy when it comes to eating out, though, and you'd be embarrassed to know us if I told you everywhere we end up for dinner (so I just won't. I just won't.). But the salad in particular did it for me, being at the same time creamy and tangy and parmesany and not too heavy, and I loved it. And I craved it at the most inconvenient times, so I decided to try my hand at an upgraded copycat. And oh mama, am I glad I did.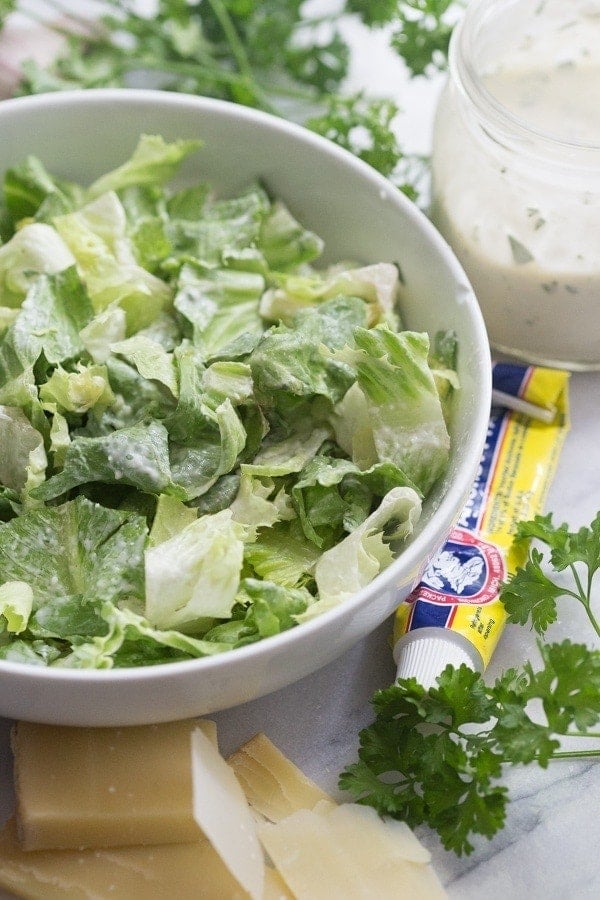 My garlicky parmesan herb dressing turned out quite like the tangy, creamy salad you'll find at the Italian joint, but we've added fresh herbs to turn things up just a bit and add a summery freshness that complements the base flavors so well. The parmesan brings the heady umami, the buttermilk brings the crisp tang, the lemon rounds out the dressing with a touch of brightness, and the anchovy paste gives everything a rich, indulgent flavor that's not fishy at all. Tarragon is, to me, the most quintessentially luxurious herb and every bite with the flavor infused is a reminder of how glad I am I picked up a bunch at the store. The dressing works so well on simple salads–crisp romaine, shredded carrots, a couple olives–as well as more loaded salades composées, so try it a few different ways! Just make a jar to keep in your fridge, and you'll thank me at 11:30 on a Sunday night. And so will your poor, poor husband.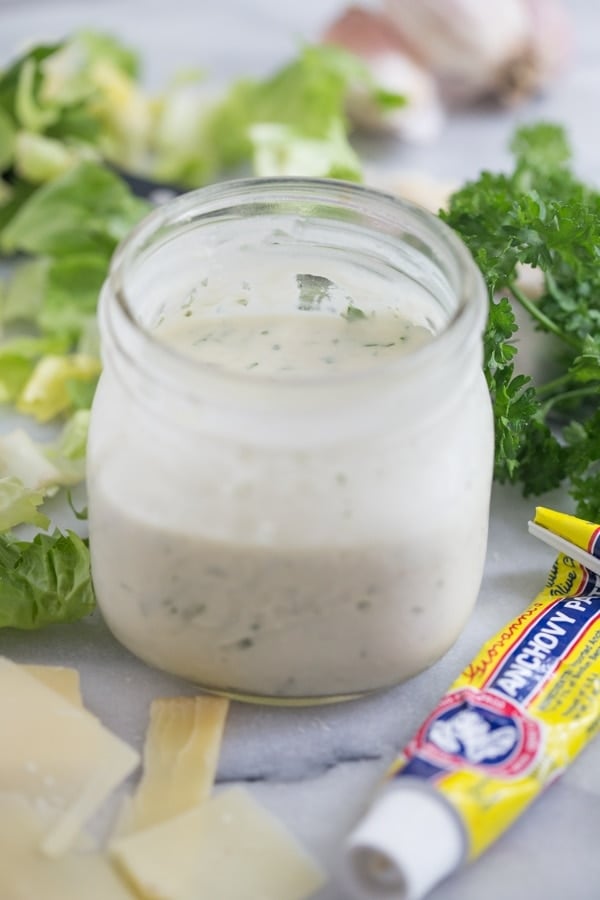 Just kidding! You made the baby and carry that sucker around with you everywhere. He got it easy, and he should be thanking you daily and massaging your feet for 45 minutes everyday to prove it. Ahem.
Garlicky Parmesan Herb Dressing
A rich and creamy yet light and bright salad dressing--inspired by Carrabba's and pregnancy cravings.
Ingredients
3/4

cup

mayo

1/2

cup

buttermilk

1/2

cup

Parmesan

1

T

garlic

1

Tablespoon

fresh parsley

2

teaspoons

fresh tarragon

1

t

lemon

1

t

anchovy paste
Instructions
Combine all ingredients. Store in an airtight container in the fridge.
6