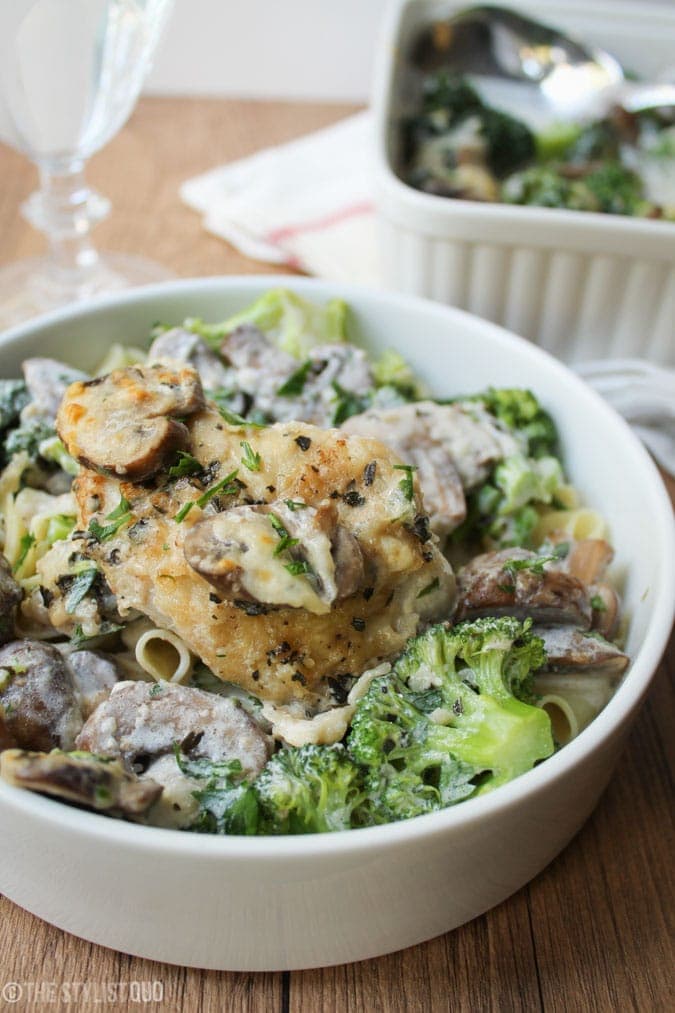 There's five magical words in the English language, and no, they're not, "They're on sale at Target." No, they're far simpler and more satisfying, and almost always uttered by one person: dear old mum. In sequential order, these five words are, simply,
"I'll make whatever you want"
What's your request when this mythical phrase rears its head? Maybe your favorite meatloaf growing up, or a chocolate cake with a ganache only she can seem to pull off properly. For me, it's the same thing every time: chicken divan.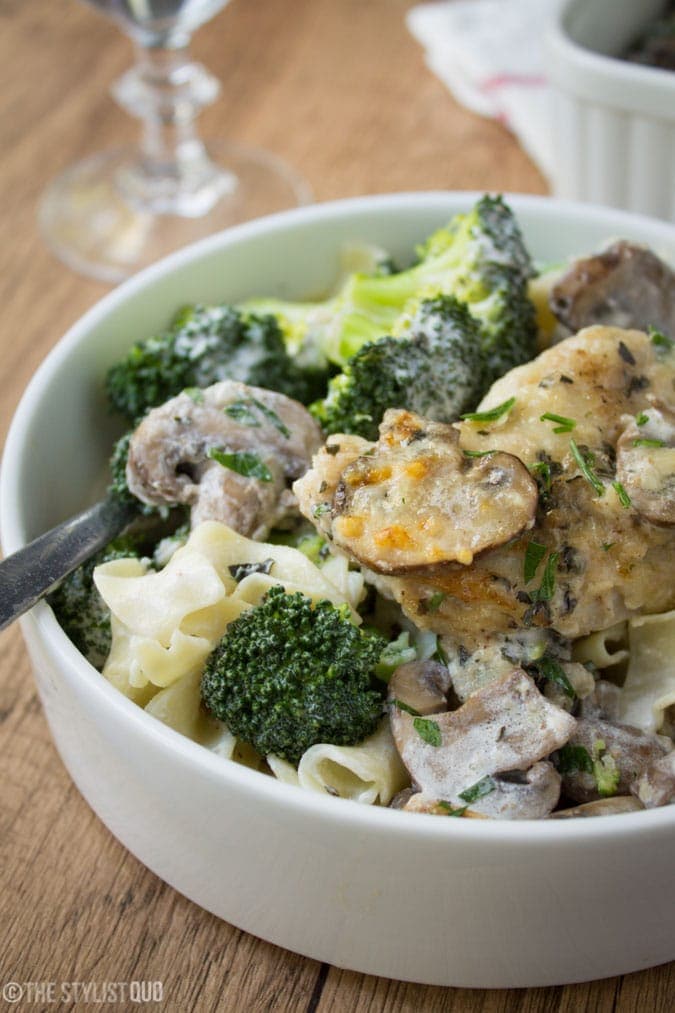 Mom made this growing up only every so often–it requires a few different pots and different processes, and she's a bigger fan of the simpler dish, ideally a one-pot wonder. However, it's incredible, so whenever this dish–laden with earthy mushrooms, tender broccoli, buttery chicken thighs, egg noodles, and a tart yet savory sour cream sauce–crossed our tabletop, I was in heaven.
There are a million chicken divan recipes out there, but I can guarantee you this: this one is the best. It requires no cream-of anything, nothing in a can, and no shredded cheddar. It's an elegant take on the classic dish, one that you would feel good about serving to company, just as well to your hubby on a Wednesday night. There are a couple shortcuts you can take to minimize the dishes side effect, such as sautéing your mushrooms first in the pan you will later use for chicken, and steaming the broccoli in the microwave in a dish you'll later serve the chicken divan in. Little things, you guys. Little things..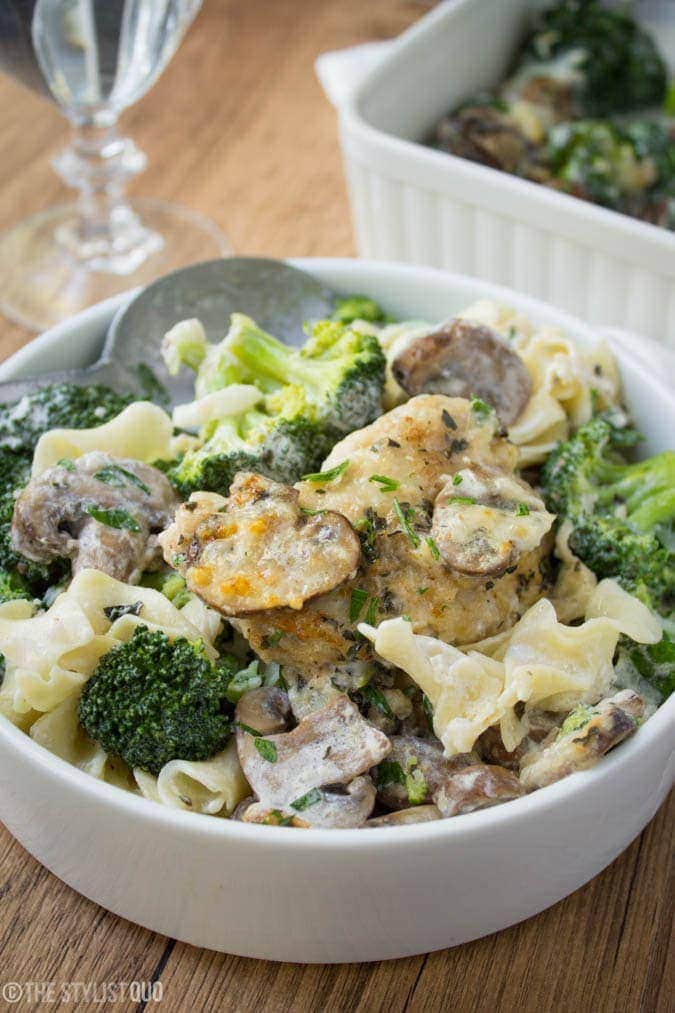 You'll love this dish because it's got everything: superfoods broccoli and mushrooms, which create a balance of savoriness and earthiness, and a texture you'll positively love. It's got tender egg noodles forming a bed for the veggies and chicken, soaking up the fallen sour cream-basil sauce that's earned a spot as one of my all-time favorite sauces.. ever. The chicken is buttery from the dredging in flour and sautéing in, well, butter, and tender and flavorful from using chicken thighs and braising in a fond-infused chicken broth with basil. The sauce is simple and light, yet so rich, made from whisking sour cream into the chicken broth you used to deglaze your pan and braise the chicken thighs. The combination of freshly ground pepper (never the off-the-shelf dust-like substance in this dish. It might fly another time, but not today!) and dried basil, reconstituted in the braising liquid for a sweeter, less overbearing flavor, works perfectly with the tart creaminess of the sour cream and the earthy veggies. I could go on.. and on.. but I won't waste your time. Start gathering those pots and pans, my friend! It's chicken divan night.
Make this.
Chicken Divan
Tender chicken in a tangy, rich sour cream sauce, layered with earthy mushrooms and tender-crisp broccoli.. a perfectly elegant weeknight dinner!
Ingredients
1/3

cup

all purpose flour

Freshly ground pepper

to taste

2 - 4

chicken thighs

depending on how much meat you eat. 2 works for us, skin on

3

tablespoons

butter

1 1/3

cups

chicken broth

1/2

teaspoon

dried whole basil

1

pound

fresh broccoli

2

tablespoons

butter

8

ounces

fresh mushrooms

sliced

8

ounces

sour cream

2

tablespoons

fresh grated Parmesan cheese

2

cups

uncooked egg noodles

boiled in salted water and drained
Instructions
Melt 2 tablespoons butter in a large skillet (ideally not nonstick for superior fond [browned bits]) over medium-high heat. Add mushrooms and sauté until browned. Don't stir too too often, so you get a nice color and crust on them. Remove from pan and set aside.

Combine flour and pepper; dredge chicken in flour. Melt 3 tablespoons butter in the large skillet you used for mushrooms (you can use separate skillets if you like, but only if you love doing dishes) over medium to medium-high heat; brown chicken in butter on both sides, about 4-5 minutes each side. Remove chicken from skillet and set aside for now.

Add broth to skillet (be careful; it might steam heavily depending on how hot you've got it). Using a whisk, break up little browned bits on the bottom of the skillet. Reduce heat to low and cook for 5 minutes. Return chicken to skillet, sprinkle casually with basil (not so concentrated; you want the stock to infuse as well). Cover and simmer (braising) for 30 minutes.

Meanwhile, trim broccoli into florets. Steam in a steaming basket over the stove or in the microwave (place in a bowl, add a bit of water, cover, nuke.. test often. When done, drain. Do NOT use a steaming basket in here, as that will cause your microwave to.. catch fire).

Place broccoli in a buttered 9x9" baking dish. Remove chicken from skillet with a slotted turner (reserve the braising liquid) and place chicken on top of the broccoli in the baking dish. Spoon mushrooms over the chicken.

Stir the sour cream into the reserved braising liquid and whisk until smooth. Cook over low heat until thoroughly heated (do not boil!). Taste and correct seasonings (we add salt and more pepper). Pour sauce over chicken; sprinkle evenly with Parmesan cheese. Place pan 6" from broiler and broil for 3-5 minutes or until top is golden brown and beautiful and delicious in every way.

Split the egg noodles, cooked, into two bowls and spoon the chicken divan over the top. Invite me over for dinner.
Recipe Notes
*Easily double to serve 4.. triple for 6.. quadbillionuple for 8,000,000,000..
I doubled the veggies and sauce from the original recipe. If you're not that into vegetables or.. sauce.. feel free to halve the broccoli, mushrooms, butter for mushrooms, basil, chicken broth, and sour cream for two. For four, keep those ingredients and simply double the flour, chicken, pepper, butter for chicken, egg noodles, and Parmesan
Adapted from Southern Living
19