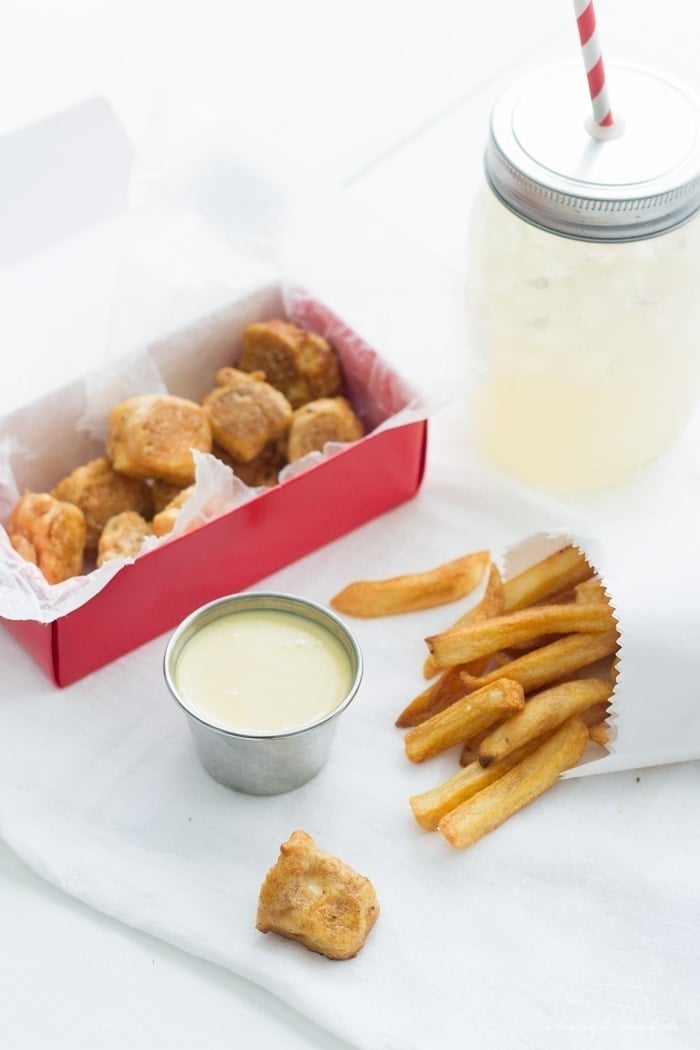 I have a confession to make….
I love(d) Chick-fil-A. I know, I know! It's not healthy, it's not good for the environment, and it's definitely not good for our social climate. But there's something about it I crave–often intensely–until I sate what could've been a brisk but shameful dip into, let's face it, some hateful junk food.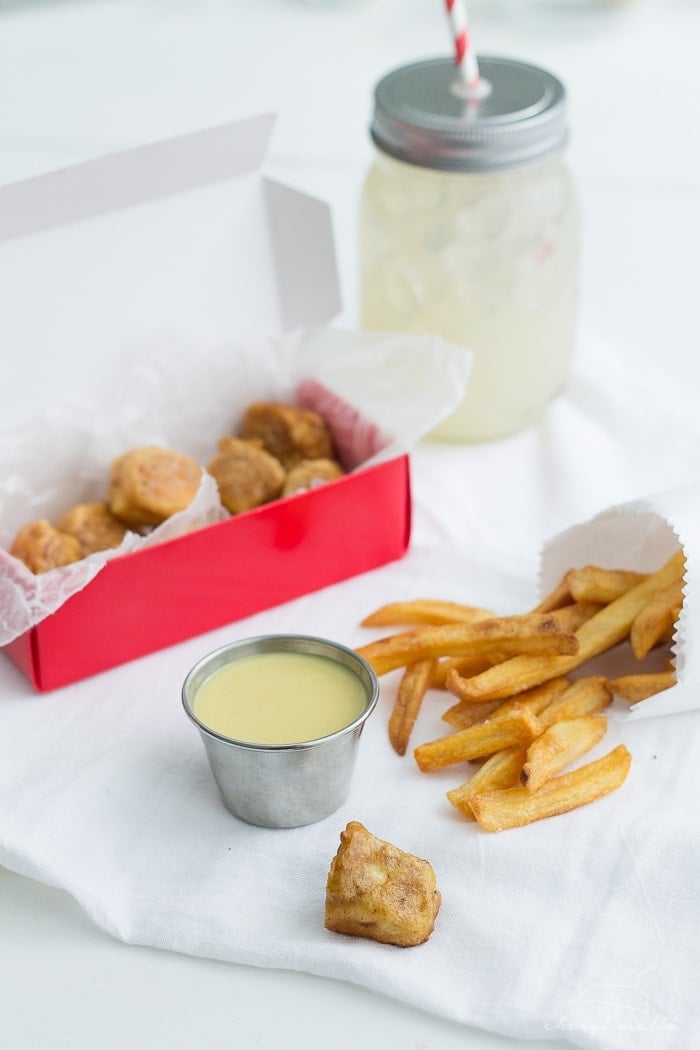 Except when I say brisk, I actually mean we'd be sitting in line, out in the middle of one our city's busiest streets, behind 40 other cars doing the same thing. O and I at one time, pre-gay-hatred-exposure, considered franchising one of those places and putting it downtown (packed full of 9-to-5ers rushing to work, no other Chick-fil-A around for miles), sheer dreams of  diving into a sea of coins, Scrooge McDuck-style.
But these days, we're pretty conscious of where and what we eat, trying to avoid a lot of meat–especially highly processed, factory farmed meat with more injections than Heidi Montag–and spend our money only with companies whose values don't.. totally clash with what we think is right and acceptable in this life. Sometimes we falter, but most of the time we stay pretty true to that. So what to do when the Chick-fil-A craving strikes?
Chick-fil-A tofu nuggets, people. Chick-fil-A tofu nuggets. With vegan "honey" mustard dipping sauce.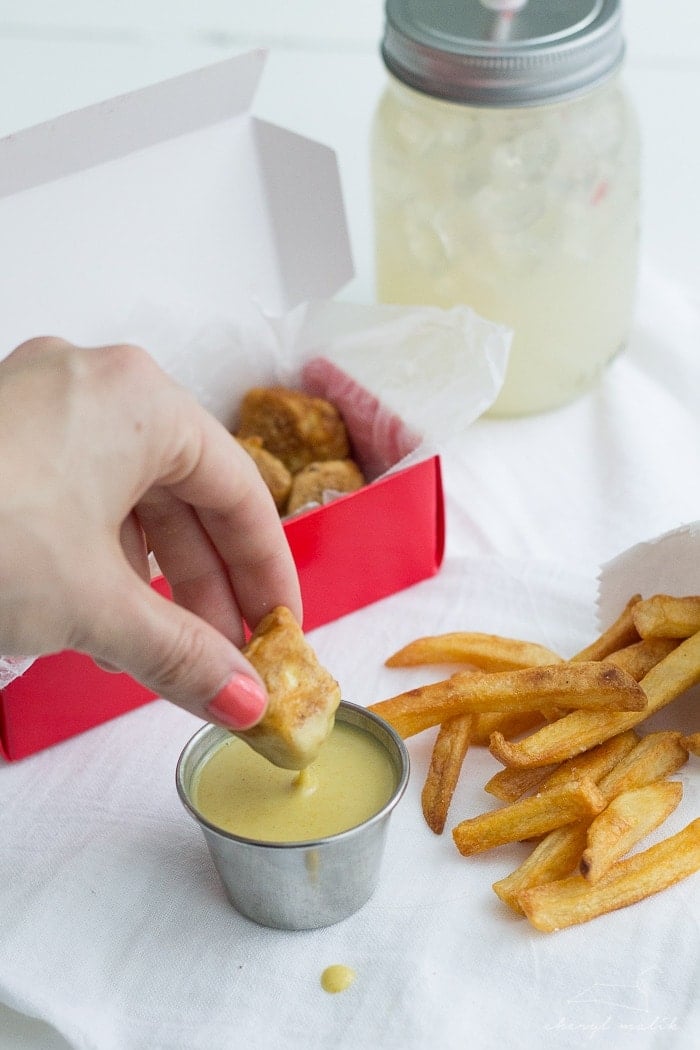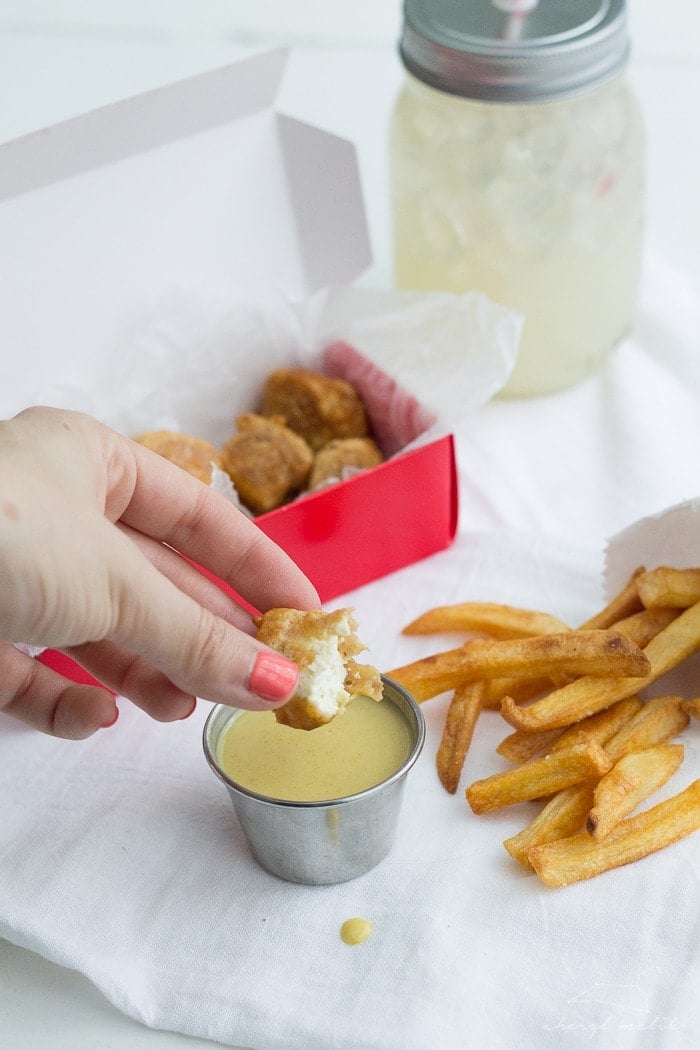 I took a few Chick-fil-A nugget copycat recipes and essentially converted it into a fried tofu recipe, complete with a powered sugary breading and pickle juice marinade. We were both amazed at how well these turned out, how similar to the addictive little nuggets we so guiltily crave! The breading is crunchy and flavorful without being too heavy, the torn tofu is equally flavorful and packed with seasoning thanks to the pickle brine, and the tearing leaves little nuggets that are not so perfectly cubed that they seem immediately "chickenless".
The honey mustard sauce is just like I remember honey mustard sauce, subbing really only vegan mayo for the mayonnaise and agave nectar for the honey. Because really, what's a chicken nugget without a sauce in which to dunk your little bites?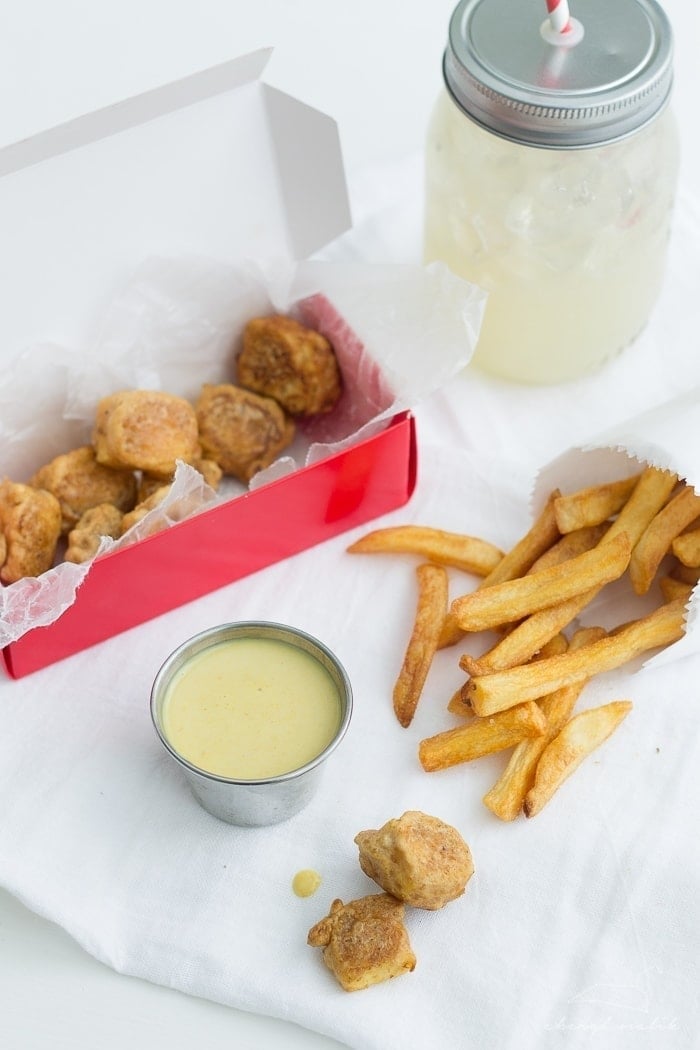 Even better, these come together quickly and without much oil, making them much healthier than the originals. And guess what, none of your money is going towards the "questionable giving" that made Chick-fil-A known for more than its unfortunately delicious bites. About that, you can feel even better about swapping chicken for tofu and a quick jaunt to that infamous locale for a delicious fast-food-inspired spread at home.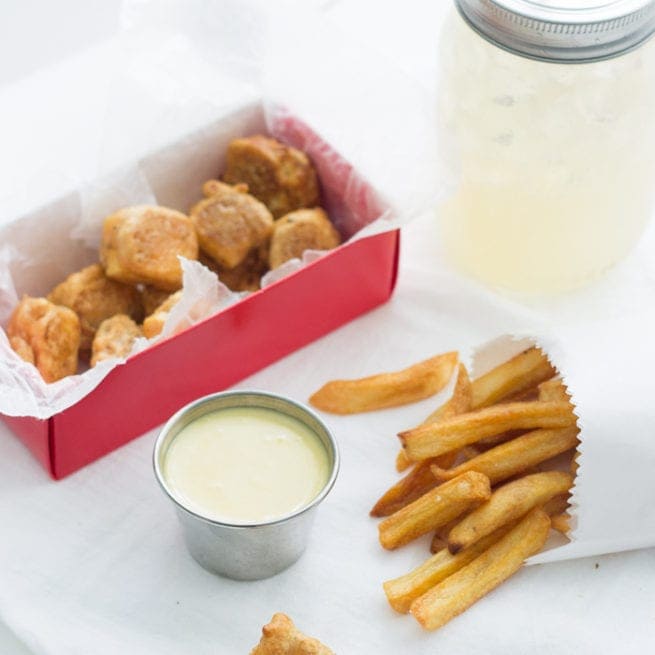 Chick-fil-A Tofu Nuggets
Flavorful tofu nuggets that taste oh-so-close to the Chick-fil-A original nuggets, complete with a vegan "honey" mustard sauce! Way healthier and a lot less.. judgy.
GO PREMIUM - AD FREE + MEAL PLANS
Ingredients
1

pound

block firm or extra-firm tofu

3/4 - 1

cup

dill pickle juice

(you want the old-school, bright green kind, not the deli-pickle kind)

1

cup

corn starch

2 1/2

tablespoons

powdered sugar

1/2

teaspoon

paprika

1

garlic

1

teaspoon

salt

1/2

teaspoon

powdered mustard

1/2

teaspoon

black pepper

1

tbsp

vegetable or canola oil

, for frying

1/4

cup

vegan mayonnaise

1

tablespoon

yellow mustard

1/2

teaspoon

Dijon mustard

1

tablespoon

agave nectar

3/4

teaspoon

lemon juice

1/4

teaspoon

turmeric
Instructions
Marinate the tofu: tear into bite-size nuggets and place in a medium bowl. Pour pickle juice over and let marinate 25 minutes.

Meanwhile, make your breading. Whisk together all breading ingredients, except oil.

Meanwhile, make your honey mustard. Stir together all ingredients, taste & adjust seasonings, then refrigerate until ready to serve.

Once tofu has marinated, drain well and then toss in breading to coat. Pour a thin layer of oil into a large sauté pan and heat over medium-high heat. Fry "nuggets" in a single layer, in batches if needed--don't crowd. Turn fairly regularly to brown on all sides. Once breading has browned, remove from sauté pan with a slotted spoon and drain on a plate lined with paper towels or brown paper bags.
Notes
Serve with honey mustard sauce.
Nutrition
Serving:
4
g
Calories:
378
kcal
Carbohydrates:
50
g
Protein:
9
g
Fat:
15
g
Saturated Fat:
2
g
Sodium:
2339
mg
Potassium:
175
mg
Fiber:
1
g
Sugar:
10
g
Vitamin A:
123
IU
Vitamin C:
1
mg
Calcium:
35
mg
Iron:
2
mg
Net Carbs:
49
g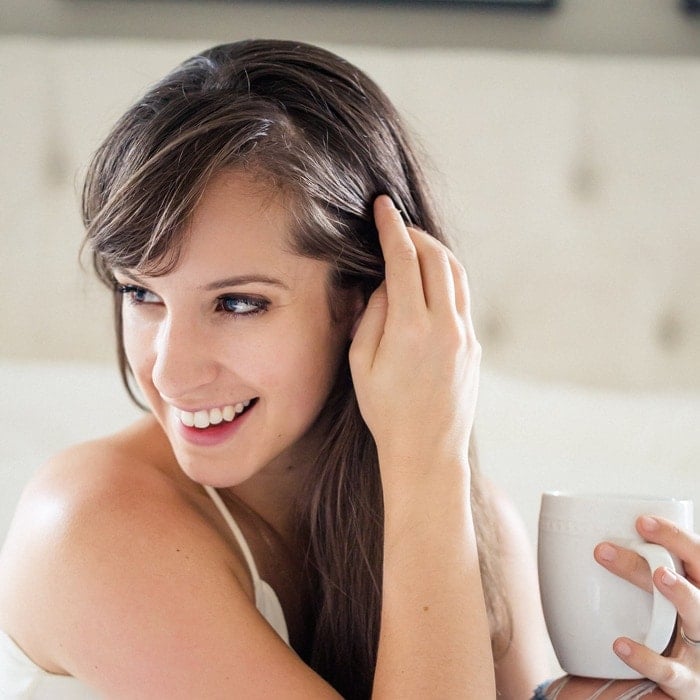 Cheryl Malik is the recipe developer, writer, and photographer behind the healthy, flavorful, family friendly recipes at 40 Aprons. She's been a blogger for 10+ years and is known for her delicious recipes and detailed recipe instructions. Cheryl is a mom of three who lives in Memphis, TN.