Mole is always one of those dishes I've always wanted to really love, but it's so heavy for me. So when I found this green mole recipe, vibrant with cilantro and deeply flavored enough to be called mole, I knew I had to try it. I just so happen to be sitting in jury duty selection (civic duty, check. Please don't call me for ten more years), so what's the verdict?
Guilty, your honor. Guilty of being delicious, and really quite simple. Guilty of being rich, yet bright; vibrant, not heavy. Guilty on all charges.
If all attempted robbery cases were as simple as this Zacatecas-style recipe.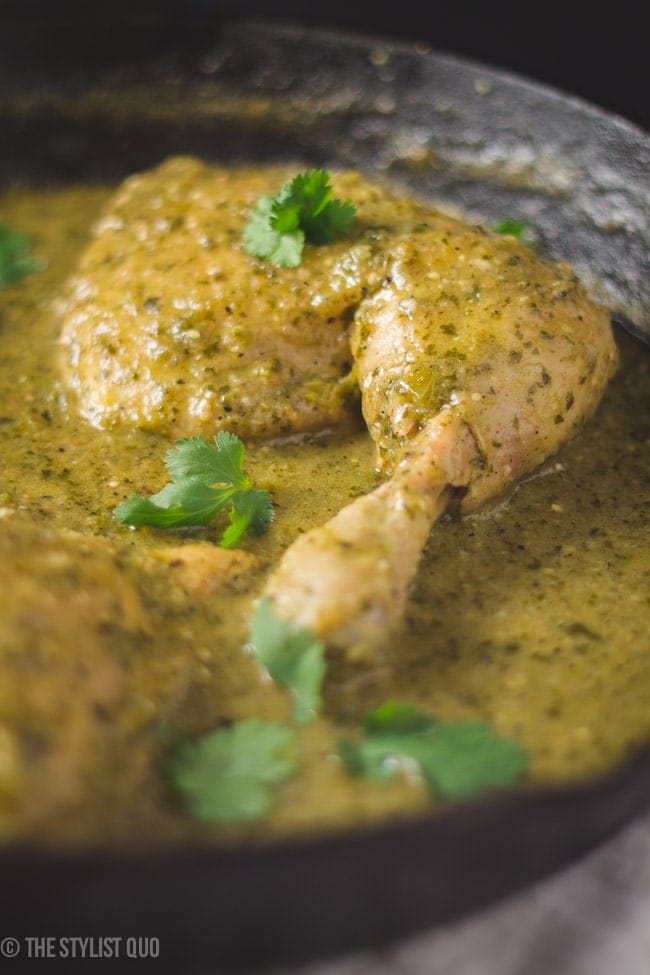 I was surprised by the directions to boil the chicken, but the reviews convinced me to try it. I'm glad I did–the chicken was so tender and full of flavor, the perfect base to be completely smothered in the garlicky tomatillo sauce. The flavors are similar to a salsa verde, but the tomatillos are almost caramelized by being cooked down into a paste.
This recipe isn't necessarily fast, but there's not much active work involved. It's so worth it, though. Try serving with a bit of rice and some tortillas for cushioning the flavorful chicken and sauce.

Oh, and take pictures. It's green as hell. Make this.
Green Mole Chicken (Pollo en Mole Verde)
A bright, brilliantly flavorful green mole, chock full of garlic, cilantro, and tomatillos, with perfectly flavored and tender chicken.
GO PREMIUM - AD FREE + MEAL PLANS
Ingredients
1

(3-4 pounds) whole chicken

, cut into 8 pieces, or four whole chicken legs (drumstick plus thigh)

½

cup

chopped cilantro stems

1

tablespoon

kosher salt

1

teaspoon

whole black peppercorns

2

cloves

garlic

, chopped

1

large yellow onion

, chopped

1

bay leaf

8

ounces

tomatillos

, peeled, rinsed, and chopped

2

jalapeños

, stemmed and chopped

½

cup

cilantro leaves

1-2

teaspoons

kosher salt

, plus more to taste

2

cloves

garlic

, chopped

2

(8-inch) flour tortillas

, toasted

2

tablespoons

canola oil
For serving
1

flour tortillas for serving

, optional

2

cups

rice for serving

, optional
Instructions
Cook the chicken: Place chicken, cilantro, salt, peppercorns, garlic, onion, bay leaf, and 12 cups water in a 6-qt. saucepan and bring to a boil; reduce heat to medium-low and cook, covered and stirring occasionally, until chicken is tender, about 30 minutes.

Remove chicken from saucepan and strain liquid through a fine strainer; reserve 4 cups, and save remaining liquid for another use. Set chicken and liquid aside.

Heat tomatillos and jalapeños in a 4-qt. saucepan over medium heat and cook, stirring occasionally, until darkened and thick, about 10 minutes. Transfer to a blender with cilantro, salt, garlic, tortillas, and 1 cup reserved cooking liquid; puree.

Heat oil in a 6-qt. saucepan over medium-high heat; add tomatillo sauce and fry, stirring constantly, until it thickens into a paste, about 5 minutes. Whisk in remaining cooking liquid and bring to a boil; reduce heat to medium-low and cook, stirring, until reduced and thickened, about 30 minutes.

Add chicken pieces and cook until heated through, about 10 minutes.
Notes
Serve with Mexican rice and tortillas.
Nutrition
Serving:
4
g
Calories:
669
kcal
Carbohydrates:
121
g
Protein:
14
g
Fat:
14
g
Saturated Fat:
2
g
Cholesterol:
1
mg
Sodium:
2858
mg
Potassium:
449
mg
Fiber:
5
g
Sugar:
7
g
Vitamin A:
335
IU
Vitamin C:
11
mg
Calcium:
126
mg
Iron:
4
mg
Net Carbs:
116
g