This spiked hot chocolate mix with homemade peppermint marshmallows gift kit is the perfect easy gift to impress your friends, family, teachers, food bloggers named Cheryl, etc. Soft and minty homemade peppermint marshmallows float on top of rich, creamy hot chocolate mix, all upgraded with a much-needed kick (hello, holiday stress) from mini bottles of peppermint schnapps. Leave enough time for the marshmallows to dry overnight and you've got yourself a quick, affordable, gourmet gift idea.
There's so much goodness in this post I can't even stand it, y'all. Tie all three elements–creamy hot chocolate mix; soft, homemade peppermint marshmallows; mini bottles of peppermint schnapps–together and you've got the best-ever gift idea for anyone (over 21, that is). Keep the homemade hot chocolate mix for yourself or simply whip up a batch of the homemade peppermint marshmallows. Personally? We're indulging in the kit on Christmas Eve to start a brand-new tradition at 40 Aprons HQ.
So, we're building a house. Quel seque, non?
We're building a house, and we may have gone a bit overboard. Interest rates increased, and here you have us, scrimping and saving every single penny to put towards that brand new house we're closing on in literally days now. Am I excited? Well, "excited" might be the understatement of the year. Not only are we moving closer to my parents (and, more importantly, Leo's grandparents), we're moving into our absolute dream house and increasing our space by over 200%. We've lived in this little house for a while, and I'm so ready to not have to take turns brushing our teeth at night…
But again, we're closing in literally days, which means right after Christmas, which means… everyone's getting homemade gifts this year. I wanted to make up for our thriftiness by packaging indulgence, though, and so the spiked hot chocolate mix with homemade peppermint marshmallows gift kit was born! Heat up a bit of milk, stir in a couple tablespoons of mix, stir in half a bottle of peppermint schnapps, top with marshmallows, and you're on your way to a serious holiday reprieve.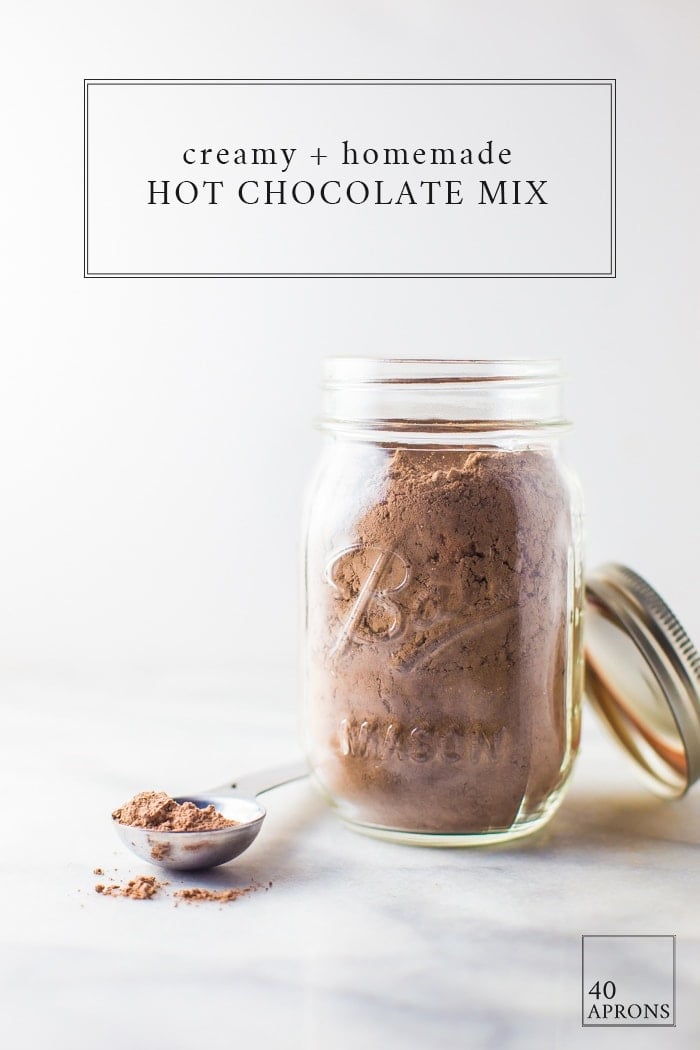 If you've never made homemade marshmallows before, they're so easy! You do need a candy thermometer, but that's the most complicated part. Mix a few packets of gelatin and a bit of water in a mixer, boil a few other ingredients, pour the syrup into the bloomed gelatin, and then mix for 10 minutes? So easy, so impressive, and light years above the prepackaged things.
I couldn't find mini bottles of peppermint schnapps, so I ordered empty ones from Amazon. They didn't come in time, so I ended up buying airplane bottles of plain Schmirnoff vodka at the liquor store, peeling off the labels, and pouring out the vodka (for later use… ahem). I then simply filled them with peppermint schnapps, and it was easy and super affordable.
I also layered a small piece of wax paper over the hot chocolate mix to separate it from the marshmallows. You could cut out a piece, traced from the bottom of the mason jar, but I totally winged it. Lastly, I tied the two peppermint schnapps bottles together first then tied the rest onto the lip of the mason jar. I attached a little tag with instructions, as well, reading:
Spiked Peppermint Hot Chocolate Kit! Heat 1 cup milk or almond milk, stir in 2-3 tablespoons of mix, 1/2-1 bottle of peppermint schnapps, and top with peppermint marshmallows.
And I can tell you with 100% certainty simply from tasting and testing this recipe… anyone would be extremely happy to get one of these kits. ??? If I could bold and all-caps this winky face, you guys, I would. Boozy Christmas cheer ftw.
Peppermint Marshmallows
Rich, minty homemade marshmallows require only a few steps, are super impressive, and taste lightyears better than the store-bought things. Optional peppermint swirl look.
Ingredients
3

tablespoon

packages unflavored gelatin

1 1/2

cups

granulated sugar

1

cup

light corn syrup

1/4

teaspoon

kosher salt

1

tablespoon

pure vanilla extract

1/4-1/2

teaspoon

peppermint extract

1

teaspoon

Red food coloring

, if desired

1

teaspoon

Cornstarch

, for dusting

1

teaspoon

Confectioners' sugar

, for dusting
Instructions
In the bowl of an electric mixer with the whisk attachment, mix the gelatin and 1/2 cup cold water. Let sit while you make the syrup.

In a small saucepan, combine the sugar, corn syrup, salt, and 1/2 cup water over medium heat, stirring until the sugar dissolves. Raise the heat to high, attach a candy thermometer, and cook until the syrup reaches 240º.

Remove from heat and turn the mixer on low. Slowly and carefully pour the syrup into the gelatin mixture. Increase the speed to high and beat unti lthe mixture is very thick and tripled in size, about 8-15 minutes. Add the extracts and mix thoroughly.

Combine equal parts cornstarch and confectioners' sugar. With a seive, dust the mixture over an 8x12" glass or ceramic baking dish. Pour in the marshmallow mixture, spread to cover evenly, and smooth the top, using an oiled spatula to help, if necessary. If skipping peppermint swirl look, skip to step #6.

If optional peppermint look is desired, drop single drops of red food coloring on surface, about 3-5. Use a butter knife to drag the mixture through the surface to create the look of a peppermint candy cane. Do your best - the texture of the marshmallows means it won't be perfect, but it's only on one side, so don't hold back with color.

Once completed, dust with more cornstarch-confectioners' sugar mixture. Let stand at room temperature uncovered overnight to dry out.

Turn the marshmallows out onto a cutting board or countertop and cut into squares, oiling your knife to help, if necessary. Dust all sides with more cornstarch-confectioners' sugar mixture.
Recipe Notes
On top of the hot chocolate mixture, and top with about 3 homemade peppermint marshmallows.
Nutrition Facts
Peppermint Marshmallows
Amount Per Serving (8 g)
Calories 282
Calories from Fat 9
% Daily Value*
Fat 1g2%
Sodium 105mg5%
Carbohydrates 71g24%
Protein 2g4%
Calcium 7mg1%
Iron 1mg6%
* Percent Daily Values are based on a 2000 calorie diet.
Creamy Homemade Hot Chocolate Mix
This rich, creamy hot chocolate mix dissolves easily in hot milk or water and goes perfectly with homemade peppermint marshmallows and peppermint schnapps.
Instructions
In a food processor, blitz chocolate chips until ground into very small pieces. Place chocolate chips into a large bowl and add remaining ingredients. Whisk to mix well.

Working about 2 cups at a time, add mixture to food processor or blender and process for a few seconds or until a fine powder. Work through the remaining mixture, and then whisk the entire mixture very well to combine.

To serve: Heat 1 cup of milk or almond milk and stir in about 2-3 tablespoons hot chocolate mix. Add peppermint schnapps to taste and top with homemade marshmallows.

To package with marshmallows: Ladle about 1 cup into mason jars, place a small piece of wax or parchment paper, about the size of the bottom of the marson jar, on top of the hot chocolate mixture, and top with about 3 homemade peppermint marshmallows.
Hot chocolate mix adapted from Living a Sunshine Life and homemade peppermint marshmallows adapted from Ina Garten.