This cottage cheese alfredo is a lower fat, lower calorie version of the rich and creamy pasta favorite! One of the best cottage cheese recipes, it's an easy dinner to make and the best part? You'd never even know it's healthy.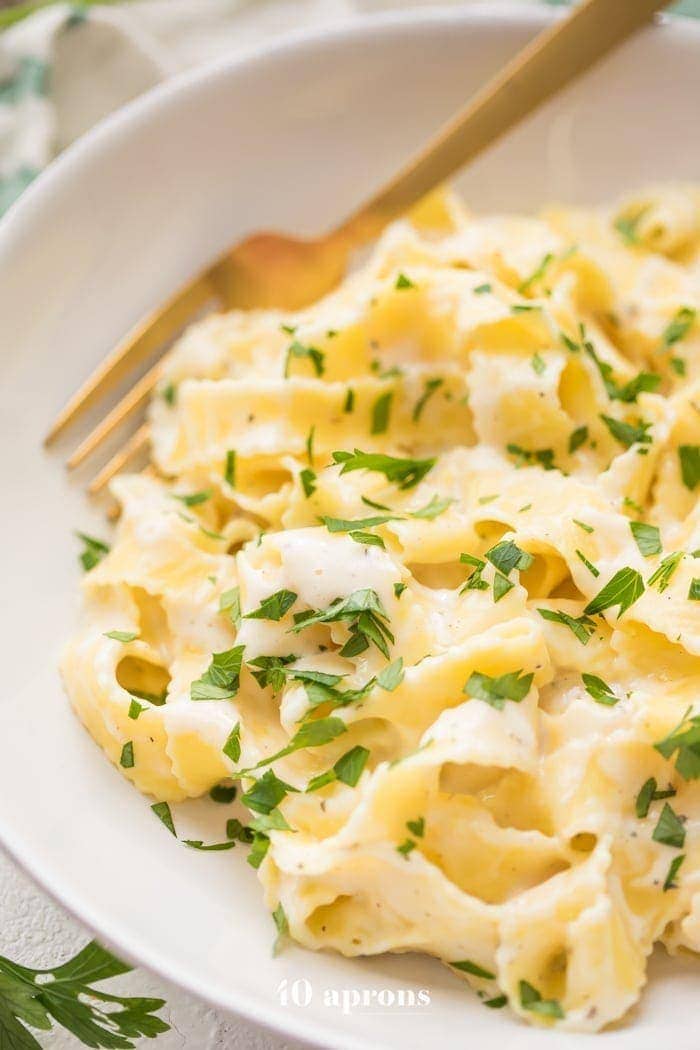 Show of hands: who hates alfredo?
You.. there, in the back. GET OUT. You are but a robot amongst us sent to destroy the empire.
The alfredo empire of deliciousness, that is. Uh… I digress. Another show of hands: who loves the fat and calories in a bowl of creamy, rich fettuccine alfredo?
You.. there, in the back. GET OUT. I hate you for your metabolism.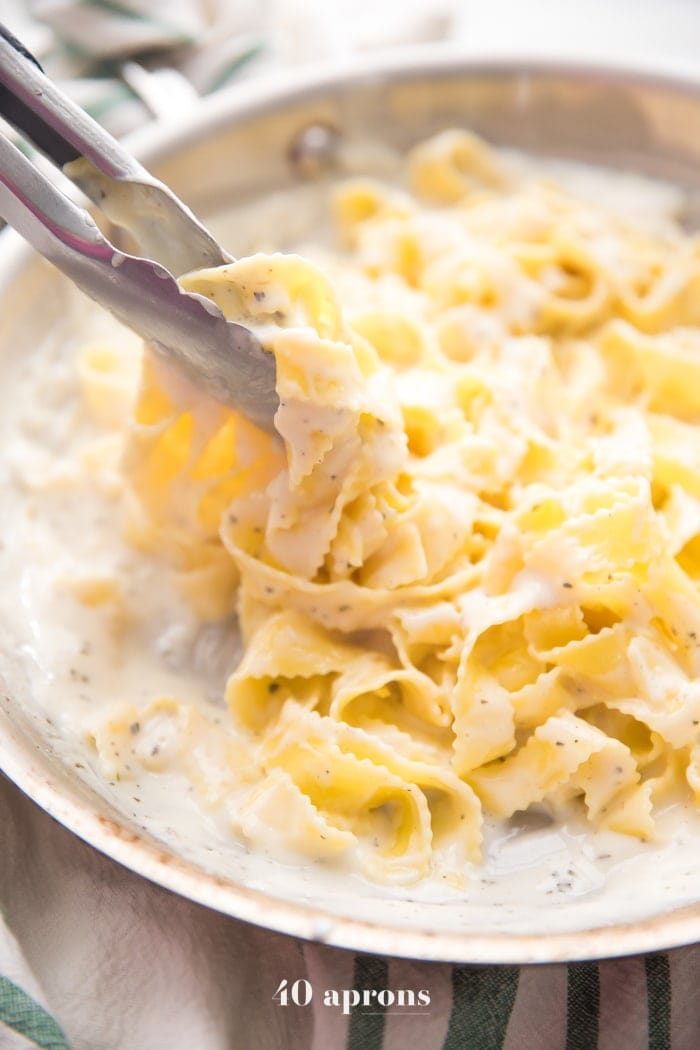 Alfredo has always been one of my favorite pasta sauces, but I tend to reserve it for a special occasion treat, due to the high amounts of butter, cream, and cheese. And then… I found this. We typically associate cottage cheese with gummy bites at an assisted-living center or our tiny-ass dog Magnolia, whom we were instructed by the vet to feed cottage cheese mixed into her dry food so she'd put on some pounds (11, going on 12! But we still tell everyone she's a week-old lab, for the sake of O's masculinity). But think again, people! Blended with some other ingredients, it transforms into a luxurious, creamy sauce, at a fraction of the guilt and hippyness.
Why This Cottage Cheese Alfredo Recipe Is So. Dang. Good.
It's wonderfully rich and creamy, thanks to the cottage cheese, but lower in fat and calories. Also thanks to the cottage cheese!
This cottage cheese recipe comes together really, really quickly, and you could make it almost entirely during the time your pasta is boiling.
You can add all sorts of different spices or seasonings to this cottage cheese alfredo. It's super versatile.
But be warned. You might have to fend off dozens of requests a day for this stuff. I'm not lying.
The first time I made this, O ate his bowl — and subsequently licked the bowl clean — in total silence.
"He hates it," I told myself. "Oh well. It's still so much better for us, and I think it's pretty damn delicious."
An hour later.
"That was the best thing I've ever had," O spouts, unprovoked. "Can we have it again tomorrow?"
No. No, we can't. But "tomorrow," he repeated the question. I repeated the answer. I need variety, dammit! No matter how good something is. The day after "tomorrow," he repeated the question, and I, the answer. And so on, until I caved and whipped it up the next week. And then the week after that as a sorry-I'm-going-to-St.-Louis-without-you-and-leaving-you-to-fend-for-yourself dish. I'm not exaggerating in claims of how insanely good this stuff is.
Update: Now that O and I have been married for what feels like a hundred years and have a kid, I have a new anecdote to verify the deliciousness of this cottage cheese recipe. My kid freaked out because somewhere along the line that day he was promised "mac and cheese," and I kind of thought this would work for that particular request. He wailed a bit but finally tried it. My picky, picky toddler then claimed,
"I love it so much. I want to eat it on Wednesday. I want to eat it on Monday. I want to eat it a lot of times when we come home."
So… if that doesn't tell you something about this cottage cheese alfredo, I don't know what would.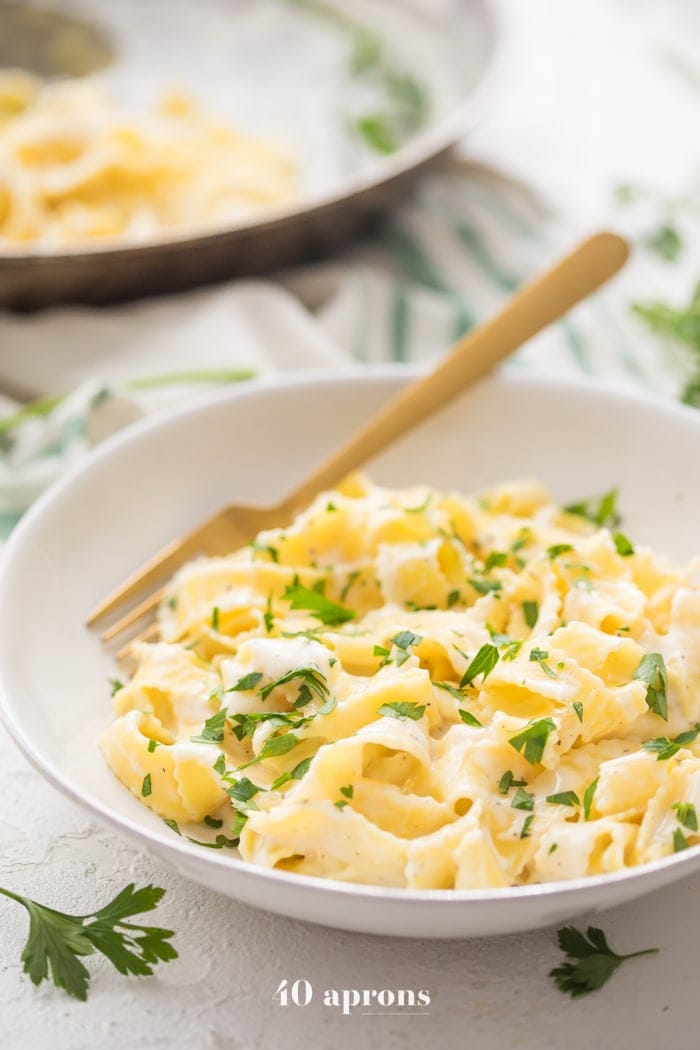 Variations
Instead of basil and oregano, sprinkle in a bit of Cajun seasoning and serve with blackened chicken, tomatoes, and green onions for a Creole pasta.
Use cultured cottage cheese to make this cottage cheese recipe even healthier.
Try arrowroot powder instead of cornstarch if you have to or want to avoid corn.
Tips for Making This Cottage Cheese Recipe
Make sure you blend the cottage cheese alfredo mixture until it's very smooth.
This cottage cheese recipe is best with about half a pound of pasta. If you don't mind a less saucy pasta, upping your pasta poundage is fine!
Simmer your sauce just until it's thickened – you don't want to reduce it too much!
Combine the milk, cottage cheese, cornstarch, salt, and pepper in a blender, then blend until very smooth.
Pour into a medium saucepan or skillet and add a pinch of two of dried basil and oregano, or whatever seasonings you prefer.
Cook over medium-low heat until heated through, smooth, and a bit thickened. Add more basil and oregano if you like!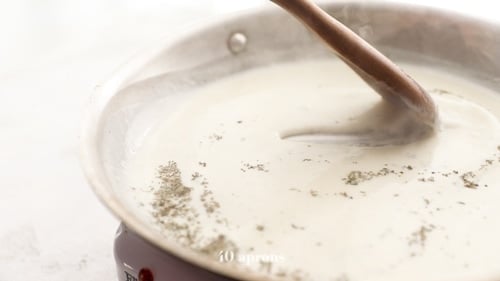 Toss with pasta and serve immediately. Garnish with fresh chopped parsley if desired.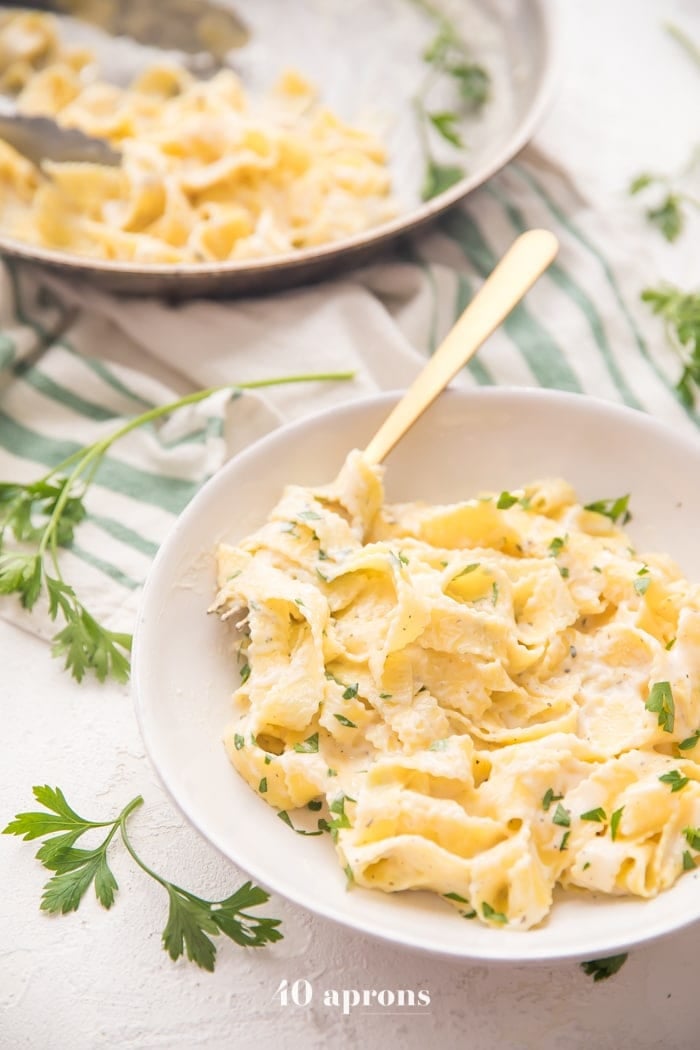 You'll also like:
And if you're looking for a wonderful version of classic Fettuccine Alfredo, this recipe from Erren's Kitchen is fantastic!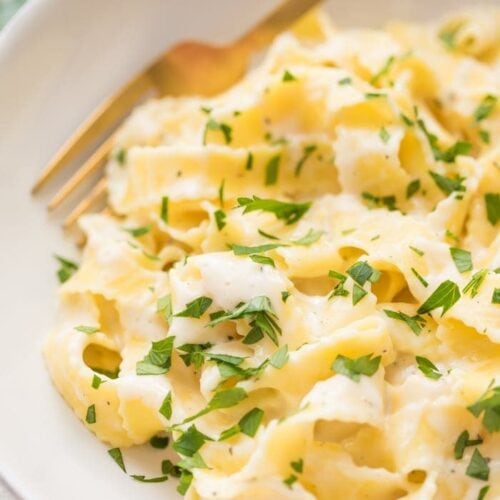 Cottage Cheese Alfredo
A rich and creamy pasta sauce made with cottage cheese. Easy, versatile, and super quick to make, it's one of the best cottage cheese recipes. 4 Weight Watchers SmartPoints.
GO PREMIUM - AD FREE + MEAL PLANS
Ingredients
1

cup

milk

(skim for low-fat)

1/2

cup

cottage cheese

(low-fat cottage cheese to make this recipe low-fat)

1

tablespoon

cornstarch

1/4

teaspoon

salt

1/8

teaspoon

pepper

1/4

teaspoon

garlic powder

or more to taste

1/2

cup

grated Parmesan cheese or Romano cheese

dried basil

to taste

dried oregano

to taste

fresh chopped parsley

for garnish, optional
Wine Pairings — See Notes
Instructions
Put all the ingredients, except basil, into a food processor or blender and blend until smooth.

Pour the mixture in a small saucepan and add basil and oregano. Cook over medium-low heat until heated through and smooth. Add more basil, oregano, salt, or pepper (or other seasonings), to taste.

Let it cook on low heat for about 5 minutes, stirring occasionally. Add the cooked pasta right before serving and let it soak in for a couple of minutes. Top with meat or veggies as desired; garnish with fresh chopped parsley, optional. Serve immediately.
Notes
Wine Pairings
I recommend buying wine from Scout and Cellar, especially for lower carb or sugar and the health conscious. There's no added sugar to these wines, and they're all much lower in carbs, calories, and sugar. For me, there's no headache or fogginess the next day!
This recipe combines soft cheeses and delicious pasta, so you can get away with a variety of wine pairings. I recommend:
Nutrition
Calories:
120
kcal
Carbohydrates:
6
g
Protein:
9
g
Fat:
6
g
Saturated Fat:
3
g
Cholesterol:
19
mg
Sodium:
467
mg
Potassium:
119
mg
Sugar:
3
g
Vitamin A:
235
IU
Calcium:
239
mg
Iron:
0.1
mg
Net Carbs:
6
g
This recipe was originally published in January 2014 but was updated with tips, step by step photos, and video July 2018.