There are certain combinations in the food world that were made for each other–peanut butter and jelly, bacon and eggs, tomato soup and grilled cheese–flavors that jump into one another's arms and bring out the best in their other half, a relationship most of us could only work for. Sent down from the culinary heavens as an apology for the daily grind of taxes, traffic, and bad reality TV. Well.. I have another culinary couple to add to the list:
chocolate and toasted marshmallow.

I know, most of you have been eating smores since you were wee, and you love the way that marshmallows melt into creamy hot chocolate, but just these two together–graham cracker unnecessary–are the new Kate and William of the dessert repertoire.
A rich, slightly spiced chocolate cupcake with a moist crumb topped with a sticky marshmallow frosting is perfect, the fluffy white goo balancing out the heady chocolate. But when you break out the kitchen torch and brûlée the piped edges, the pairing is taken to another level. The crispy shell, perfectly browned to an elegant hue, the mere hint of a smokiness that lightens the marshmallow sweetness just enough – it's a must.
Have you ever gone to make frosting and realized you've got, what, 14 pounds of granulated sugar on hand, but no powdered sugar? Or.. is that just me? Either way, this marshmallow frosting recipe makes use of a few eggs whites and some white sugar, ingredients you probably always have on hand. I love that I don't have to coat the counter in a dusting of powdered sugar for this recipe, and there's nothing more satisfying than beating simple eggs whites into a luxurious, airy cream with an almost otherworldly gloss.
I added a bit of cinnamon to my favorite chocolate cupcake batter to bring out the chocolatiness and a suggestion of a steaming cup of hot cocoa. I piped the quick and super easy marshmallow frosting with a star tip and then chilled them in the fridge to encourage the frosting to keep its shape beautifully.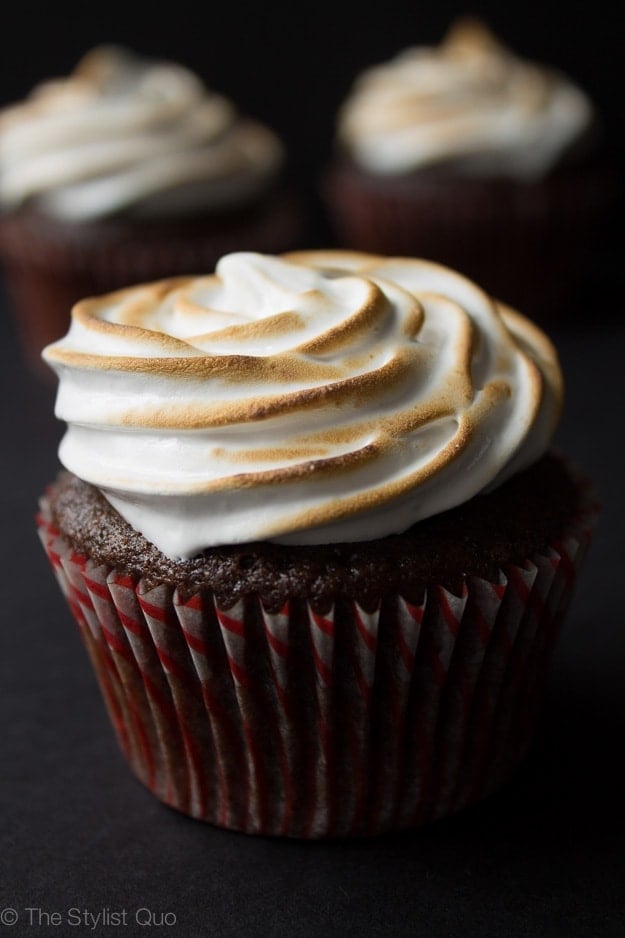 Make these.