There's only one way you've missed the giant boxes of clementines on sale at the grocery store: you've been banned from accompanying me, due to your tendency to wander with the basket while I'm carrying 40-pound (seems like it, dammit) watermelons and sneak overpriced bags of treats in while I'm not looking ("but they're organic chocolate-covered pretzels!"). And I doubt that that's the case.. unless.. I'm looking at you, O.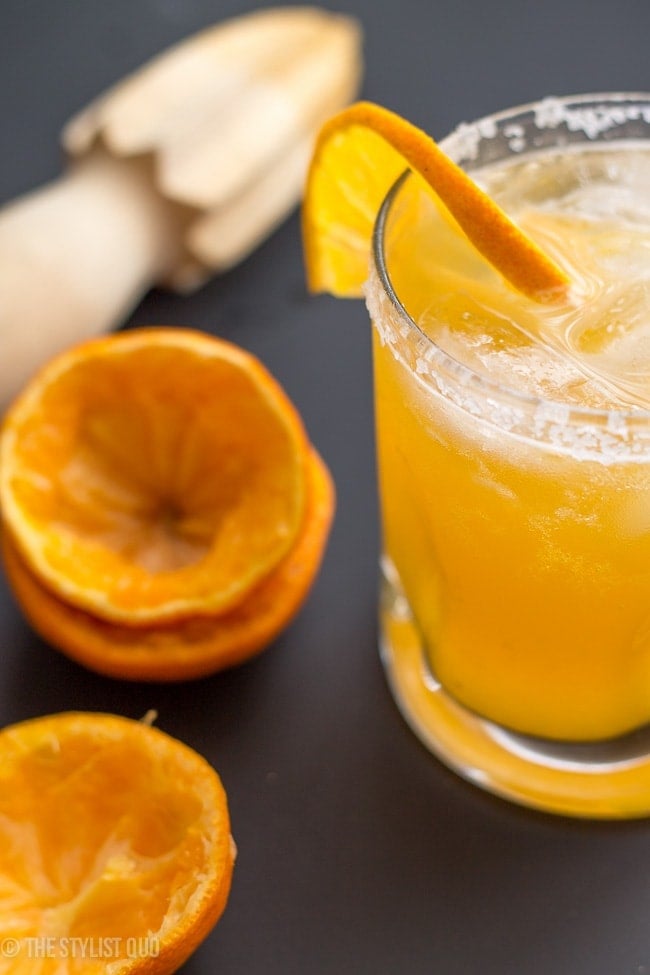 Clementines are the darling of winter's fruit, sweet and juicy, easy-to-peel, and the perfect size for a quick snack; I'm absolutely obsessed. So I figured, what better way to use up that growing stash we've been hoarding than by mixing their juice with, well, tequila? You know that's better than anything healthy I could offer.
It seems like citrus was just made for tequila, and these clementine margaritas are no exception! The syrupy clementines mixes playfully with the tartness of the lime juice and the salted rim, providing the perfect culinary pillow for tequila. For a less sweet and more tart, citrussy flavor, you can up the lime juice, just depending on your own preference. The sweetness of the juiced clementines makes a perfect late-winter cocktail for me, but this recipe is an easy one to customize to your palate.
I used agave here to keep it whole, but you could use a simple syrup if you like, to taste. Agave and tequila are natural buddies, and there's no need to frantically cool down that just-boiled simple syrup, just stir it in the mix.

Make these! You'll thank me.
Clementine Margaritas
2014-06-16 01:06:00
Serves 1
The perfect way to use up the abundance of winter clementines: just add booze!
Nutrition Facts
Amount Per Serving
* Percent Daily Values are based on a 2,000 calorie diet. Your Daily Values may be higher or lower depending on your calorie needs.
Ingredients
1/4 cup fresh-squeezed clementine juice
2-4 tablespoons fresh lime juice (or 2 tablespoons lime juice, 2 tablespoons water)
1-2 tablespoons agave nectar (see note)
2.5 ounces tequila
salt, to rim the glass
lime juice, to rim the glass
Instructions
Rub a wedge of lime around your glass rim and dip into a plate of coarse salt (no table salt!).
Combine all other ingredients and mix well. Pour over ice into glass and relax, man. You earned it.
Notes
You might not need any additional sweetener at all, depending on the sweetness of your clementines. If you use simple syrup instead, skip the extra water if only using 2 tablespoons lime juice.
40 Aprons http://40aprons.com/