If you already know you want to apply for the one-on-one food blogging & photography coaching program with Cheryl Malik, you can simply click here to start that process!
Whether you're a brand new blogger looking to start out right or a veteran hoping to improve your reach, zero in on your target audience, define your brand voice, and make more money, my food blogging and photography coaching program is probably right for you! Really.
I spent years learning and growing my blog through trial and error; it wasn't until years after my blog's inception that I really identified the processes, analysis, and methods that catapulted my blog's traffic and revenue to the next (and next and next) level. Need proof?
Orange: before process.
Blue: after. Hello.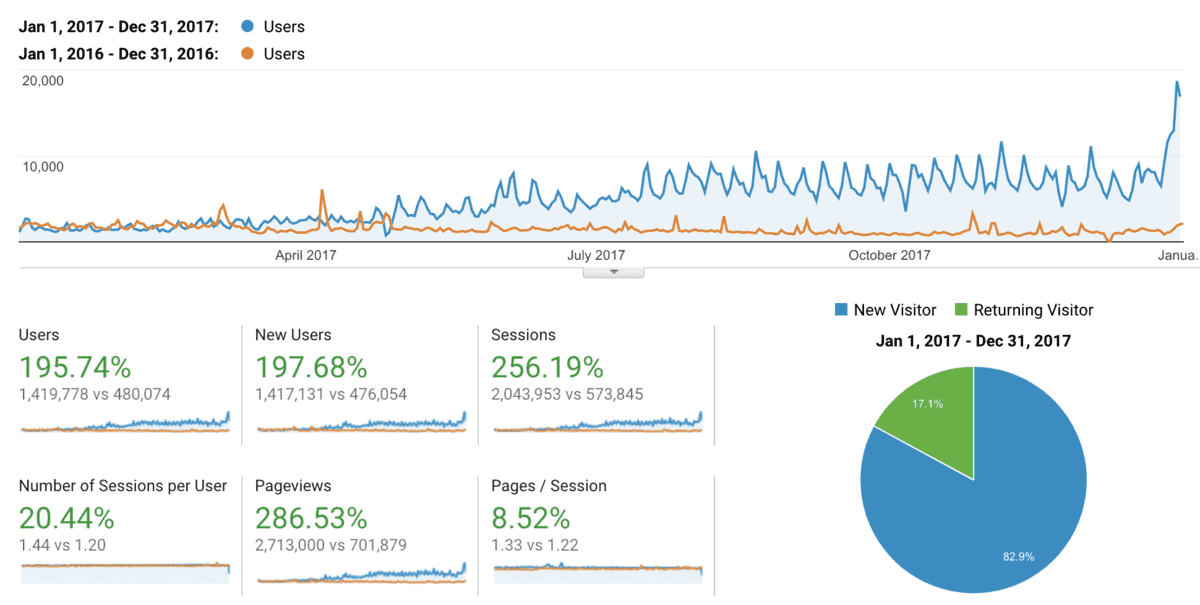 Also, no big deal, but I grew my food blog income 3708% in 12 months! And I really want to help you take your blog to the next level, too.
My Food Blogging & Photography Coaching Program
The program is a 6-week hands-on one-on-one program that costs $1000. This coaching program is available while I develop an online course version of the content, after which the price of the personal coaching program will increase steeply (Translation: Take advantage now!).
Here's how it works:
We start with a brand development intake and strategy. This will help illuminate what you're good at, what you're struggling with, what you like doing and dislike doing, what resonates with your audience and what falls flat. It'll truly define your passion and your experience and how we can use that. We'll also detail your goals, which will guide the rest of the program.
I'll then do a deep dive in your Google Analytics, ad revenue platform, and social media platforms. I'll do a content analysis to see what does well and what about that content makes it so. I'll pair this with your initial intake form, and I'll then offer general recommendations for your brand and content, as well as give specific, tactical advice, and homework assignments based on those findings. We'll do a video chat where we discuss these and you can ask me anything at all about blogging!
You'll then have a couple weeks to take everything in and complete your homework, after which I'll review your homework and analyze how it's resonating with your audience, how traffic is changing, etc. At that point, there won't be much change, but we'll look to see any pivot at all. You'll get more homework. Four weeks after your intake, we'll review your analytics, new posts, and last homework assignment, and we'll look for changes.
I'll give further optimized recommendations, and you'll get more homework. A month after your first homework assignment (6 weeks after intake), we'll review your analytics in depth again. By this point, we should be seeing changes, and I'll offer final recommendations based off my initial brand strategy, how that has changed, how your homework has impacted your traffic and other analytics, etc.
I can't guarantee that your traffic, followers, or revenue will grow, but if you commit to the information and process, and you actually really do the work, there's a really damn good possibility that you'll see serious growth.
Interested? Let me know by filling out the form below, and I'll get in touch!