Print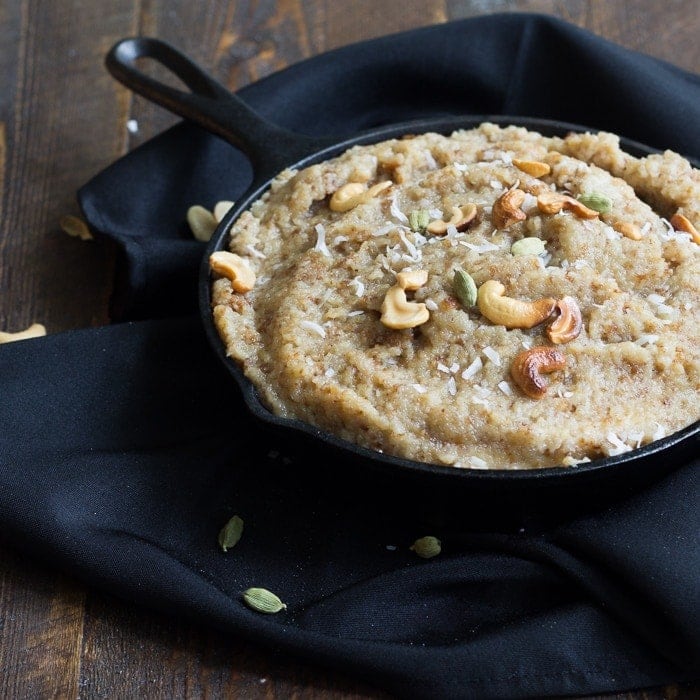 Vegan Bread Halwa
A vegan take on traditional Indian / Pakistani bread halwa. Perfect to celebrate Eid or use up some almost-stale bread.
4

cups

bread crumbs

(about 7 slices), preferably whole wheat

1/3

cup

coconut oil

1 1/4

cup

almond milk

1/2

cup

sugar

(or about 1/3 cup agave nectar)

1/4

teaspoon

rose water

1/2

teaspoon

ground cardamom

For garnish:

2

teaspoon

coconut oil

2

teaspoons

cashews

2

teaspoons

raisins

grated coconut
In a medium saucepan, melt the 2 teaspoons coconut oil over medium heat. Sauté the cashews until golden brown. Set aside. Add raisins and sauté until they puff up - do not burn or char, as they will taste bitter. Set aside. Wipe out the saucepan.

Heat 1/3 cup coconut oil over medium heat until melted and then sauté bread crumbs on medium-low heat for about 7 - 10 minutes, or until beautifully browned. Spoon out onto a plate to cool.

Meanwhile, heat the almond milk and sugar (or agave) in the saucepan and bring to a boil, boiling just long enough to dissolve the sugar. Stir in the breadcrumbs, rose water, and cardamom and reduce heat to low. Cover and let cook about 3 - 5 minutes.

Once the breadcrumbs have completely absorbed the almond milk mixture, cook over medium, stirring constantly, until the mixture begins to pull away from the sides of the pan. Remove from heat, spoon into a serving bowl, and garnish with cashews, raisins, grated coconut, and cardamom pods.