Last night I offered to make dinner for today. Having recently discovered a new blog that I absolutely adore–www.smittenkitchen.com–and then having recently bookmarked every other recipe, I went straight to the source and picked something that looked especially delicious. Ready for this title? Asparagus, artichoke, and shiitake risotto. That's just one of those recipes where, after every single word, you let a little "mmmmmm" escape. Even after the "and" in there, because you know there's something else delicious in it!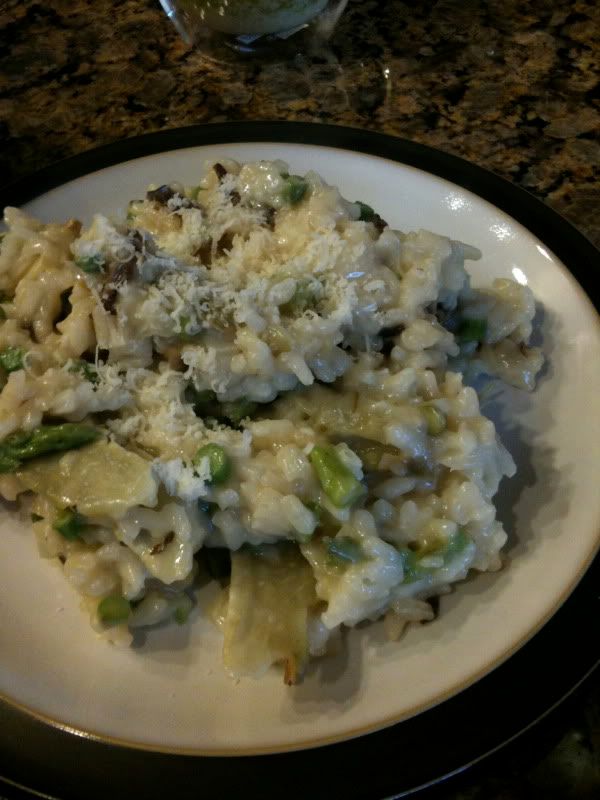 On the way to the store today, I felt like I was in a strangely creepy David Lynch film.. the weirdest people walking along the street that were still there when I drove back. I just had to get that out. Phew.
I did, however, go a little late and without having even glanced at the directions. When I got home, I realized they were looong. You have to cook each thing individually in a different manner, which is fine, unless you're trying to get the whole thing done in about an hour. And remember how lazy I am about dishes? That makes it even worse. I wanted to use the same pot for the asparagus and then the artichokes. And the same pot for the shiitakes and then the shallots and risotto. I could've broken down the time a tad were I not so lazy, but alas, I am.
Then you must add on all the time of cutting stuff up.. each thing into 1/4″ slices, which is a challenge with string beany asparagus rollin' around everywhere, little disks ending up on the floor being eaten by the cats. But the worst of all? The artichokes.
I've only eaten artichokes out of a can or steamed whole, dipped in lots of deliciously evil stuff for your body. Thus, the only experience I've ever had with a raw artichoke is some measly cutting off the stem and the top little bit of the leaves. And thus, today was quite the learning experience. The recipe + blog called for picking off all of the leaves, removing the choke, cutting the heart into, yes, 1/4″ slices, tossing in lemon juice, then boiling for ten minutes. And today, my friends, you will learn a thing or two about working with raw artichokes:
1. Lever
2. Knife
There's a reason most recipes tell you an artichoke is done steaming when the leaves peel off easily: They don't otherwise. Which brings us to tip #1: Lever. Get your thumb down as far as you can, as close to the base of the artichoke and lever that thing off. It gets the cleanest break, with very little leftover leaf hanging out on the general body of the artichoke.
And you know how when you're finished with the leaves of a steamed artichoke, the choke comes out easily with a spoon? Let's just say.. not the case with raw artichokes. I found the best method of removing the choke to be angling a knife in and down slightly, coming from the edge of the leafless artichoke, and popping that hairy grossness off. Phew. OK.
Here's the best part, though: The. Risotto. Was. Amazing.
All in the pan and whatnot: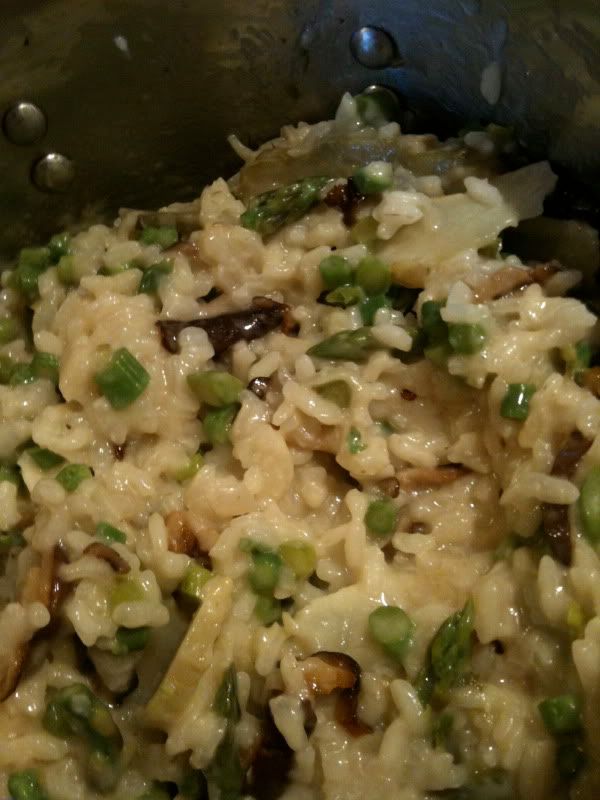 Seriously. I'm not a big carb person, really, and I ate an entirely too huge plate of it. My mother said it was "delicious, but I think now I'm going to burst." Thank God I made the whole recipe; that stuff is gonna sound mighty tasty around midnight tonight.. So moral of the story? Hard work pays off. And don't count your chickens before they hatch, but I think that's just about me forgetting wine at the store and having to go back. And I just wanted to say don't count your chickens before they hatch. Yeah.
Oh yeah, here's another life lesson: Fresh shallots make me weep. Weep, I tell you, complete with mascara steeped tears running down my poor face while I locked myself in the bathroom to get away from the shallot fumes. When will I learn that onions kill me if I'm only wearing my glasses and no rubbery onion-proof contacts?
Proof of the pain: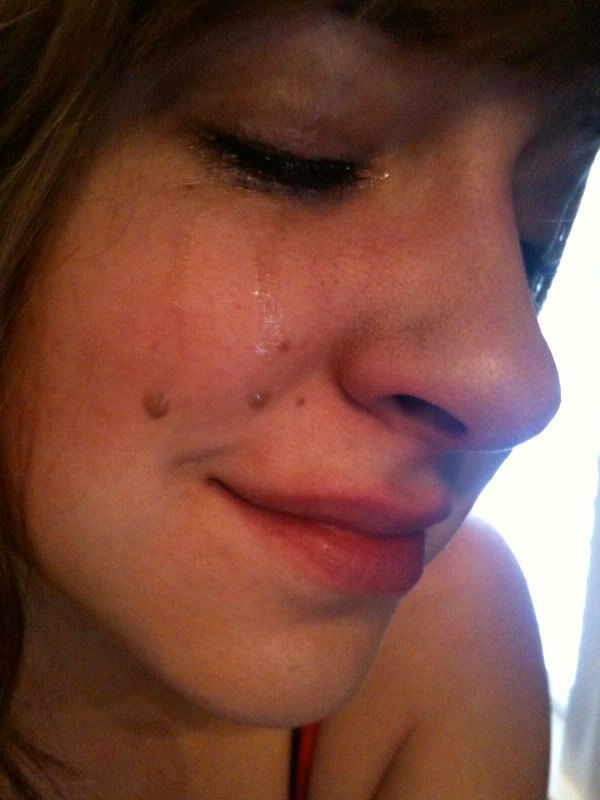 Last life lesson: In a mid-sized city that lacks the exotic, "asparagus, artichoke, and shiitake risotto" is going to be expensive. Overjoyed, however, by the contents of my shopping basket and all those delicious-sounding ingredients, I shelled out about thirty bucks for the risotto alone anyway. Was it worth it?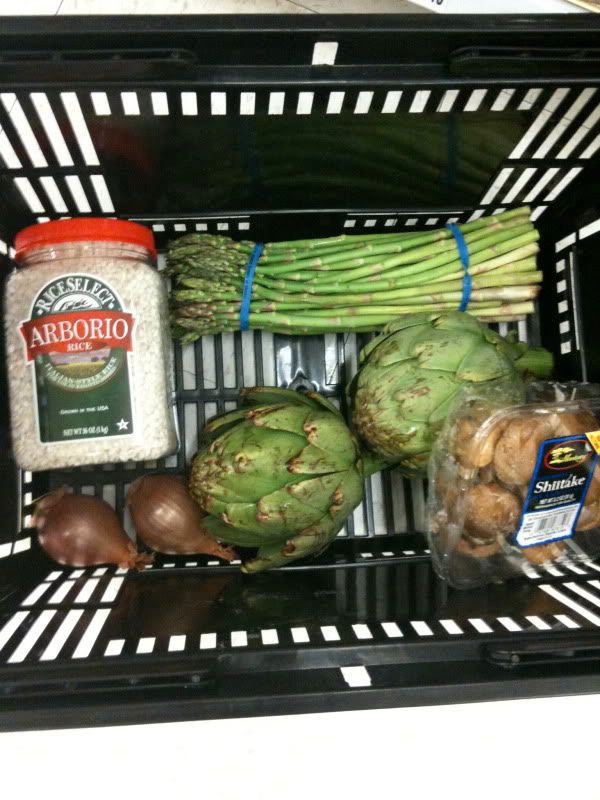 Yup. It was worth it.
Asparagus, Artichoke, and Shiitake Risotto (straight from smittenkitchen.com)
Ingredients:
5 cups chicken broth (40 fl ounces)
1 cup water
1 pound thin to medium asparagus, trimmed and cut into 1/4 inch thick slices, leaving tips 1 1/2 inches long
1 tablespoon olive oil
1/2 stick (1/4 cup) unsalted butter
3/4 pound fresh shiitake mushrooms, stems discarded and caps cut into 1/4 inch thick slices
2 large fresh artichoke hearts, cut into 1/4 inch thick slices, prepared*
2 shallots, finely chopped
1 1/2 cups Arborio rice (10 ounces)
1/2 cup dry white wine
2 ounces finely grated Parmigiano-Reggiano (1 cup, though I used half)
Directions (once again, straight from smittenkitchen.com):
Bring broth and water to a boil in a 4-quart pot. Add asparagus and cook, uncovered, until crisp-tender, 3 to 4 minutes. Transfer asparagus with a slotted spoon to a large bowl of ice and cold water to stop cooking, then drain and pat dry. Keep broth at a bare simmer, covered.
Heat oil with 1 tablespoon butter in a 4-quart heavy saucepan over moderately high heat until foam subsides, then saute mushrooms, stirring occasionally, until browned, about 4 minutes. Season with salt and pepper, then transfer to a bowl.
Cook shallot in 2 tablespoons butter in saucepan over moderate heat, stirring, until softened, about 3 minutes. Add rice and cook, stirring, 1 minute. Add wine and cook, stirring, until absorbed, about 1 minute.
Ladle in 1 cup simmering broth and cook at a strong simmer, stirring, until absorbed, about 2 minutes. Continue simmering and adding broth, about 1/2 cup at a time, stirring frequently and letting each addition be absorbed before adding next, until rice is just tender and looks creamy, 18 to 20 minutes. (Save leftover broth for thinning.)
Remove from heat and stir in 1/2 cup cheese, remaining tablespoon butter, and salt and pepper to taste. Gently stir in asparagus, artichokes and mushrooms, then cover pan and let stand 1 minute. If desired, thin risotto with some of remaining broth. Serve immediately with remaining cheese on the side.
* My absolutely favorite artichoke heart preparation is to remove all the outer leaves, choke and stem of a whole artichoke, leaving just the heart. Cut the heart into 1/4 inch slices and toss it immediately in a bowl filled with the juice of one lemon. Make sure each and every edge, angle and side of the hearts gets coated in lemon juice, or they will brown very quickly. In a small pot, boil water with a good glug or two of white wine, a splash of white vinegar and if you're feeling fancy, a smashed garlic clove and/or a bay leaf. Drop in the artichoke hearts with all of their lemon juice, and simmer them for about 10 minutes, or longer if needed for them to become tender. Drain and set them aside.
1