To My Only Child, As You Become a Big Brother

Posted: 07/23/18 Updated: 05/11/22
I've wondered for weeks how I'll start this letter, to you, my only son, as we prepare to welcome your baby sister into the world, into our family, into your life.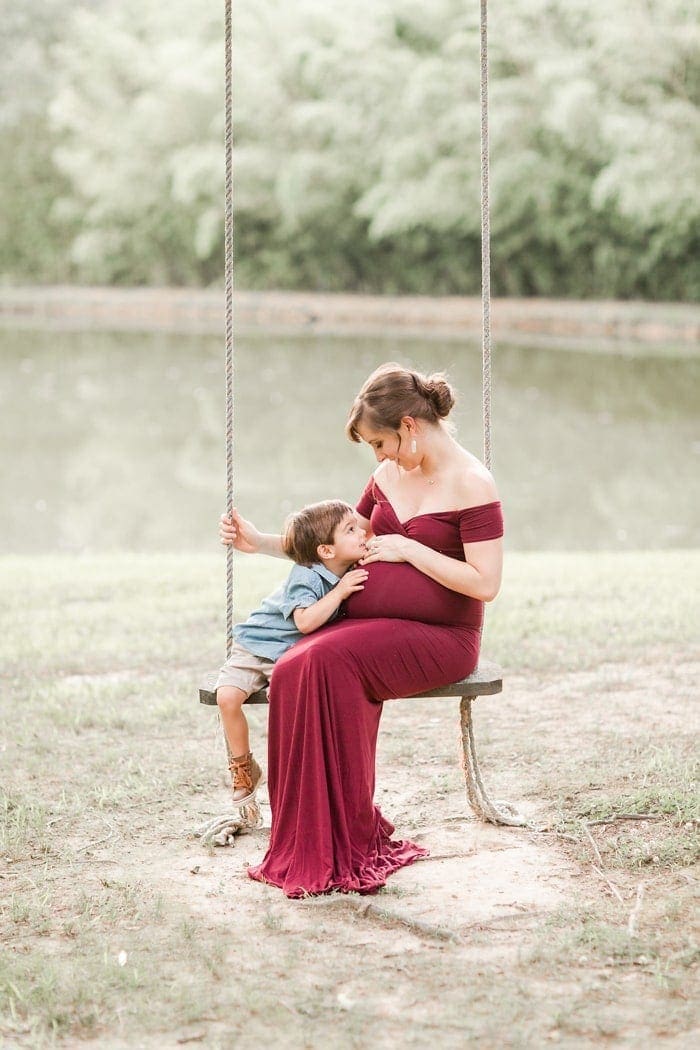 My emotions surrounding the possibility of adding another to our family were stronger before I even got pregnant; I couldn't reconcile the preemptive guilt I felt at detracting from our relationship, from our time together, from my attention for you. But that was before I felt her with me, held my breath at early ultrasounds, just hoping to see the little flicker of a heartbeat on a screen. Before she wiggled in my belly and then kept me up at night with her rolls and jabs.
It was before she had a name, or that name that we thought we might name her but decided not to name her, or that other name that we thought might be cool but could anyone spell it? It was before she existed, her, in my mind and in my body.
Because before then? She was an intruder, vying for my attention like it were a finite source, doled out in percentages. Before then, she was just the concept of a baby, independent and unrelated to you and to your childhood and to your adulthood and to your time, many years from now, after your father and I are gone.
But now? She's my sweet girl with the chubby cheeks, the ones we showed you on the ultrasound last week. And you said she was cute, because she is cute, because how could she not be cute if she's related to you? 
Yet I know things are changing; things will change. I know that my current state of distraction, as I prepare for her in our house and our lives and my business, will only worsen, as I try to navigate her newborn days on mere fumes, the wispy thought of sleep.
Maybe it's another protective measure of pregnancy like I once read frequent nighttime bathroom breaks are, though that evolutionary explanation does little to comfort me during my fifth waddle to the ensuite that night. But still, maybe that's what it is – my body or mind's way to protect me from the heavy emotional load I might otherwise be feeling as we prepare for your transition from only child, the great love of my life, to big brother, one of the two great loves of my life.
But I just don't feel the guilt or sadness anymore.
Maybe it's your enthusiasm for her that dilutes it. You run up to my belly and squeeze my hips tight, give her a kiss, tell her goodbye. You ask if she's going to pop right out of my belly or if she's going to come out of my toe instead (I tried to explain how it really works, but I don't think you quite got it). Maybe it's that last night you told me you wanted to make dinner for her.
And for mommy, too. And daddy, too. Oh, and for Leo, too!
Maybe it's the moments when I peek in on your sitting on the rolled-up rug in the living room (Add another thing to my nesting to-do list) "reading" your little Monsters, Inc. Golden Book to yourself, and I know that soon enough, you'll be cocooned up with us at night, practicing your reading with a bedtime story for your baby sister.
Because I think my love for you has changed. With baby girl's entrance in view, I worry less for my own relationship with you; I know I'll make it work, that I'll figure out how to make you feel just as important and as loved as before. But now?
I'm just so excited for you. I'm just so excited for you to become a big brother. For me to worry over you holding her in her terrifyingly fragile newborn state. To be the one she looks up to. To dress her as Mr. Potato Head for Halloween – your sole request – to match your Buzz Lightyear, daddy's Sheriff Woody, and mommy's Jessie.
It's knowing that you'll delight in teaching her and be so naturally good at it, too. It's knowing that things will most likely be harder than they are now, but that our family will be bigger, our joy greater, and that the love I couldn't even comprehend before you were born will somehow double, maybe triple, infusing how I feel for her, and how I feel for you, and how I feel for you and her together.
So, to my only son as you become a big brother:
You are the absolute love and light of my life. You made me a mother, and even the hardest day with you is more joyous than a single day I experienced before you came into our lives. It's time now for us to welcome your new companion, and I wish for nothing more than a strong and close relationship between the two of you, one that lasts forever, one that outlasts your father and me.
You will be just perfect for her. For us.
Photography by the amazing Amy Hutchinson Photography in Memphis.
Lifestyle photography by Belle Mère Photography.