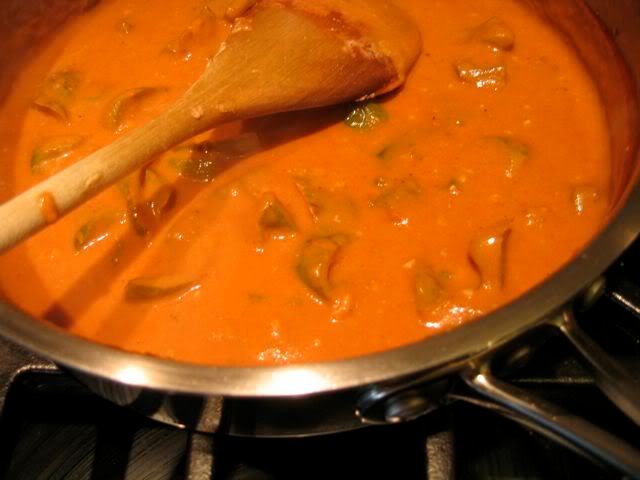 Second video blog! Learn how to make chicken tikka masala:
[youtube=http://www.youtube.com/watch?v=Zjf9CEp9IdY&hl=en&fs=1&]
Yes. It's true. My love affair with Indian food has been quite the journey, on which I've learned more about myself than.. OK, well, maybe not that intense, but it's certainly been a journey. It started out with my best friends from high school, eating at our favorite Indian restaurant every Friday after school. Then it progressed a tiny bit when I was barely learning how to cook. I threw a bottle of tikka masala sauce over some cooked chicken and served it with pita bread. Finally, after I was on my own, I tackled the full-on recipe. And never looked back. It's rich and creamy, complex and spicy. Positively wonderful.
MY LATEST VIDEOS
And that brings us to today. I decided to make my second video blog on chicken tikka masala and figured, why not create a massive feast out of it? You know how I like massive feasts.
So today was my second video blog on tikka masala, with an interim vlog on making a quick raita. I tackled homemade naan for the first time, and finished it all off with coconut ice cream with a sweet basil mango reduction.
But, I must make a confession. I've made ice cream several times before with no problems. However.. trying to whip together this authentic Thai coconut ice cream recipe yesterday, I had, well.. a problem. After I added the coconut milk + water mixture to the eggs, it simply refused to thicken. I ended up cooking it over low heat a.. liiiittle too long, and ended up with a chunk or two or egg whites. But never fear! I sieved it and all was well. Consider the day saved.
The mango redux was interesting.. I'd never done a dessert reduction before and decided to just go for it. Ended up adding some sweet basil and a bit of garam masala, and it was quite good. It ended up reducing far more than I thought it would, but there was plenty for all, never fear.
As far as the naan adventure, I was.. pleased and disappointed. It was easy enough to do, but I have a fair amount of experience with dough, after the Homemade Cinnamon Roll Obsession of 2008. In the end, though, the naan was a little tough, not light and fluffy like I expected. I might try this recipe again, but I'd probably just check another first. To see if it's user error. Very common on this blog. Uhh.. er.. on with the photos!
The jalapeño, garlic, and bell pepper chopped and ready for the tikka masala: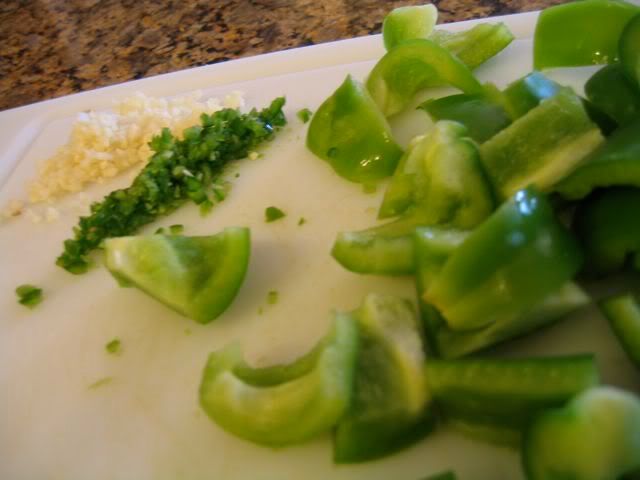 Chicken added in, 'bout to be devoured: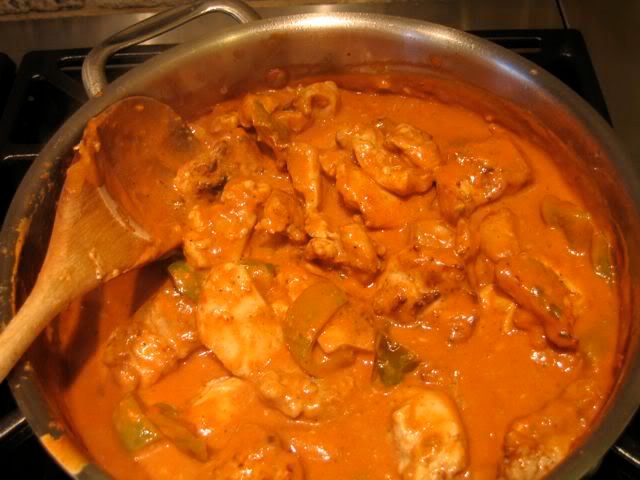 Naan dough resting: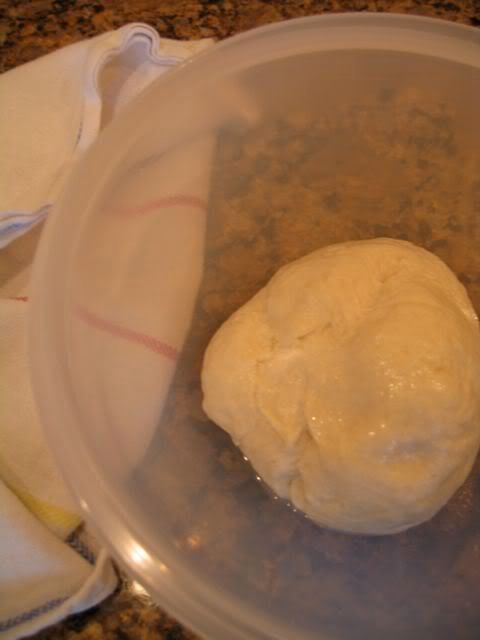 Naan all cooked and buttery: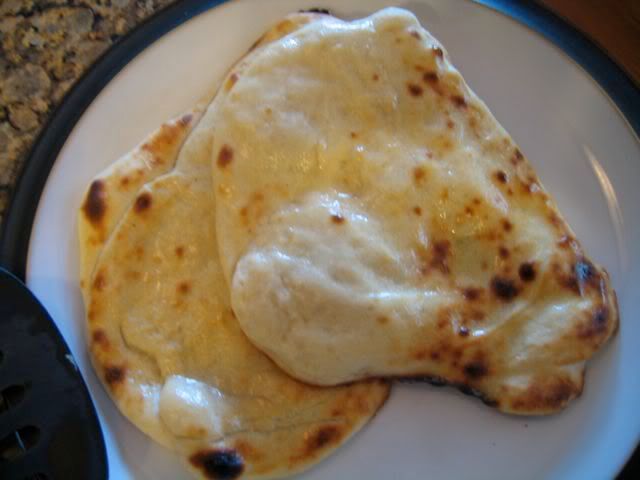 Total dinner: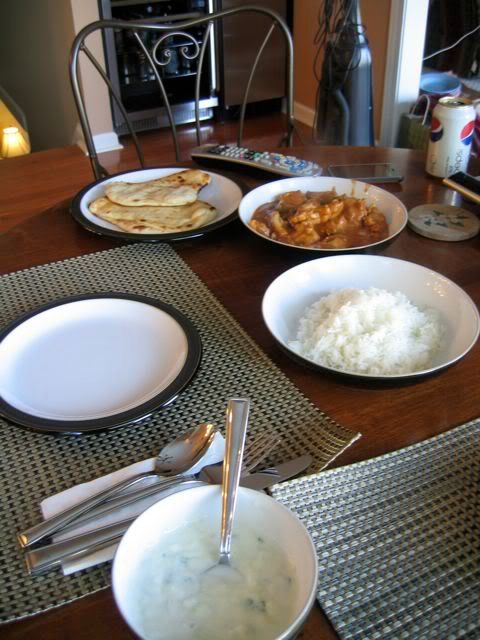 Coconut toasting for ice cream: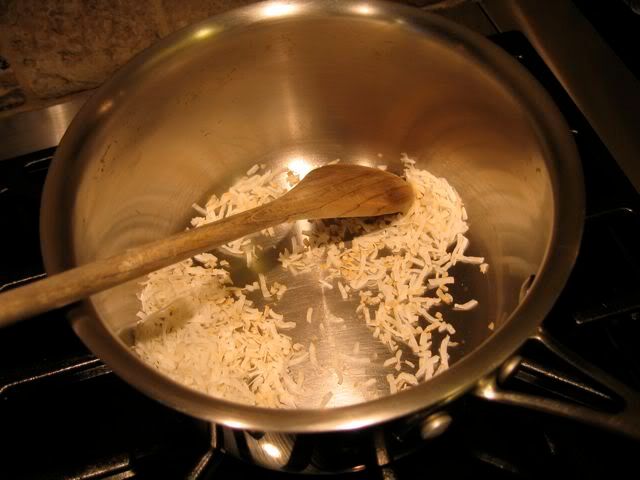 Mango nectar + sweet basil beginning to be reduced: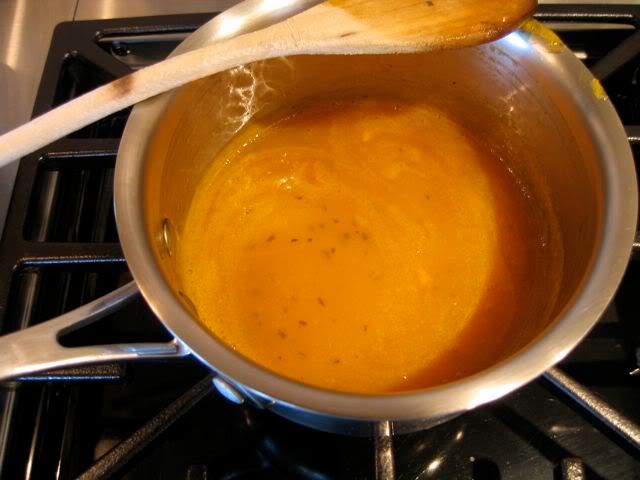 Coconut ice cream topped with brown sugar over sweet basil mango reduction sauce: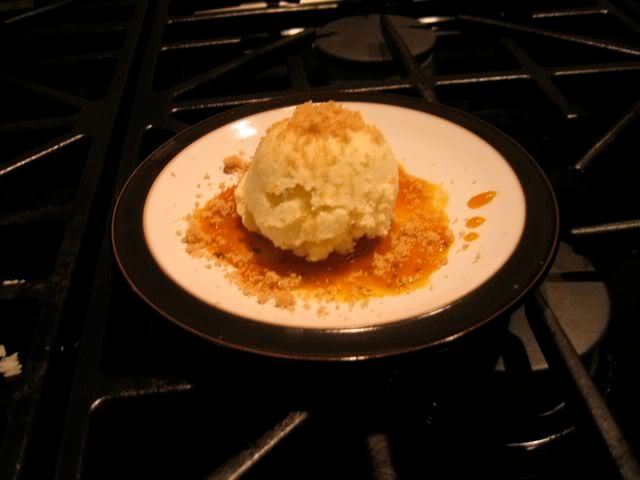 The chicken tikka masala recipe is my variation on tgobbi's post. Very good.
Chicken Tikka Masala:
Ingredients:
1 1/2 lbs boneless skinless chicken thighs (or breast), cut in 1 inch cubes
Marinade Ingredients:
1 cup plain yogurt
2 tablespoons lemon juice
2 teaspoons ground cumin
2 teaspoons ground red pepper
2 teaspoons black pepper
1 teaspoon cinnamon
1 teaspoon salt
1 teaspoon ginger, (or one 1″ piece fresh minced ginger)
Sauce Ingredients:
2 tablespoons unsalted butter
1 green bell pepper, cut into bite size cubes
2 garlic cloves, minced
1 jalapeno, minced
2 teaspoons ground coriander
1 teaspoon ground cumin
1 teaspoon paprika
1 teaspoon garam masala
1/2 teaspoon salt
1 (8 ounce) can tomato sauce
1 tablespoon tomato paste
1 cup coconut milk (or whipping cream or half and half)
1/4 cup chopped fresh cilantro
Directions:
Combine all ingredients for marinade. Pour over chicken, cover, and chill for at least an hour.
For sauce, melt butter on medium heat. Sauté bell peppers until very soft. Add garlic and jalapeno; cook 1 minute. Stir in coriander, cumin, paprika, garam masala, and salt.
Stir in tomato sauce; simmer 15 minutes. Stir in coconut milk; simmer to thicken.. about 5 minutes.
Grill or broil chicken on cooling rack over cookie sheet. Broil about 8 – 12 minutes or until cooked through. When cooked, add to sauce and simmer for five minutes. Garnish with cilantro; serve with basmati rice and naan (or pita, if you can't find naan).
Serves four.
***
Got this naan recipe straight from pattikay in L.A.. Not sure I would make it again, until I know that it's the recipe and not me making the naan kinda tough!
Naan
Ingredients:
2 cups flour
1/2 teaspoon baking powder
1/2 teaspoon salt
1 cup plain low-fat yogurt
Directions:
Mix together flour, baking powder and salt. Stir in the yogurt till the dough is too stiff for a spoon, then knead it in the bowl till it holds together well, adding more flour if necessary. Turn it out on a floured surface and continue kneading for about 5 minutes till the dough feels smooth and elastic. Form the dough into a ball and put it in an oiled bowl, covered with a towel, to rest for an hour or longer.
Take the dough out and cut it into five equal pieces. Form each into a ball and press the balls flat into round discs. Heat a large frying pan or griddle, either seasoned cast iron or a good non-stick finish. Heat your oven to about 500 and have the broiler on. Take 1 piece of dough at a time and roll it out on a floured surface till it is about 8-10 inches across and less than 1/4 inch thick.
Lay it on the hot griddle and cook it over a medium heat for 3-5 minutes, until it puffs up in places or all over, and there are be some blackish-brown spots on the bottom. Slide a spatula under the naan and transfer it to the oven, directly onto the rack, for a minute or two, just till it finishes puffing up into a balloon and begins to color lightly on top. Remove naan from the oven and brush it lightly with melted butter if you like.
Continue this way with the rest of the dough, stacking the flatbreads into a napkin-lined basket. Serve the breads hot, fresh from the oven, or let them cool and wrap them up.
To reheat, wrap them in aluminum foil, in packets of 4 or 5 breads and put them in a 400 degree oven for 10-15 minutes.
Makes five flatbreads.
***
Raita video!
[youtube=http://www.youtube.com/watch?v=_QUK2tcal6o&hl=en&fs=1&]
This is the recipe I made in the video. Very simple, nice addition to a spicy meal, especially in the summer!
Easy Cucumber Raita
Ingredients:
1 C plain yogurt
1/3 C peeled and grated cucumber
salt
cilantro, very finely chopped
Directions:
Combine first two ingredients. Salt to taste and garnish with cilantro.
***
The coconut ice cream turned out delicious, especially with the brown sugar on top and the mango reduction on the bottom. The basic ice cream recipe came from here.
Coconut Ice Cream
Ingredients:
2 eggs
2 egg yolks
2 cups coconut milk
1 cup water
1 t vanilla
2-4 T toasted coconut
1 T sugar
pinch of salt
light brown sugar to top
Directions:
Heat the coconut milk and water slowly over low eat. Do not boil!
In a bowl beat the two eggs plus two yolks, then add the other ingredients, and whisk gently. Now slowly blend in the hot coconut milk, stirring until the mixture thickens. It should coat the back of a spoon.
Remove from the heat and allow to cool to room temperature. Then add to your ice cream maker and follow manufacturers instructions.
Serves about six.
Sweet Basil Mango Reduction
Ingredients:
4 C mango nectar
2 t dried sweet basil
Directions:
Slowly bring mango nectar and basil to a very gentle boil over medium-high heat. Bring down heat to low or medium-low and cook gently until half its original volume.
Goes with the coconut ice cream, serves about six.
4