Ah, yes. The primitive days before the hand-me-down camera. The primitive days of food photography via iPhone. The primitive days of.. five days ago.
But let's be honest. I've had several people offer, nay.. suggest they should take pictures for my blog. Sure, they're photographers, journalists, people with real cameras, whatever. And I could be flattered. But I know the real reason, and I'm onto you do-gooders. I'm a terrible photographer. This is not up for debate.
To all of those who say anyone can be a photographer, that it's just point-and-shoot, you're wrong. Take me for example. Maybe I have an unsteady hand. Maybe I just don't get it. Maybe I got my father's cut-off-at-the-forehead portrait-taking skills. My mother and my sister are fantastic photographers. Me? I'm better with a kitschy Polaroid. See? It's not supposed to be clear. That's what makes it cool. All lies. I'm just a bad photographer.
However, I like to think my amateur cooking skills make up for at least an eighth of that. So here we go.
My sister's birthday was five days ago, coincidentally the day I was handed down the old camera, and I was reminded of the old days when we didn't "get" that it was her birthday, and that's why she was getting all the presents. We each got something small, but it never really clicked why the cake had Simba on it when you were going through a categorically Ariel phase.
Anyway, she requested I make my famous mashed potatoes and a smoked salmon dip, a favorite of hers from a restaurant we dig. Knowing the restaurant used actually freshly smoked salmon, rather than cured salmon, I went in anyway, with a tiny slab of the cured stuff. Here's the finished product: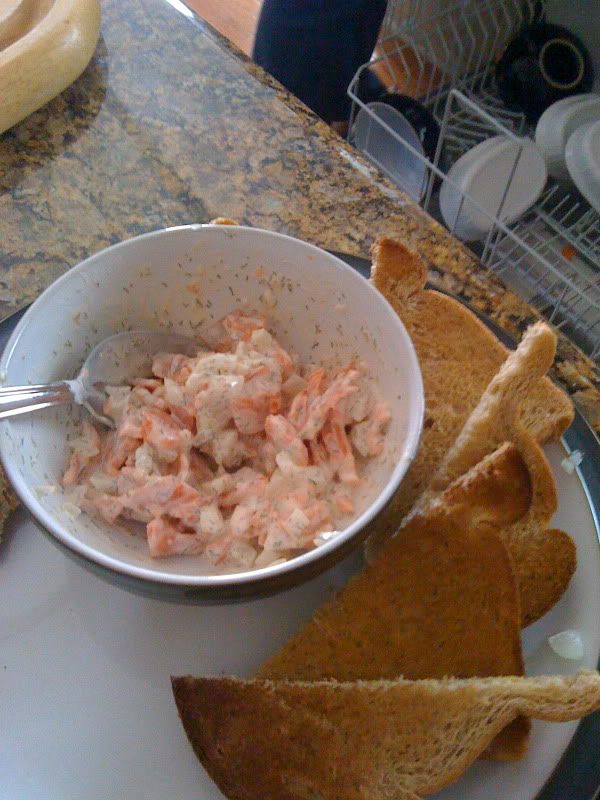 Not bad. Not bad at all. In fact.. quite good!
Smoked Salmon Dip with Dill
Ingredients:
10 oz. smoked salmon, chopped
1/2 T sour cream
1/2 T cream cheese
2 t mayonnaise
1 – 2 t fresh lemon juice
2 + t dried dill (less if using fresh)
fresh ground pepper
Directions:
Combine all ingredients except the salmon, starting with 1 teaspoon of lemon juice. Stir in salmon and taste. Season to liking with more lemon juice, dill, or pepper. Serve with toast points or crackers or whatever you want
0