The #1 Way to Build Connections with Other Food Bloggers

Posted: 12/13/13 Updated: 03/08/19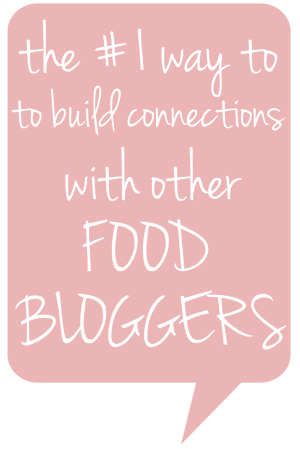 7 times out of 10, comments left on my blog are from other bloggers;
2 times out of 10, they're left by happy recipe reviewers (or unhappy, potentially, I suppose, too! That was so many commas);
1 time out of 10 it's my mom or O feeling bad because they asked for a photo of a recent recipe and I glare beady eyes at them and mutter that it's "been on the blog for days".
I don't blame the non-blogging reader for not regularly commenting "just because"; I rarely did before I blogged! But bloggers understand the importance of these little dollops of feedback to the blogger psyche and feeling of connectedness. That's why, of course, 70% of my blog comments are from other bloggers. You'll notice, too, if you scan the lengthy comment list at Smitten Kitchen or Pioneer Woman, the vast majority of comments have hyperlinked names, which means they have a website they deemed relevant enough to add to the text box of the comment form.
So how do other bloggers find your blog? How do you start a relationship with them? Wait for them to come to you?
Only if you really like waiting.
And of course, if you develop enough traffic through other channels, other bloggers will come to you, but it will be a slower process than if you take the reins. Here's my simple method for finding other bloggers worth connecting with.. and developing a real relationship with them.
1. Find related bloggers
You might have no idea how to go about actually finding your peers in the blogging world! Simply Googling "food bloggers" will land you in the upper echelon of food bloggers, which can be a dead-end and a goldmine, depending on how you go about it. It's unlikely that, as amazing as Deb of Smitten Kitchen is, she has time to personally interact with every single comment (hundreds on each post – can you blame her?). However.. loads of food bloggers go here to comment and link back to their blog.
This is where I visit to use the "stumble upon" method of finding peer bloggers to connect with. I make use of two channels:
a. Scroll down to the comment section and ctrl+click (or right-click, you Windows-user, you) > Open in a New Tab several of the hyperlink-enabled names of commenters who left meaningful comments you can relate to.
I'd avoid anyone who leaves a comment like "Nice post!", because you're looking for bloggers a) you relate to, b) actually read copy, c) aren't spamming for self-interest alone, and d) leave meaningful interaction.
b. Peruse FoodGawker and Tastespotting for gorgeous photos by bloggers who actively promote themselves
There will be some "big players" on these FoodPorn sites, but, if you too have your photos accepted by FoodGawker and Tastespotting, you'll often find your peers there with a micro-taste of their blog presented. You can often tell, in one visual bite, what sort of food they make, what their "perspective is", and if they're a bit snarky or funny, by the recipe photo blurb.
Take this screenshot, for example..
I was struck by the gorgeous photo of hot chocolate with what looks like homemade marshmallows. The title, however, got me. "How to make fancy-ass hot chocolate"? I HAVE TO BE FRIENDS WITH YOU.
I shouted it.. that's why I used caps. I shouted it.
2. Get to know the blogger
Now that you've sectioned out several bloggers, take some time and read their work! Do you relate to their style of writing? Do you love their photography? Do their recipes sound amazing? Maybe this is one of the blogs for you! Does their blog seem extremely developed and already well-read, whereas yours is a newborn? Try finding a blog that might be considered more of a "peer", but don't be afraid to aim high, either. Do they talk a lot about fitness.. and you haven't exercised in years? Maybe this isn't the blog for you to connect with, unless it's your New Year's resolution to get in shape! These are all things to consider.
If you'd enjoy reading their blog regularly, leave a meaningful comment on one of their most recent posts and make sure you subscribe to new and reply comments.
If you're lucky, the blogger will use the Disqus plugin, which allows the comment thread to read like a Facebook thread. You'll get notifications when they personally reply to your comment, rather than just anyone on the comment thread in general. You can also reply directly from an email reply, which is awesome! But my love for Disqus is another post for another day.
If the blogger responds to your comment, that's great! That means they also value interaction and have sturdy blog "manners". Proceed to the next step, text adventure-style.
If the blogger does not respond to their comment, give them a second chance. Wait for another post and comment again. If still, nothing, you're better off trying to build a connection with other bloggers who value your interaction more.
The best way to organize bloggers in this no-man's land is by adding them to an RSS reader. I love Feedly, but you might be a Feedburner type yourself. Just make sure you go back and actually read your feed! My general inability to do this on a daily basis leads me to this fool-proof way of maintaining these all-important connections..
3. Subscribe to your new blogger friend's posts via email
This is the #1 way to build connections with other food bloggers!
Unless you're diligent about checking your RSS feed reader (and you may be) or the blogger happens to have a lucky Facebook page that gets pushed to the front of your newsfeed, this is the best way to never miss a post. I view new posts from my blogger friends as personal emails that I need to interact with!
Of course, this isn't for 30 bloggers you'd like to get to know, unless they don't post that often. But for the select few you really like and enjoy reading, subscription via email is the way to go.
What if this blogger doesn't have an email subscription? I bet they'd love to receive a comment requesting one! All you have to say is that you love reading their posts and wish they had an email subscription so you'd never miss one. Wouldn't you be tickled by that comment? Don't be shy.. you totally would.
As a bonus approach..
make sure you connect with them on social media, which, in the food blogging industry, is most likely Pinterest, Twitter, and Facebook.
Twitter is a great way to have real-time conversations with another food blogger and ask meaningful (but short) questions, whereas on Pinterest you can show love for their recipes by sharing them with your followers, and Facebook can be a great way to receive updates.. but Facebook tends to push non-promoted posts to the back of your newsfeed.
That's it! I guarantee you this is the best way to consistently build connections with bloggers out there to whom you really relate. Never underestimate the power of blogger relationships, whether it's just to lament the troubles of photographing ice cream or share tips on new advertising channels.. or even promote one another on your own platforms!
Do you have any tips on building blogger relationships?
Stay tuned for more food blogger-related posts and a shiny, brand new food blogger project!