The Best Thanksgiving Leftovers Recipes

Posted: 11/25/19 Updated: 02/02/23
In the days after Thanksgiving, there's often a wealth of food left over – if you're bored of turkey sandwiches then these Thanksgiving leftovers recipes are going to be helpful! From stews and soups to casseroles and cakes, leftovers never tasted so good!
I've scoured the web for you to find the best Thanksgiving leftovers recipes for you to make and enjoy once the festivities have ended. Reduce your waste and fill your bellies with these delicious recipes!
The Best Thanksgiving Leftover Soup Recipes
Leftover Turkey Tortilla Soup from 40 Aprons is so quick and easy! It's full of flavor, and as a Whole30 tortilla soup, it's healthy, too. With cauliflower rice and coconut milk, you'll love how delicious this leftover turkey tortilla soup is and how healthy this Whole30 tortilla soup makes you feel after a couple of days of indulgence!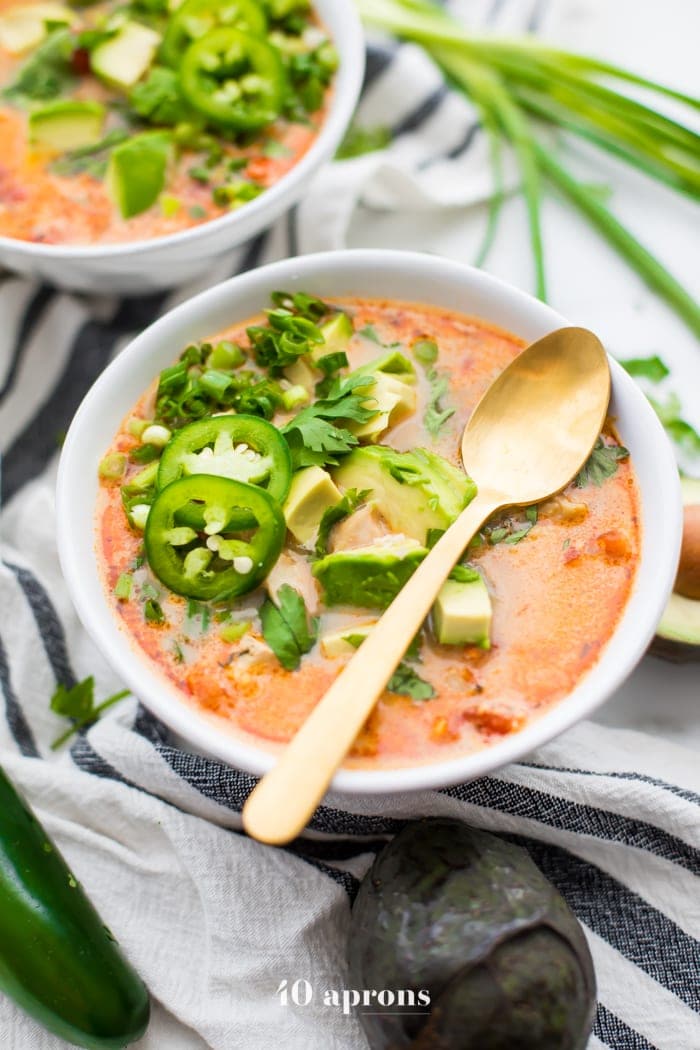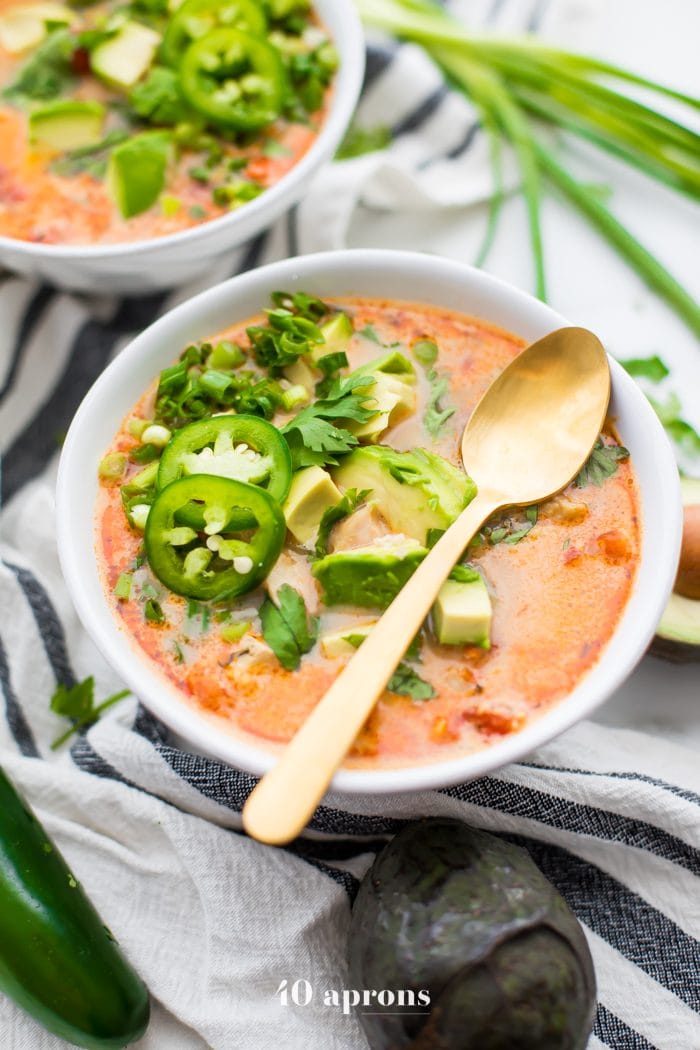 Leftover Turkey Soup from 40 Aprons is the perfect recipe to make after Thanksgiving or Christmas! Like a classic chicken noodle soup but made with chopped leftover turkey, it's nourishing and filling and best of all, really quick and easy to make. Easy to make gluten-free.
Healthy Creamy Turkey Soup from The Endless Meal is crazy delicious. By making a few simple changes to a classic recipe, it becomes super healthy even though you would never know it. It's naturally gluten-free + paleo + Whole30 approved. It's a great way to use up your Christmas or Thanksgiving turkey leftovers!
Easy Loaded Leftover Mashed Potato Soup from Sweet C's Designs is a delicious way to use up mashed potatoes from Christmas or Thanksgiving – stovetop or slow cooker recipes included!
The Best Thanksgiving Leftover Stews and Chili Recipes
Turkey Chili from Sugar Spun Run is perfect for using up leftover Thanksgiving turkey! Made with leftover shredded turkey, this chili has an incredible flavor (special thanks to a key ingredient) and can be on your table in under an hour!
Slow Cooker White Turkey Chili from Sweet and Savory Meals is such a hearty and delicious meal that can be made with leftover turkey meat. Just add everything to the crockpot and cook.
Leftover Turkey Stew from Rock Recipes is made by roasting vegetables to bring out their natural sweetness and flavor and using leftover turkey from a special occasion dinner.
Creamy Leftover Turkey Stew from Goldilocks Kitchen. Fresh herbs, veggies, potatoes, cream, and chicken broth resurrect dry leftover turkey into something truly amazing. 
The Best Leftover Potato Recipes
Leftover Mashed Potato Pancakes from 40 Aprons are the absolute most delicious way to use up leftover mashed potatoes! Perfect after Thanksgiving or Christmas or anytime you have mashed potatoes on hand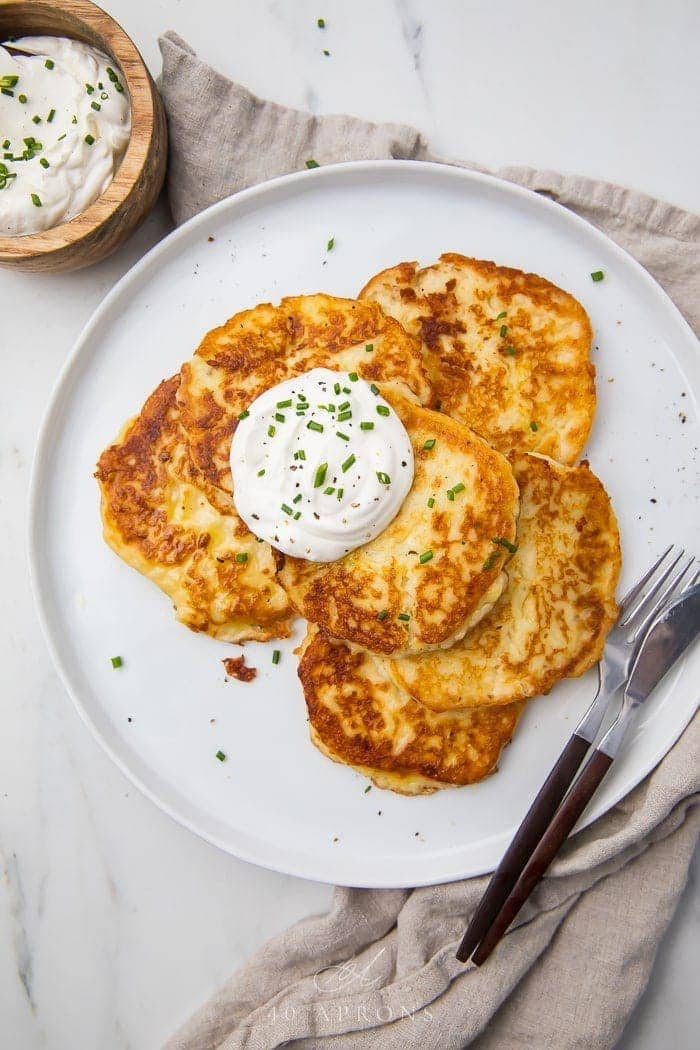 Loaded Mashed Potato Balls from Damn Delicious. What do you do with leftover mashed potatoes? You make melt-in-your-mouth, crisp yet creamy mashed potato balls of course!
Leftover Mashed Potato Gnocchi from Life As a Strawberry is the best way to use leftover mashed potatoes after Thanksgiving, Christmas, or any time of year!
The Best Leftover Brussels Sprouts Recipes
Leftover Sprouts Bubble and Squeak Cakes from Easy Peasy Foodie are the ideal way to use up all your Christmas dinner leftovers – especially the leftover Brussels sprouts!
Leftover Brussels Sprout Pesto from Hedi Hearts is perfect, easy and delicious to make if you are still wanting to feel festive, use all the leftovers and get slowly back on the healthy cooking and eating bandwagon. 
Brussel Sprout & Sweet Potato Fritters from Melissa Hemsley are the perfect way to use up your Christmas veg leftovers and a sure way to keep everyone happy in the lazy lull after Christmas!
Thanksgiving Leftover Casserole Recipes
Leftover Mashed Potato Bake Casserole Recipe from Foxes Love Lemons is the most delicious way to use up leftover mashed potatoes. It's loaded with bacon, cheese, and sour cream!
Aunt Bee's Leftover Turkey Casserole from The Seasoned Mom with pasta and cream of mushroom soup is an easy and comforting dish that takes advantage of the extra meat from your holiday feast — with just 15 minutes of prep!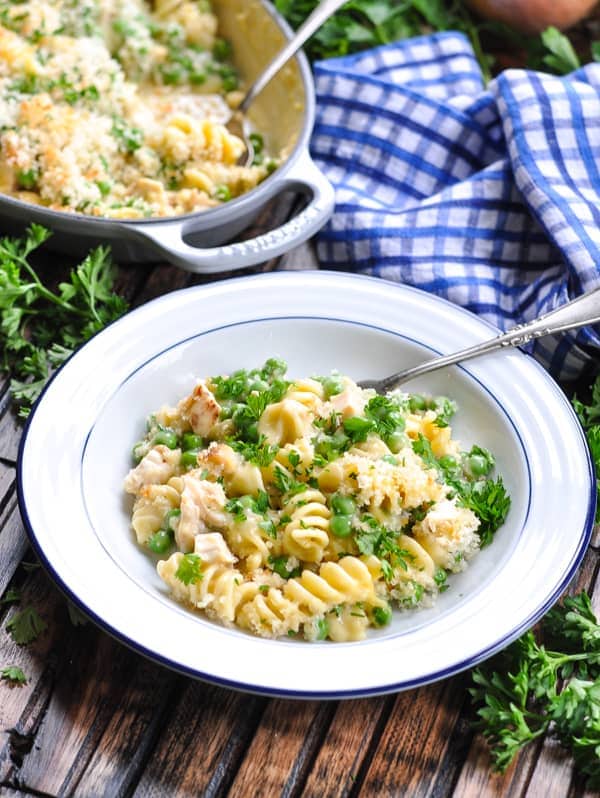 Easy Broccoli Rice Casserole with Turkey from Spend with Pennies uses simple pantry ingredients to turn leftover turkey into a quick and easy meal that the whole family will love!
Turkey and Mashed Potato Casserole from Olivia's Cuisine makes the most of your Thanksgiving dinner and it takes just 5 minutes to prep.
Low Carb Leftover Turkey Casserole from My PCOS Kitchen. This creamy casserole recipe is filled with juicy turkey breast, vegetables, a keto white sauce, and cheese.
The Best Leftover Cranberry Sauce Recipes
Leftover Cranberry Sauce Muffins with Streusel Topping from Ahead of Thyme can be enjoyed it for breakfast or dessert the next day!
Leftover Cranberry Sauce and Apple Crisp from Just a Taste. Transform a side dish into a dessert? You better believe it! This quick and easy recipe stars a simple crisp topping crumbled over green apple splices tossed with leftover cranberry sauce.
Cranberry Sauce Bundt Cake from Roti n Rice. Not sure what to do with leftover Thanksgiving cranberry sauce? Use it to make this easy, moist, and delicious Cranberry Sauce Bundt Cake.
Cranberry Sauce Breakfast Rolls from Katie Bird Cakes can be made the night before and baked in the morning!
Cut Down on Your Food Waste
What a great bunch of recipes to help reduce your waste after Thanksgiving! I love that so many of these are really easy and take little to no effort. They're perfect if your Holiday entertaining doesn't stop after your Thanksgiving dinner.
For Thanksgiving Menu Planning:
Hey – you've made it this far, and now we're best friends! If you've made any of these recipes, I'd love for you to let me know in the comments below. Make sure you follow me on Instagram, Pinterest, and Facebook, too!