It can be said that I typically like pretentious, exotic, and generally complicated food. And then there's this recipe. How many ingredients? Three. THREE, PEOPLE!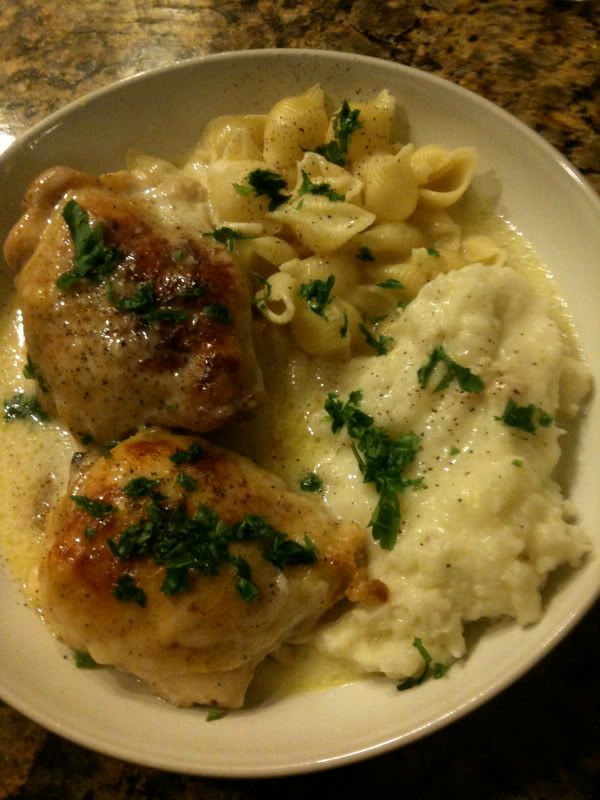 At least for the general idea of the recipe. Then you can go crazy and have mashed potatoes or noodles. Or both! Seriously! It's that easy. This is for people who.. you ready for this story? Here goes:
My mother works with this young guy who hates tax season and loves beer. It's tax season. He had a lot of beer last night. And you wanna know why? The guy decided to teach himself to cook and settled on macaroni and cheese for dinner last night. So he wanted to make breadcrumbs. They weren't getting particularly crispy in the oven, so he popped them in the microwave. And the microwave caught on fire. And then he got a phone call, telling him firemen were on there way.
"But can't you stop them?"
No. You can't. I'm not sure what he actually told them, after they "came in all their firemen stuff" (his words), but I hope he told them the truth. Or that he was welding. Welding something big and manly. Or the truth. That's a pretty good one, too. And you wanna know why? Because his friends felt sorry for him and bought him a lot of beer. You can't light that on fire (Right..? Anyone remember the torts case where this company had an oil spill and then a spark lit the oil, which they didn't think could happen, but it did and the fire burned down an entire wharf? That case comes to mind..).
So, Dan, this recipe is for you. It probably won't cause anything to catch fire, but it's stupid easy, cheap, and delicious. Chicken. Soup. Chicken. The kind of meal that's so simple and homey, you just feel cozy after eating it. I've been eating it since I was a little kid, and it's one of those recipes I'll make for myself when I'm in my own house. I eschew most of the simple stuff we ate when I was a kid, but not this. No way.
What you'll need: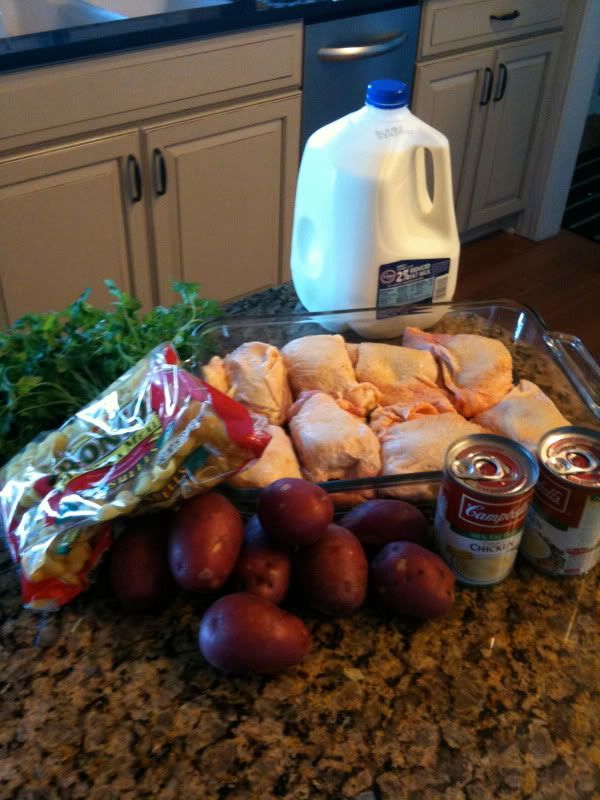 All you've got to do is brush some neutral oil on washed and super dried chicken pieces, pop those in the oven at 425º for thirty minutes–make sure before you take them out, there's a nice bit of browning on the skin. Mix a can of cream of chicken soup with a can of milk and pour that all over the chicken, then it's back in the oven for those suckers, just about thirty minutes, or until they're done–internal temperature of 150º. Then uh, serve with mashed potatoes or cooked shell noodles or both.. and pour that deliciously simple gravy over everything. Everything. If you're writing a food blog about it, sprinkle some parsley on the top of everything so it looks fancy. Tada!
Chicken Soup Chicken
Ingredients:
Chicken thighs, typically one per person or however many you can stuff in your belly
Cream of chicken soup (Usually just one can, but I made two can's worth when four were eating)
Milk, the equivalent of however much cream of chicken soup you use
Salt
Pepper
Directions:
1. Preheat the oven to 425º. Wash the chicken and dry very well. Place in a casserole dish and salt well. Allow the chicken to sit like that for fifteen minutes, drying out the skin and allowing the salt to dissolve.
2. Brush the skin of the chicken with vegetable oil, or some other neutral oil, and season with white pepper. Roast in the oven for thirty minutes.
3. Mix cream of chicken soup and the milk well. After thirty minutes, take out the chicken and pour the cream of chicken soup mixture around the chicken. If you try to avoid getting the mixture on the skins of the chicken, you get even crispier skin! Uh.. yum.
4. Roast for another thirty minutes, or until the internal temperature of the chicken is 150º. Serve with mashed potatoes, shell noodles, or.. both.. and loads of that delicious gravy.
…I'm hungry.
0