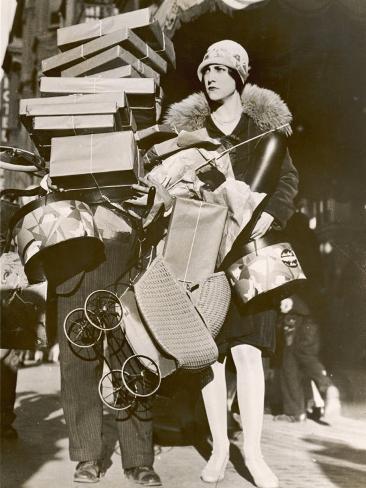 There are a few options when it comes to seasonal shopping–you know, when the weather is changing, and your short shorts aren't cutting it anymore. You're aching for something heavier and different, and those leather pants look so good. So what do you do? You
a) Get totally overwhelmed. There's so much you like that when you go shopping, you can't pin down what it is that you actually want and will wear. You end up with a huge haul of stuff you don't even care about, much of which will serve little purpose.
b) Go shopping often, buying little bits each time. This is what we like to call the "slow but steady" approach, as these smalls purchases build up quickly! Most of your shopping is impulse, and again, you end up with loads of stuff you don't actually love.
c) Buy everything you want. You end up with tons of clothes you don't need or really love… and tons of debt.
But there's a better way; I swear there is! I'm going to show you how to apply my methodical, technology-based visual approach to whittle down your "likes" to your "loves" to your "must buys". You'll end up with great pieces that will work for the whole season, several seasons, or as great investments. You'll work within your budget and buy only pieces that you genuinely like, as proved to you by your own consistency. Learn!
Get Polyvore. If you don't have Polyvore, what is wrong with you? Go thee, right this instant. Cancel your afternoon meetings, because you'll be designing sets non-stop for at least the next several hours. In this instance, we'll be using Polyvore like the Pinterest of seasonal shopping. It allows you to search a huge, current, user-created database of clothes, based on category, color, and price point. In addition, you can install a marklet that will grab anything you see that you like on an online store or Pinterest and save it to your own little database.
Now that you're suited up, let's begin.
1. Figure out your general budget
When it comes to seasonal shopping, budget comes first. This is a bit different from the meal plans method, but you'll have a way better idea about what you should be putting in your collection if you have a general idea of how much you get to spend.
2. Do the research – find out what you want
You've probably got a general idea of what you're looking forward to getting for the upcoming season, but take this opportunity to really narrow it down. Scour your favorite style blogs (like this one), read up on style.com trend reports, check out Pinterest for some personal style inspiration–do whatever it is that helps you know what you want. I usually go in knowing I need to invest in a couple things, really need to get a few other things, and have a list of seasonal trends or wants that I'd like. After my research, this is what I knew:
This year, I'm investing in a great pair of flat leather boots and a great leather jacket; I needed a new, decent wool coat; I wanted a couple good pairs of jeans, a Breton striped sweater, and a chambray button-down; as for trends, I was dying for a leather skirt, a sexy peplum top, and a cheap pair of wedge sneakers (just because!).
3. Start grabbing and saving
In Polyvore, for our discussion, you save pieces you like that you find within Polyvore's database; you grab new, external pieces (from an online shop you love, for instance) that you're bringing to Polyvore.
Start saving everything you like and grabbing things you see that you'd love to have. Don't hold back now! Just save and grab, making sure you get the stuff you really like and include the predetermined needs and wants. Don't forget your budget, though. If you have a $200 budget, avoid saving Alexander McQueen leather leggings with gold zipper accents. Try to be realistic in the individual prices, but don't feel too restricted in terms of the sheer volume of what you save.
That being said, realize that you can replace "inspirational" pieces with realistic pieces later, so don't feel too stressed about staying within your budget at this point.
4. Form a Collection
Go to Polyvore and create a new collection. Name it something clever like, "Fall Clothes", and start adding all of the items you saved and grabbed to the collection. Over the next couple days, continue saving and grabbing to this collection. Make sure you're pretty thorough.
5. Go do something else
Once you're satisfied that you've done a pretty good job in collecting the items you want, go do something else! Read my blog from its inception, study Cantonese, watch the Dog Whisperer DVDs. Whatever it is, take a break from this process for a few days.
6. Revise
Come back every few days and look at your collection. See anything you don't love? Get rid of it. You thought about it and just don't see yourself wearing neon peplum? Let it go. Chances are, a few of the items may be sold out by now, especially if you're constricted to lower-priced, higher-volume stores like Forever XXI, Charlotte Russe, sheinside.com, etc. Two options: If you still love the item and are seriously bummed that it's sold out, find a replacement. If you ever need help with this, feel free to email me; I'd be glad to help. If you're not really that bummed that it's sold out, X it and move away from the item as a whole.
Still love that cropped, studded leather biker jacket that's $2100? If you're at all like me, your budget doesn't allow any fun pieces that cost near that much, so start looking around for pieces that fit into your budget properly. You'll only be spending your time looking for stuff you really care about, at this point.
7. Rinse, repeat. Rinse, repeat. Rinse, repeat.
Repeat steps 5 and 6 several times–I recommend a total of at least three revisions. What does this accomplish? You've totally weeded out what you don't really want and what you won't really wear.
8. Categorize
Go back to the beginning categories: investments, needs, and wants. Separate your original collection into three new collections, which so conveniently correspond to the three categories: investments, needs, and wants. For instance, I created an entire collection of boots I dig, in my price range, alongside all of the leather jackets I think are great. Then I made a collection of chambrays, Breton stripes, and great jeans. Lastly, I've got a killer collection of super trendy stuff that I simply can't avoid.
9. Play Favorites
Scour your collection for your absolute favorite piece and move it to the top. Find your second favorite, and put it right behind your favorite. Find your third favorite and.. you get the idea. Repeat this process until your entire collection is in order of most favorite to least favorite.
10. Fill Those Carts
Cancel those afternoon meetings again, and add all of your collections to online shopping carts. Try not to faint.
You'll know now how much you'll be spending if you get it all. But you probably won't; you'll probably pick and choose just like all good grown-ups have to do (except Princess Kate [I know she's not a princess]).
11. You're On Your Own, Honey Boo Boo
Now comes the hard part. I've helped you as much as I really can, but only you can decide which to pick!
You know how, when you get to the register and you're spending way more than you intended, it's pretty easy to say, "Actually, take that off. Nix that. That's stupid anyway."? Do that. When you see those price tags staring you in the face, do one last purge and rid yourself of anything that wouldn't haunt you. You know what I'm talking about–you walk away from that stellar lace skirt, and you lie awake at night, trying to wait until morning to write "Go buy lace skirt" on your to-do list or order it express online. I can't be held responsible for your psychological distress, so don't delete anything that'll keep you awake at night faster than Ryan Lochte (have you SEEN that man?!).
This happened during the Great Leather Jacket Distresser of 2012, when the leather jacket I had my little heart set on sold out at Mango. I searched furiously for a replacement, but nothing sang to me. Nothing would have haunted me. So I'm moving my investment to next year, and upgraded to a brown pair of Tory Burch boots I've been drooling over.
I recommend starting your final purge at must-have investments, purging; moving to needs, purging; moving to wants, purging. They're in this order for a reason, after much rumination, so it should serve you well.
What are your investments this season? What are your needs? And most importantly, what are your wants?!
0