All About Palo Santo – The Benefits and How to Use it
Posted: 12/10/19 Updated: 03/01/22
Learn about the healing and cleansing benefits of Palo Santo and find out how you can use it in your home to restore tranquility and calm.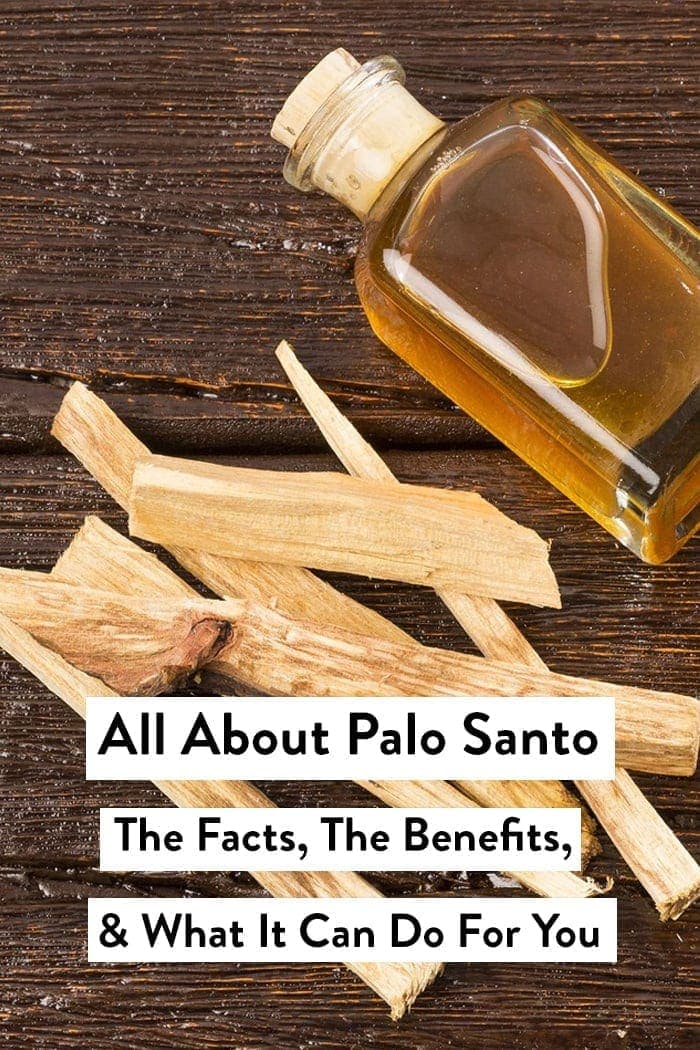 If you've picked up a lovely sweet, musky citrus scent wafting in the air at your local yoga studio or New Age shop, chances are it was Palo Santo – the new seasonal must-have fragrance. What is it and what are the benefits? Let's tap into the mystical energy of the sacred Palo Santo tree, shall we?
What is Palo Santo?
Palo Santo, which means "holy wood" or "wood of the saints", is a mystical tree that grows on the coast of South America and is related to Frankincense, Myrrh, and Copal.
Burning these sticks is a sacred practice used by Indigenous communities of the Andes to cleanse their space and ward off evil spirits. This practice is called smudging – a spiritual practice where you clear your energy fields using a piece of burning Palo Santo or a herb bundle, such as white sage.
The holy wood is part of the citrus family and has very pleasant sweet notes of pine, mint, and lemon. Perfect for the holiday season.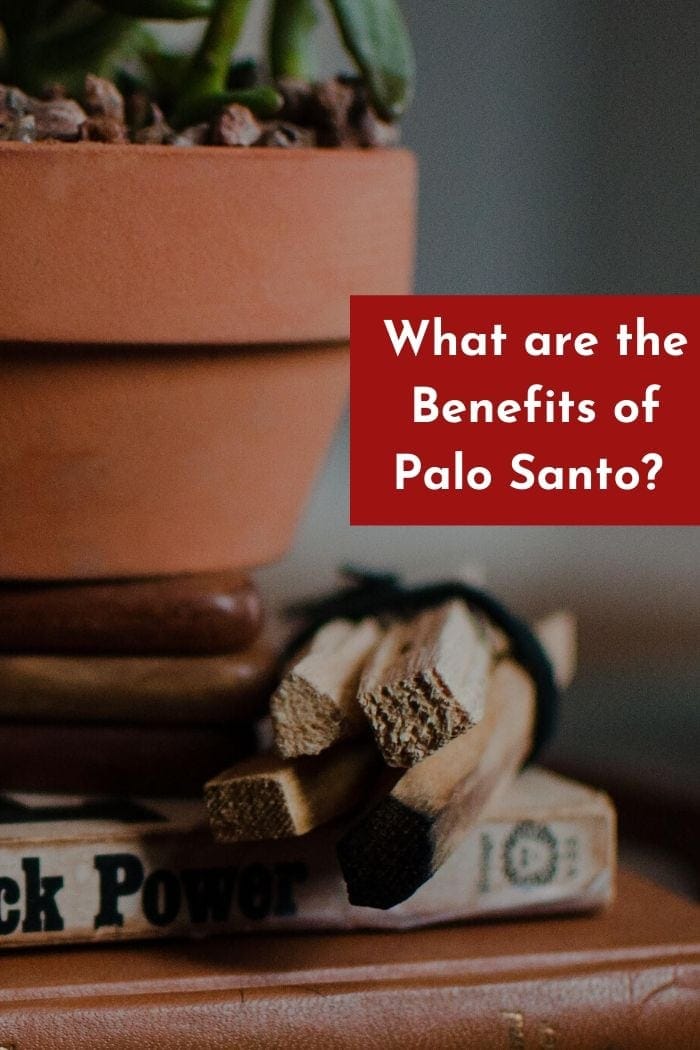 Health Benefits
Healing
Palo Santo is traditionally used as a natural remedy for colds and flu, as well as symptoms of stress. It is also known to relieve asthma, headaches, anxiety, depression, and reduce inflammation.
As an essential oil, it's great for aromatherapy and can also be used during therapeutic massages. It can also be added to candles, soaps, scrubs, and body lotions to cleanse and moisturize the skin.
Known for its calming effect, it also supports the immune and nervous systems which helps with faster recovery from illness.
Palo Santo tea supposedly acts as a natural digestive aid.
The holy wood also contains a high concentration of a compound called d-limonene, a compound that is thought to aid in the prevention of a variety of cancers.
Cleansing
Similar to Sage and Cedar, Palo Santo is most widely used for spiritual purification and energy (house) cleansings. Once the wood sticks are burned, the smoke is believed to clear negative energy and restore tranquility and calm emotions.
Burning Palo Santo wood creates an uplifting, pleasant, fresh smoke that works miracles in keeping away mosquitoes and other insects. It is said that the smell enhances creativity.
Relaxation
We enjoy burning a stick of Palo Santo before meditating as it really helps us get relaxed and connected to ourselves. The lovely earthy, sweet and citrusy smell literally changes the energy inside any room.
Nothing better to shake off pre-Christmas stress than burning a stick or lighting a Palo Santo-scented candle followed by out 5 Minute Mini Meditation for Holiday Stress.
Feel like a hot bath? Add 2 drops of Palo Santo essential oil, 2 drops of Lavender, and 1 drop of Mandarin to 1 tablespoon of bubble bath or body wash. Mix this into your bath water to help relax and renew.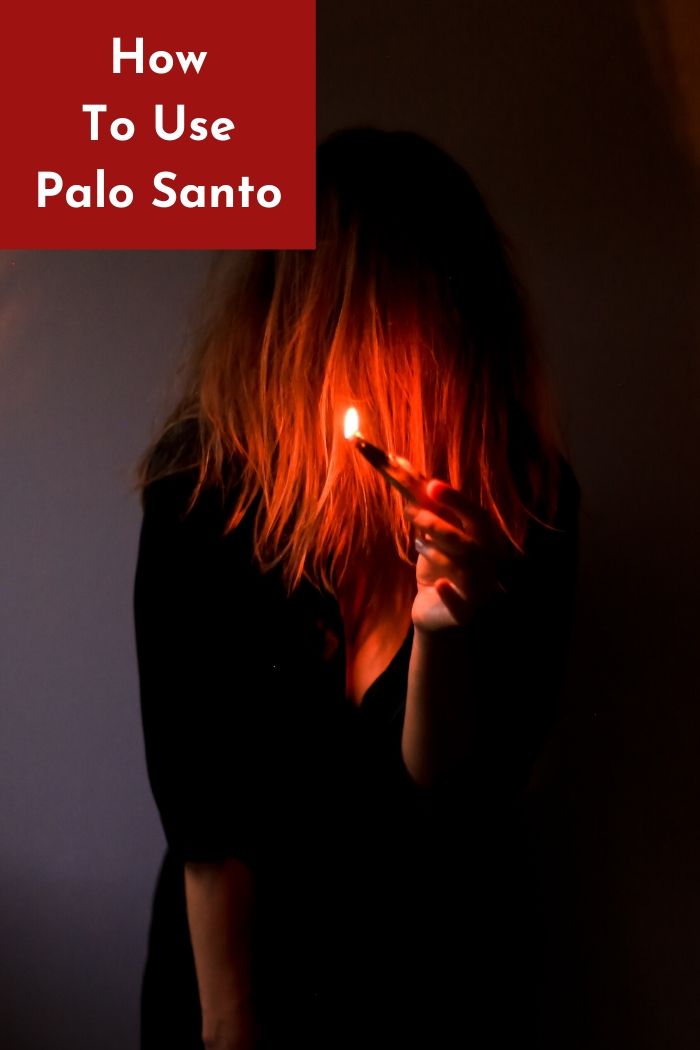 How to Use It
We recommend you use a candle to ignite your stick of Palo Santo. Hold it at about a 45-degree angle and point the tip down toward the flame of your candle. If the sticks were a little wet, you might have some problems lighting them so make sure to store them dry.
Allow the stick to burn for about 30 secs, then blow it out. A stream of smoke will rise from the embers and spread into the environment. You can hold it in your hand or place the stick on an incense holder.
Smudging can be performed at home, starting at the front door, and moving around the house from there. With a specific intention in mind (often to clear your home from negative energy), focus on every room's corners where energy tends to be stagnant.
You can gently blow on the embers if you want to revive it. When the embers go out, you can simply repeat the ignition process.
DO NOT under any circumstances leave the flame burning under the stick for more than a few seconds! Make sure to check the product description. When finished with your house cleansing, place the stick in a fireproof bowl.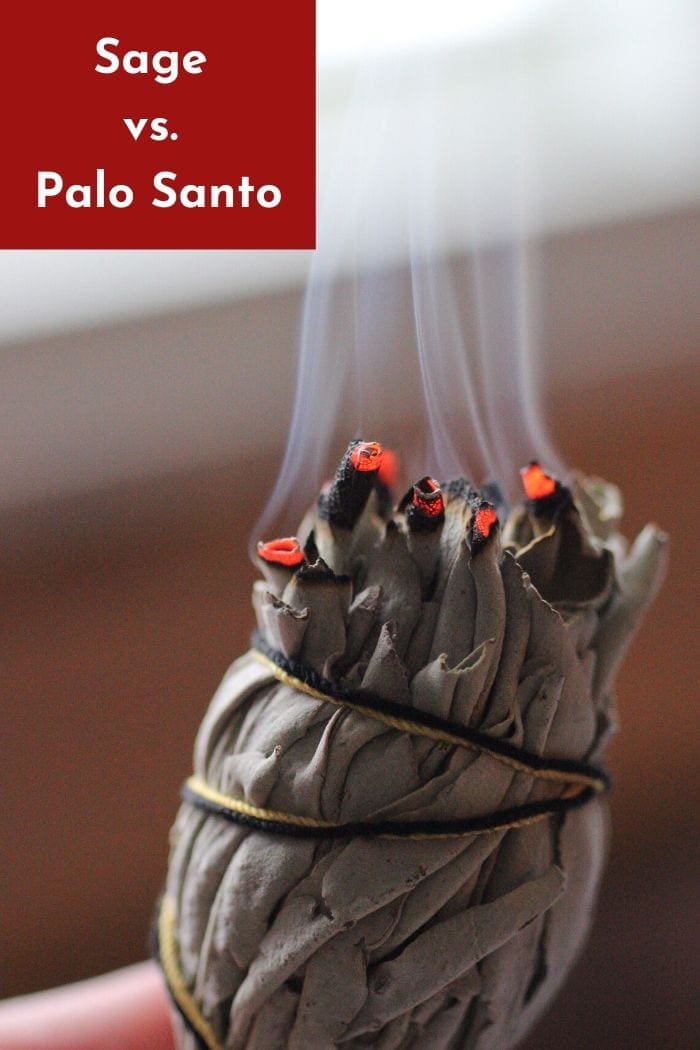 Which Is Better: Sage or Palo Santo?
Sage and Palo Santo are two of the more popular tools used for smoke cleansing. I recommend Palo Santo for smaller spaces as it will not burn as long and will need to be re-lit multiple times which can be a bit annoying for clearing larger spaces.
Sage, on the other hand, produces a lot of smoke and will make cleansing a larger space easier.
Where to Buy It
As we learn more about Palo Santo's benefits, and the demand for the scented sticks grows, so does a bootleg market! It is important that you are able to tell the real stuff from the fake.
There are several companies out there that sell sustainably sourced Palo Santo. Although the cost might be a little higher than their cheap competitors, you know you're supporting companies that are growing and harvesting these precious plants in a sustainable way.
If you're looking to purchase from responsible companies, I recommend these:
This certified ethical origin Palo Santo shop believes in providing ethical labor conditions, environmental advocacy, sustainably harvested materials, and so much more.
Sacred Wood Essence is a company that advocates for sustainably harvest Palo Santo and so much more. Not only do they plant more trees when a Palo Santo tree falls, but they support fair trade practices , too, which is very important.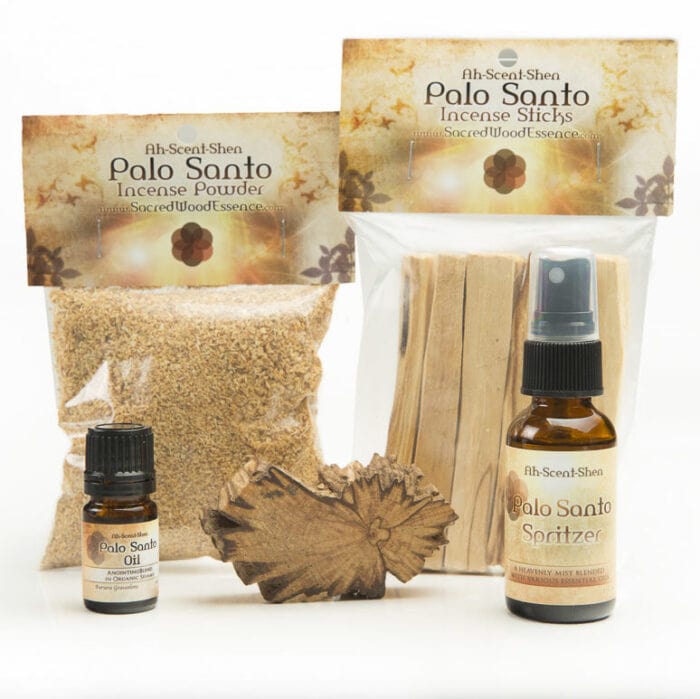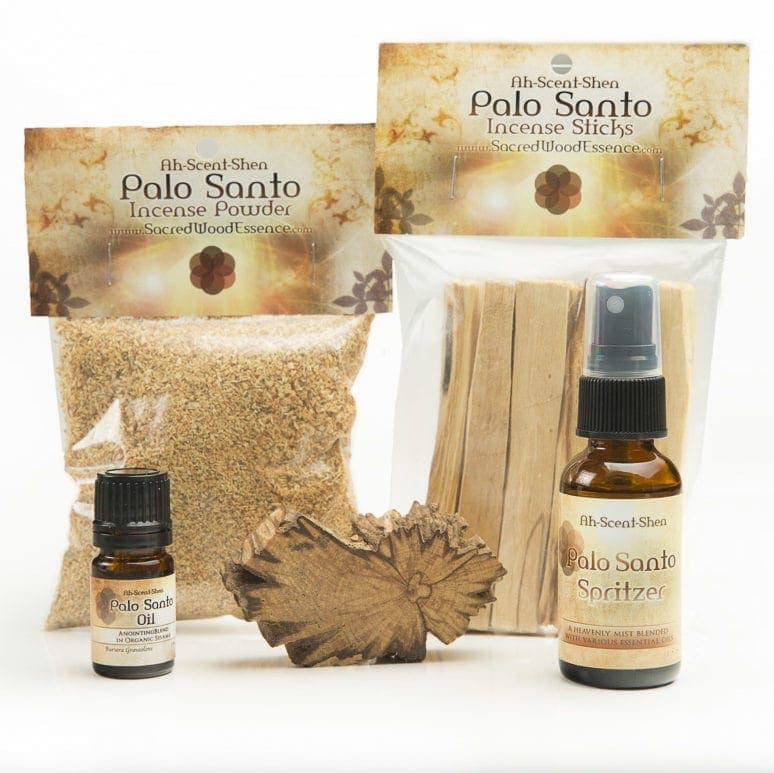 This shop supports ethically-traded Palo Santo sticks and supports families who provide reforestation in Ecuador. A lot of these Palo Santo utilized in this store is sourced from trees that have already fallen. In addition to providing sustainably sourced products, this shop also has beautiful packaging.
This pretty hand-poured candle features essential oils & shavings! What made us fall in love with it – besides the glorious scent – it that it is 100% natural, environmentally conscious and free from paraffin, dyes, lead, synthetics or animal by-products
Paleo Santo – Just Another Wellness Trend?!
After we've done our research, we came to realize that Palo Santo is more than just another buzzy wellness trend! Yes, it has been recognized for a myriad of powerful therapeutic properties, including the ability to uplift mood and strengthen vitality.
It's our new favorite way to kill bad vibes! We love it for meditation and have also come to enjoy it as a means of enhancing concentration and creativity at the home office.
And why not carry a small bottle of the essential oil in your purse? Only a few drops on the body helps relieve stress, sadness, bad moods, headaches, panic, and anxiety. What's not to love about an all-natural anti-anxiety remedy that comes with no known side effects?
If You are Interested in the Benefits of Palo Santo, You Might Also Like:
What is Palo Santo used for?
Palo Santo is traditionally used as a natural remedy for colds, flu, stress, asthma, headaches, anxiety, depression, and reduce inflammation. 
How do I burn Palo Santo?
Use a candle to ignite the stick.  Hold it at about a 45-degree angle and point the tip down toward the flame of your candle. Let the stick burn about 30 secs, then blow it out. Smoke will rise from the embers and spread into the air. You can hold it in your hand or place the stick on an incense holder. Use it in any room or area you would like to clear of negative energy.
Is Palo Santo good for sleep?
Paleo Santo is great for helping with relaxation and easing stress, which can definitely help you get a better night sleep.