Paleo Smores Bars (Gluten Free, Grain Free, Refined Sugar Free)

Posted: 07/07/17 Updated: 07/13/20
These paleo smores bars are the perfect paleo dessert this summer. A graham cracker crust, topped with chocolate and a burnt marshmallow layer, they're inspired by the classic summer treat but are grain-free, dairy-free, and refined-sugar-free. These paleo smores bars are great for entertaining!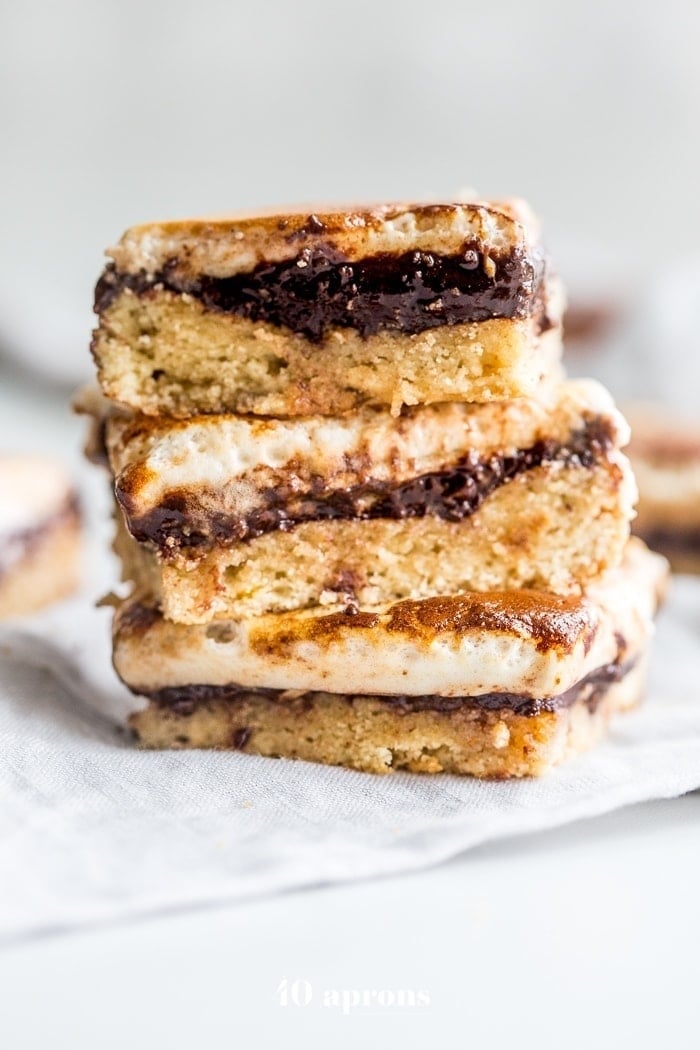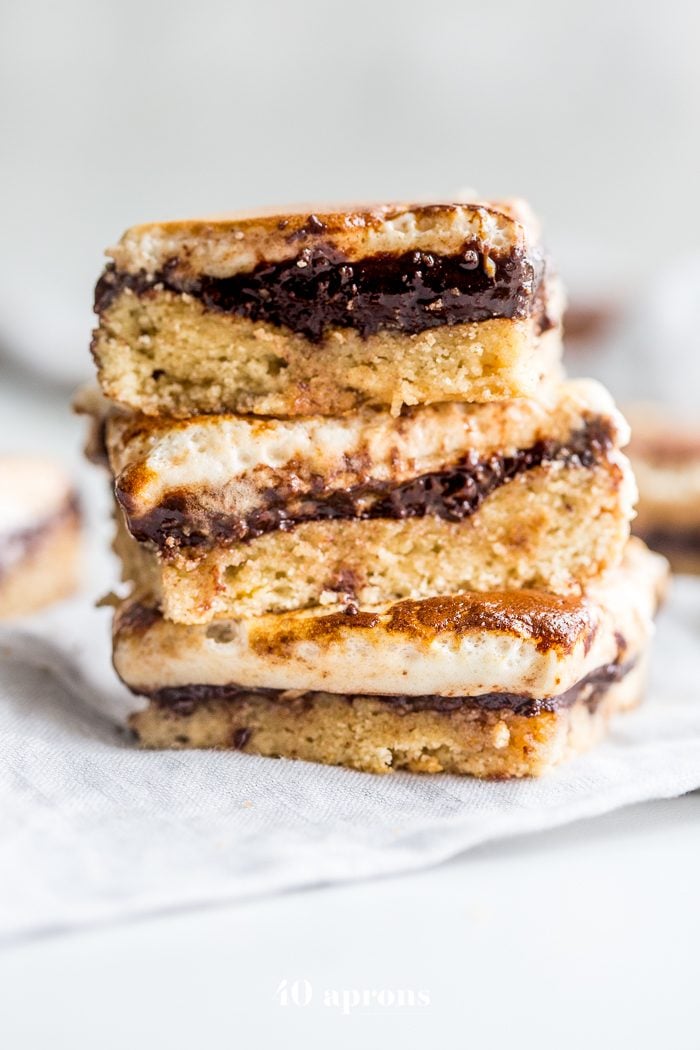 Most of the time, inspiration comes moderately: an idea for a fall recipe when I'm watching Leo run through the sprinkler, a take on an Easter dish when I'm shopping for Valentine's Day cards, a twist on a family favorite when I'm meal planning for the week. I try to plan ahead, spend plenty of time thinking about seasonal tastes, making lists upon lists of recipes I can't wait to make.
But then, sometimes inspiration strikes furiously. It overtakes me, consumes my day, quietly reshuffles my daily priorities in an instance. My paleo American flag pie is a good example: I'd met my mom and Leo downtown to visit with Leo's great-grandma, then we met O for lunch at a pizza shop by the courthouse. It was, what, May?, with Memorial Day on the horizon.
It hit me. "Paleo. American. Flag. PIE."
"What?" they responded at intervals, looking at me half-quizzically, half-knowing-me-well-enough.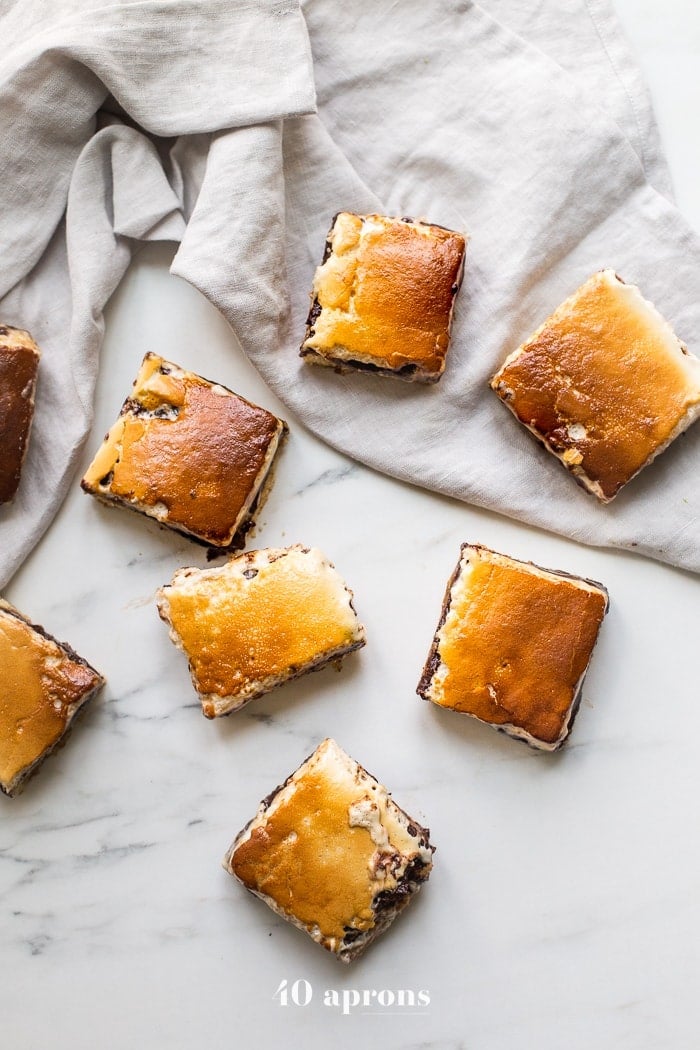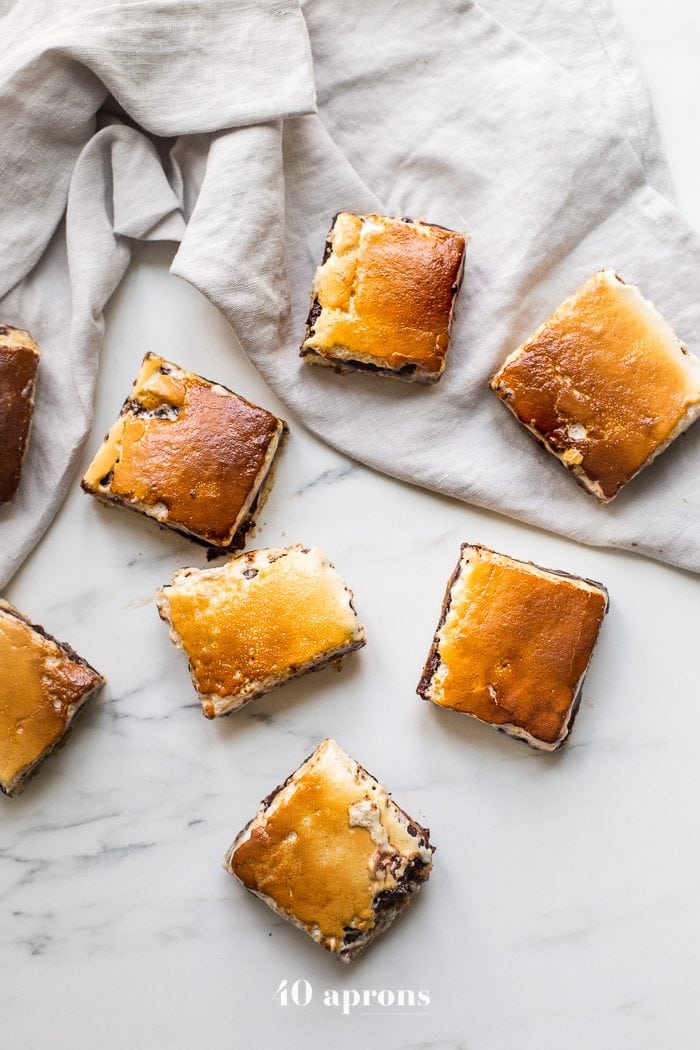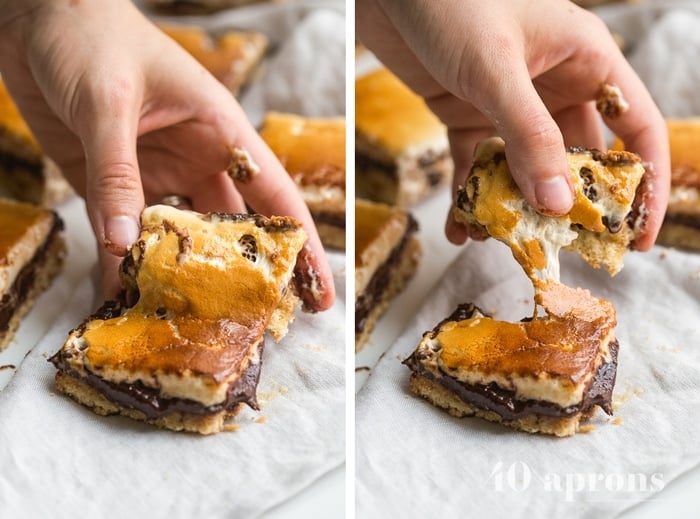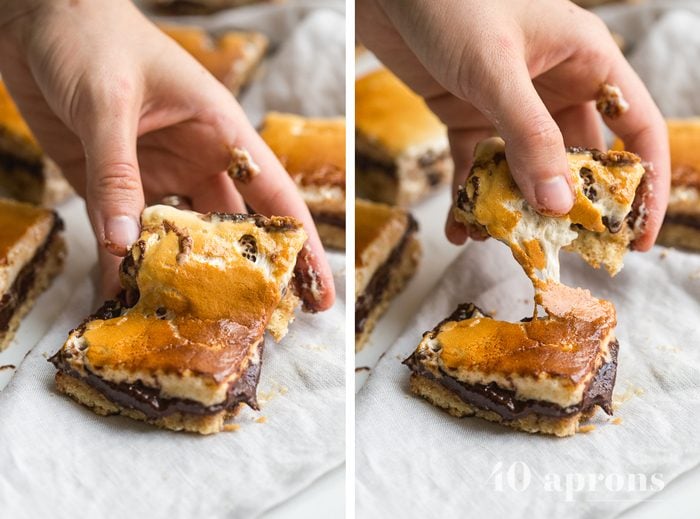 I researched base recipes over my chopped salad, adding strawberries and blueberries and extra tapioca starch and lemons and maybe some wine just in case to my grocery list. I had a packed afternoon, but I cleared it all, headed straight for the grocery store, and spent the rest of the day elbow-deep in paleo pie crusts.
Snapping my paleo blogger friends a shot of my late-night grocery store haul, dashing to the store after Leo'd gone to bed, buying more strawberries and blueberries and tapioca starch and lemons and definitely wine. It's always these fast-and-furious recipes that don't work the first time around; they induce a wild ride of emotions, always starting with excitement, followed by disappointment, some self-doubt, a brief existential crisis, a quick search of "real jobs" on LinkedIn ("I am the worst food blogger of all time," "I'll never be an actress, never!"), and then a picking up of the pieces, refilling my pantry, and finally the high of glory, of a crunchy yet tender pie crust, a firm but fruity filling, a gorgeous flag topping.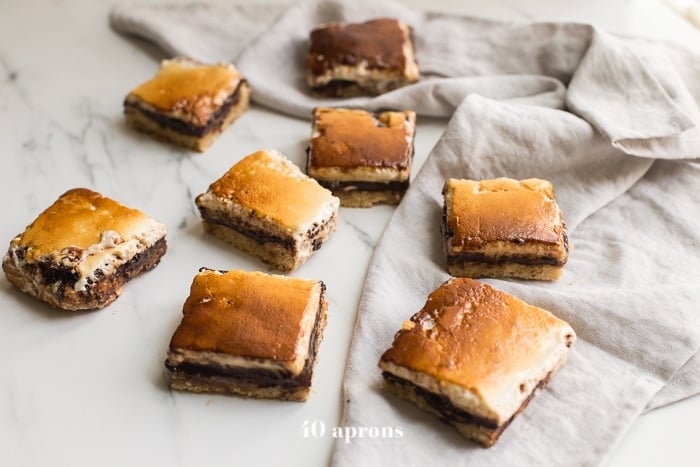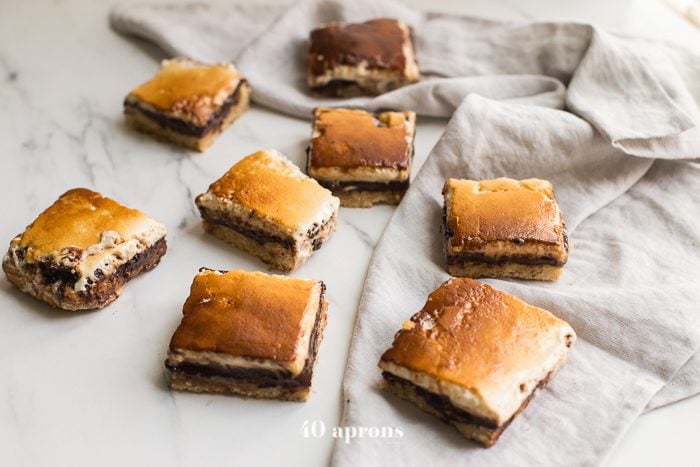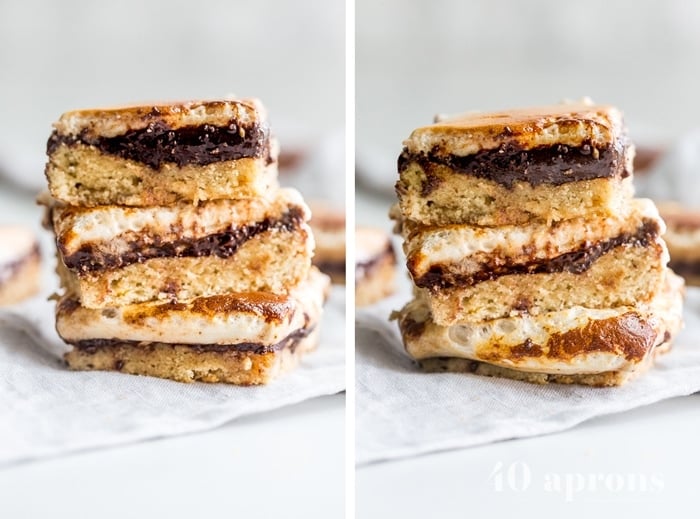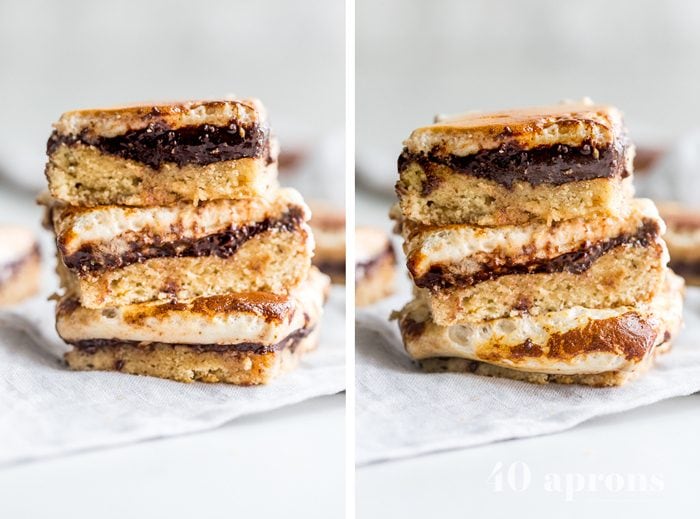 In this case, I'd be inspired by the classic summer flavor trio: graham cracker, melty chocolate, and crispy, charred marshmallow. If you hadn't noticed, I'm kind of a smores fanatic, yet I rarely reach for the standard treat. Of course, we don't eat much refined sugar at home at all, but we do break our rules when it means roasted marshmallows over a Sterno with Leo at our weekend dinner out. No, usually I opt for funky flavor substitutions, from blackberry white chocolate smores (THE. BEST. EVER.) to raspberry matcha smores to dark chocolate cherry smores. I'm pretty sure these ugly but insanely delicious peanut butter chocolate marshmallow pies even count, too.
But, since we avoid refined sugar at home, I wanted to make a paleo smores bars recipe that we could enjoy all summer long. The idea hit me this week and instantly overtook the cranberry and rosemary and pumpkin recipes I had slated to test. The recipe started out overly complicated, with lots of resting and stirring and gratuitous mixing bowls. The paleo smores bars themselves, though? So good.
So I kept testing, simplifying the ingredients and the process, making it a much more streamlined process that delivers paleo smores bars to your face more quickly and more easily. And isn't that the goal of paleo smores bars? Get that graham cracker crust, the rich chocolate center, the burnt and gooey marshmallow where they belong, ay-sap.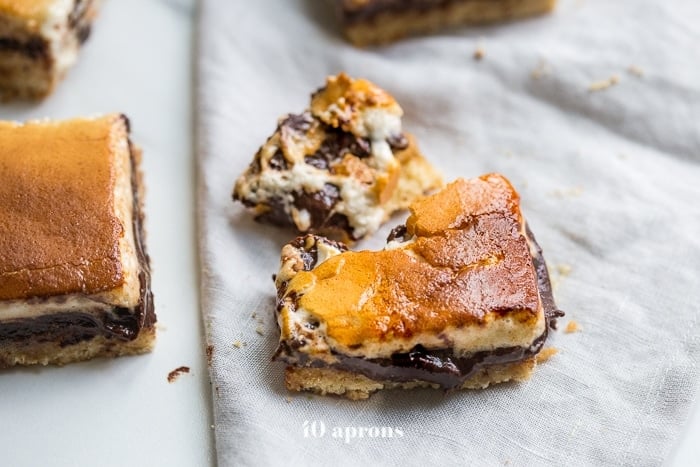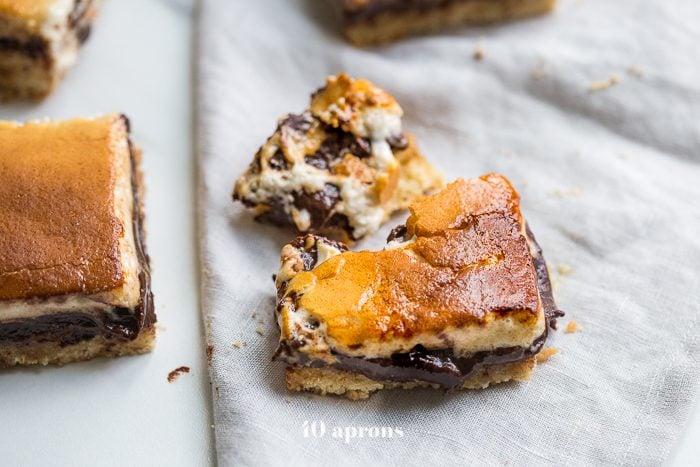 The marshmallow layer is derived from my paleo marshmallow recipe that I turned into paleo peeps this Easter, using only a few simple, but far more nutritious ingredients than the standard fluffy cubes. Don't be intimidated by homemade marshmallows! This recipe especially is extremely simple; the hardest part is letting them dry for a few hours. The process is simple: simmer a simple honey mixture then combine it with some gelatin. Pour the whole thing into a stand mixer and mix for a few minutes. Scrape into a pan and wait – tada!
Make sure you start the marshmallow layer ahead; they need at least 4 hours to dry. And one thing to keep in mind is that these marshmallows will not stay as firm as traditional marshmallows, so they require a bit of chilling/resting time to firm back up after going under the broiler.
To make these paleo smores bars, I used…
Paleo Smores Bars
These paleo smores bars are the perfect paleo dessert this summer. A graham cracker crust, topped with chocolate and a burnt marshmallow layer, they're inspired by the classic summer treat but are grain-free, dairy-free, and refined-sugar-free. These paleo smores bars are great for entertaining!

Instructions
Make Marshmallow Layer:
Prepare your pans: grease an 8x8" pan with a little coconut oil. Take a piece of parchment paper and rub the top of it with a bit of coconut oil. Press the parchment paper evenly down in the middle of the baking pan, then sprinkle a bit of arrowroot on top. Shake around to lightly coat.

Place gelatin in a small bowl and sprinkle 2 tablespoons water over. Stir to mix and set aside.

Combine 1/2 cup honey, 1/4 cup water, and pinch salt in a medium saucepan with high sides. Place over medium heat and bring to a gentle boil, whisking until very smooth and well combined. Continue boiling very gently for 10 minutes, or until a thermometer reaches 240ºF. Remove from heat.

Stir in gelatin and water mixture and whisk until very smooth. Let cool for about 2-3 minutes then stir in vanilla extract.

Add honey syrup to the large bowl of a stand mixer with whisk attachment. Beat on high speed for 6 minutes or until tripled in size, almost white. The texture should be like a soft lava that holds a soft peak for a few seconds. Add in vanilla extract and beat for another 2 minutes.

With a rubber spatula, scrape out marshmallow mixture and spread into prepared 8x8" pan. Smooth the top with the spatula and let dry, uncovered, at least 4 hours or overnight. Do not refrigerate.
Make Bars:
Preheat oven to 375º F. Grease an 8x8" pan and line the bottom with parchment paper. Combine all graham cracker layer ingredients in the bowl of a food processor and pulse until mixture is well combined and thick, like cookie dough. Scrape out mixture into prepared pan and bake for 13-15 minutes or until sides are lightly browned. Remove from oven.

In a medium microwave-safe bowl, melt chocolate chips. Microwave 1 minute then stir. Continue microwaving in 30-second bursts, stirring very well between each burst, until very smooth and totally melted. Stir in coconut oil, coconut cream, and vanilla extract, and stir until totally smooth. Pour over graham cracker layer and smooth with a spatula.

Sprinkle top of marshmallow layer with arrowroot and place a piece of parchment over the surface. Gently flip the marshmallow layer over, so it's resting on its top. Peel parchment from bottom of marshmallow layer, if necessary. Then, gently flip marshmallow layer onto melted chocolate layer, using a piece of parchment to grip one edge to help you place it, if necessary.

Broil for 1-2 minutes, until top is beautifully browned or burnt! Chill for about 15 minutes, or until marshmallow layer is firmed up a bit. Cut into squares and serve.
Notes
Cut into squares and serve.
Nutrition Information
Serving Size:
4
g
,
Calories:
921
kcal
,
Protein:
21
g
,
Fat:
60
g
,
Saturated Fat:
30
g
,
Cholesterol:
14
mg
,
Sodium:
46
mg
,
Potassium:
119
mg
,
Total Carbs:
93
g
,
Fiber:
9
g
,
Sugar:
69
g
,
Net Carbs:
84
g
,
Vitamin A:
20
IU
,
Vitamin C:
1
mg
,
Calcium:
201
mg
,
Iron:
6
mg
Number of total servings shown is approximate. Actual number of servings will depend on your preferred portion sizes.
Nutritional values shown are general guidelines and reflect information for 1 serving using the ingredients listed, not including any optional ingredients. Actual macros may vary slightly depending on specific brands and types of ingredients used.
To determine the weight of one serving, prepare the recipe as instructed. Weigh the finished recipe, then divide the weight of the finished recipe (not including the weight of the container the food is in) by the desired number of servings. Result will be the weight of one serving.