Today I'm sharing our latest feat.. finishing little Leo's nursery! The nursery has been erm, 80% done for a while now, but getting those final touches completed seemed to drag on an extra month. But now we're 95% finished, and that's finished enough for me to share, I think. Don't you? Don't be a hero. No one likes a perfectionist.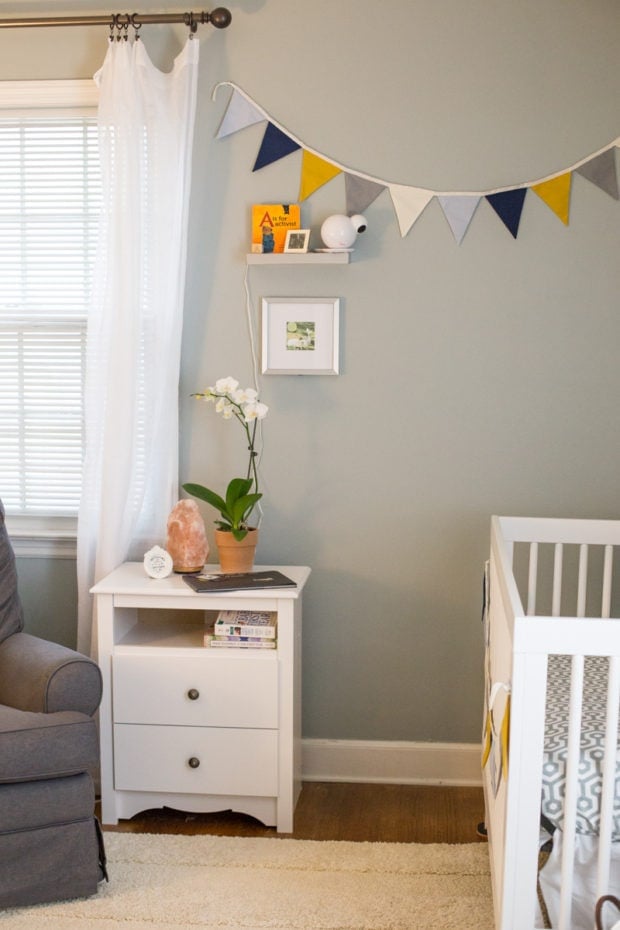 Well, except this mama and her compulsions to move the banners around twelve times until they're perfectly perfect, but I digress.
I waffled back and forth on the nursery inspiration for months and thought I had nailed it with a bright and fun, modern and gender-neutral nursery with a statement wall. I even made a video about it! This was a little before I gave into my fully bizarre personality and tried to keep it cool on my YouTube channel..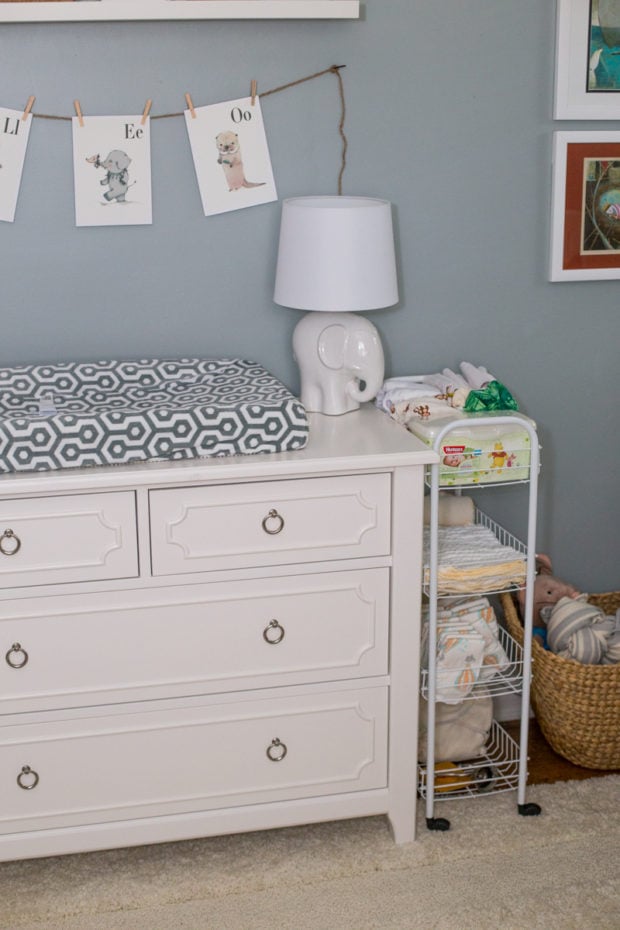 Then something changed and I had this vision of a super soft, cozy nursery that reminded me of that state in between waking and dreaming. Super easy to translate to interior design, I know. I know! But I remembered a gorgeous book I'd seen a few weeks prior, Sleep Like a Tiger, and it all started to come together in my mind. I found the largest print of the book's cover art that exists (I'd have gotten it mural-size if it came that way) and started pulling more inspiration from the book and the feeling that to me it evokes. If you haven't read it, you must! It's beautiful and sweet, about a little girl who wants to know if everything sleeps, and her parents say yes, and she doesn't have to, but she must at least get in her bed.. Ugh! I won't spoil the fascinating ending (she falls asleep), but suffice it to say, little ones sleeping is possibly the most alluring interior design philosophy I've seen yet for a nursery.
At first I wanted a strictly traditional look, but things evolved and we added a few more modern pieces here and there, which I think brings it up to speed.
In terms of function..
The dresser is half cloth diapers, half clothes. "Nicer" and larger clothes hang out in the closet, but there's not too much of that yet.
We put together a cart next to the changing station (pad + dresser = yeah man) for more cloth diapers. We are cloth diaper fanatics! I say "we", but I mean "I". I am a cloth diaper obsessive, though I'm sure a bit of the shine fades when you're spraying poo into the toilet with a bidet
We made use of loads of bins and cube storage, so that mess can easily be hidden but most gear, toys, and blankets are handy
We picked a weirdly comfortable glider recliner based on the recommendations of a few friends, rather than a super, super cute thing, because we anticipate at least one (or one hundred) nights spent napping in the thing due to a sick or fussy man cub
There's a 9-cube storage in the closet, along with our BOB stroller hanging until Leo's old enough to use it. Lesser-used items go in here, like "cute" clothes, health and safety items, certain carriers, larger clothes, etc.
There's a larger 8-cube storage in the nursery itself, used for books, toys, etc., and with bins that we've so far used for tiny baby laundry
We're using large wet bags for cloth diapers–one in the nursery for wet diapers and exclusively breastfed diapers and one in the guest bathroom (which just happens to be like, 5 feet away) for poopy dipes that we'll spray off with that bidet I mentioned that you thought I was joking about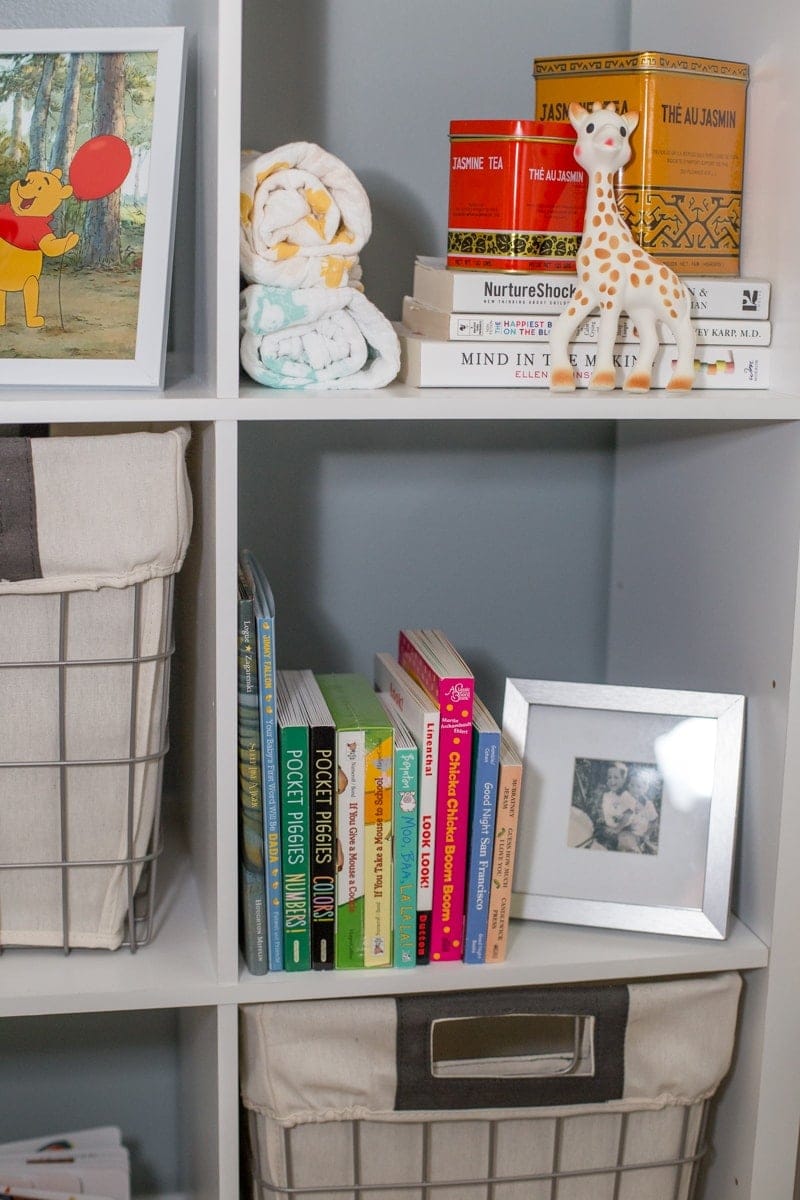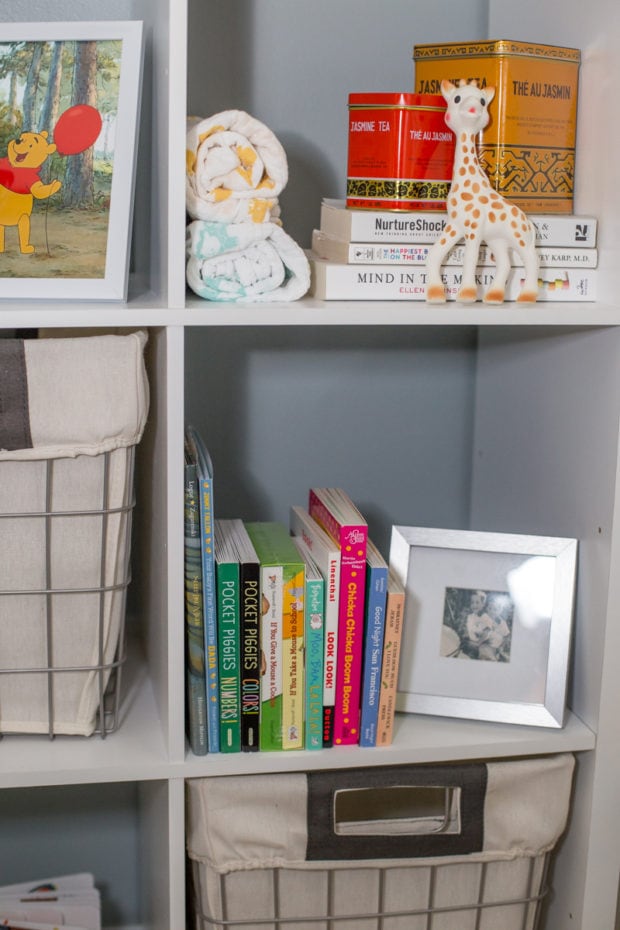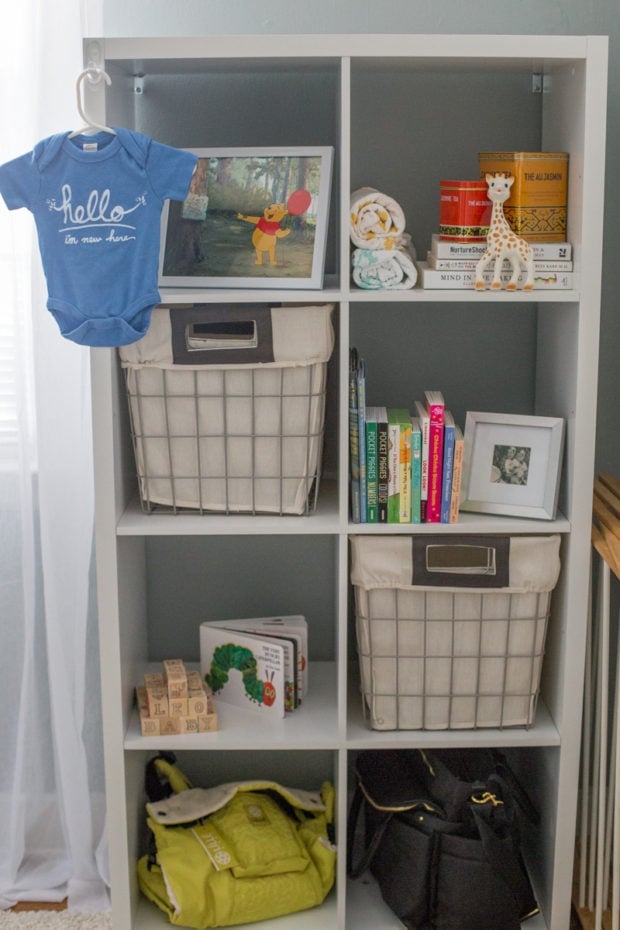 Leo will be sleeping in a sidecar co-sleeper–the Arm's Reach Ideal Cosleeper–for several months with us, and I have a breastfeeding and cloth diapering station set up on my side of the bed for those times: just enough cloth diapers to not overwhelm, regular wipes until we run out and use the container for cloth wipes, natural hand sanitizer, Aden + Anaïs swaddle blankets, and breast pads, hot/cold boob therapy pads, snacks, lip balm, chargers, my Kindle, etc. Surely this will be a study in evolution, but I figured that's a good place to start.
Here's all the stuff:
Crib: Hudson by Babyletto // Glider: Stash Home in Memphis // Dresser: Ava Regency from Pottery Barn Kids (nickel hardware) // Banner: DIY // Sleeping tiger print: from Etsy by Pamela Zagarenski (I don't see it available on her Etsy shop anymore, but she's easy to contact! She's the artist from the book – super cool, huh?) // Crib sheet: Grey Honeycomb Fitted Crib Sheet by TL Care // Toy bin: Threshold bin from Target // Nighstand nightlight: 8″ Himalayan Salt Lamp (super cool – purifies the air, too!) // Nightstand: Monterey Open Shelf Nightstand from Target // Elephant lamp: Target // L-E-O prints over changing station: Holli shop on Etsy (she sent us the little print that's framed on the shelf over the changing station as well!) // Basket next to glider: Nesting Floor Baskets from Pottery Barn Kids // Prints next to glider: framed pages from Sleep Like a Tiger // Diaper cart: Metaltex Rolling Cart // White cube storage: Threshold 8 Cube Organizer from Target // Cube storage bins: Threshold Wire Cube with Canvas Liner from Target
I leave you with pictures of my epic size and of my baby daddy and big sister, because.. because, just because.