Ahh, yes, the new year. This time last year, O and I were going vegan, feeling so dern "icky" from the hoards of junk food we'd been stuffing in our bodies over the last couple months. This year, I'm giving up booze for two weeks and sugar for a month, and I have an iPhone app specifically to remind me of the remaining days.. a girl needs her wine and chocolate cake, people!
While the dead of winter isn't necessarily the best time for a juice or smoothie cleanse or a traditional fast, there are other ways of cleansing the body that only require the eating of flavorful, homey food, which is a pretty straightforward sign-me-up for me! Kitchari is considered the "perfect food" in Ayurveda, which is the ancient art of natural healing using the right foods, spices, and drinks for your own body type, which is made up of things called doshas.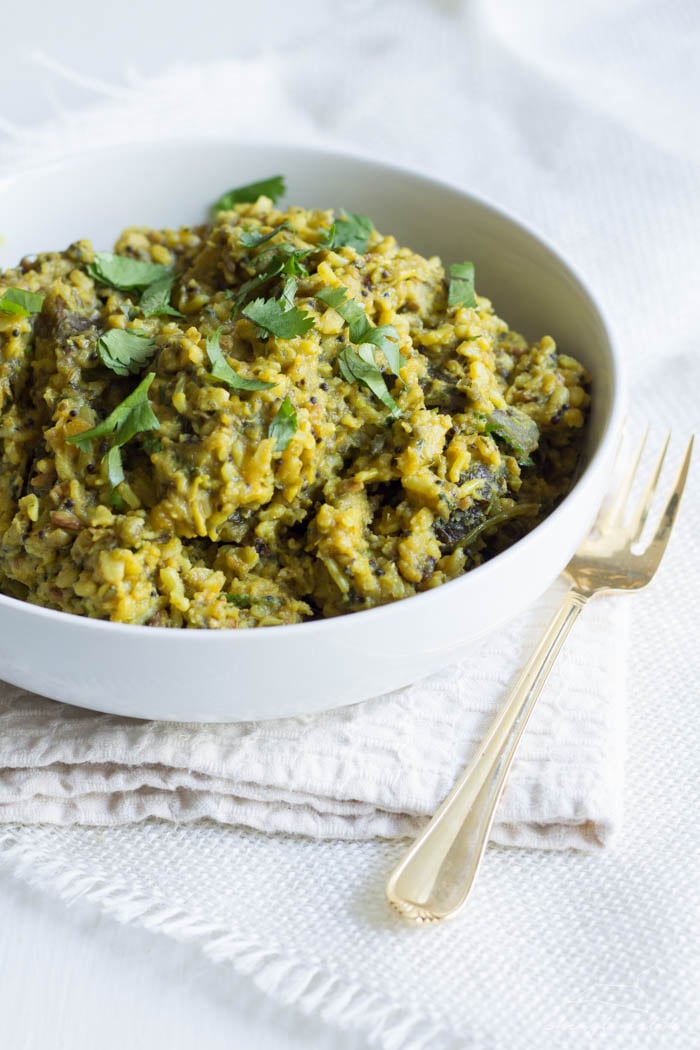 Do you know much about ayurveda? I myself am pretty fascinated with the practice, but it's hard for me to follow perfectly.. namely because my dosha requires me to balance my fieriness by not eating, oh, garlic, onions, tomatoes, or butter, which takes away pretty much all of my favorite foods. Give up fresh salsa for perfect health? Not on my watch!
OK, I see the irony of what I'm saying, but the point is that you don't have to go full-blown ayurvedic ascetic to make it work for you, but instead by incorporating a few principles into your daily life. To learn more about which dosha or doshas you are and what that means, check out Deepak Chopra's quiz!
In ayurveda, kitchari–essentially a mung bean/lentil stew–is often used as a brief monodiet cleanse, allowing your body's digestive system to rest, whilst you nourish the rest of your body. On top of that, it's damn delicious and so easy to eat during the week to add a bit of oomph to your New Year's resolutions. I usually make a big batch early in the week and heat up individual portions for lunch, making it a no-brainer that I feel awesome about (that "dressed-up instant ramen"? Not so much).
The best part about the kitchari is that you can totally customize it based on your tastes and your doshas–you'll learn more about the veggies, spices, and herbs that are best for your dosha if you take the quiz. Give it a try!
Are you doing any sort of cleanse or fast for the new year? Or is one of your resolutions "eat more cake" (oh.. how I envy you!)?
Kitchari - Ayurvedic Cleanse
A flavorful kitchari, perfect for an Ayurvedic cleanse. Full of protein, yet easy to digest.
Cook Time
1
hour
30
minutes
Total Time
9
hours
30
minutes
Ingredients
1/2

cup

of dry green mung beans

2-3

tablespoons

ghee

(clarified butter) or coconut oil

1

tablespoon

black mustard seeds

1

tablespoon

yellow mustard seeds

1

tablespoon

fennel seeds

1

tablespoon

turmeric

1

tablespoon

cumin

1/2

teaspoon

ground coriander

1/2

teaspoon

fresh cracked black pepper

1/2

teaspoon

of cinnamon

2-

inch

piece of fresh ginger root

, grated

1

cup

good quality Indian basmati rice

1/2

cup

of dry mung dal

(split yellow lentils)

4-6

cups

water

(the more water the soupier it will be)

6-7

cups

assorted vegetables

(I often use sweet potatoes and other veggies I have on hand)

1

piece

strip of kombu seaweed

1

tablespoon

Himalayan pink sea salt

(or regular sea salt)

1

bunch

one bunch fresh cilantro

, chopped, divided
Instructions
The night before, wash the mung beans and soak them in water overnight (this helps with digestion, which we are all about!).

In a large skillet or wok, melt the ghee or coconut oil until it's warm and liquid. Add the black mustard seeds, yellow mustard seeds, and fennel seeds to the ghee and sauté until you hear the seeds being to pop. Quickly add the spices (turmeric, cumin, coriander, black pepper, and cinnamon), fresh ginger, rice and mung dal to the mix. Coat the rice and beans with the spices and seeds. Do this quickly so as not to burn the spices!

Slowly add in 4 cups water, then add the vegetables and kombu and lightly stir all ingredients. Bring to a boil, then lower heat, cover and cook for about 45 to 60 minutes, or until lentils and vegetables are both soft.

Stir in the salt, taste, and correct seasonings. Stir in about 2/3 or so of the fresh cilantro and garnish with remaining chopped cilantro and melted ghee or coconut oil.
Recipe Notes
Garnish with chopped cilantro and melted ghee.
Nutrition Facts
Kitchari - Ayurvedic Cleanse
Amount Per Serving (6 g)
Calories 426
Calories from Fat 72
% Daily Value*
Fat 8g12%
Cholesterol 13mg4%
Sodium 1271mg55%
Potassium 744mg21%
Carbohydrates 74g25%
Protein 18g36%
Vitamin A 9398IU188%
Vitamin C 21mg25%
Calcium 121mg12%
Iron 5mg28%
* Percent Daily Values are based on a 2000 calorie diet.
Recipe adapted from the Elephant Journal.