Italian Spinach with a Poached Egg

Posted: 10/22/13 Updated: 05/15/22
If you're like me at all, planning the main dish of our meals isn't the hard part–it's the side dishes that complicate things. All week, I watch for delicious recipes on Pinterest, scan our repertoire of favorite recipes, and pay attention to my cravings to help plan for our upcoming weekly meal plan. But when I sit down to write my grocery list, the side dishes' portion often looks like this:
veggie
green veggie to go with chicken thighs
salad?
Having to come up with so many individual dishes can be frustrating, and trying to perfectly balance a meal in both nutrition and taste can be tough.. and irritating! Enter, your new favorite side dish.
Why You'll Love This Recipe
This Italian spinach makes use of frozen spinach: cheap, easy, and incredibly nutrient-dense. I almost always have a box on hand, and you can stock up when it's on sale. It's so much easier than watching that bag of spinach you shelled out 3 bucks on slowly go bad, producing stinky brown juice and padding up the leaves at the bottom of the bag. Been there? It's disheartening.
This Italian spinach is totally delicious, but it's elegant enough to serve company. The slight deconstruction places a poached egg on top of each bowl (or opt for one on top of the bunch, if you're already good on that meal's protein), marrying the earthy spinach and slight custard texture caused by the first egg cooked in the spinach.. with a rich, creamy poached egg yolk–instant sauce, instant elegance. The parmesan adds a salty umami flavor, and it's all just to-die-for.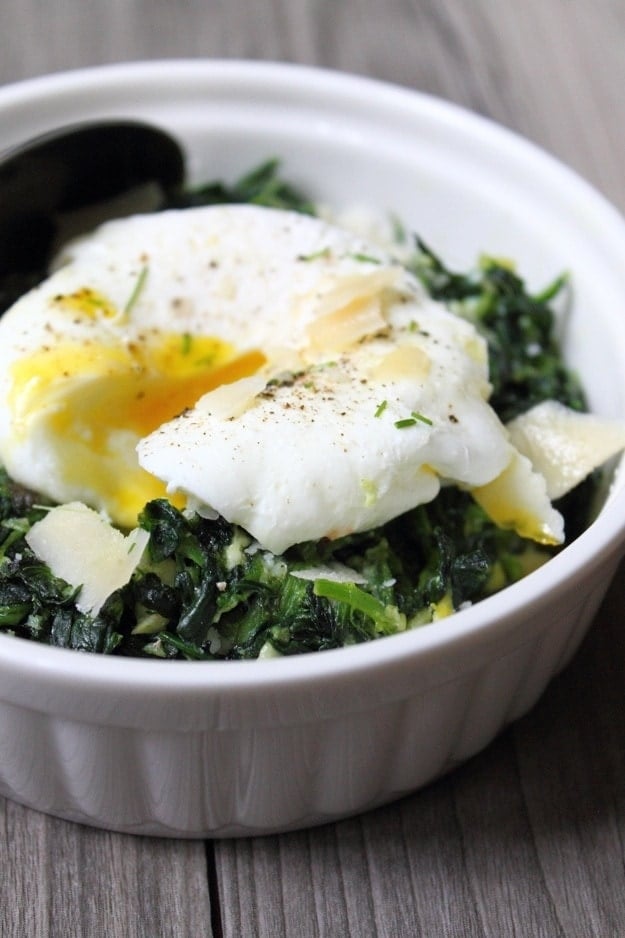 How To Serve It
You can serve each individual portion with a poached egg, or simply serve the entire dish with just one. But make sure you pop that poached egg yolk before you dish the Italian spinach into individual servings – you want to make the most of that rich, creamy egg yolk insta-sauce!
How To Make It
If you're intimidated by poaching an egg, don't be! Follow my simple instructions from Southern eggs benedict with biscuits, bacon, and gravy.
Fill a nonstick saucepan with about 2″ water. Pour in about 1-2 tablespoons wine vinegar or other flavored vinegar (you can use white vinegar, but use something else if you have it) to the water to acidulate the water and help the egg whites coagulate. Place over high heat. Crack your eggs into small bowls. When the water is JUST about to boil, and you see little bubble streams coming from the bottom, turn heat to low. Don't allow to boil–if it begins to, pour in just a bit of extra room temperature water, or uh, wait.
Gently lower a bowl with a cracked egg to the water and gently slip the egg into the water. Using a spoon, gently push the egg white strands closer to the whole of the egg, helping it stay together. Set a time for 3 minutes. When the egg is formed and sticking together, you can lower in another egg and repeat that process. Set another timer for 3 minutes, or generally guess how long it took you to add that second egg and get it sticking to itself. Poach about 3 at a time–too crowded and you'll have morphed Siamese twin eggs, which is not what we're going for (this time). Very, very gently try and push the eggs around just a bit, so they don't stick to the bottom of the saucepan.
After the 3 minutes is up, remove the first egg with a slotted spoon and very gently slide your beautifully poached egg onto a plate (you can line with paper towels to absorb extra water but it will be much harder to slide the egg off the plate this way). After 3 minutes (or about as long as it took you between setting the first timer and getting the second egg in and sticking to itself) for the second egg, remove it the same way. Do the same for the third egg, then repeat the process from placing the pot over high heat. You can recycle the water or start again, if you like, depending on how many rogue egg white strands you have.
This dish shows up on our table often, especially when I'm serving a pasta, other Italian dish, or something otherwise fairly devoid of nutrients. Spinach is a nutritional heavy lifter, and freezing the leaves results in hardly any nutritional loss. The only downside: what will you do with all that money you save on finicky fresh spinach?!
Make this.
Italian Spinach with a Poached Egg
This Italian spinach with a poached egg is a deliciously satisfying and simple side dish for Italian or other classical dishes.
Ingredients
10

ounce

10 ounce box frozen chopped spinach, thawed

1

tablespoon

olive oil

3

cloves

garlic

minced

1/4

teaspoon

salt

1

egg

1/4

cup

shaved or grated Parmesan cheese

1-4

poached eggs

you can serve the entire dish with just one poached egg on top, then dish individually after popping the yolk.. or serve a poached egg on top of each individual serving

1

tbsp

Shaved Parmesan cheese for garnish
Instructions
Thaw the spinach and squeeze out ALL the excess water. Keep squeezing! Start heating up your saucepan full of acidulated water to poach your eggs.

Heat a medium skillet and oil over medium heat. Add the garlic and fry, stirring often, for 1 minute, or until fragrant, being careful not to burn.

Add spinach and stir to combine with oil and garlic. Spread out the spinach a bit, leaving an empty center in the skillet. Crack the egg into the empty center, allow to just barely set, then use a spatula to combine well. Lower heat to low and continue to cook and stir until egg is cooked through. Now is a good time to poach the eggs!

When ready to serve, add 1/4 cup Parmesan cheese to the spinach mixture and combine well.
Notes
Serve immediately. Top each serving with a poached egg or top the entire dish with one poached egg, popping the yolk before placing in individual portions so each dish gets plenty of creamy yolk sauce!
Nutrition Information
Serving:
2
g
,
Calories:
188
kcal
,
Carbohydrates:
6
g
,
Protein:
12
g
,
Fat:
14
g
,
Saturated Fat:
4
g
,
Cholesterol:
94
mg
,
Sodium:
676
mg
,
Potassium:
821
mg
,
Fiber:
3
g
,
Sugar:
1
g
,
Vitamin A:
13508
IU
,
Vitamin C:
40
mg
,
Calcium:
330
mg
,
Iron:
4
mg
,
Net Carbs:
3
g
Number of total servings shown is approximate. Actual number of servings will depend on your preferred portion sizes.
Nutritional values shown are general guidelines and reflect information for 1 serving using the ingredients listed, not including any optional ingredients. Actual macros may vary slightly depending on specific brands and types of ingredients used.
To determine the weight of one serving, prepare the recipe as instructed. Weigh the finished recipe, then divide the weight of the finished recipe (not including the weight of the container the food is in) by the desired number of servings. Result will be the weight of one serving.