Homemade Rosemary Applesauce

Posted: 11/12/13 Updated: 05/15/22
You have no concept of the sheer magnitude of past-due foodstuffs slowly and silently rotting away in your fridge, squandering valuable climate-controlled real estate, until you ready the house for your extended vacation.
"My pickles are molding?!" you might ask yourself in disbelief. "My pickles?!" It hasn't sunk in just yet.
"Ooh.. I have a pumpkin beer back there! …from last year?!", another discovery might inspire. Maybe there's some Halloween candy petrified to a near Tootsie-roll status in the back of the pantry pantry, a lovely pairing.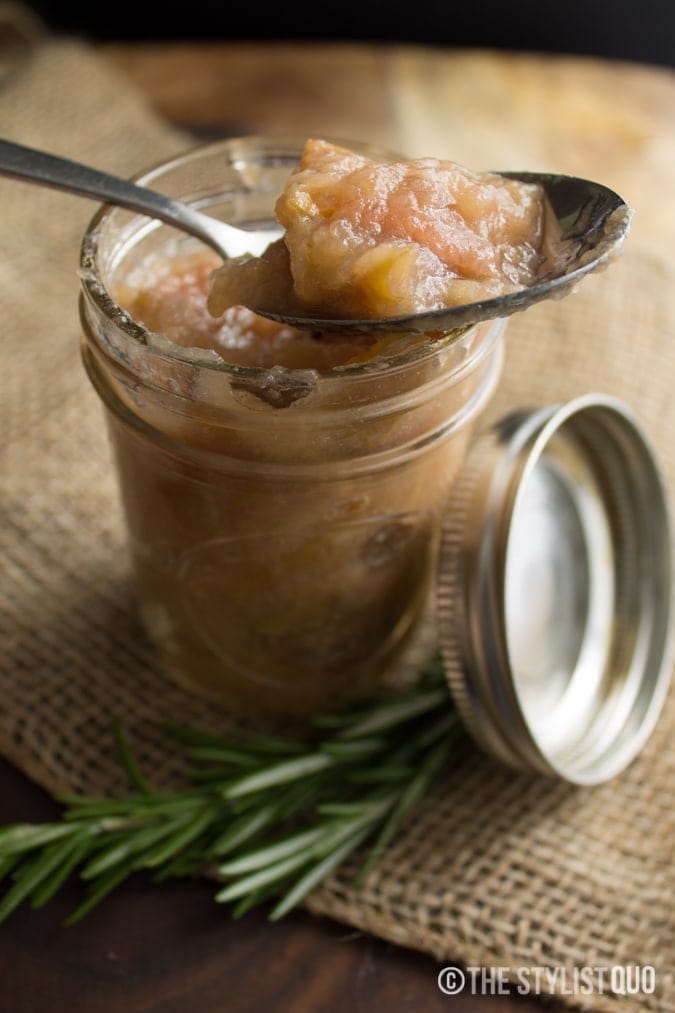 As I hauled out uneaten jars of duck ramen broth (a blog subject I never carried to term) and unrolled pads of fresh ramen noodle dough, I spied a mesh bag of about eight beautiful, perfectly sweet Gala apples. A couple well-meaning weeks prior, I picked up a 3-pound bag for only a few bucks, a steal for our gourmet budget and effort to spend less than $200 per month on groceries. A couple well-meaning weeks later, it appeared we'd only eaten a couple of the in-season fruit, though we typically annihilate upwards of six or seven of their behemoth counterparts on a weekly basis. We would, I reasonably suppose, also crave cranberries if we were drowning in fresh, bursting blueberries; we'd rob you for your blueberries a couple meals after Thanksgiving. But that's another diatribe story for another therapy session day.
Determined not to let such a relatively hefty portion of apples (at least 1/32 of a bushel) go to waste, I endeavored to divine some use for them. Sitting quietly by was a half-empty styrofoam pack of rosemary, looking forlorn and anxious to be put to good use. Just like that, the stars aligned–no, collided–and in that moment of inspiration, I threw them all in a pot* and came up with something simply, sheerly perfect.
What Makes This Recipe So Good
Rosemary and apples are a shamefully rare combination. Why? The starchy sweetness  of the apples, their suggestion of crisper air and sweater-visits to J.Crew, their blushing pink skins–they pair so beautifully with rosemary, the aroma of evergreen, the rustic herbaceous quality with which they infuse their medium, the deep, piny shade of green. I'll be honest; I had no idea what to really expect at first. But when I tasted that first bite, jutting my chin out over the stove, scraping my teeth over that too-hot wooden spoon, I knew I'd stumbled upon something wonderful.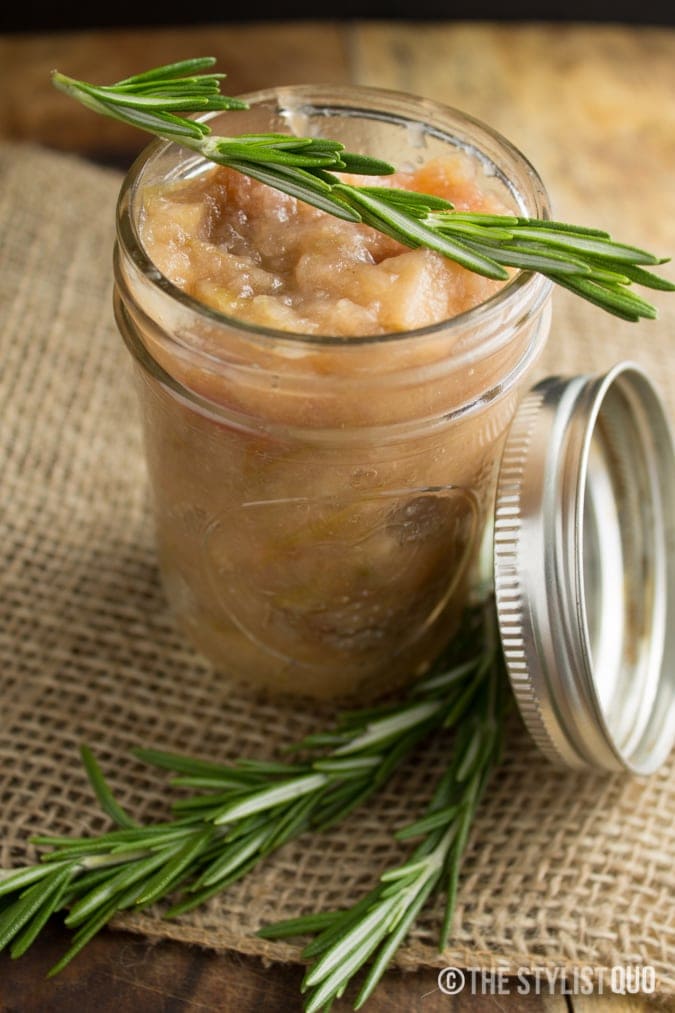 Should You Peel the Apples or Not?
I left the skins on for a rustic quality and boosted nutritional value, but also because, uh, I hate peeling apples. If I invested in one of those counter-mounted apple-peeler and -corers, I'd have to store it in my guest bathroom. We're well-stocked when it comes to kitchen gadgetry, to say the least, though that hardly prevents me from adding "brie bakers" and marble fruit stands to our wedding registry.
You can peel your apples, if you really must, but the skins truly melt down into the warm, herbed apple mixture, leaving only a hint of soft texture.
How To Make It
I also didn't purée my applesauce by any means, but found that they cooked down to a perfect texture on their own. If you're really into smooth peanut butter, smooth applesauce, and other stupid stuff**, you can absolutely purée it using one of two methods:
1. Fish out the rosemary stems and major pieces. Into your blender or food processor, ladle a cup or two of the hot applesauce at a time. Cover the lid tightly (cover the top with a towel before you hold it down for extra super smarts) and blend to the desired consistency. Spoon out into a bowl and repeat until you've blended your entire batch, or
2. Fish out the rosemary stems and major pieces, then blend using an immersion blender until you reach the desired consistency.
You can totally can this, if that's your bag. I'm scared of canning?, so I just.. refrigerate. We'll scarf it down one of the first days we get back, so I have no real FDA-approved guidelines on the life of this recipe. Use your good judgment and sense of smell; I believe in you.
Make this.
You can very easily double or triple this recipe. I wrote it off of exactly what we had, so there's no real objective rhyme or reason to the exactness of the ingredients, except that it was perfect. In every way.
Homemade Rosemary Applesauce
An herbed, satisfying applesauce that's a cinch to make and a perfect accompaniment to limitless dishes.
Ingredients
2

lbs

apples

(about 8 – 9 small or medium, but a kitchen scale comes in handy here), cored and chopped into medium pieces

1/3

cup

apple juice or cider

2

tbsp

heaping tablespoons brown sugar

(or maple or agave nectar)

1/4

cup

juice of 1/4 lemon

sprig

fresh rosemary
Instructions
Combine all ingredients in a heavy-bottomed pot over medium heat and let cook down for about 35 – 45 minutes.

Fish out the rosemary and mash with a large spoon or potato masher to the desired consistency, or use a blender or immersion blender for a finer consistency.

Store in the refrigerator – will keep for at least a week (but let's be honest – I'll keep it MUCH longer. College steeled my stomach)
Nutrition Information
Serving:
10
g
,
Calories:
63
kcal
,
Carbohydrates:
17
g
,
Protein:
1
g
,
Fat:
1
g
,
Saturated Fat:
1
g
,
Sodium:
2
mg
,
Potassium:
117
mg
,
Fiber:
3
g
,
Sugar:
13
g
,
Vitamin A:
65
IU
,
Vitamin C:
7
mg
,
Calcium:
15
mg
,
Iron:
1
mg
,
Net Carbs:
14
g
Number of total servings shown is approximate. Actual number of servings will depend on your preferred portion sizes.
Nutritional values shown are general guidelines and reflect information for 1 serving using the ingredients listed, not including any optional ingredients. Actual macros may vary slightly depending on specific brands and types of ingredients used.
To determine the weight of one serving, prepare the recipe as instructed. Weigh the finished recipe, then divide the weight of the finished recipe (not including the weight of the container the food is in) by the desired number of servings. Result will be the weight of one serving.
*Before said "throwing in pot", I washed, cored, diced, and weighed apples of interest; trimmed said rosemary; and consulted my fearless leader, Ree Drummond, for general guidance on proportions and cooking times.
**Just kidding. Smooth peanut butter is the best! I'll stand under one of those fresh peanut grinders at Whole Foods with my mouth open, I kid you not. I'LL DO IT! DON'T MAKE ME PROVE THIS TO YOU.***
***If you're a marketing representative from Whole Foods: Hi! I would never actually do that, as that is absurd and certainly a health code violation. Please still hire me to be a recipe developer. You won't be sorry! Unless you leave me alone with the peanut butter machine. Then you'll definitely be sorry.. and left with approximately four dozen peanut butter apologies recipes.