Ginger Tea–It'll Make You Feel Less Awfully Full.

Posted: 11/21/12 Updated: 05/13/22
Let's face it. Tomorrow you'll all be out there watching football, frantically trussing turkeys, and making construction paper garlands with the kids. There'll be no time to read a food blog! So I give you, today, my trick to feeling less full or generally awful.
It's called… a vomitorium. Just kidding!
Why You'll Love This Tea
I've been making this tea for years, and it's so, so soothing. It might not make you actually less full, but it'll take the edge off. The ginger soothes the stomach, the hot water helps to flush the stomach, and the liquid stevia doesn't make you feel more full like sugar might.
Relief from that painfully ready-to-pop feeling that Thanksgiving consistently necessitates? Coming right up.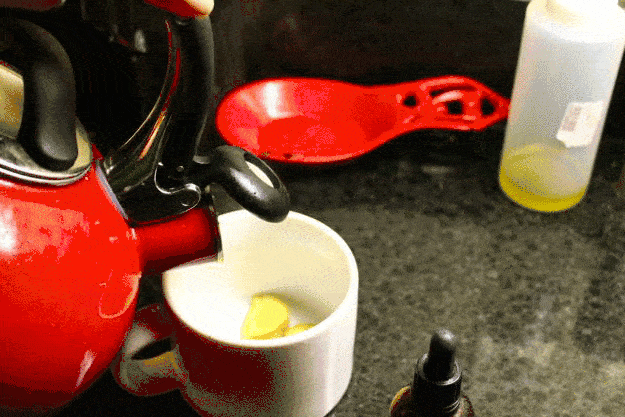 Ginger Tea
Ingredients
Fresh ginger, sliced into thick slices
Liquid stevia or other sweetener
Enough water to fill your mug
Directions
Place two to three thick slices of ginger in the bottom of your mug.
Pour a cup of boiling water over the ginger and let sit for about five minutes or longer.
Add in a few drops of stevia or other sweetener, to taste. I prefer stevia as it makes me feel less full than sugar, but different strokes, man.