Homemade Bath Bombs Tutorial: Simple, Last-Minute Christmas Gift

Posted: 12/18/12 Updated: 05/08/19
What to get someone you don't know that well or someone you know too well? You know, the person that hates everything you buy them? Yeah.
Or heck, what to get yourself after spending too much time worrying about that person that hates everything you buy them?
These bath bombs are fragrant and luxurious, offsetting the drying effects of a hot bath. I fell in love with them when we had a Lush in town, but since its departure, I thought I'd be stuck forever just dreaming of them. Turns out, they're quite simple to make, and you can get the ingredients pretty readily. Additionally, they're much, much cheaper than shelling out $6 each at Lush!
I've taken to making batches for myself, scented to whatever particularly specific mood I've fallen into, soaking in the fizzy, moisturizing water for hours. Remember what I said about those marathon baths? This is just fodder for the habit.
What You Need
1/2 cup citric acid (available at Indian markets, health food stores, and on Etsy/Amazon)
1 cup baking soda
3/4 cup cornstarch
1/4 organic cane sugar (though I just used regular ole sugar)
Food coloring
10 or more drops essential oils
Small spray bottle, about 1 to 2 ounces
Silicon baking or ice cube tray–I used a pyramid mold tray
What To Do
1. Combine all dry ingredients and stir.

2. Sift through a sieve. Don't skip this step!
3. Drop in 10 drops essential oils, then add until you're satisfied with the strength of the scent. Obviously, the bomb will dissolve in the water, weakening the smell, so go a bit strong in the powder.
4. Combine about 15 to 20 drops with about 1 oz. water in a small spray bottle. Begin spritzing them powder, mixing and breaking up any clumps with your hand. Continue spritzing lightly so it doesn't get too wet, which will make it start fizzing.
5. The mixture is ready to start packing when it clumps in your hand when you squeeze it.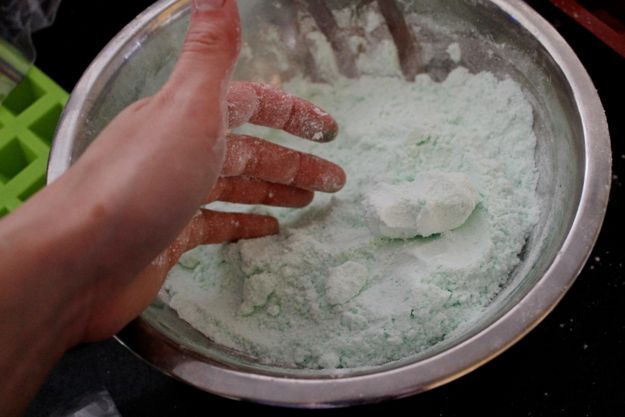 6. Start packing the mixture into the tray. Push the mixture down in so it's packed tightly.
7. Set aside and let dry overnight.
8. Push up from the bottom of the mold to release when totally dry.
Use 1 large per bath or 2 smaller. I also used a teeny tiny tray with the excess mixture and used six of these per bath!
Recommended scent combinations: spearmint eucalyptus, lavender vanilla, orange ginger, honey almond, jasmine clary sage and ylang ylang.