DIY Disinfectant Spray (DIY Lysol Spray with VIDEO)

Posted: 03/21/20 Updated: 09/23/23
Destroy germs with this super-duper easy and affordable DIY disinfectant spray. It's like Lysol spray but cheaper and with simpler, powerful antiviral ingredients. It might look cute… but don't let looks fool you. This alcohol-based spray is a germ killer!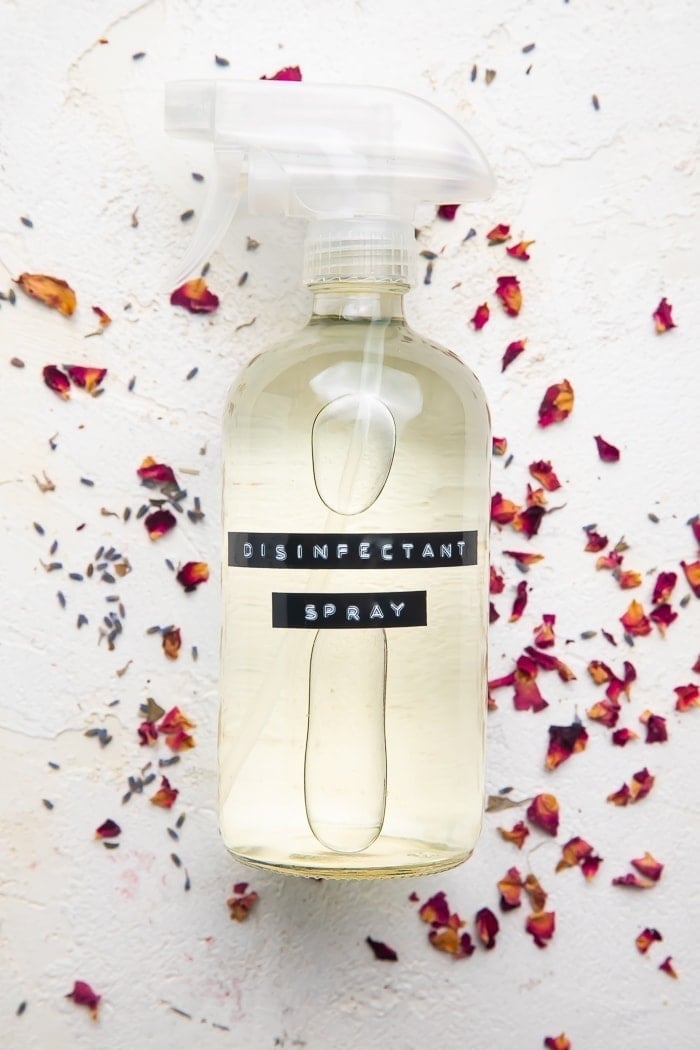 Disclaimer: We are not medical professionals, and we don't play them on the internet. We are not chemical formulators, pharmacists, or anything other than moms who like to DIY germ-fighting household products. This is not medical advice! Use at your own risk.
Make sure to use at least 60% alcohol in your disinfectant spray, or it will not be effective. Studies have shown a minimum of 62% alcohol is effective.
Don't forget to check out our DIY hand sanitizer and DIY Lysol or Clorox wipes, too!
Who else remembers Everclear from college? If only I had known what that 95% alcohol can do to germs… I might not have been drinking it in "hunch punch"!
Let's not kid ourselves. I totally would've still been indulging.
Well… she's back!
In fact, when I went to buy Everclear for this DIY disinfectant spray at the liquor store for the very first time, I told the clerk I hadn't bought any since college. He said,
"Did anyone ever buy Everclear? It seemed like somebody always just had some."
Wisdom. That said: I've been making this super crazy easy and affordable DIY disinfectant spray as my version of a DIY Lysol spray for years. I wanted to share it with you to help you slay germs, too!
Why You Should Make This DIY Disinfectant Spray
It's super effective (AS LONG AS you make sure to use 60%+ alcohol. I use way, way higher.)
It's super cheap! You can find 16 oz. 91% isopropyl alcohol – the bulk ingredient of the spray – for $0.99, making this entire bottle about $1.
It's easy to customize with essential oils. I use a combo of essential oils for scent and for disinfectant and antiviral properties.
A bit of hydrogen peroxide assists in this germ-fighting spray.
What to Use It On
Please don't spray your kids down with this stuff!
Really, though, you can use this on most surfaces. We use it on high-touch areas like sink handles, fridge handles, doorknobs, phones, and remotes (Spraying on a paper towel first), etc.
Ingredients
We use only 4 simple ingredients in this DIY disinfectant spray, each with an important role:
alcohol, preferably ethanol (ethyl alcohol AKA Everclear)
distilled water
hydrogen peroxide
essential oils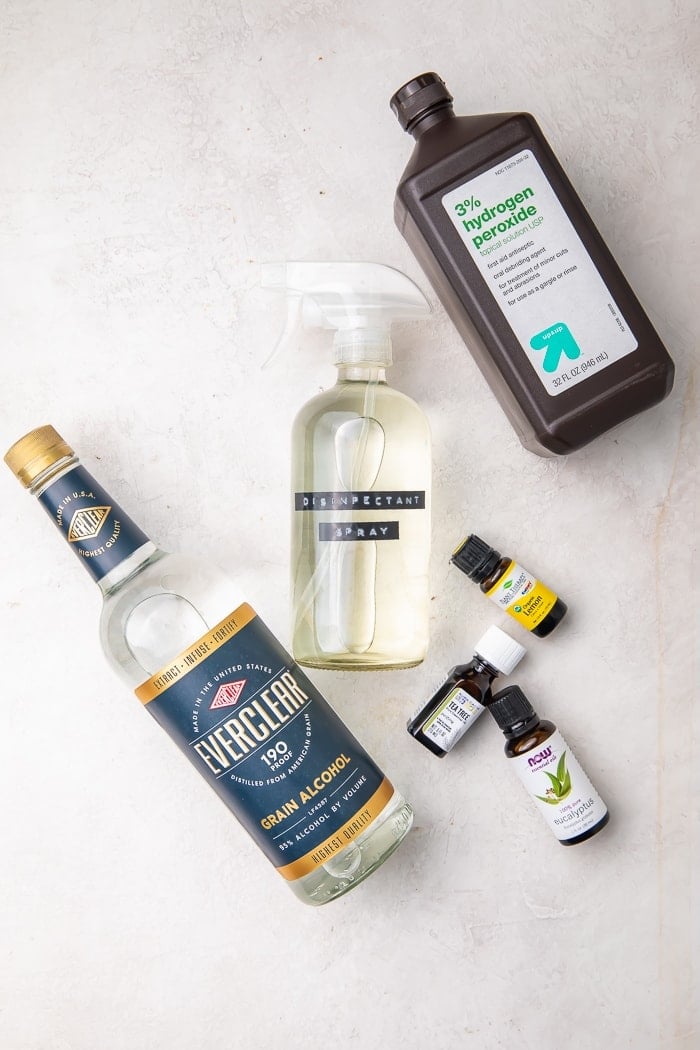 Isopropyl Alcohol or Ethanol?
Which type of high-proof alcohol should you use in your DIY disinfectant spray?
First off, what's the difference?
Isopropyl alcohol and ethanol are both alcohols.
Isopropyl alcohol, or rubbing alcohol, is typically used topically on skin; this is what is usually used in hand sanitizer and alcohol prep pads at the doctor. It's easy and cheap to pick up isopropyl alcohol at places like pharmacies and grocery stores.
Ethanol is the kind of alcohol that is more often imbibed. Say no more!
Both are effective at killing germs, but some research shows isopropyl alcohol is especially good at killing bacteria, and ethanol (or ethyl alcohol) is especially great at destroying virus germs.
So whether you use ethanol (ethyl alcohol AKA Everclear, etc.) or isopropyl alcohol, it really depends on what you're after! We like to use ethyl alcohol during winter.
Use a Little Water
It may seem logical to use pure alcohol for your DIY Lysol spray, but some research actually shows that
"absolute ethyl alcohol, a dehydrating agent, is less bactericidal than mixtures of alcohol and water because proteins are denatured more quickly in the presence of water."
For that reason, we use mainly alcohol in our DIY disinfectant and add a bit of water + a little hydrogen peroxide + essential oils for our mix.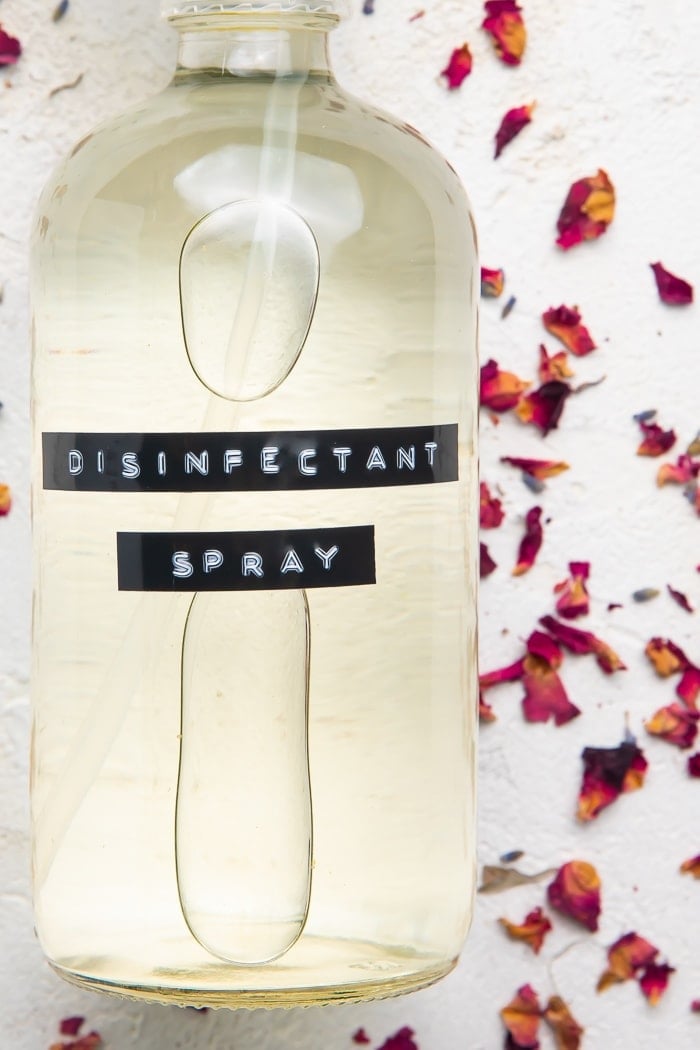 Essential Oils
I like to use essential oils in this DIY Lysol spray for
scent and
antiviral and cleaning properties
I'm not a big essential oil person, although I have dozens of bottles! We use them a lot, but I don't belong to any kind of essential oil sales group. You can check out what Amazon has for organic pure essential oils here, but what you buy is up to you!
Here's a list of what we like to use for antiviral or cleaning recipes (Bold denotes an oil studied for its antiviral properties):
tea tree
eucalyptus
thyme
rosemary
cinnamon
clove
orange
chamomile
lemon
peppermint
lavender
Tea tree, eucalyptus, and thyme were actually studied for their antiviral properties, so we include these in most of our disinfectant blends. Clove, orange, rosemary, and cinnamon are known for their antiviral properties, too.
I also include lemon because it's just the best, no? Not only does it smell clean to me, but a study showed it was actually more effective at decreasing stress than lavender.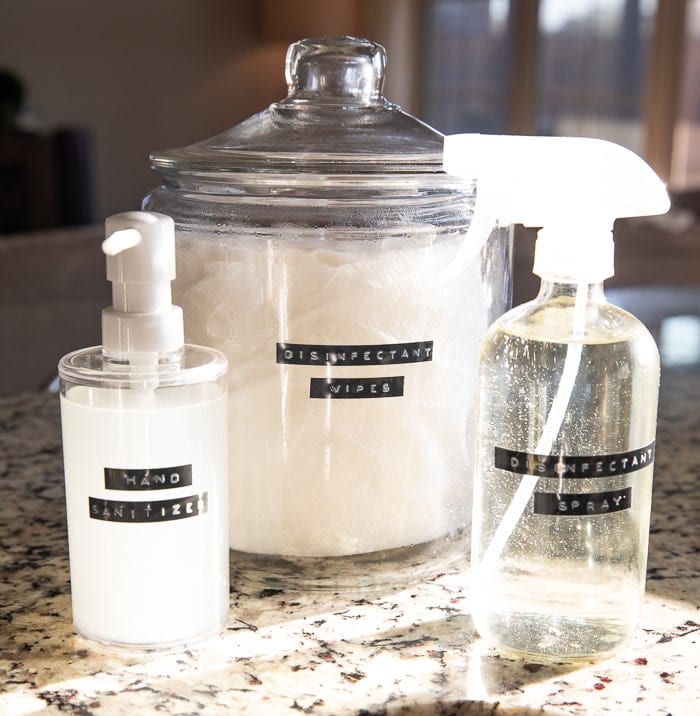 Hydrogen Peroxide
Some research has shown that certain viruses "can be efficiently inactivated by surface disinfection procedures with 62–71% ethanol, 0.5% hydrogen peroxide or 0.1% sodium hypochlorite within 1 minute."
Have you looked at the back of your Lysol spray recently? It recommends letting that stuff sit for ten minutes, but here we have alcohol (ethanol), paired with a smidge of hydrogen peroxide, being "efficiently inactivated" (Heck yeah!) within one minute. All about it!
Note that they refer to ethanol here, too, rather than isopropyl alcohol. For this reason, we personally use ethanol alcohol in our spray, AKA Everclear.
If you're making 16 oz. of spray, that factors to a little less than half a teaspoon of hydrogen peroxide, so a little goes a long way here. Note again that you need a 62-71% ethanol solution for effectiveness.
But How Do I Know if it's 62-71% Alcohol?
It's more complicated than you'd think, calculating solutions, but there's a great resource out there to help you. I asked my mathematician friend to help me out, and he wrote up a very clear explanation of this calculation. Check it out!
In his calculation, we're aiming for about 75% final alcohol percentage.
You can also use this online calculator:
DIY Hand Sanitizer / Disinfectant Recipes calculator – We're making about 16 ounces here, which is 473 milliliters.
I use a little less hydrogen peroxide than this calculator suggests and I aim for a lower overall alcohol content, based on the above data, but you can simply use a bit less and the alcohol percentage will stay higher, MAKING SURE you do end up with at least 60% alcohol content, though. Reminder: it will not be effective at less than 60% alcohol content.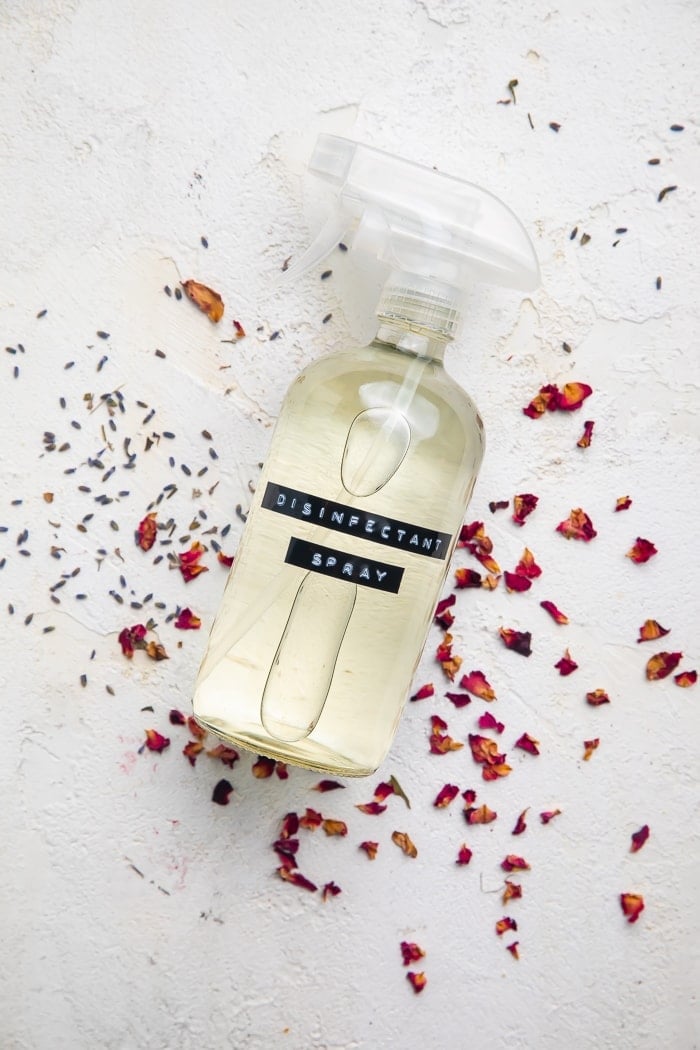 Again, I'm not a chemist, so you should err on the side of strength here. I also recommend ordering a 0-200 proof alcohol hydrometer so you can test homemade hand sanitizer, DIY disinfectant spray, DIY disinfectant wipes, etc.
That's it! Remember: we aren't doctors, and we don't play them on the internet. MAKE SURE THAT your disinfectant spray is at least 60% alcohol, preferably 62% minimum, or it will not be effective.
Make use of this calculator to help you in determining the percentage, and make sure you know the alcohol percentage and type (whether it's isopropyl alcohol, AKA rubbing alcohol, or ethyl alcohol, AKA Everclear, vodka, etc.) of your ingredient.
Can you use vodka in DIY disinfectant?
Yes, but only high-proof vodkas that are 130 proof (65%) MINIMUM, and don't add any water. The higher the proof the better.
How should I use my DIY Lysol?
We recommend using this spray on surfaces, like kitchen counters, toilets, and other high-touch, high-traffic areas.
How long do germs last on surfaces?
Some viruses can remain on surfaces up to 7 days, although some only stay around for 24 hours. Bacteria tend to live on surfaces for a much shorter time, from a few hours to a few days.
What are the most germy surfaces?
Kitchens and bathrooms tend to harbor germs, as do cell phones, keyboards, money, and workspaces.
DIY Disinfectant Spray (DIY Lysol Spray)
This super easy and cheap DIY disinfectant spray (like Lysol spray) is great at killing germs and uses way simpler ingredients than store-bought.
Ingredients
3 ½

ounces

distilled water

½

teaspoon

hydrogen peroxide

30-45

drops

preferred essential oil blend

optional, see Notes

12

ounces

95% ethanol (ethyl alcohol)

more or less as needed to fill bottle, see Notes
Equipment
funnel

16-ounce spray bottle
Instructions
Fit spray bottle with funnel, then pour

3 ½ ounces distilled water

and

½ teaspoon hydrogen peroxide

into spray bottle. Drop in desired essential oil blend if using.

If using essential oils, add

30-45 drops preferred essential oil blend

to spray bottle.

Fill remainder of bottle with approximately

12 ounces 95% ethanol (ethyl alcohol)

. Secure nozzle on spray bottle and close tightly, then shake bottle vigorously to combine ingredients.

Use prepared spray on desired surfaces as needed. Let spray sit on surface 10 minutes before wiping clean.
Notes
95% Ethyl Alcohol: Use a high proof/high percent ABV grain alcohol like 190-proof Everclear, 190-proof Golden Grain, or a vodka that is at least 140 proof. 
Continue to use germ-fighting best practices as recommended by the CDC, such as regular, proper hand-washing, coughing or sneezing into your elbow, etc. Visit their site for more information.
You must absolutely make sure your mixture is MINIMUM 60% alcohol, or it will not be effective. See below for guides to calculate the alcohol content of your mixture.
To Calculate Percentage of Alcohol Content
Recommended Essential Oils
Note: Use just 1 oil or a combination of a few. I don't recommend using all of these in one batch of spray.
tea tree
eucalyptus
thyme
rosemary
cinnamon
clove
chamomile
peppermint
lavender
Tea tree, eucalyptus, and thyme were actually studied for their antiviral properties, so we include these in most of our disinfectant blends. 
Disclaimer: We are NOT chemists, doctors, or medical professionals. We do not play them on the internet. We are simply sharing a recipe for an alcohol-based cleaning spray that we've used for years and hope others will enjoy.
Number of total servings shown is approximate. Actual number of servings will depend on your preferred portion sizes.
Nutritional values shown are general guidelines and reflect information for 1 serving using the ingredients listed, not including any optional ingredients. Actual macros may vary slightly depending on specific brands and types of ingredients used.
To determine the weight of one serving, prepare the recipe as instructed. Weigh the finished recipe, then divide the weight of the finished recipe (not including the weight of the container the food is in) by the desired number of servings. Result will be the weight of one serving.