Creamy Risotto with Leeks by Melissa Belanger of Teaspoon of Happiness

Posted: 04/30/14 Updated: 01/27/20
You guys, can you believe it? Today I have another amazing guest post to bring you while I'm recovering from our honeymoon (which was amazing, by the way. Hold tight for pictures!). I have no idea how I'm friends with such incredible bloggers who took time out of their busy schedules to write up beautiful recipes for my readers, but I'm not going to question it! Today's recipe comes from Melissa Belanger of A Teaspoon of Happiness and Love in a Suitcase. She has such an interesting story and fasincating life to follow–here's a spoiler: her hubby is a pro hockey player, and they bounce all around the world following his teams! You'll love Melissa's recipes, because they're delicious without being overly complicated, and her photos are positively gorgeous. Make sure you check her out!
Hi guys! I'm Melissa. I blog over at A Teaspoon of Happiness and Love in a Suitcase. I'm so happy to be here guest posting while Cheryl is traipsing through Europe on her honeymoon. Cheryl and I met through comments on our blogs, and we bonded over having lived in France, our love for trashy TV – I mean, who doesn't love Scandal? – and so many other things. We quickly became friends, and I love reading her posts. She's an amazing writer and always so descriptive when it comes to her love of food. Plus, it doesn't hurt that her recipes and photos are awesome.
So while her and O are off enjoying the warm weather in Florence and eating croissants in Paris, I'm here in Wisconsin staring at snow and cooking something delicious for you. I've been stalking her photos on Instagram already, so I know she's having an amazing time. The pictures are making me really homesick for tartare de boeuf and a big glass of Bordeaux. #jealous
While I was living in France, I found one of the most surprisingly common ingredients there was leek. There were always so many leeks at the markets and grocery stores, and I grew rather fond of them in my three years there. I think they are seriously underrated on this side of the Atlantic. So I try to use them whenever I can. Their subtle flavor perfect for a dish like risotto because it doesn't overpower the creaminess.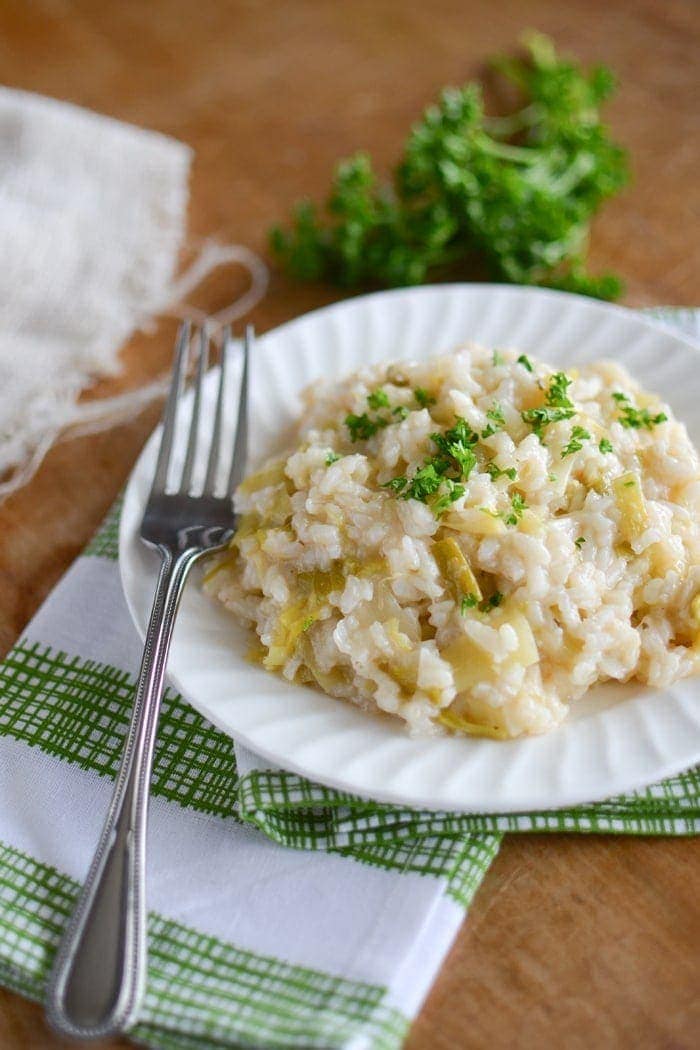 If you've never made risotto before, the key to getting it nice and creamy is taking your time and stirring consistently. You start with a base of sweet or yellow onion and once they're nice and translucent, you add in the leeks. It takes a while to soften them up, but trust me, it's worth the wait. Once the leeks are softened, you really just proceed with your regular risotto routine. Typically, I add about a half a cup of liquid at a time.
Want another quick tip? Keep your broth at a simmer in a separate pot on the stove and use a ladle to transport your additions to your pan. Keeping the liquid warmed makes it easier to absorb and makes the cooking process take a little less time.
[yumprint-recipe id='44']