Budget Gourmet Meal Plan #6

Posted: 10/09/13 Updated: 12/31/22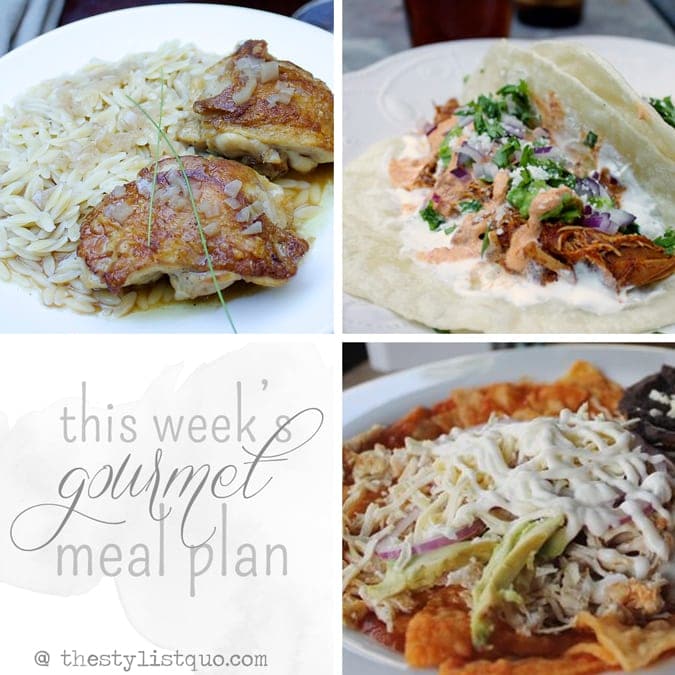 Another unusual week. We got too full on our anniversary dinner to need to cook up the filet mignon we'd bought, so we saved it for the next night (the first day of the meal plan week). A friend also asked us to join her hubby's surprise birthday dinner, so we saved a few chicken pieces that were part of the meal plan for next week.
This week we spent
$55.07,
but not really. We sanctioned off separate money for our anniversary dinner, but since we ate them during "meal plan week", this meal plan includes those filets! Go wild! If you spent only this much every week for four weeks of the month, you'd only spend $220.87 on groceries. Dang! Buy yourself those flare jeans you've I've been wanting. You earned it.
The Meals
1. Filet Mignon with Béarnaise, Sweet Potatoes, and Salade Verte with Authentic Dijon-Tarragon Vinaigrette
The anniversary dinner that lasted a weekend: leftover filet, Hereford, costing us $15.00. I'm counting it dangit! I cooked the filets in a 200 degree oven for about 20 minutes then seared in a super-hot cast iron skillet with a bit of butter for about 2 minutes per side. Use tongs to gently poke the meat – this is your best test of its doneness. I use Julia Child's recipe for béarnaise (though I broke it during anniversary dinner-night [what O calls a "too-ambitious" dinner] – to fix, I whisked one room-temperature egg 'til thick, then gradually whisked in the broken sauce, drop by drop, like a homemade mayonnaise. Perfect!) and whisked in some extra chopped tarragon to my authentic Dijon vinaigrette.
2. Crockpot Chicken Tacos with Refried Black Beans
Making the Crockpot cool, these chicken tacos are everything you'e ever wanted. We topped them with a quick mashed avocado (with lime), red onion, cilantro, chipotle aïoli, and cotija cheese. Refried black beans, for us, come from a can, because they're delicious, but you could easily whip up a batch in the Crockpot earlier in the week. Try this simple recipe to make your own, but add some bacon.. Trust me.
My Crockpot chicken tacos recipe is my #1 all-time most popular post.. and I know why (it's delicious.. that's why).
3. Seared Chicken Thighs with Shallot-Wine Pan Sauce over Orzo and Veggie
A classic, classic dish that's so, so satisfying. Follow the directions for my pan-seared chicken thighs below the chilaquiles recipe. When the chicken is resting, in the same pan sauté 2 tablespoons finely minced shallots for 1 minute, or until soft. Add in 1/4 cup white wine and deglaze the pan, reduce to about half. Then add in 1/3 cup chicken broth and reduce to about half. Whisk in 1 tablespoon cold butter to emulsify. Place the chicken over a portion of cooked orzo and pour the sauce over. Ta-da!
Can you believe we get two hearty dishes from two chicken breasts? We save some of the chicken from the tacos to throw in with our chilaquiles, and we use those leftover tortillas to fry up for the base of this awesome dish. Haven't tried it yet? Get on it! What's wrong with you?! This is a sort of everything-but dish, in which you can throw anything that sounds good. Got beans on hand? Add them. Cilantro? Add it. Chipotle peppers? Add 'em. Mushrooms? Green onions? Spinach? ADD IT ALL! I'll be standing by in the corner, wiping away a tear, like a proud dance mom.
Check out my chilaquiles recipe. Sub leftover salsa roja for the salsa verde in the recipe.
5. Grilled Cheese with Bacon & Apple and Creamy Tomato-Basil Soup
O gets this Men's Health calendar that features a dish that's supposed to healthy (?) on each month. And each month, he decides we have to try that dish. Because obviously, I put no work whatsoever into the meal plan and serve us all only tremendously unhealthy food, but alas. He's claimed he'll actually be making this one (sans the soup, I imagine), so I figure it's a good bit of encouragement.
We're using slices of my homemade Amish white bread loaf and smoked gouda. I mean.. sounds pretty alright, doesn't it?
I'm using Ree Drummond's tomato soup recipe.
The Receipt
Want to see where our money actually went? Check out our receipts, in handy-dandy spreadsheet form!