"Seriously. They could be telling me I have three months to live and it'd be hilarious."
– My mother.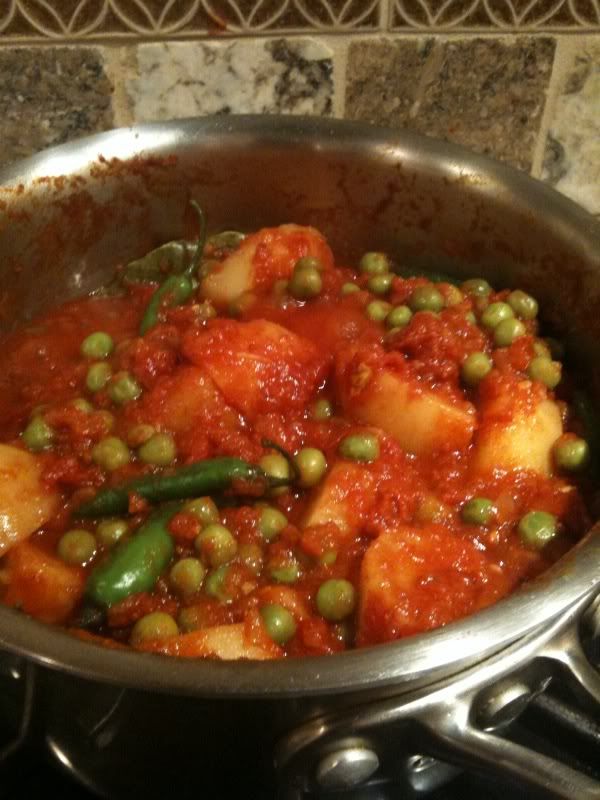 Today I discovered a wonderful little Indian market randomly tucked away in the suburbs. I spent a ridiculous amount of money on three types of lentils, hoards of frozen samosas, fresh paneer, and other amazing condiments I was previously unable to find. Oh, yeah. And that Cadbury Dairy Milk I absolutely had to have…
On this ethnic grocery high, I decided to try out "International Bazaar" down the street. No qualifier, just.. international. I popped in, and it was empty. A moment later, a burly–and silent–Russian man meandered out of the back and kept an eye on me at all times. While scowling. I couldn't read anything, kinda figured there were fish in the cans with pictures of fish on them, realized I wasn't in the market for canned fish, and.. left. But the Indian market was good!
When I got home, I decided to not use any of it, but make Indian anyway.
Well, OK, I lied. I used my shiny, new ginger garlic paste, but that's it, I promise.
I made aloo matar–potatoes and peas in a tomato-y sauce–which I used to eat all the time when I was vegetarian. It's simple, healthy, and delish. I even made it in just one pot, because I'm lazy. I probably should've made some basmati rice to go with it, but that would've required pushing the meal back the extra twenty minutes it would take to make it before starting everything else. Yeah, I'm that lazy.
But I am NOT lazy when it comes to adding chilies to a dish. Seriously, this baby is on fire. Like this one, the one typing. Yowza. Deep breaths. Might even go grab some milk….
But I'm too lazy. I think, instead, that I'll just stuff myself with potatoes and peas and watch this video.. And decide for myself..
[youtube=http://www.youtube.com/watch?v=_DyUUjsonDE&feature=PlayList&p=A8315588A76BC30B&playnext=1&playnext_from=PL&index=28]
Aloo Matar
Ingredients:
5 medium red potatoes, peeled, cut into bite-size pieces, boiled, and drained
2 tablespoons vegetable oil
1 medium onion, chopped fine
1-2 small chilies, chopped fine (I threw both the onion and chilies in the food processor)
1 tablespoon ginger garlic paste
2 bay leaves
2 cups crushed tomatoes
2 cups frozen green peas
1 teaspoon white salt
1 1/2 teaspoons garam masala
1 1/2 teaspoons paprika
1 tablespoon turmeric
1/2 teaspoon ground coriander
1 teaspoon salt
chopped cilantro for garnish
Directions:
Forward by Author
Be like me.. lazy.. And boil the potatoes, drain them, and set them aside, then use the pot for the rest.. or just do it while you do the rest of the stuff.
Actual Stuff
1. Sauté onions, chilies, ginger garlic paste, and bay leaves in oil until onions are soft.
2. Stir in spices, then peas and tomato purée. Heat through.
3. Toss in potatoes and mix in til coated well and all evenly hot. Season to taste and cook til desired consistency.
4. Sprinkle with cilantro and serve with hot basmati rice if you're not as lazy as I. Maybe even some naan, dare we dream…
Note: I added loads more chilies slit down the middle, as well as cayenne and chili garlic paste. Yeah, I know. I'm insane. But it's soooo tasty! Nom nom.
0