To make the microwave caramel featured in these stellar little muffins, check out this full blog post.
I dreamed up this recipe in my head like many others, lying in bed next to O, trying to sleep, but being able to think of nothing but food. Last night, during this gastronomic reverie, I dreamt up a layer cake–apple cake and caramel frosting (borne assuredly from these muffins), but with a crisp bacon round in between two layers of frosting as filling. I mean.. huh? Before that, I thought, why can't we put chorizo and cilantro in wontons and make a Mexican wonton soup?
Recently, inspired by the massive influx of fall-related pins on Pinterest, I decided I had to combine two of my favorite autumn flavors for a luxurious treat, perfect for crisp mornings next to a cup of coffee.
Using apples in baked goods turns out this perfectly dense and moist texture that tastes so natural, instead of "how-much-oil-did-she-possibly-use-to-get-this-texture?"-dense.
The little balls of salted caramel are the real surprise and treat, though, and just how easy they are to make heightens these little buggers to Christmas miracle status. Seriously. If you missed my post last week about the process, check it out now. You mix a few things in a bowl, microwave it, cool it, and there you have it–chewy, rich, and slightly salted gobs of total glory. It couldn't be easier, and that's what turns these apple pie muffins less of a weekend-to-do-list treat into a weekday indulgence.
You'll love these apple pie muffins because of the sweet, yet slightly tart, spiced, moist cake, and how it pairs with the rich and salty chewiness of the caramel. Combine that with the texture of the spiced apple pie crumble on top, and you're in love!
To stuff the muffins with the caramel, roll the cooled caramel into about teaspoon-size balls. It helps to wet your hands every so often to prevent sticking. Once you've scooped the muffin batter into the muffin cups, press the little caramel balls into the center of the batter. I then used a small offset spatula to cover up the caramel with a thin layer of muffin batter. The apples make this batter pretty darn thick, so they may not cover up the caramel filling on their own, but I didn't test it. Either way, that step is totally not necessary at all, but go for it if you like.
Before eating, pop them in the microwave for about 10-15 seconds to warm the caramel back up and reinvigorate the apple pie topping. Delicious!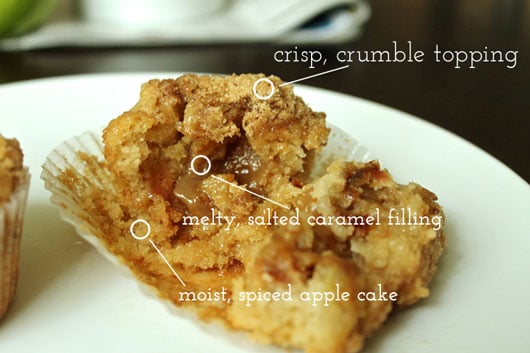 [yumprint-recipe id='3′]
10