But seriously. You wish you lived with me. If I were better about unpacking and cleaning, that is. But otherwise, you wish you lived with me.
We had a general housewarming/hooray Austin party last night that also conveniently celebrated one of my roommate's birthdays. She's particularly fond of salsa verde, and I'm particularly fond of making people like me without using my very charming personality, so I whipped up some of the stuff.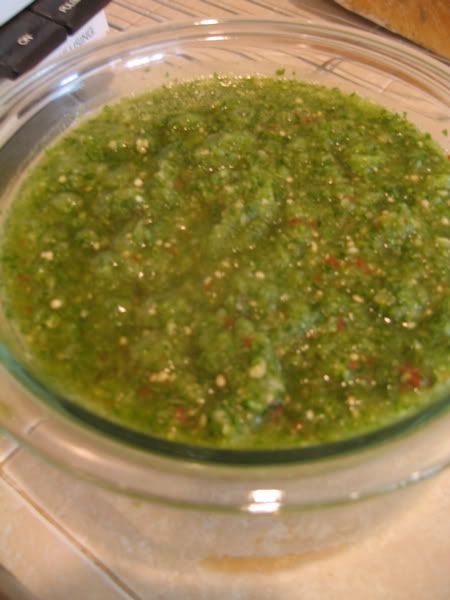 Let me just take a moment, however, to give up some praise. You there, Fiesta? It's me. I just wanted to say thank you for all you do for me. You may not have galangal or lemongrass, but you do have serranos that cost me $0.03 and what? You have palm sugar? I wish you had told me before I bought that massive jar of the little patties at the Asian Market, because we all know I won't actually use them all in soup or curry, no. I'll just end up watching I Dream of Jeanie and popping them in my mouth. It's OK, Fiesta. I forgive you. But please, never lose faith. Onions for less than a quarter reaffirm my hope for humanity. All because of you, Fiesta.
Yeah. I love Fiesta. Sure, you can't get everything there, but if you're a massive Mexican food freak like I am, being able to get a pound of tomatillos for under a dollar and then some banana leaves just because and some prickly pear fruit because it reminds you of the time your sister was learning to ride her bike in Phoenix on your circular drive lined with prickly pear and your dad turned his back on her for one second and then she fell into the cactus haaaahaha.. I mean.. no, that was very sad. Either way, all of those things makes Fiesta a marvelous place.
So, I set out for my wild salsa verde adventure based generally on an acquired knowledge of the stuff. I'm not a huge, huge fan of salsa verde, so I don't have the measurements down to a precise science like I do with my salsa roja, but it worked. In fact, I liked it quite a bit, and so did the roommate. And apparently all of our partygoers. It's a super simple recipe, super easy to throw together in a food processor. Highly recommended.
All the stuff you need, minus that extra jalapeño, which was used to spice up the salsa roja. Trust me, you do not want more than one serrano in this salsa. Trust. Me.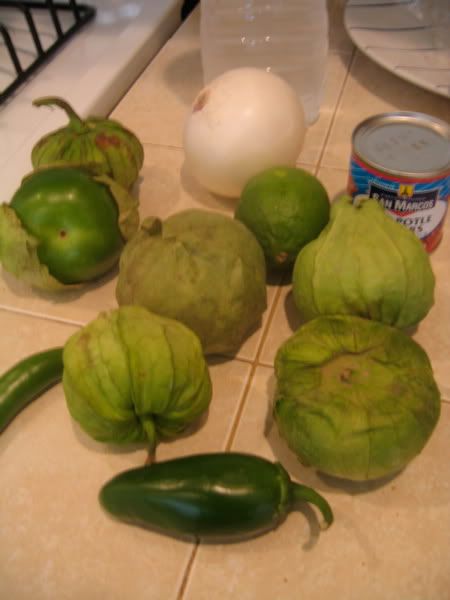 Check it out. If you haven't used tomatillos, first of all, you should. They're soooo green and mysterious in that little husk. I'm pretty sure they're related to gooseberries, not tomatoes, like everyone thinks. Look how weird they are, like Mars' tomatoes: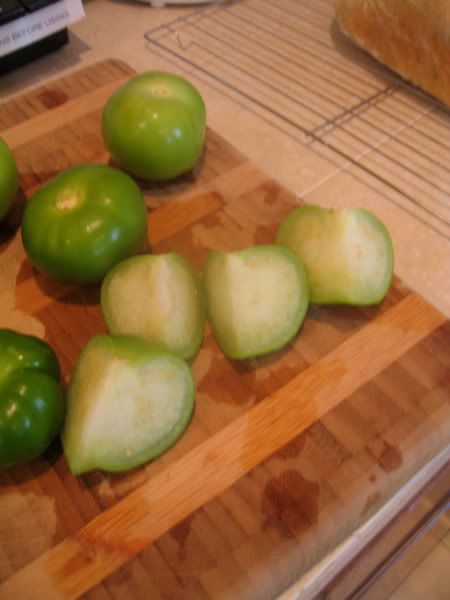 Salsa Verde
Ingredients:
1 pound tomatillos, husk removed and washed then quartered
3 cloves garlic
1 serrano pepper
2 chipotle peppers in adobo
1 loose cup cilantro leaves
1 medium white onion, kinda chopped
Salt
Directions:
Throw all ingredients in a food processor and blend til pretty smooth. Salt to taste and let chill for a few hours. Allows the flavors to blend.
Thanks to Fiesta, next up is going to be a copycat attempt at my faaaaavorite salsa of all time, this stuff they serve at this little Mexican place on West Adams in LA. It's pale green and creamy, kinda tart, but really liquidy. I'm assuming it's got avocado and tomatillo in it, but who knows? All my pleas to friends still living in LA to go beg for the recipe have failed.. Unless.. you.. live in LA….
0