was more of a culinary autopilot.
I've been making this salsa for at least two years now, but it's become something of a favorite–nay, necessity, in my.. surroundings.
Back at college, my friends always willingly hung out at my house, knowing that in return for such convenience, I'd have them stocked on the stuff. In Paris, I chopped everything by hand into tiny, tiny pieces, and as a going-away present, I gave the girl who drank the salsa from a wine glass… like it was, well.. wine, the recipe. Back at my parents' house, it is literally one of my duties to keep at least half a gallon around at all times. Whatever would we do if some family dropped by and there were no salsa to feed them? Oh, quel horror!
But hey, I can't blame them. Check out the story of how I even got the recipe: So, I have my profile up on recipezaar.com, of course, and at the bottom of my page, it said my ultimate goal was to create a copycat recipe of this particular restaurant's salsa.. My absolute favorite food in the world. Well, apparently a fellow student at my university had randomly made one of my recipes, liked it, checked out my profile, and, it being Christmas and all, decided to get the recipe for me. It took a little tugging at the heartstrings of the woman who runs the restaurant, but lo and behold, it came my way. What can I say? It's utterly delicious.
The thing about this salsa is that it combines fresh ingredients with cooked ingredients, unlike most salsas which either all meld together in a big pot, or are all raw, like a pico de gallo. Combining the two gives it a depth that's to die for. It's not a chunky salsa, but chunky salsas just remind me of the crappy El Paso I shelled out 5€ for in Paris, out of utter desperation. You should see me try to go longer than a few days without Mexican food..
It ain't pretty.
Check it out: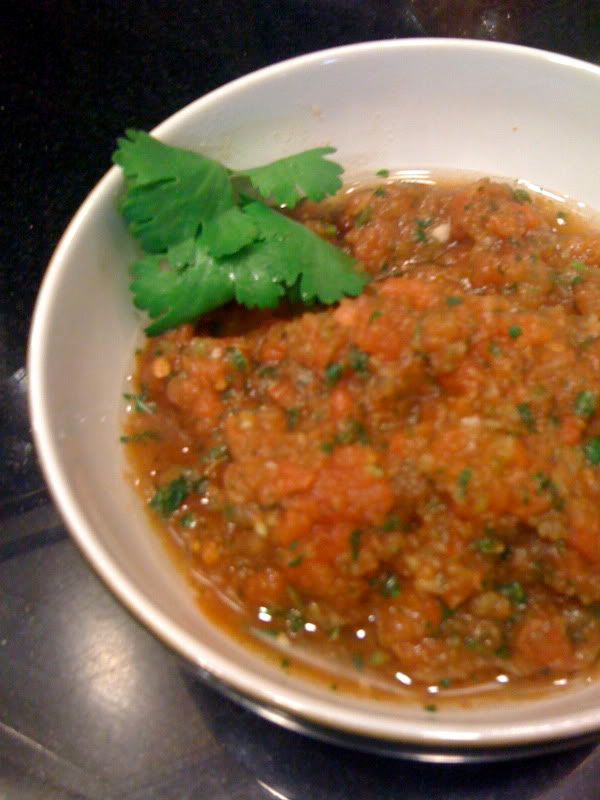 Ingredients:
4 cloves garlic
2-3 jalapeños, quartered
1/2 bunch cilantro (or a bit more)
.5 pound yellow or white onion, cut into 1″ pieces
.75 pound roma tomatoes, cut into 1″ pieces
3 14 ounce cans diced tomatoes, drained
2 teaspoons salt
Direciones:
Throw garlic, jalapeños, and cilantro in a food process and blend til pretty smooth. Toss in onions and blend til pretty smooth again. Throw in fresh tomatoes and chop til no big chunks of tomato.
Transfer mixture to the bowl in which you'll keep it. Dump in all canned tomatoes and blend with an immersion blender until desired consistency. Mix in salt and refrigerate for an hour. Taste and salt to taste.