success!
So, we had corned beef and cabbage last night but only used half a head of the stuff. Any time there's cabbage lurking around the house, I get tempted to use it for the classic diet cabbage soup.. Lying in bed late last night with my sleep mask on, I was inspired by, yes… curry.
This soup is one of those "everything but the kitchen sink" sort of deals.. I'll throw in pretty much any vegetable we've got, which can range from everything from green peas to okra to yellow bell peppers.
Today I started with the basics.. cooked some diced onion, garlic, and jalapeño in a little bit of oil until they were a bit soft. Then I poured in what was left of the gooooood good chicken stock I used the other day for broccoli cheese soup, added a can of that double strength Campbell's beef broth, and another carton of chicken broth. Dumped in the half head of cabbage, quartered, plus a can of drained diced tomatoes, and a packet of onion soup/dip mix. I headed for the purple green beans (Contradiction of terms? Perhaps not, since, to my chagrin, they turn green upon cooking. Boo.) I bought at the farmer's market recently and threw those in. What the hell; why not? I chopped up what was left of the cilantro from the salsa yesterday and threw that in. Some frozen green peas and then the magic.. Curry. Ohhhh curry. I probably loaded about a third of a cup into that soup, but granted, it's a big ole pot.
I've tried all sorts of international variations on this soup, but this is, by far, the best. Something about the cabbage and the curry and the tomatoes just.. works. It's spicy, for sure, but you could leave out the jalapeño, I suppose. This is diet food that doesn't taste like diet food.. and lets you eat loaded pizza for dinner. Win. If you weren't worried about calories, some potatoes would be bomb in there. Or.. if you hadn't used all the potatoes last night.. Oh, and the curry powder turns the cabbage this fantastic yellow, almost like you'd thrown turmeric in. Which.. might not be a bad idea.. Hmmmm..
Cooking (Note the awesome purple green beans):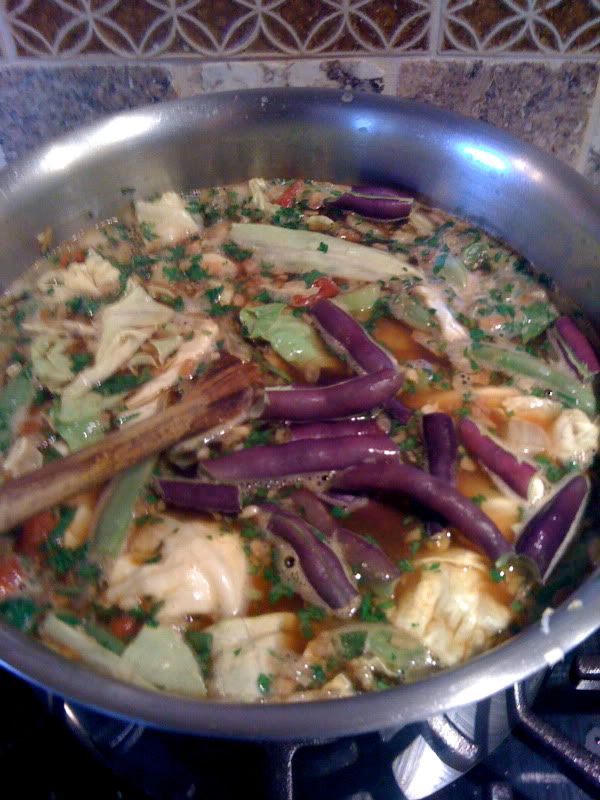 Eating: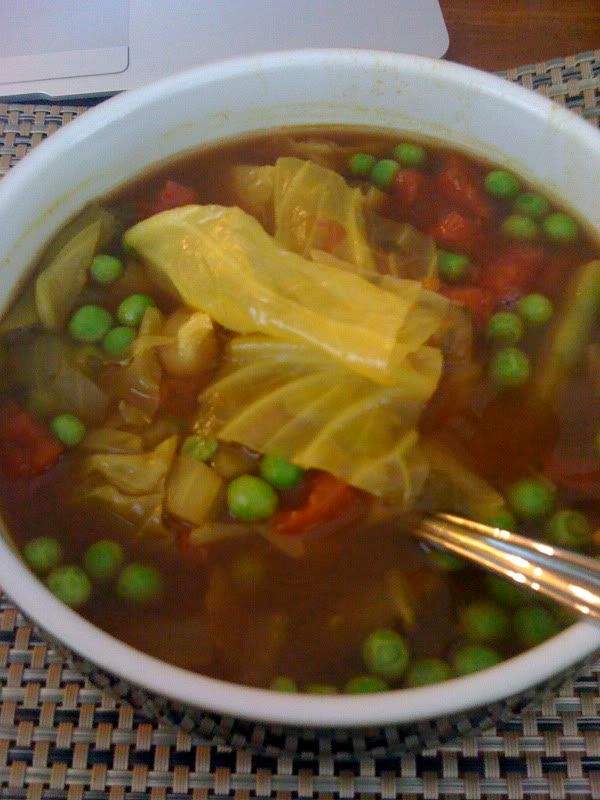 Ingredients:
1 t oil
1/2 onion, chopped
4 cloves garlic, finely chopped
1 jalapeño, finely chopped
1 32 ounce carton chicken stock
1 12 ounce can beef broth
1 packet Lipton onion soup/dip mix
1/2 head cabbage, quartered
1 C fresh green beans (Or really any other vegetable that sounds good.. okra, mushrooms, bell pepper.. Go wild)
1/2 C (Or more, depending on taste) green peas
1/2 bunch cilantro, chopped
2 t garlic salt
1/4 cup curry powder (More or less, depending on taste)
Directions
Fry onion, garlic, and jalapeño in oil until the onions are softened. Cover with stock and broth and mix in onion soup mix. Throw in cabbage and add more chicken broth, if necessary, to cover. Add in green beans and bring to a boil, then immediately turn down heat to a simmer.
Add in the garlic salt, and then two tablespoons curry powder. Taste, and continue adding curry powder to your liking. Throw in green peas, warm, and serve.
0