When the weather begins to cool a bit and the humidity slowly disappears from the air, I begin to crave woodsier herbs in my food, and rosemary fits the bill perfectly. In my warm weather dishes, I almost always opt for a more delicate, brighter herb, like cilantro or dill, saving rosemary and sage for fall and winter. Since it's not frigid out just yet, though, I was still craving a light, buttery sauce when I came up with this dish. White wine, butter, garlic, rosemary.. is it possible to go wrong there?
Have you ever had beurre blanc? A classical sauce, for culinary school graduates the days of beurre blanc are the equivalent of the days of calculus and geology 101 (ughhh) for most Philosophy majors (represent). Literally French for "white butter", beurre blanc is essentially emulsified butter in a shallot-infused wine and lemon juice reduction with a touch of cream. Sound rich? Sound delicious? It totally is.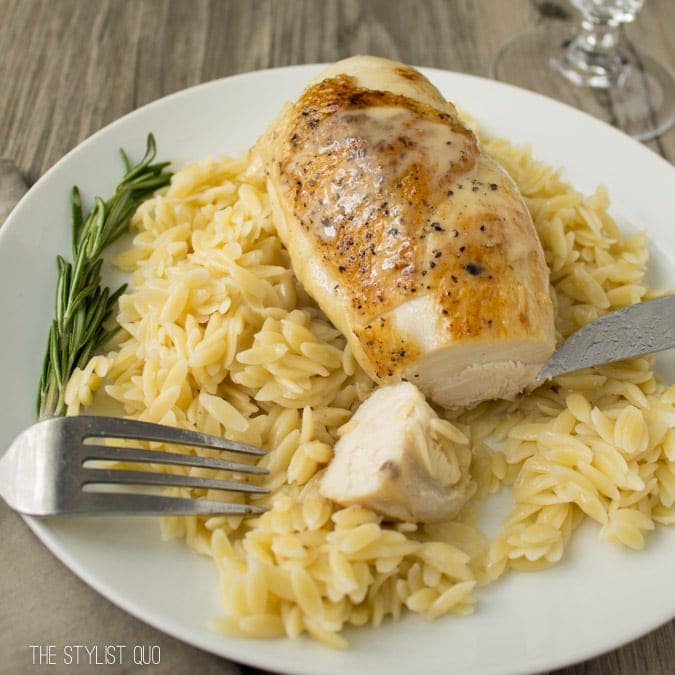 However, beurre blanc tends to involve, oh, at least twelve tablespoons of butter per batch, and if you're "sauce people" like we are, one batch feeds.. two. That's approaching a stick of butter per person! Fine for "sometimes", but sometimes we'd prefer a sauce that's still rich and decadent, but a bit lighter.
Enter my vin blanc au beurre. Literally French for "I made this up" "white wine with butter" I blended a traditional pan sauce and classical beurre blanc by increasing the liquids of a pan sauce and viewing it as my reduction base for cold, cubed butter. I only used four tablespoons of butter, and we ended up with much more sauce than your average beurre blanc. The technique consisted of sautéeing garlic in the deliciously savory browned bits and cooking fat left in the pan in which I roasted the chicken, then deglazing the pan with a relatively large amount of white wine, letting it reduce, adding homemade chicken stock and rosemary, letting it reduce, then whisking in cold butter, tablespoon by tablespoon over very low heat to emulsify.
I always brine my chicken, since I use a quick brine that takes only a couple hours, and it comes out perfectly cooked, moist, and tender each and every time. However, I recommend using an in-oven thermometer with a probe to monitor exactly when your chicken is done so you don't overcook it, a white meat national disaster. I linked my absolute favorite–I can't live in the kitchen without one anymore!
Make this.
[AdsWithin]
Chilled Avocado Soup
2014-05-22 14:58:46
Serves 4
A refreshing, yet rich avocado bisque, balanced with a bit of bright lemon and a dash of spiciness. Perfect for summer entertaining.
Nutrition Facts
Amount Per Serving
* Percent Daily Values are based on a 2,000 calorie diet. Your Daily Values may be higher or lower depending on your calorie needs.
Ingredients
2 medium avocados
1 1/2 cups water
1 cup almond or other alt-milk (not coconut here!)
2 tablespoons lemon juice
2 1/2 teaspoons seasoning salt
1 medium tomato, chopped
8 lemon slices
1 dash red pepper sauce, or cayenne pepper, to taste, if you prefer spicy foods
Instructions
Peel avocados and press through a fine-mesh sieve. Scrape all of the sieved avocado flesh from the back of the sieve--precious stuff!
Stir in the rest of the ingredients, except for the tomato and lemon slices. Place in the refrigerator in an air-tight container until ready to serve. Ladle into serving bowls and top with chopped tomato and lemon slices.
Adapted from Aric Ross
40 Aprons http://40aprons.com/