OK, let's face it. I can't stand those cakes that have berries strategically placed so it turns out looking like an American flag. Groan. I was put in charge of dessert for our 4th of July dinner, and that was not an option. So.. what else, then? How about.. red velvet cupcakes with cream cheese icing and blue sprinkles? Anyone? Anyone? Sold!
I like to fancy myself a mini-Martha Stewart/Ina Garten type, you know, with the white cupcake liners vs. the ones with flags all over them, or the butcher paper and red satin bow vs. wrapping paper with cartoon Santas all over. Even though Ina makes those dreaded flag cakes, I'll forgive her. I figured the red cupcake + white + blue sprinkles (And god knows, I love sprinkles guiltily and without reason) would pass the class test.
We headed out to the store to get the necessary evils for this concoction, and, since I had friends coming over a mere hour later, I let my mother talk me into buying a boxed mix and then making frosting from scratch. They were out, of course, with none in the back (Yes, we got a loudspeaker confirmation). So, frantically twiddling away on my iPhone, I found a recipe that I thought sounded good. Til I decided it didn't sound good. Til I decided that one didn't sound good. Finally I settled, and we ended up with an extra box of cake flour and an extra tub of shortening. Tant pis!
The recipe labeled these cupcakes as basically massive, but I had tiny little cupcake tins and didn't really fancy the idea of eating a cupcake with a.. knife and fork. Isn't half the fun getting to eat it over the sink, letting all the crumbs fall off of your face? Yeah, I thought so, too.
It was easy enough, the recipe, but there was no guideline for how high to fill the tins.. I had utterly no clue how high they would rise. Consequently, I went a little uh.. pour-crazy and had to perform a bit of minor surgery to get most of the cupcakes out of the pan. But no major disasters.
The batter was phenomenal, as was the icing. The batter had a strangely low amount of cocoa in it, but I'm not a huge fan of chocolate cake anyway. And I don't like ketchup. I KNOW. I'm an anomaly.
Overall, these cupcakes were utterly beautiful and fit the bill perfectly. When I make them next time, I might add a bit more cocoa, or even some sour cream, to super-densify the cake. More importantly, I halved the icing recipe and still had loads left over. Definitely half the icing. Overall, they were a huge success with the fam.
Batter: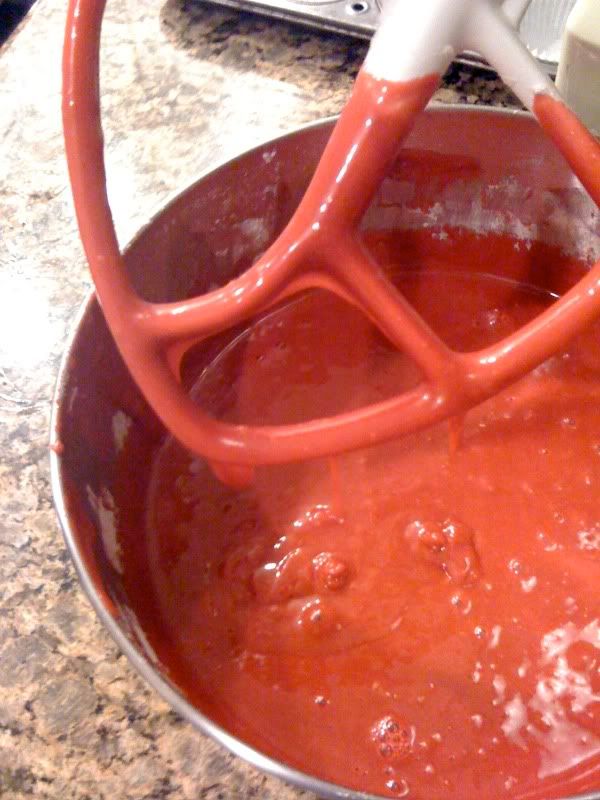 Baked: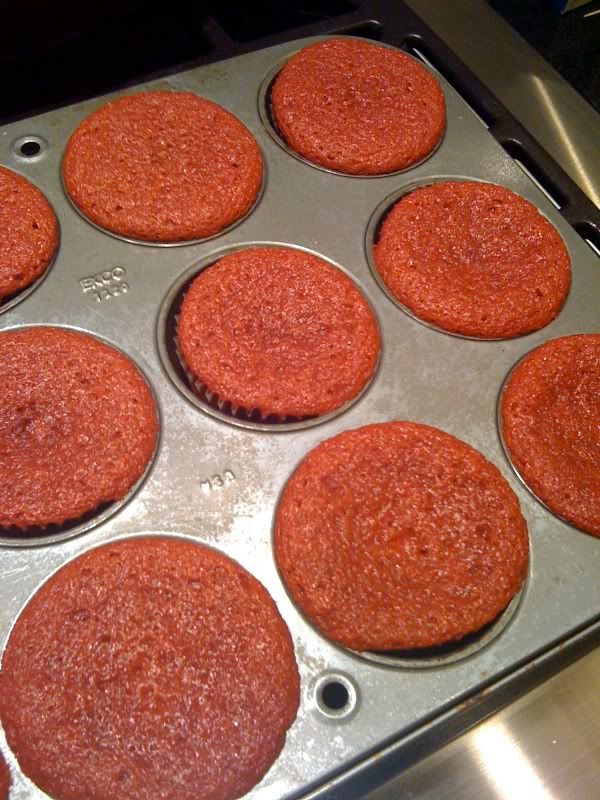 Finished: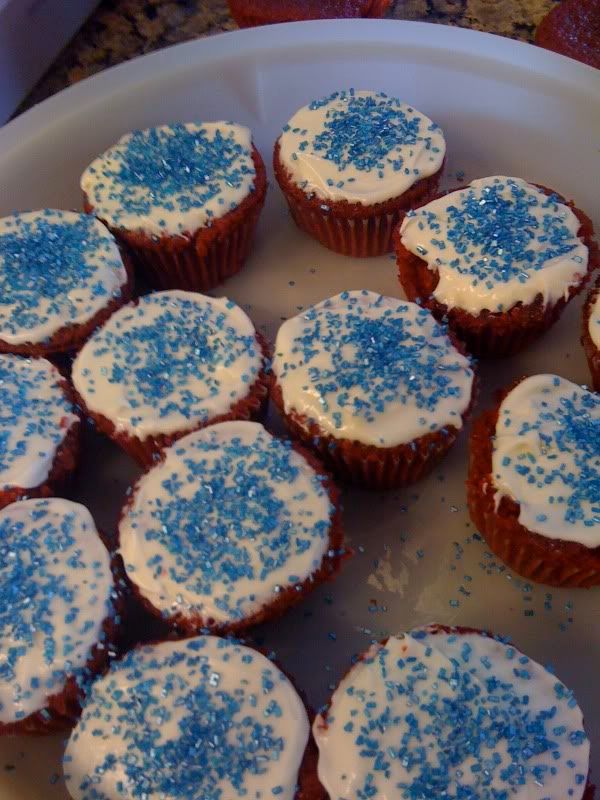 From Bobby Flay throwdown showdown whatever thing.
Ingredients:
3 cups all-purpose flour
1 1/4 teaspoons baking soda
1 1/4 teaspoons salt
1 1/4 teaspoons unsweetened cocoa powder
1 1/2 cups vegetable oil
2 1/4 cups granulated sugar
1 1/4 cups buttermilk
3 eggs
2 tablespoons red food coloring
2 teaspoons red food coloring (I just used the 2 tablespoons and look how ridiculously red they came out..)
1 1/4 teaspoons vinegar (white or apple cider can both work)
1 1/4 teaspoons vanilla extract
1/8 cup water
For the cream cheese frosting:
1 1/2 lbs cream cheese, room temperature
1 lb butter, room temperature
2 lbs powdered sugar, sifted
1 tablespoon vanilla extract
Directions:
1. For the cupcakes:.
2. Preheat oven 350 degrees F.
3. Sift together flour, baking soda, salt, and cocoa powder into a bowl and set aside.
4. In a mixer fitted with paddle attachment, mix oil, sugar, and buttermilk until combined. Add eggs, food coloring, vinegar, vanilla and water and mix well. Add the dry ingredients a little bit at a time and mix on low, scraping down sides occasionally, and mix until just combined. Be sure not to over mix, or the batter will come out.
5. tough.
6. Line a 16-cup cupcake pan with paper liners, scoop the batter into the liners and bake at 350 degrees F for 20 to 30 minutes or until the toothpick comes out clean. Let cool.
7. For the cream cheese frosting:.
8. Whip the butter and cream cheese together in a mixer fitted with a paddle attachment until creamed. Gradually add powdered sugar to the mixture and scrape down the bowl as needed. Add the vanilla and mix until combined.
9. The frosting can be used right away, or stored in the refrigerator up to a week.
10. Frost cooled cupcakes with the cream cheese frosting.
2