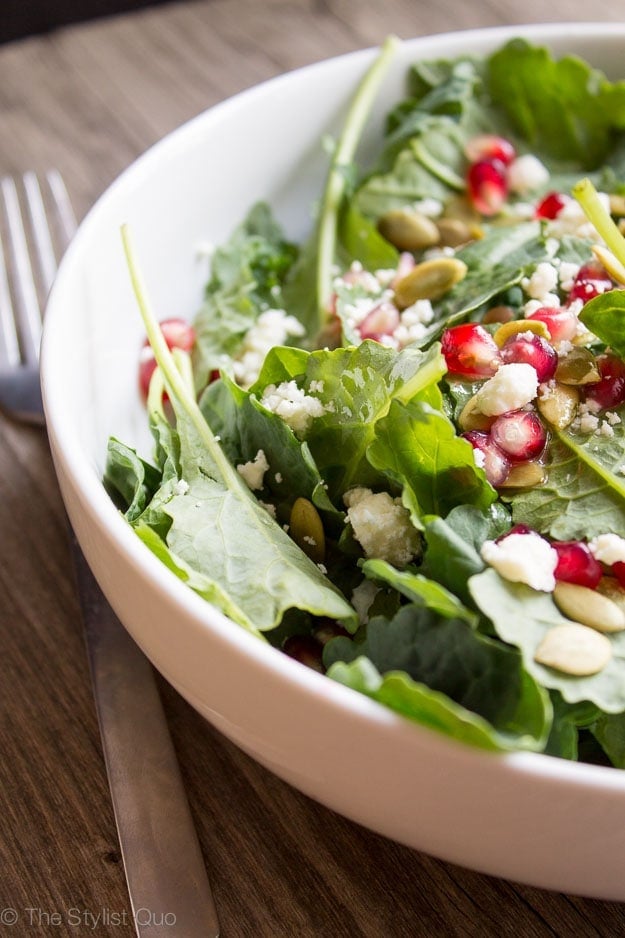 In the summer, we eat salads often, the cool crispness of the lettuce offering us a brief reprieve from the sweltering humidity outside, promising not to bog us down with heavy stomachs or, worse, heated kitchens. Unfortunately, when the humidity dissipates from the air and the temperatures drop, we find ourselves inhaling hefty dish after hefty dish, braised-in-wine this and then that-with-a-cream-sauce-over-orzo. I can't lie: I love these dishes, much more so than trying to convince my rich-leaning palate to dance delicately around ingredients, perfecting grill marks and citrus marinades, chilling things as long as I feel I should be braising them. But, man, I love a good salad.
I remember an episode of Seinfeld where Elaine asks the guys to order her a "big salad", and they banter over this concept for nearly the entire episodes. To this day, I feel more connected to Elaine, despite the puffy-hipped jeans, corduroy blazers, and collection of barrettes, because of this insatiable craving that nags at me several times during the week for a "big salad". And to this day, I have no idea why this was so confusing to the guys. You're my girl, E. You're my girl.
This kale, pomegranate, and feta salad with Dijon vinaigrette and pepitas is the perfect "big salad" for punctuating those wintry months of turkey legs and an intimate relationship with your slow cooker. It's hearty without being heavy, thanks to the baby kale, the petite leaf that's sturdy enough to stand up to a winter salad, yet delicate enough to preclude the need for 200 chews per bite. You can usually find baby kale in the refrigerated produce section with bags of spinach and salad mixes.
Pomegranate seeds–or arils, technically–provide a gorgeous brightness and bursting juiciness, a tart sweetness to offset the salty feta and nutty pepitas. I infused the Dijon vinaigrette with shallot for a garlicky bite that stands up perfectly to the baby kale. You could easily add some grilled chicken to this salad for a more traditional main-course satisfaction, but the feta and pepitas should be enough for this to be a "big salad" along with a little veggie or starch on the side.
Make this.
Champagne Jello Shots with Raspberry
2014-06-16 00:59:53
Serves 20
A festive homemade jello shot fit perfectly for New Year's Eve celebrations.
Nutrition Facts
Amount Per Serving
* Percent Daily Values are based on a 2,000 calorie diet. Your Daily Values may be higher or lower depending on your calorie needs.
Ingredients
1 cup sparkling cider, apple or white grape (or sparkling water, if you prefer)
2 packets gelatin (.5 ounces total)
3/4 cup sweet sparkling wine, like spumante
1/4 cup vodka (or use flavored vodka and omit the candy oil flavoring)
4-5 drops raspberry strong candy oil flavoring
sanding sugars
special equipment: molds, mini-cupcake tin, or 9x9 or 9x3 pan (line the pan with plastic wrap - smoothed out - you don't want wrinkled in your jello shots!)
Instructions
Bring sparkling cider or water to boil. Pour over gelatin in heat-proof bowl and stir until completely dissolved, about 2 minutes. Let cool to room temperature.
Stir in vodka and champagne. Sprinkle sanding sugars into the bottoms of your mold. Pour mixture into your chosen mold or container and let chill for at least 3 - 4 hours.
When ready to un-mold, dip bottom of pan into hot water for 5 seconds. Run a sharp paring knife around the edge of the jello to loosen and flip out onto a wax-paper lined surface (I face a wax-papered cutting board down on my mini-cupcake tin and then flip both over).
Sprinkle with more sanding sugars and serve. Keep chilled until serving.
40 Aprons http://40aprons.com/
2