This Greek healthy meal prep recipe is epic: cauliflower rice tabbouleh, tender seasoned chicken breasts, hummus or baba ganoush, kalamata olives, and a rich, garlicky tzatziki. This healthy meal prep recipe will have you looking forward to lunch all morning! It's also a Whole30 meal prep recipe and paleo meal prep recipe, too, when you sub coconut cream or coconut yogurt for the yogurt. This is seriously SUCH a perfect healthy meal prep recipe.
Lunch is a funny thing: you might dread it, toying all morning with the idea that all-day hunger might be better than interrupting your day to make something or eating that #saddesklunch you've got waiting for you; you're completely underwhelmed by what's sitting inconspicuously in the break room fridge; or maybe you count down the moments until a socially acceptable lunch hour, waiting impatiently to rip apart that brown paper bag and devour the…
Wait, what are we talking about again?
Oh yeah. These Greek healthy meal prep bowls. Y'all. Yallyallyall. YALL.
If you've been reading the blog for very long, you know that eloquence deserts me when I'm especially excited about a dish. And this recipe, these Greek healthy meal prep bowls, they totally qualify. You see, I posted a photo months and months ago when we still lived in our old house in town with the pockmarked marble countertops and the mint cabinets, the canopied backyard and poorly lit makeshift dining room that I used as my studio.
This Greek goddess bowl layered quinoa with a quick parsley, tomato, cucumber tabbouleh, hummus, grilled chicken, kalamata olives, and, the pièce de resistance, healthy fried artichoke hearts. This dish elicited such a passionate response when I posted a photo on social media that I was devastated when I lost the recipe, written in a fury on, certainly, a landscape company's branded notepad or on the back of a takeout menu, in the move to our new house.
But this week, as I've been transitioning slowly from a very strictly paleo diet to one based on simply whole foods, I decided to work on a new recipe for the Greek goddess bowl. And then it hit me… what about Greek healthy meal prep bowls, too? I wanted to make a grain-free Greek meal prep recipe that used cauliflower rice in tabbouleh, with either baba ganoush (for paleo or Whole30) or hummus, and with a galicky and tangy, herbaceous tzatziki sauce with the option to use coconut yogurt.
And I couldn't begin to explain the satisfaction I felt later that day with my bowls laid out, filled with fresh foods, heavy on the protein and the veggies, wondering if we could just skip dinner altogether and eat these on the couch, catching up on Twin Peaks: The Return.
But no, I made carnitas instead, working on further perfecting my perfect Instant Pot carnitas recipe (adding beer is always a good idea!), and dreamt all night, in between bites of impossibly tender, flavorful pork tenderloin, of the Greek healthy meal prep bowls waiting for me the next day.
And, unlike so many fantasies, the reality was just as good, if not better, than I'd imagined. The rich and garlicky tzatziki spooned onto pieces of tender, flavorful chicken? Dead. A bite of the hummus-infused tabbouleh, with its bright parsley, lemon, and veggies, from the tabbouleh-hummus border? Dead. A briny kalamata olive on top of the rich and garlicky tzatziki spooned onto pieces of tender, flavorful chicken on top of a bite of the hummus-infused tabbouleh with its bright parsley, lemon, and veggies, from the tabbouleh-hummus border? Dead dead dead.
I had approximately little deaths during the duration of this lunch. And yes, I might be a little out of control with this innuendo today, but I'm feeling damn amorous over these Greek healthy meal prep bowls.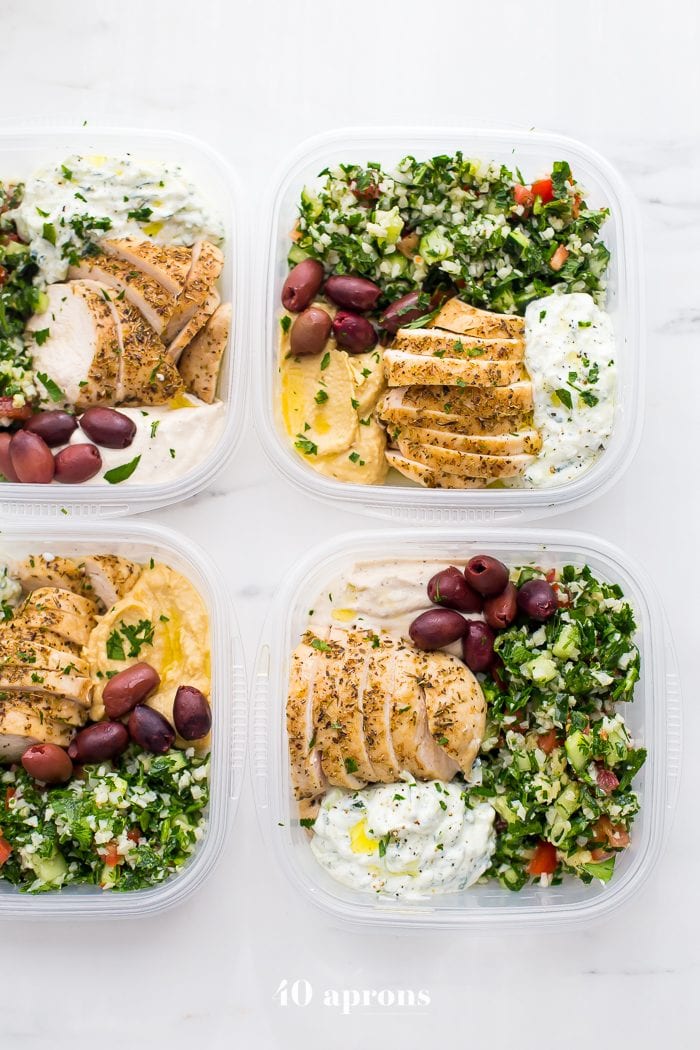 OK, also, can we talk about the Whole30? If you've ever done one, you know how amazing you feel but how much your feet hurt. From standing up cooking, like, all the time. So much cooking… so much.
These Greek healthy meal prep bowls are totally Whole30-compliant, so long as you use compliant baba ganoush (my baba ganoush recipe is perfection) make sure to use a compliant coconut yogurt. I'm also including my recipe for a totally Whole30 coconut cream tzatziki, which requires no funky ingredients! It does taste a bit coconutty, but it's pretty mild and still totally delicious. Or make your own coconut yogurt with an Instant Pot and this recipe. Same deal for a strict paleo diet.
Oh, and you'll want to stock up on meal prep containers. These are perfect: a great size and glass, too! Or try these more economical BPA-free meal prep containers; they hold the same volume and are super easy to throw in your work bag or lunchbox.
79