Fresh, of course.
The other day my parents came back from a day of errands and delicious food that did not, conveniently, include me. "We brought you a present!" they said, like that could mend the hole they had drilled in my heart. "Fresh black eyed peas from the farmers' market!" OK, it worked. Consider the hole in my heart filled.
But.. I've never dealt with really fresh peas or beans before. I had to do a bit of research and issued a major caveat to all the eaters of the peas: "I have not, I repeat, not made these before. Don't have any expectations. Do not think less of me as a person if they suck. Do not rethink the numbers you were going to write on the check at Christmastime if they're inedible."
I found a very simple recipe that spoke to me. If by spoke to me you mean it was from Texas, and I'm basically into anything Texan now that I'm headed there for law school. Not expecting much, or, rather, expecting myself to overcook them into bursting, undercook them to salty rocks, overseason them into a sodium mess, underseason them into a bland pot of babyfood.. I proceeded. And good Lord, they were
good. No, no, they weren't good. They were fantastic. I skipped the bratwurst and Andouille sausage we'd grilled for 4th of July dinner and ate the peas as my entrée. Really, really good. Thankfully, you can sub dried peas for fresh in this recipe. Otherwise, I'd probably be waking up at 7 a.m. to snatch up a batch at the farmers' market everyday. Because, you know, fresh black eyed peas are about as in demand as Fendi on sale.
I started out with just a bag of fresh black eyed peas, which, I was told, was a "one pound bag". Not sure that was entirely accurate, but nonetheless. Threw in half a package of salt pork, covered the beans and pork with about an inch of water, and simmered that for about an hour. I had to scoop out a lot of the excess water when they were finished, since they weren't dried, but left a little liquid in the bottom. Delish.
Cooking: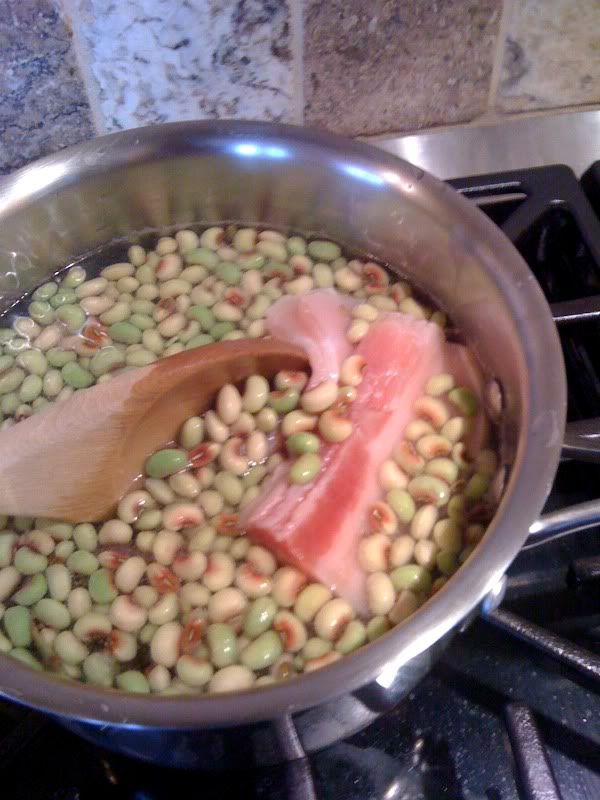 Finished, but still in the pot: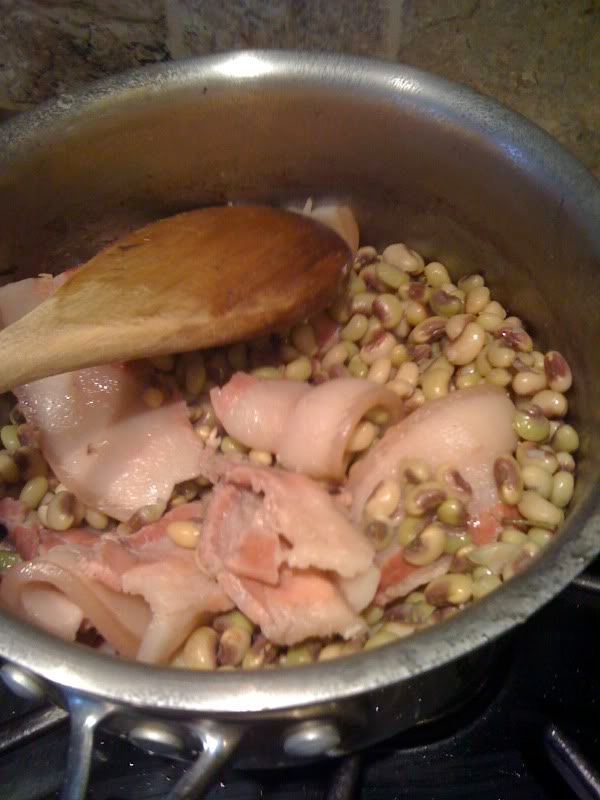 Ingredients:
1 pound fresh or dried black eyed peas
4-5 ounces sliced salt pork
Directions:
Wash and pick over peas. Dump in a pot with the salt pork and cover with 1″ water. Bring to a boil, then reduce to a simmer. Simmer for an hour, or until peas are tender. Remove as much liquid as desired.
0