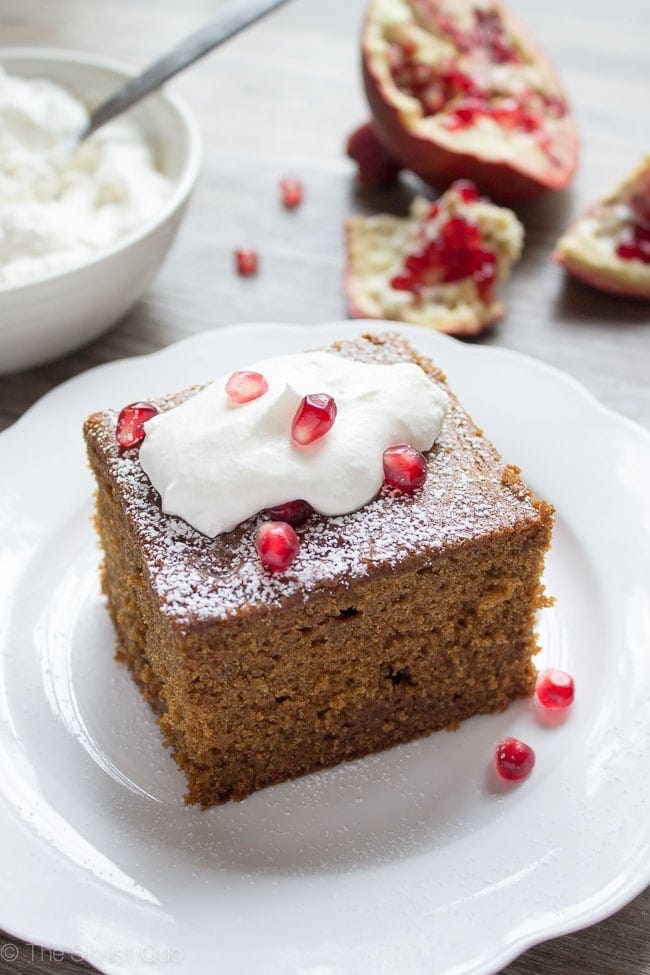 Gingerbread cake is one of those definitive holiday dishes to me that oozes warmth and festivity. It's spiced and dense, rich with the dark sugars of molasses, yet balanced by lemon zest. With a dollop of airy, freshly whipped cream adorning the top and its viscous sheen, a good gingerbread cake simply cannot be beat. Yet I make them all too rarely! This year, I endeavored to change that.
I love the simplicity and elegance of the cake — they say its origins date back as far as Ancient Greece, which is a tried-and-true recipe if I've ever heard of one. Of course, each iteration changes it, from light and fluffy to thick and dense, to flattened out crunchy cookies decorated to look like characters out of the song, "Little Boxes".
So, this year, to balance out the inherent classic nature of the dish, I decided to put a bit of a spin on it, using winter's darling of the fresh and seasonal world: the pomegranate. I'd originally bought a pomegranate to make a baby kale, pomegranate, feta, and walnut salad, but when plating my gingerbread cake for photos, I was struck by a chord of genius. How amazing would those juicy little bites be, ruby pockets of tart flavor, pillowed by fresh whipped cream, the princess pea on the bed of rich, spiced gingerbread?! Not only did they add the perfect visual element, an elegant addition to a comforting holiday dish, but they added the perfect balance of bright tartness, paired with the necessary citrus infused in the cake itself.
Make sure you don't overbake this cake, or you'll end up with a dry texture. Other than that, it's incredibly simple to make, yet perfectly sophisticated. Perfect for Christmas Eve, Christmas Day, holiday parties and the office, weekend breakfast (or, let's be honest, a mid-morning over-my-desk snack on a Wednesday). Fresh whipped cream will hold well in the fridge for a couple to a few days, so make the whole batch when you make the cake and store it in an airtight container to cut down on serving time on your second and third go-round with this classic holiday cake.
A tip on separating the seeds of a pomegranate without mess – slice off the crown (top) of the pomegranate then cut into sections. Submerge sections in a bowl of water and simply roll out the seeds with your fingers. Drain the bowl of seeds into a strainer and voilà! Lastly.. did you know the pomegranate "seeds" are not seeds at all? They're called arils, and they're actually juice sacs. Weird, amIright?
Make this.
Cucumber-Ginger Mocktail
2014-06-16 00:56:24
Serves 10
Cool cucumber mingles with warm, heady ginger to create the perfect, elegant summer mocktail.
Nutrition Facts
Amount Per Serving
* Percent Daily Values are based on a 2,000 calorie diet. Your Daily Values may be higher or lower depending on your calorie needs.
Ingredients
1 medium cucumber, sliced
10 slices of fresh ginger, about 1/4" thick
2 cups sugar (or about 1 3/4 cups agave nectar)
2 cups still water
soda water for serving (about 5 ounces per drink)
cucumber slices, for serving, optional
Instructions
Place sliced cucumber and ginger in a large, heat-proof bowl. Bring sugar and water to a boil in a saucepan over medium-high heat, stirring until sugar is completely dissolved. Pour over cucumber and ginger and let stand for 2 hours.
Strain into a bottle and chill.
To prepare a cocktail, stir together about 1 shot syrup (1.5 ounces) with about 3 shots water (4.5 ounces), or to taste. Garnish with a cucumber slice.
Notes
Keeps in an air-tight container in the fridge for two weeks.
40 Aprons http://40aprons.com/