There's no lack of Christmas cookies adorning Pinterest and Google, from peppermint Hershey's kisses drops to any and all variety of whoopie pie–they're all there. Cookies with this mix-in, that mix-in; you can find it all! But lately I've been craving a good, old fashioned sugar cookies, decorated with a gentle festivity and perfectly sweet icing. This, of course, is the type of cookies they actually eat in the North Pole, at least according to Norman Rockwell, the definitive brand of sweet to leave for Old Saint Nick to ensure maximum gift efficiency.
Buttery and sweet–but not too sweet, a soft texture, and icing that sets for a satisfying contrast, this is the only Christmas sugar cookie recipe you'll ever need. The icing mimics the look of a royal icing, but it's insanely easy to whip together while the cookies are cooling.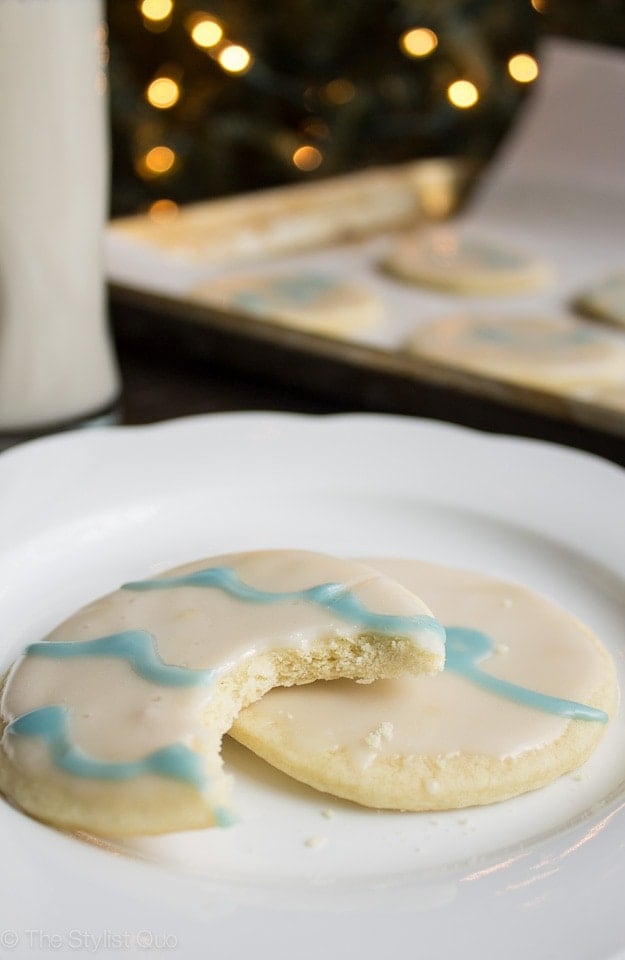 Don't skimp on the chilling time for the dough — keeping the butter and dough cold will prevent the cookies from spreading when you bake them, ensuring a perfect texture and shape. Trust in the low bake time–I kept wanting to let the cookies bake longer and longer, because they simply didn't seem ready, but they were. 4 minutes will provide a very soft texture; 5 will harden the cookies up a bit, while leaving a tenderness; and 6.. well.. I didn't get there. I'm assuming they'll be much crunchier, and if that's your bag, go for it.
For icing, I volleyed between dipping the faces of the cookies in my little icing bowl and painting the frosting on. The cookies often created a suction with the icing, pulling them inwards when I tried to lift them out of the icing, and because they're soft, I worried they might break. For the thicker cookies (I'm not one for exactness in rolling out dough!), dipping was totally fine; for the thinner cookies made from pieced-together scraps, I definitely used a painting method. I found it easiest to drop a little spoonful of icing on the center of the cookie and then use a pastry brush to paint outwards from there.
For the blue, I set aside a little bowl of naked icing and mixed in just one little drop of a blue food coloring. I then spooned the blue icing into a small Ziploc bag and nicked the very corner off, using it as a makeshift mini-piping bag. I have no patience for intricate decorating, so don't blame the cookies if you're more of a cookie artist! Blame me. I liked the sort of whimsical touch that came through, though, despite my underdeveloped cookie decorating skills.
I don't have many cookie cutters, so I used an approximately 3.25″ circle cutter, which happened to produce cookies that fit beautifully stacked in a 4 cup Ziplock reusable container. I stuck little scraps of parchment in between each to keep the icing looking tops.
Make these! They're so good.
Hot Chocolate Cupcakes with Toasted Marshmallow Frosting
2014-06-16 01:01:38
Serves 12
A hot chocolate-inspired creation with a moist, rich chocolate cake, fortified with a bit of warming cinnamon, balanced by a swirl of fluffy marshmallow frosting, toasted to elegant perfection.
Nutrition Facts
Amount Per Serving
* Percent Daily Values are based on a 2,000 calorie diet. Your Daily Values may be higher or lower depending on your calorie needs.
For cupcakes
1 cup soy milk or milk
1 teaspoon apple cider vinegar
3/4 cup granulated sugar
1/3 cup canola oil
1 1/2 teaspoon vanilla extract
1 cup all-purpose flour
1/3 cup cocoa powder
3/4 teaspoon baking soda
1/2 teaspoon baking powder
1/2 teaspoon cinnamon
1/4 teaspoon salt
For frosting
4 large egg whites, at room temperature
1 cup granulated sugar
1/4 teaspoon cream of tartar
small pinch fine salt
1 teaspoon vanilla extract
Instructions
Preheat oven to 350°F and line a muffin pan with paper or foil liners.
Whisk together the soy milk or milk and vinegar in a large bowl, and set aside for a few minutes to curdle. Regular milk will not curdle as clearly but it will still be fine! Then add the sugar, oil, and vanilla extract to the vinegar mixture and beat until foamy.
In a separate bowl, sift together the flour, cocoa powder, baking soda, baking powder, cinnamon and salt. Add in two batches to wet ingredients and beat until no large lumps remain (a few tiny lumps are OK).
Pour into liners, filling 3/4 of the way. Bake 18 to 20 minutes, until a toothpick inserted into the center comes out clean. Transfer to a cooling rack and let cool completely.
For frosting
Meanwhile.. Fill a medium saucepan with 1 inch of water and bring it to a simmer over medium heat.
Place the egg whites, sugar, cream of tartar, and salt in the clean bowl of a stand mixer and whisk by hand to combine. Nest the bowl over the saucepan, making sure the bottom of the bowl is not touching the water. Heat the egg white mixture, whisking constantly, until the sugar has dissolved and the mixture is hot to the touch (about 120°F on an instant-read thermometer), about 6 minutes.
Transfer the bowl to a stand mixer fitted with the whisk attachment. Turn the mixer to medium and whisk for 1 minute. Increase the speed to high and whisk until stiff, glossy peaks form, about 5 minutes more. Add the vanilla and whisk until just incorporated, about 1 minute.
Pipe onto the cupcakes using a medium star tip. Chill (optional) for at least 30 minutes to set the frosting a bit, then use a kitchen torch to lightly brûlée the edges.
Adapted from Vegan Cupcakes Take Over the World and Chow
40 Aprons http://40aprons.com/